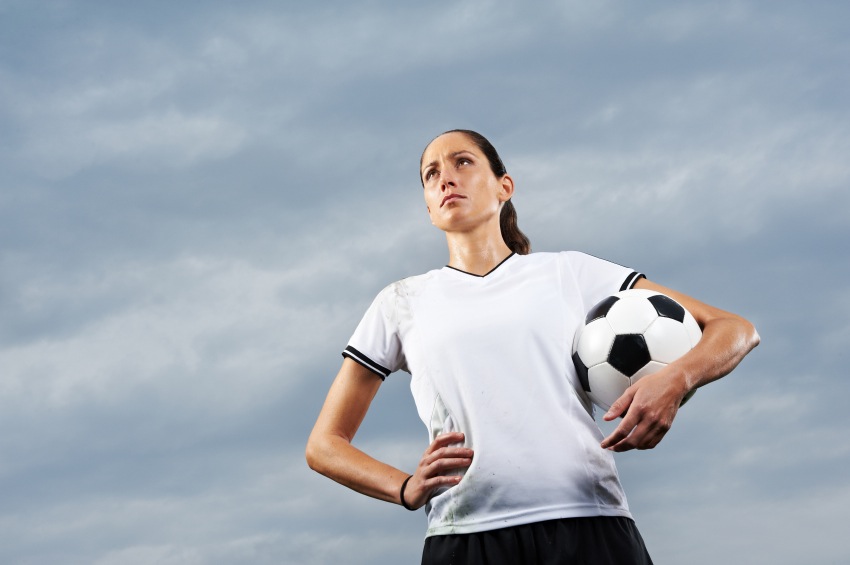 Women's Super League
Both Doncaster and Bristol had high hopes going into their weekend matches following few points gained by the teams ahead of them on the league table earlier in the week.
On Thursday Arsenal drew 0-0 with Lincoln.
The gunners were fighting to defend their title four points behind Liverpool at the top of the table while Lincoln were hungry to distance the gap between them and bottom of the league Doncaster.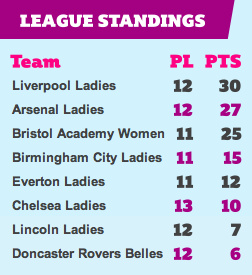 And  on Sunday Arsenal missed another opportunity to close the gap with Liverpool when they finished with a goalless draw against Bristol Academy.
The Academy's women were fierce to rain on their opponent's parade as they sit just two points behind the gunners and third on the league table.
Bristol Academy Women's manager Mark Sampson had hoped the ladies might leap frog Arsenal to second place.
Ahead of the game he told the FAWSL he was confident: "We will go into it full of confidence in the belief we can get a result."
"We are a team, from one to 11, and there is no reason why we can't go and win. They are a great team but we are full of belief," Sampson said.
It had been a tough week for the Belles following a 2-0 loss against top of the League Liverpool on Wednesday.
Perhaps they saw light at the end of the tunnel following Lincoln's draw with Arsenal. It put bottom of the league Belles only two points behind 7th placed Lincoln.
Captain Leandra Little responded to late goal in the first half from Everton.
She scored the equalizer in the middle of the second half but told Belles' TV the whole team was disappointed:
"I think that just shows how high our expectations are as a team. I felt the first 45 minutes we were definitely on top and were unlucky to concede the goal and go in 1-0 down. If I'd of been a bit more clinical in front of goal we could have gone in 2 or 3 nil up."
Athletics
Commonwealth Games champion Louise Hazel announced her retirement from heptathlon earlier this week.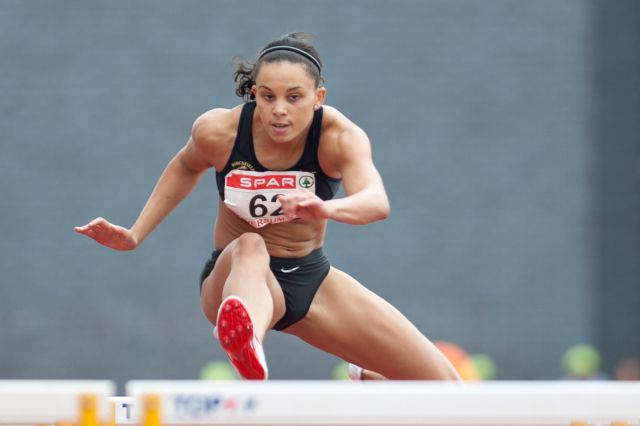 The 27-year-old won gold for England at the 2010 Olympic Games in Delhi but has announced she will not be defending her title at the Glasgow Commonwealth Games 2014.
Though she has said she may continue to compete in other sports.
She told BBC Sport: "I'm retiring from heptathlon but I'm not ruling out other sports. I feel I can't carry on in that discipline."
Hazel said she is grateful for the last 17 years.
She made her debut for GB in 2006 at the European Championships.
She finished 27th at the London 2012 Games, where Jessica Ennis-Hill took gold.
Olympics
Tokyo will host the 2020 Olympic Games.
They beat Istanbul in the bid by 60-36. A different story to four years ago when Tokyo received only 20 votes to host the contest in 2016, which was won by Rio De Janeiro.
Their presentation on Saturday emphasised the economic and political strengths while setting out an ambitious and exciting vision for the 2020 Games.
Madrid also bid for the games but were knocked out in the first round of voting by International Olympic Committee (IOC) members in Buenos Aires.
2020 will be the second time Tokyo has hosted the Olympics, the first was in 1964. Japan has also held two Winter Olympics, in 1972 and 1998.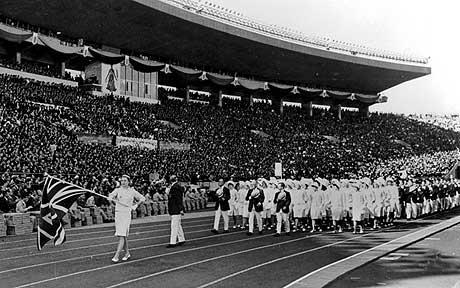 Boris Johnson, Mayor of London tweeted: 'Well done ‪@Tokyo2020jp – the greatest sporting prize a city can earn is yours! Enjoy the party tonight, the hard work starts on Monday.'
The Games come at a huge price. BBC News reported the Olympics will cost Japan more than $1.5bn. Of that $8bn will be spent on refurbishing old stadiums and building new ones.
This is comes as good news for construction companies who have struggled with government spending.
There were scenes of celebration across Japan after the announcement, even tears of joy in Buenos Aires.
People spelt out the words 'thank you' at the Tokyo metropolitan government building.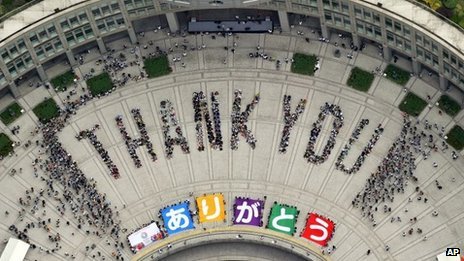 Two and a half years though ago a tsunami on Japan's north-east coast killed almost 19,000 people and left hundreds of thousands homeless. A further some 160,000 people were forced to evacuate their homes after the tsunami triggered a triple meltdown in Fukushima plant.
Now some believe the money should spent on the games could be better focused on the recovery effort.
Like this article? Sign up to our newsletter to get more articles like this delivered straight to your inbox.