What a week! British women have had a medal haul this week with stunning victories in rowing, sailing, water polo, cycling and triathlon. Adele Norris salutes them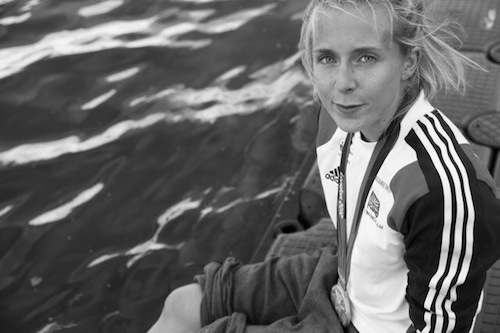 Olympic Rower Kat Copeland claimed lightweight women's singles victory at the GB Rowing Team Senior Trials at Caversham
The 23-year-old claimed lightweight double scull gold at London 2012.
That was with Sophie Hosking who then retired meaning Copeland missed the post-Olympic season altogether.
Now she's made her return and it was like she had never been away.
Kat took an early lead over Imogen Walsh and went on to win.
'It was pretty windy and it was pretty slow but it was exciting,' Copeland said. 'I really enjoyed it. I think what's really exciting for me is that there's a group of really good girls at the top which means that we're going to have a really strong double, which is what matters.'
Elsewhere, gold medal duo Helen Glover and Heather Stanning rowed together for the first time since the Games.
They led early and seemed to have stretched out to an unassailable lead.
Polly Swann, 2013 World champion with Glover, and Olympian Jess Eddie dug deep though and cut back the margin with 250m to go.
The race went to Glover and Stanning but was not as comfortable as they might have wished.
'It was really brilliant to be back racing with Helen, it feels like I'm in old shoes again', said Stanning.
British world silver medallists sailing duo Ben Saxton and Hannah Diamond won two of three at the ISAF World Cup in Hyeres while World Cup champions Sophie Weguelin and Eilidh McIntyre claimed Britain's only medal at the regatta.
Saxton and Diamond race in the Nacra 17 multihull class, a class new to the Olympic programme for Rio 2016.
By Friday they were in fifth position.
It means they are still just one point ahead of French team Billy Besson and Marie Riou, who edged them out of gold at last year's World Championships.
'We're definitely going to have to step up our racing if we're going to continue to win races,' said Diamond.
'But we're really pleased with how everything's been going for the last two days, so hopefully we'll just keep doing exactly the same, make sure we keep on making progress and see how it goes.'
Meanwhile Charlotte Dobson and Sophie Ainsworth were in pole position in the women's equivalent 49erFX.
At the same time as World Cup champions Sophie Weguelin and Eilidh McIntyre were third overall in the women's 470.
But standings flipped on their head days later.
Sophie and Eilidh dominated their rivals with two race wins moving them into second place – just two points off New Zealand's world and Olympic champions Jo Aleh and Polly Powrie.
Sophie and Eilidh won the World Cup title in Miami in January.
'For us this week's just more about getting back into sailing.  We haven't sailed for quite a long time and so it's just about keeping our routines simple and building on them – especially with our new coach,' said Weguelin.
But Charlotte and Sophie lost the fleet lead in the women's 49er.
On Saturday Eilidh and Sophie were setting sights on a podium finish but had to settle for silver.
World and Olympic Champions Jo Aleh and Polly Powrie had a comfortable 12-point lead going into the final day although Weguelin did feel at one stage that the New Zealand duo could be caught.
McIntyre should be proud of the finish having broken her finger in a training accident in February, missing the penultimate World Cup of the season in Palma and only had a pin remove days before Hyeres.
'It was a tough race actually. The Americans had a little chase of us at the start but we got away cleanly in the end so that was great,' said Weguelin.
'A few boats went back at the start and at one point it looked like it was possible to win the event but our main focus was on defending the silver medal.
'It's been a big time off for us unexpectedly, so we know we've got more to work on. Our boat-handling was a bit scrappy and at times we were a bit annoyed with ourselves.
'But that's only natural and there's plenty to work on going into the season.'
Double Olympic dressage gold medallist Charlotte Dujardin on Valegro claim grand prix victory at the FEI World Cup Final.
Dujardin and Valegro won the team and individual dressage titles at London 2012 and broke their own world record as they won the grand prix event in Lyon.
They posted a score of 87.129 for victory.
Dujardin also claimed double European gold and bronze last year. She was chuffed with her companion's performance.
'I honestly can't believe it. He is just getting stronger and stronger every year,' said Dujardin. 'You just think that's his maximum, there is no more.
'But every year it seems to be that there is just a bit more and a bit more. I have got such a great partnership with him, and he just gives me so much confidence.'
GB Triathletes dominate the second World Series event in South Africa and Jodie Stimpson claimed her second successive victory
Stimpson pushed two-time world champion and team mate Helen Jenkins down to second inside the final kilometre of the run.
She already took a victory at the season opener in New Zealand.
British teammates Vicky Holland placed eighth and Lucy Hall pressed hard during the swim.
The bike saw all four fighting hard.
Stimpson was the most assertive at the start of the run though before being caught by Jenkins and pacing with her until the finale.
Stimpson broke away for victory.
'Lucy Hall was absolutely amazing on that bike, so was Helen, so was Vicky. The GB girls were definitely strong out there,' she said.
'When Helen passed me it was all about trying to hang on. I tried to break her going on to the last lap and I couldn't, so I sat back behind and then I gave it all I'd got and I managed to come out on top.'
GB women's water polo thrash world champions Spain with a World League victory in Manchester.
The British team face an uncertain future after the withdrawal of UK Sport funding two months ago.
But they came back fighting the news with a 9-7 victory. It was certainly the best result in their history with many supporters tweeting questions of what more proof UK Sport needed that the team are viable for Rio.
Close throughout, Spain pulled back a narrow deficit in the final quarter before Ciara Gibson-Byrne and Chloe Wilcox dispatched late penalties to secure the win.
'You can see how we celebrated, that was like a final for us,' said Angie Winstanley Smith, a member of the British Olympic team in London.
'We've been through so much over the last three or four months. It's been horrific.
'We've had to look at our lives totally differently and to come away with a result like that shows you the strength we have and also the strength of character we have. We're not just a water polo team. We're a family.'
Olympic road race silver medallist Lizzie Armitstead claims another podium finish at one of cycling's toughest one day classics.
Women's Flèche Wallone race in Belgium shares the same finish as the men's counterpart – located on top of the Mur, or 'Wall', at the town of Huy, located above the valley of the Meuse.
Lizzie won the opening World Cup round, the Ronde van Drenthe, then placed second in the two subsequent events, the Trofeo Alfredo Binda and Tour of Flanders.
Another second place finish, behind France's Pauline Ferrand-Prevot, maintained her lead of the overall World Cup standings with five races remaining.
Sweden's Emma Johansson is her nearest rival.
World and Olympic road race champion Marianne Vos was sixth while GB Emma Pooley, who won the race in 2010, was seventh.
It's her first appearance of the season.
The next round of the World Cup series is in China next month, though Armitstead will focus on racing in the inaugural five-day women's Tour of Britain, which starts in Oundle on May 7.
Six-time Olympian Alison Williamson has announced her retirement from archery at the age of 42.
Williamson won bronze at the 2004 Athens Games and became only the sixth British athlete to take part in six consecutive Games at London 2012. She was awarded an MBE later that year.
'I just couldn't continue to dedicate the hours needed to be competing at the top level any more,' she said.
'The sport has been a part of my life since I was six years old. But I put my teaching career on hold to represent my country at events across the globe and now the time is right to just concentrate on the day job.'
Williamson's greatest moment was her single point victory over Shu Chi Yuan of Chinese Taipei in Athens, while she narrowly missed out on team bronze four years later in Beijing.
'All the Olympics have been special and hold some incredible memories for me,' she added.
'I suppose the two that stand out would be Athens and, of course, London. And what better way to end your involvement in international competition than at the Games in your own country.'