Fibroids are not only common affecting 77 per cent of women, they're also treatable. NHS gynaecologist Dr Fevzi Shakir reveals common fibroid symptoms and what can be done 
What are fibroids?
Fibroids can be quite common in women and some patients won't even know they've got them unless they have had a scan for other health reasons.  In fact, they're the most common forms of non-cancerous tumours in women of childbearing age, occurring in a staggering 77 per cent of women.
Fibroids are essentially benign growths of the muscular wall of the uterus, but sometimes they can be abnormal.  By causing an enlargement of the womb and the increased blood supply that comes with them, fibroids typically cause heavy, painful periods.
In addition, if they press on other structures such as the bladder or the bowel, they can cause bladder or bowel dysfunction such as constipation. If they are large enough that they compress your bowel and can cause you to go to the toilet more often (or to pass more urine than normal if they press on your bladder).
Treatment will depend on the size of the fibroid, the number of fibroids you have, their location and if they are pressing on any other structures. Another consideration when looking at treatment options is whether a woman would like to retain her fertility as some treatment options can affect this.
What are the common symptoms?
Fibroids or uterine fibroids as they are also known, can commonly cause heavy or prolonged periods as well as pelvic discomfort, which patients often describe as a dull pressure or pain, especially if they become very large.
Many women who have fibroids don't even have any symptoms. For those that do report symptoms, they can be influenced by the location, size and number of fibroids you have. In women who have symptoms, the most common include:
Heavy menstrual bleeding
Menstrual periods lasting more than a week
Pelvic pressure or pain
Frequent urination
Difficulty emptying the bladder
Constipation
Backache or leg pains
A fibroid could cause acute pain when it outgrows its blood supply, and begins to die.
See a doctor when;
You have pelvic pain that doesn't go away
Overly heavy, prolonged or painful periods
Spotting or bleeding between periods
Difficulty emptying your bladder
Seek prompt medical care if you have severe vaginal bleeding or sharp pelvic pain that comes on suddenly.
Your doctor is likely to offer certain tests such as an ultrasound scan, an MRI scan or even something called a hysteroscopy which is a telescope passed through the neck of the womb to look into the womb lining to see if any fibroids are visible in the lining.
The different treatment options for fibroids include:
Treatment #1 Contraception
If the fibroids are quite small and not compressing any organs, one option would be to monitor the fibroids to make sure they have not grown rapidly over time. Another option is to try medication, such as hormonal medication which can include hormonal contraception. Contraception can also often improve symptoms of heavy bleeding.
Treatment #2 Embolisation
If that is not adequate and the fibroids are slightly larger or entering into the cavity of the womb, a surgical option is to either cut the fibroids out of the womb lining if it is accessible through that route or alternatively use a keyhole procedure or a cut in the tummy to remove the fibroids.
If a woman has completed her family and fertility is not something that is desired, an alternative form of treatment would be to try and block the blood supply to the fibroids to try and reduce the size of them and control the symptoms, called embolisation.
Treatment #3 Ablation
If the fibroids are in the lining of the womb or larger and heavy periods are a major symptom, they can be removed either through the neck of the womb or the womb lining can be ablated (burnt).
Treatment #5 Hysterectomy
In patients that have completed their family and if it is acceptable to them, it could be to remove the whole womb. This is known as a hysterectomy and is a major surgical procedure.
More Ask The Gynaecologist:
12 causes of lower abdominal pain
Ovarian cysts – the gynaecologist's guide
Why sex hurts – the gynaecologist's guide 
Mr Fevzi Shakir is a Consultant Gynaecologist specialising in Advanced Minimally Invasive Gynaecological Endoscopic Surgery.
He has completed a 2 year Senior Clinical Research Fellowship in Advanced Gynaecological Endoscopic Surgery, based at the Minimal Access Therapy Training Unit (MATTU) in Guildford.
In 2014 he was elected as a council member in charge of the trainee portfolio for the British Society for Gynaecological Endoscopy (BSGE) and re elected in 2016.
He has founded a trainee group as part of the BSGE called RIGS (Registrars in Gynaecological Surgery) aiming to improve training and resources.
Got a question for our gynaecologists? Email in confidence to editor@healthista.com
If you've always wanted to make money from your healthy passion, Healthista's upcoming Health To Wealth event is your chance to grow your business and network with people that can help
Healthista have teamed up with luxury hotel brand Pullman Hotels & Resorts to launch a new wellness entrepreneurship-focused initiative and event – Health To Wealth – to help budding start-ups bring their businesses to life.
Join our Health to Wealth event 
The live event will see Healthista readers, consumers, influencers, media and businesspeople alike, come together to share and learn.
During the event, selected early-stage health businesses and ideas will be put to the test Dragon's  Den-style before a panel of industry experts including BBC Dragon – and Healthista investor – Touker Suleyman.
Plus the panel and audience will decide on a winning business who will receive:
A 3-day trip to Accor Hotels' HQ in Paris, where their brand will be incubated by experts in order to push their businesses to the next level, including flights and accommodation for two team members.
Access to the panel of entrepreneurs and investors for help and advice
A write up about their brand's story on Healthista.com
Mentoring by Anni Hood, co-founder and chief executive at Well Intelligence – a research, insights and market evidence platform aimed at helping wellbeing businesses grow.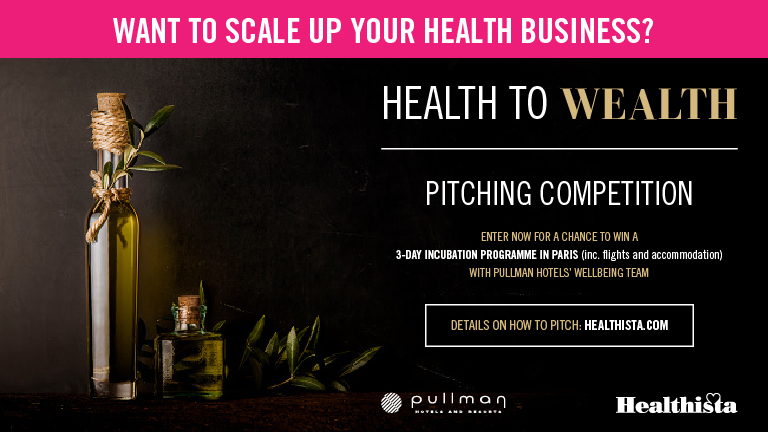 More Healthista Content:
Body transformation week one – operation FAT LOSS
Menopause: 5 things this TV superstar wants you to know
'I've had severe eczema since I was six – this helped'
The fat burning workout that uses one piece of equipment
Like this article? Sign up to our newsletter to get more articles like this delivered straight to your inbox.