In the lead up to vegan week on The Great British Bake Off, we asked author of new book Virtually Vegan Heather Whinney for tips on how on earth to replace cream, butter, milk and eggs – it's SO useful (Paul Hollywood take note)
For newly transitioned vegans, the change to a plant-based diet can be a shock. What can you eat now? How can you enjoy all your favourite desserts without the use of traditional key ingredients such as milk, eggs, butter and cream? All the things that make cakes amazing. A life without cakes, brownies and your favourite sweet treats seems unimaginable.
In her new book Virtually Vegan, food stylist Heather Whinney dispels the myth that vegans nibble on leaves all day.
'My aim is to gently introduce you to a selection of delicious and flexible vegan recipes that you'll enjoy'
'My aim is to gently introduce you to a selection of delicious and flexible vegan recipes that you'll enjoy,' says Whinney. 'It's true that vegan baking presents a few challenges, so here are a few tips to ensure your vegan baking creates fabulous results.' So, make your cake and eat it too, with these key ingredient replacement baking hacks for vegan.
Instead of: eggs
Try: chickpea juice and chia seeds
Baking usually relies on eggs for both binding and rising. 'As a cake bakes, eggs add volume and structure in the form of protein,' Whinney explains.
'They add moisture to the bake and help ingredients hold together. When eggs are beaten, they act as a leavening agent and add air into a batter, which will then expand and make your cake rise.'
However, eggs are not an essential ingredient for a deliciously moist cake. Instead, aquafaba (or the juice from a can of chickpeas) can be used as a replacement.
Generally, three tablespoons of aquafaba is equivalent to one egg.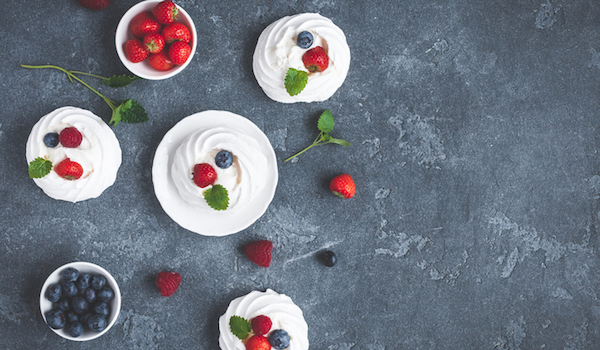 'Depending on what you are using it for, you may wish to heat it so it reduces more to a consistency of egg white or you can whisk it to make a fluffy and light mixture to use in meringues,' says Heather.
'You can freeze aquafaba for up to a month so get into the habit of freezing the juice whenever you cook chickpeas.'
Another handy swap for eggs is chia seeds.
'Mix them with water until they reach a gelatinous consistency, which then works as a binding agent rather like eggs,' Heather advises.
'A mixture of one tablespoon of chia seeds to three tablespoons of water is equivalent to 1 egg.' She adds, 'You can also use flax seeds exactly the same way but they have a stronger flavour than chia seeds.'
Instead of: butter
Try: vegan spread or solid coconut oil
Substituting butter is easy as you can use like-for-like weight of a vegan spread or margarine, or solid coconut oil.
If you opt for a vegan spread, Whinney recommends using Biona organic sunflower spread. 'It's creamy enough for cakes, tasty enough for cookies and shortbread and it makes really 'short' light pastry'. However, she does warn that it contains palm oil, which is an ingredient many people wish to avoid.
Instead of butter, you can also use margarine as it is not dairy-based – although some can contain trace amounts of animal products.
'Read the label and avoid any with whey, lactose, casein or caseinates,' suggests Whinney.
'Watch out, too, for the source of the vitamin D. It can come from plant sources and therefore be suitable or it can come from lanolin (washed lamb's wool) and therefore not.'
Whinney adds, 'Some vegetable-based margarines may be accidentally vegan. Look for those that contain no palm oil if this is a concern for you.'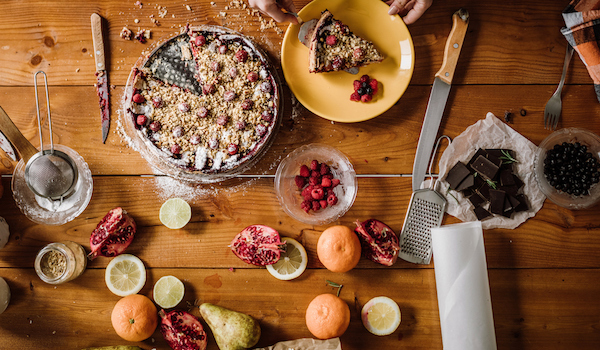 Instead of: milk
Try: soy, coconut, oat or almond milk
Milk adds flavour, richness and helps with the texture of baked goods. However, these don't have to be compromised in your vegan bakes.
As with butter, milk is easy to substitute with a non-dairy milk. 'It can be used like-for-like in baking as it has the same consistency as milk,' Heather says.
'Choose one that is unsweetened; it can impart a flavour into your baking depending on what you choose.'
Instead of: cream
Use: canned coconut milk for thick cream and silken tofu for single/light cream
Cream adds fat, richness, creaminess and thickness to baking. Achieve that same rich texture in your vegan bakes with canned coconut milk for thick cream.
'It can be used for whipping by allowing the milk to separate in the can – putting it in the fridge can speed this up.
'Then scoop away the top creamy layer and whisk vigorously,' Whinney explains.
'Use this for serving and for toppings in baking. Or you can mix it with a dairy-free milk to lighten it up or use for pouring'.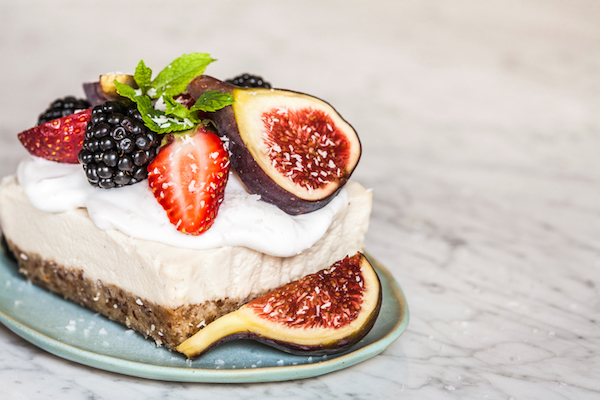 For a lower-fat substitute for cream, whisk silken tofu until smooth. This is also good to use as a thickener in baking.
If you're looking for a creamy accompaniment to sweet pastries and cakes, Heather suggests whipping soy yoghurt with dairy-free milk.
Instead of: Gelatine
Try: agar (a type of seaweed that is tasteless)
Gelatine is used in ordinary baking as a thickener and setting agent. For vegans, agar can be used instead.
Agar is a naturally derived gelatine which comes from sea vegetables that's completely tasteless – no fishy flavours. we promise.
'Agar is easy to use for anything you need thickening or setting.  It's actually more powerful than gelatine and it sets quicker,' says Heather. 'A teaspoon of powdered agar is the equivalent to eight teaspoons of gelatine.'
Like gelatine, you must dissolve it in water first before heating it. As a rule of thumb, you need one teaspoon of agar to set 240ml/8 fl oz/one cup of water.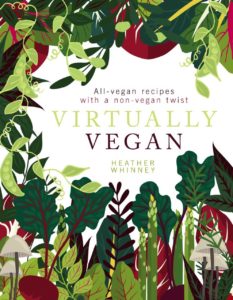 Heather Whinney is a food stylist and the author of Virtually Vegan, published by Nourish Books, priced £7. 
Related Healthista Content
The lazy vegan's takeaway delivery service
Going vegan? 18 things this famous chef wants you to know
11 new vegan protein powders that taste amazing
15 best vegan food options on the high street
Like this article? Sign up to our newsletter to get more articles like this delivered straight to your inbox.