Actor and yoga expert Maude Hirst, founder of Meditate with Maude, takes you on a ten-minute guided meditation for depression
Today's meditation looks at depression, which affects one in five brits.  However, there are solutions to help and meditation is one of them.
In a depressed state, actor and yoga expert Maude Hirst explains that, 'we often try to push feelings away and sometimes it's the resistance that makes these feelings grow stronger.'
In this 10-minute meditation, Maude guides you through the importance of becoming aware of this struggle and how daily practice can help you to better understand and accept what's happening within you.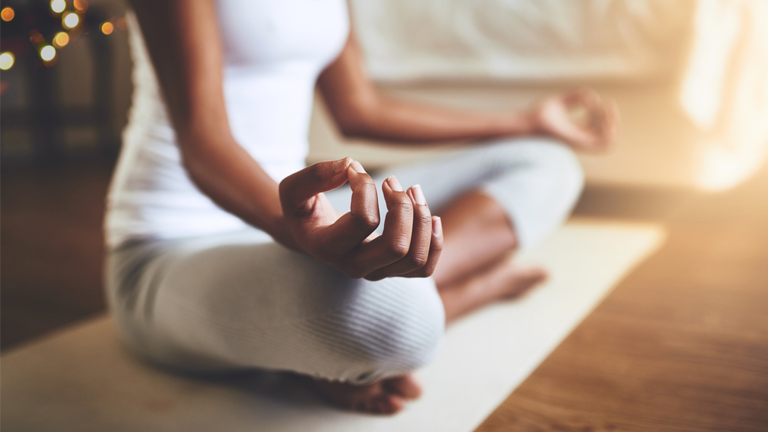 Meditation step #1 Sit comfortably
First, find a comfortable place to sit. I like to sit cross-legged. But if you have tight hip-flexors you might like to prop up your bottom with a cushion. Or sit with your back to a wall. Let your knees drop down towards the floor.
Meditation Step #2 Bring your mind back
When you meditate your mind will wander off. Don't worry, that's just what minds do. We're programmed like that, so don't beat yourself up. The trick is to notice when it happens and bring your mind back to your breath.
This way you'll create a circular motion. Your mind wanders off. You notice and gently bring it back. No problem.
Meditation step #3 Stay alert
It's easy to drift off when you're meditating and you might feel yourself dropping off – don't. Try to stay as conscious and alert as possible to experience the full benefits.
If you enjoyed this meditation and would like to try more. Subscribe to Maude's new meditation channel, Meditate with Maude for:

An ongoing daily meditation course that will be added to weekly, creating a library of different meditations for you to practice.
EVERY WEEK you will receive:
– Two guided meditations
– A written article sharing my ideas and thoughts around a theme
– A written meditation for you to practice in your own time
This subscription based course will help simplify and de-mystify meditation for you. Assisting you to begin a regular practice and learn more about yourself than perhaps you ever thought possible. Prices start from £8 per month.
More about Maude Hirst
Maude Hirst is a born and bred East Londoner, currently on a mission to find a unique path into mindfulness for every person she reaches. Maude is an actor, writer, and explorative meditation and yoga teacher best known for her role as Helga in the hit TV show 'Vikings'.
As a meditation and yoga teacher Maude focuses on helping people switch off from the stresses of everyday life, while lovingly connecting them to their unique expression of who they truly are. Maude's passion is to create a space for people to sit and observe their inner world, in order to declutter their external world.
Meditation and yoga has helped transform Maude's life and her aim is to share this gift through her meditation platform Meditation with Maude.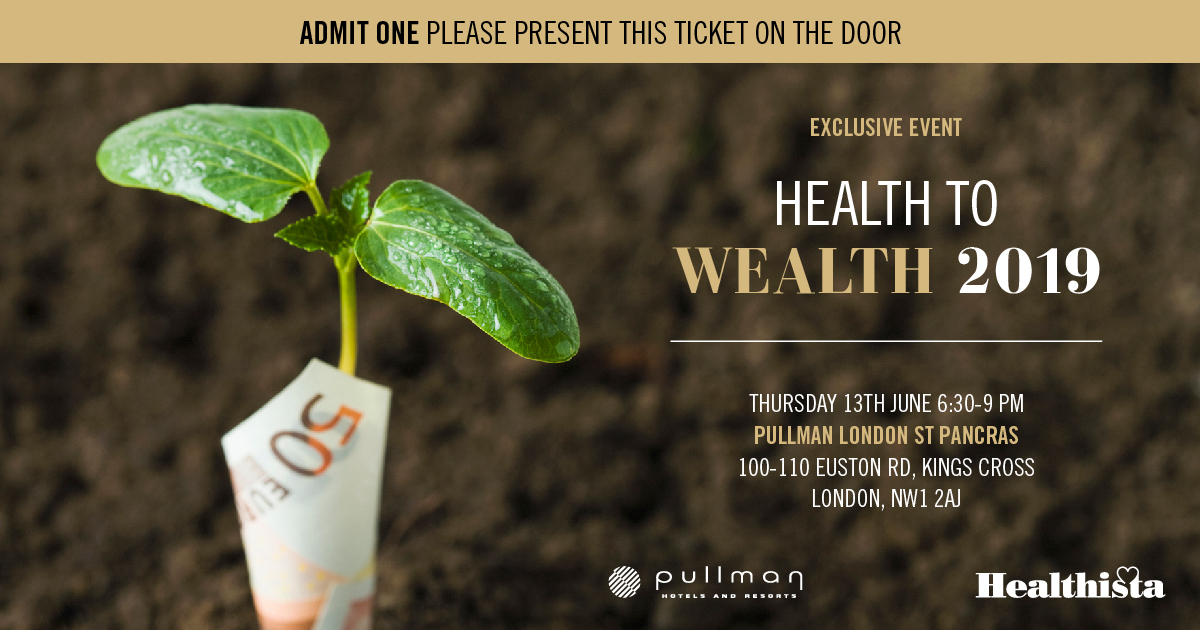 If you've always wanted to make money from your healthy passion, Healthista's upcoming Health To Wealth event is your chance to learn how to grow – or even just start – your side hustle into a business.
Healthista have teamed up with luxury hotel brand Pullman Hotels & Resorts to launch a new wellness entrepreneurship-focused initiative and event – Health To Wealth – to help budding start-ups bring their businesses to life.
The live event will see Healthista readers, consumers, influencers, media and businesspeople alike, come together to share and learn.
During the event, selected early-stage health businesses and ideas will be put to the test Dragon's  Den-style before a panel of industry experts including BBC Dragon – and Healthista investor – Touker Suleyman.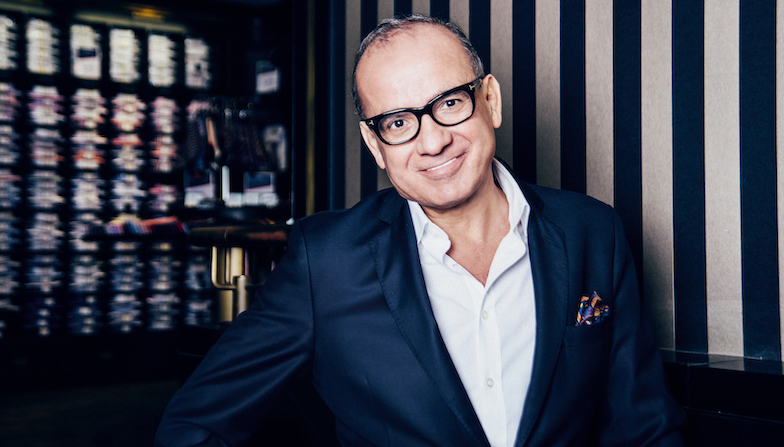 When: June 13th, 2019
Where: The Shaw Theatre, Pullman London St Pancras, 100-110 Euston Road, King's Cross, London, NW1 2AJ
Time: 6.00pm-9.30pm
Tickets: £15 from this link. Entry price includes a wellbeing goodie bag worth over £50.
On the night
Successful entrepreneurs from all areas of wellness including nutrition, fitness, and fashion will take part in a panel discussion focused on sharing their experience, tips and tricks for starting and growing a business in the wellness space.
This will be followed by a Dragon's Den-style format, inviting up-and-coming wellness entrepreneurs to pitch for support to further the success of their own businesses.
The Health To Wealth entrepreneur's panel includes: 
Touker Suleyman, BBC Dragon, multi-millionaire behind brands including Finery, Ghost and Hawes & Curtis and Healthista investor.
Emlyn Brown, Vice-President Well-Being, Luxury and Premium Brands at Accor Hotels.
Ashley Verma, founder of London's barre fitness studio DEFINE London.
Anna Magee, Healthista Editor and CEO and multi-award winning health journalist.
Charing the panel will be Anni Hood, co-founder and chief executive at Well Intelligence – a research, insights and market evidence platform aimed at helping wellbeing businesses grow.
Tickets to join the audience to learn from the successes and hurdles overcome by the panel of speakers are £15 per person and available to purchase from here.
More Healthista Content:
What really works for teenage acne
'Why I wrote a feminist version of The Little Mermaid'
8 ways walking can help depression and anxiety – the psychotherapist's guide
Meet a TV Dragon and grow your business
When you get serious about weight loss, these are 3 things you need to give up
7 lessons I learned growing my business from bedroom to boardroom
9 steps to creating a retreat at home
Like this article? Sign up to our newsletter to get more articles like this delivered straight to your inbox.