Using growth factors and stem cells to tackle thinning hair and receding hair lines, Ksenia Lavrentieva tries CALECIM – an advanced micro needling hair growth and rejuvenation treatment
The revolution of hair growth has hit the clinics.
Put down those supplements (that never work) and the topical lotions (that cannot penetrate for a truly effective result), if you are serious about improving the thickness and strength of your hair, then scalp stem cell micro-needling is the new scientifically technological advancement you need to try.
No more guessing games and wasting time, but targeting the problem at the root cause literally – thanks to the advances in science and technology.
Causes of hair loss, include genetic, ageing and superficial damage
The common concern and cause of great stress and worry for a huge number of men and women of all ages is hair loss and thinning hair.
Androgenic Alopecia (genetic hair loss, also called male-pattern baldness) being the most common form of hair loss, effects both males (80%) and females (40%) below the age of 70.
Causes of hair loss, include genetic, ageing and superficial damage, which influences the stem cell activity in the hair follicle. This causes aberrations to the hair cycle, with scalp follicles slowly being replaced by increasingly smaller follicles, which eventually become completely inactive.
Common daily aggressors such as, irritants, ageing and oxidative stress, all exacerbate hair loss by causing micro-inflammations, that lead to the shrinking of the hair follicles and eventual hair loss.
READ MORE: Post-covid hair loss? 5 ways to keep your hair and scalp healthy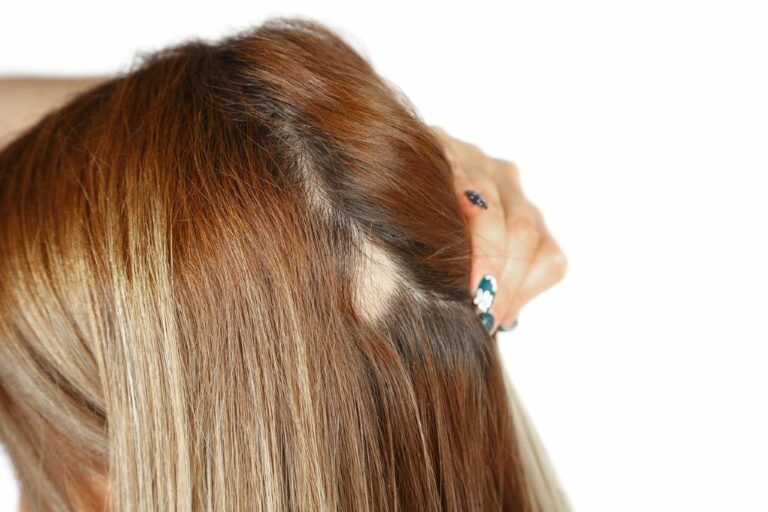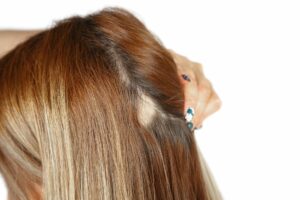 With millions of topical and oral solutions all promising thicker, fuller hair it is hard to know what works and what does not.
Because of this, many people end up investing a lot of money and time on trailing different products to no avail. As a lot of this depends on the absorption of your digestive system, you never know if you are getting the full effects. As for topical products, they often cannot penetrate deep enough to truly shake up the root of the problem.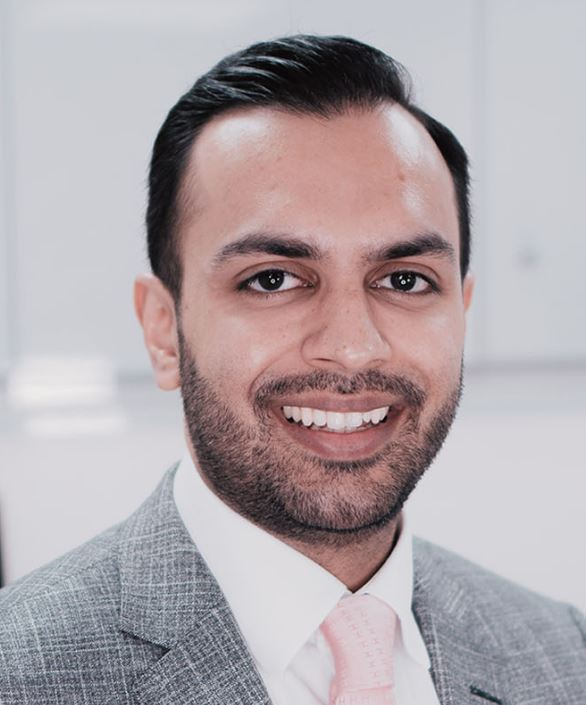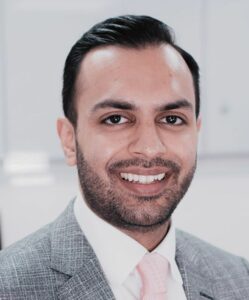 I've always had healthy looking hair but it has always been on the more finer side, with age I have noticed thinning hair, not necessity loss but definite thinning especially around the front, sides and crown.
After using all sorts of topical and oral treatments, nothing has worked in making my hair thicker.
I have learnt that those who tend to wear tight pony tails are especially prone to early thinning hair  – and I often wear my hair this way. I started to see scalp gaps when I would tie my hair up. Never a good look, and I was becoming self-conscious.
I myself, have searched far and wide for a scientifically intense solution to my hair thinning, and I have finally found it – the new CALECIM; micro needling procedure at DrMediSpa Knightsbridge Clinic with Dr. Munir Somji.
The science behind the treatment
CALECIM Professional is an advanced hair conditioning and revitalisation system, with the power of medical grade stem cell infusion.
This procedure infuses your scalp with red dear stem cells – this may sound extreme, but it's been proven as a highly effective procedure.
Clinically proven and effective restoration of the hair follicle cycle, CALECIM uses Mesenchymal stem cell-derived signalling and growth factors that are able to influence hair growth by:
Restoring normal hair follicle cycle
Reducing scalp derived inflammatory proteins
Providing hair follicle support
Conditioning scalp skin
Stimulating thicker, fuller hair growth
Any one of any age who had lost their confidence due to hair-loss and thinning hair or anyone who wants  thicker, more fuller looking hair can benefit from this treatment and enhance hair fullness, quality and scalp health.
READ MORE: Want shiny, long hair? Nutritionist reveals 5 key foods for healthy hair growth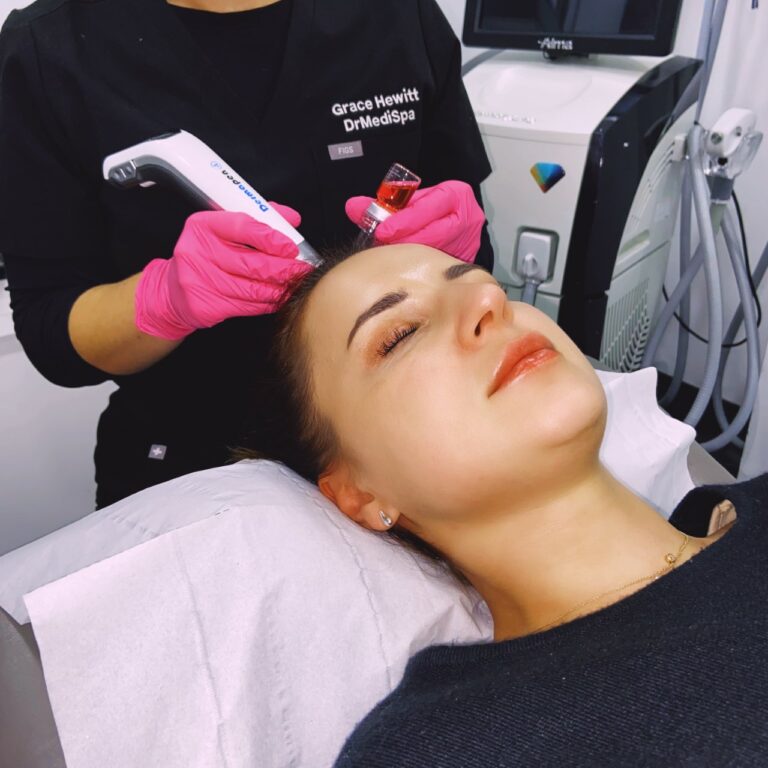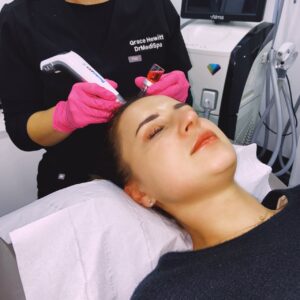 The Treatment
This procedure does create hair growth necessarily, but stimulates existing fibres to produce collagen and elastin which will help the hair to grow stronger and thicker, and therefore the hair density increases, covering the balder patches.
This helps especially with, receding hairlines, female/male pattern boldness and thinning hair. It also does develops and rejuvenates new baby hairs to grow through in some parts.
A derma pen is used for micro-needling, which creates small incisions on the scalp to help stimulate and promote collagen and elastic fibre growth in that area.
creates small incisions on the scalp to help stimulate and promote collagen
One ampule of the red dear placenta stem cells is used per treatment. If someone is suffering with more severe medical hair loss condition then more than one ampule is used.
The stem cell serum is bursting with a super concentration of stem cells, derived from red dear placenta, the most powerful potency of active medical grade prescriptive ingredients.
Two to three passes of the derma pen are given all over the scalp or to the areas of most concern, to create trauma that promotes a wound healing response, whereby collagen will go to that area.
View this post on Instagram
The first pass creates the open wounds, if the scalp goes a little red this is a good sign, this shows that the skin is ready for the micro-needling device, to enable the small droplets of the serum to soak through to the little holes on the scalp on the second pass. Then the therapist will use a massage technique to make sure all of the serum is absorbed fully.
The third pass goes over the areas of most concern and gets massaged in yet again for optimal results. Following this is ten minutes of LED light therapy over your scalp, hair and face, using all three lights – red, blue and yellow.
This provides hydration and protection to the hair and helps to penetrate the product even deeper into the scalp. A final massage to the scalp is given after the LED light therapy and the scalp is checked over to make sure there is no bruising or bleeding.
A final massage to the scalp is given after the LED light therapy
The treatment itself is not as scary as it sounds, this type of micro-needling is not as uncomfortable as on the face. No anaesthetic is necessary.
I must say its not a painless procedure, but if you want serious results, this is the only way for it to actually work. I personally like to feel it working with a slight bit of pain so, I know something is actually happening, rather than the gentle non invasive stuff that makes no difference.
It feel like sharp scratching on the scalp, some areas closer to the face or where you have less hair are more sensitive, but the therapists work quick so its bearable.
READ MORE: Hair guru reveals 5 rules for healthy, shiny hair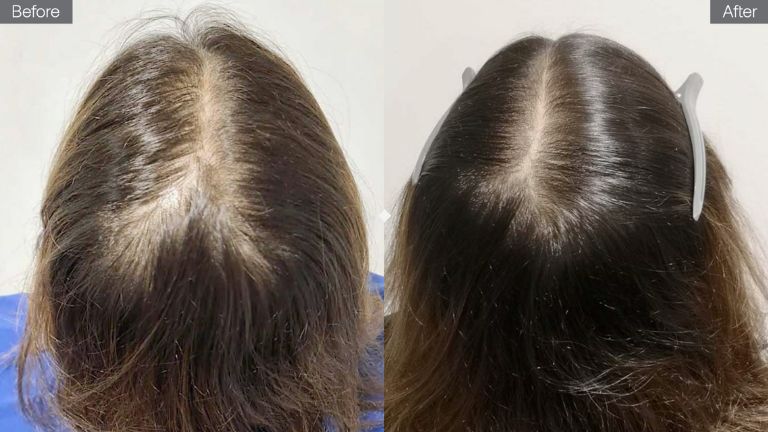 After care and results
Following the procedure you're advised not to wash your hair for 24hours, I gave it 48 hours, to allow the product to soak in fully and stay active.
You're also advised not to use any hair products (chemical or perfumed) over the next few days to a week, to avoid clogging up the hair follicles.
The recommended course is four to six treatments with results showing after four to six weeks. My treatment was a crash course of six, once per week.
I noticed my thinning hair became thicker and fuller
I can honestly say it was so worth it, I noticed my thinning hair became thicker and fuller. The roots of the strands became thicker, fuller, and  also darker looking. This again created the impression of thicker-looking hair.
My hair condition generally improved over all, looking super glossy and felt soft to touch, plus my confidence levels have been restored and I am much happier with my overall appearance,
Prices start from £350 for a single session to a course of 6 for £1800
The Healthista Menopause Pack is a fully comprehensive online video workshop, led by Dr Dawn Harper; affordable, accessible and covering all aspects of the menopause, for those who need it most.
With expert advice and information from seven credible menopause industry experts, we hope that this online resource will help women navigate common health and wellness changes and challenges they may experience before, after and during the menopause.
Like this article? Sign up to our newsletter to get more articles like this delivered straight to your inbox.