Tantric massage provides intimacy, sensuality and relaxation between partners, says tantric expert Rose Colette Aston of London Tantric explains. In this graphic instruction manual, she shows you and your partner exactly how
You've probably never heard of tantric massage, though you might have certainly heard of tantric sex – thanks Sting and Trudi.  In fact, tantric massage is an incredibly sensual experience that could bring you and your partner closer together, increase your intimacy and boost your trust.
So bear with us and keep an open mind – one thing is certain, a tantric massage is guaranteed to bring the two of you increased pleasure, if done correctly.
Performed naked, it focuses on the intimate parts of the body including the erogenous zones and genital areas
Tantric massage is a sensual form of massage that utilises the energy flows and chakras in the body (energy centres in Tantra philosophy). Using the core principles of Tantra spirituality, a tantric massage manipulates the body through touch and sensation to induce a deep state of relaxation, sensuality and sexual liberation.
Performed naked, it focuses on the intimate parts of the body including the erogenous zones and genital areas to free your mind, body and soul of all negativity and arouse your sexual energies. The best part? A tantric massage can be performed at home with minimum stress, so here's how to do it.
The origins of tantric massage
Tantric massages are considered part of the spiritual and philosophical ideology of Tantra that first emerged in ancient India over a thousand years ago. In these early teachings and today, Tantra is a means of centring the energies of the body and soul to dispel negativity and awaken the spirit.
By connecting the mind, body and soul with the universe, Tantra is a powerful way of channelling your deepest desires and potential.  Tantra in Sanskrit translates as "to loom" and the idea is to weave and direct your energies with those of the universe by moving your body into a zone of peace, discovery and liberation.
Tantric massage, although not traditionally practised as part of Tantra spirituality, draws on this spiritual and liberatory heritage.
It first emerged in the 1970s, when practitioners mixed Eastern spirituality with Western sexuality to create a deeply sexually open and celebratory movement of tantric practices.
Today, it fuses tantric principles of breath control, peace and inner calm with traditional massage techniques, to weave together the sexual energy of you and your partner.
What are the Benefits of Tantric Massage for Your Relationship?
Tantric massage is a powerful exercise in intimacy which dissolves physical boundaries and leaves you 100 per cent focused on your partner.  As with all forms of massage, a tantric massage is a great way to relieve tension, improve blood circulation, and address any energy blockages that exist within you.
But what makes tantric massage so unique is the deep and intense reconnection with your own and your partner's sexual energy.
Ours is a culture starved of touch and a tantric massage is a remedy to that. We live in a time when social media and email increasingly dominate communication with friends and loved ones.
Our sense of connection is precariously tied to these channels of communication and all too many of us are beginning to crave real, physical intimacy.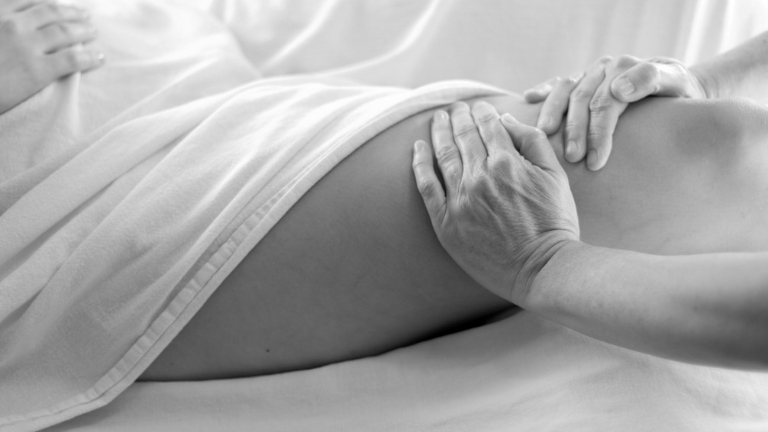 A tantric massage provides a safe space where you can explore both your own and your partner's body. It creates a sense of safety and security where you can open yourself up and sexually express yourself without fear or negativity, letting go of any anxieties and insecurities.
Alone with your partner, naked and open, a tantric massage encourages you to become intimate in ways that our modern lives often don't allow time for. You re-learn how to experience touch, breath and mental connection. Feeling the intoxicating pleasure produced from deep within, you're also encouraged to reconnect with your body.  
Tantric massage has innumerable benefits for your sexual and sensual connection with your partner. By stimulating your sexual energy, it works to increase your self-confidence, your erotic performance and your receptivity to touch.
Who would benefit from tantric massage?
Tantric massage can be done alone, in a massage parlour or from the comfort of your own home with your partner and is suitable for all people.
Whether you're in a long term relationship or starting on a new one a tantric massage will help you to open up to new possibilities of intense sexual and sensual connection.
Some people need to learn how to give in relationships while others need to learn how to receive pleasure. Tantric massage helps with both.
Others turn to tantric massage to help overcome common sexual issues such as erectile dysfunction, reduced sex drive and difficulties orgasming. Whatever your background, relationship status or previous experience, why not give a tantric massage a go?
6 Easy Steps to Performing a Tantric Massage on Your Partner
1# Schedule in Time
Finding time for your partner without any distractions can be tricky. Not only are our lives hectic and busy, but even with the best intentions our quality time with our partners can quickly become eaten up with daily chores, work stresses and conversations about bills or family life.
And that's why a sensual tantric massage is such a wonderful way to reconnect and indulge in uninterrupted intimacy with your partner.
A tantric massage is a long and luxurious experience, so give it its due time. Organise your schedules so that you have a full evening for it—not nestled between episodes of your favourite series or crammed in between work calls. If you have children arrange for them to stay with someone else if you have roommates coordinate your plans with them, and don't let anything get in the way of your tantric experience.
2# Set the Scene
Once you've set the date and time, you then need to create the scene. A little mood-setting goes a long way. A tantric massage is profoundly intimate and personal, both you and your partner will be naked and required to open yourselves up entirely to the touch of the other so making the setting as comfortable and romantic as possible should be a top priority.
Dim the lights (no one wants to get naked in the sterile light of day), burn some candles, put on some evocative music and make sure that the room temperature is high enough for you to both be comfortable naked without sweating your whole way through the session.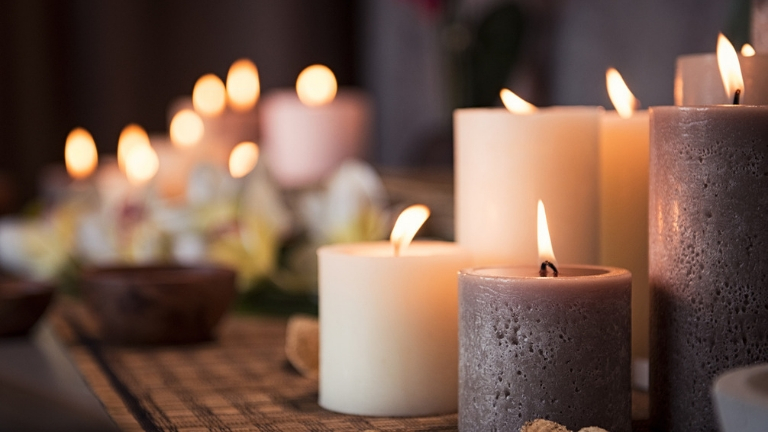 You will also need to set up space for the massage to take place. This could be on the floor or the bed, but make sure that you have plenty of space to manoeuvre your body and plenty of support beneath so that you're both comfortable throughout.
Cushions, rugs and throws are all excellent ways of making each other comfortable but keep in mind that you will be using oils, so avoid any fabrics or special items that could be ruined by oil stains.
3# Luxuriate in Oils
Massage oils are the bread and butter of tantric massage. Not only do they feel luscious and luxurious on the skin, but they also help to lubricate your massage strokes and heighten pleasure. When choosing your massage oil keep both your preferences in mind and opt for scents that stir and stimulate your senses.
If you're feeling adventurous you could make your own massage oil mix—all you need is a base oil such as jojoba oil, sunflower seed oil, coconut oil or olive oil and an essential oil for fragrance and soothing effects such as neroli, lavender or jasmine.
Don't be too heavy handed with essential oils though as they can irritate intimate skin and you don't want your partner to burn with anything other than desire.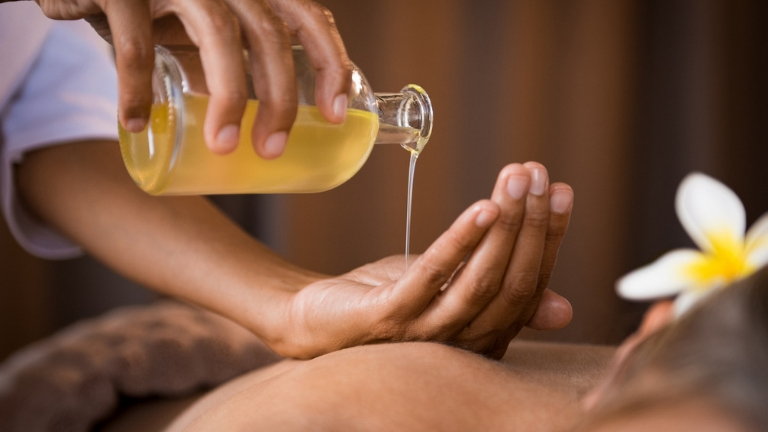 Start with two tablespoons of oil in the palm of your hands and then rub your hands together to warm up the oil. Throughout the massage add oil as often as necessary and remember more is always more when it comes to lubrication.
4# Practice Pranayama Breath
Pranayama is the art of breathing with intention and forms the foundation of all tantric experiences. In Sanskrit, pranayama translates as 'to harness the wind' and its purpose is to channel life, energy and vitality through the air and into our bodies.
To do it, focus on breathing in and breathing in a controlled and conscious way, allowing for a slight constriction of your throat.  
Not only will pranayama help you to llive in the tantric moment, but it will also help you and your partner to stay connected on all levels—emotionally, physically and spiritually.
5# Ask Your Partner to Lie on Their Stomach and Massage Their Full Body
Tantra teaches us to build up sexual and sensual energy slowly, so don't feel the need to jump straight in with your Lingam or Yoni massage. Begin by asking your partner to lie on their stomach with their arms at the side and begin with sweeping strokes across their back, neck, arms and fingers.
Use a kneading technique for knotted muscles and areas of tension.  If you've kneaded dough, it's the same technique—pulling and flowing over the flesh. But remember, a tantric massage is not as deep or intense as a Swedish massage or deep tissue massage so keep your movement fluid and gentle.
To titillate their excitement use your fingertips to perform a light feather stroke down the spine, barely grazing the skin with the very tops of your fingers —although be careful if you have long nails.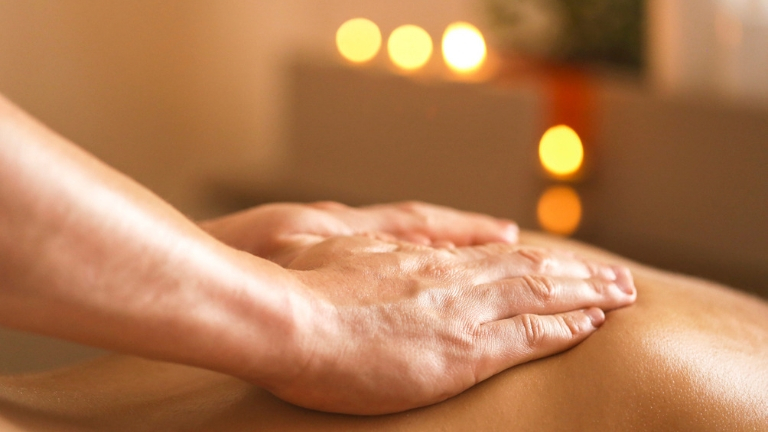 Take time to knead the palm of their hands and each finger gently. Then move down to their hips, thighs, calves and feet.  
Feet are one of the most underestimated erogenous zones of the body, so give them attention. Take one foot at a time and slather on the oil, using your hands to glide it over their ankles, heels, arch of their foot and in between the toes. Using your palm slide back and forth over the entire foot for about five times, each time rotating slightly clockwise and counter-clockwise.
Once you've worked the back of your partner's body, ask them to turn over onto their backs and use the same techniques to massage their front, paying special attention to their nipples, stomach and neck.
6# Male Genital Stimulation: Lingam Massage
Once you've worked your partner's entire body, it's time to focus on genital stimulation. For men, this is called a Lingam massage.
Begin by massaging his pubic bone— the space above his penis— with feather-soft strokes. Once he's aroused, move on to the perineum (the area between his testicles and anus).
Holding the penis up against his pubic bone with one hand, use the softest part of your other palm to gently stimulate the area while using your fingers to tease and pull on his testicles gently.
If you're confident and your partner is lost in blissful abandon, you can try to target the elusive 'sacred spot.'
An intensely pleasurable zone for men, it's a small indentation about the size of a pea that you can find midway between the testicles and anus. Slowly press this point with your fingers, but be gentle, the sensations produced from this stimulation can be intense and overwhelming for him at first.  
Take your time and enjoy the feeling of powerful sexual energy released from your hands. When you're ready, move the hand that is holding the penis to the pelvic bone to the base of the shaft and slowly (with plenty of oil) move your hand up to the tip of the penis and end with a slight squeeze and repeat.
Then switch directions and start at the tip of the penis, cupping your hand around the top and creating a circular motion right down to the base of the shaft.
Remember an orgasm is not the goal of tantric massage. Instead, you want to elongate and luxuriate in pleasure.
Each time your partner feels on the verge of orgasm, pull back, use gentler strokes, brush your hands against their thighs and only once they've overcome the orgasmic sensation begin to stimulate the shaft again.
7# Female Genital Stimulation: Yoni Massage
To perform the female tantric genital massage, known as a Yoni massage, begin by pouring a generous amount of your massage oil onto the mound of her vulva and allow it to slowly form a rivulet down to the outer lips of her labia. At this point, you may choose to switch your massage oil for a water-based lube.
Gently squeeze the labia between your index finger and thumb and then glide your fingers up and down each lip on both the labia minora and labia majora. Once your partner is comfortable and open to your touch, start to circle your finger along the tip of her clitoris in varying sized circles and alternating pressure.
Then push down on the clitoris with a push and pull stroke and allow your fingers to move down its shaft. Be aware that some women are more sensitive on one side of their clitoris than the other. Then take the clitoris between your thumb and index finger and gently roll it building up in firmness as you go.
To increase the sensations, try tapping one or more fingers on the clitoris, experimenting with speed, rhythm and force.
Once your partner is at the peak of sexual release, take your middle finger into her vagina and stimulate using a 'come hither' movement.
Take your time and allow yourself the opportunity to find the female 'sacred spot' otherwise known as the G-spot.
The female spot is a spongy area of tissue normally beneath the pubic bone and behind the clitoris. It is not so essential to avoid orgasm if your partner is a woman, but rather you can 'ride the wave' allowing each orgasm to increase in intensity and pleasure.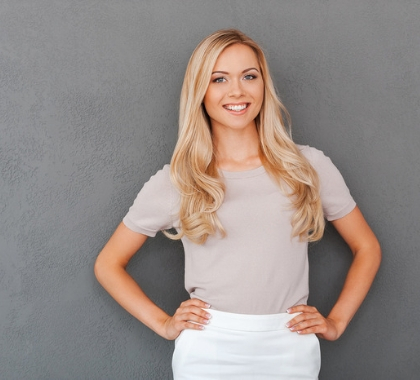 Rose Colette Aston is the resident blogger for London Tantric, a prestigious, personable and professional Tantric Massage Agency in London. Rose has extensive experience as both a giver and receiver of therapeutic massage, meditation and breathing techniques.
More Healthista Content:
How to be happy everyday – 7 surprising things that really help
The rise of the veggan – why some vegans now eat eggs
How to calm down fast if you're having a bad day at work
11 healthy London hotspots this Instagram superstar loves
Like this article? Sign up to our newsletter to get more articles like this delivered straight to your inbox.