Hotel and resort spas come in all shapes and sizes from the understated cluster of low-key treatment rooms to spectacular star-studded complexes. The Dhara Dhevi resort just outside Chiang Mai in northern Thailand, falls into the second camp – if there was an award for architectural wow factor alone the Dheva Spa and Wellness Centre would win hands down.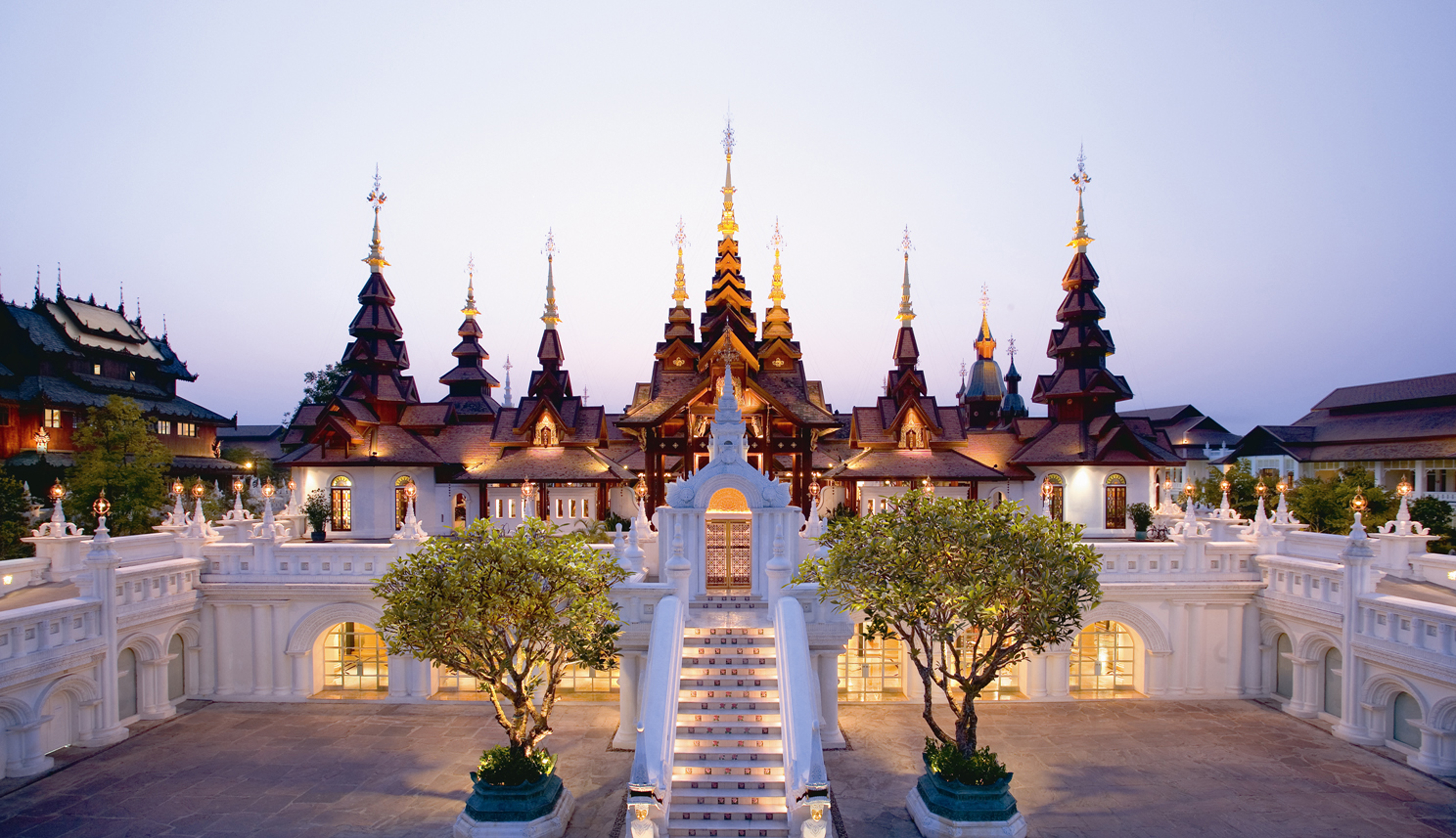 The spa that is its own city
The resort is surrounded by 60 landscaped acres (jog or jump into a dinky golf buggy) of gardens, lagoons, picture-perfect vegetable patches and paddy fields, with rooms peppered through a colonial wing and rural-style high-gabled villas.
It's been designed to resemble a Thai city complete with a palace, temples and rustic rice barns. It veers towards a Disneyland vibe, but the spa is the highlight of a stay here.
It's modelled on an ancient Mandalay Palace with an ornate seven-tier lobby of carved teak and took 150 craftsmen three and a half years to create. It's a world within a world, with 11 large treatment rooms, a hammam (Turkish bath), rhassoul (clay mud) and watsu workout pool. Walking up the staircase to the entrance was jaw-droppingly inspiring and you are immediately cocooned in an atmosphere of lotus flower-style serenity.
Walking up the staircase to the entrance was jaw-droppingly inspiring and you are immediately cocooned in an atmosphere of lotus flower-style serenity
You can even bed down here in one of the dedicated spa suites, which is probably a good idea if you sign up for the weight loss programme (7-21 nights).
Your food is specially prepared taking away the temptations presented by the smattering of restaurants in the grounds from the Thai-themed Grand Lanna to Allegro, an Italian trattoria, and Farang Ses' fine French cuisine.
A Chinese film crew had taken up residence in the spa suites when we were there, however, so we had to slum it in a two-storey villa, roomier than most London flats.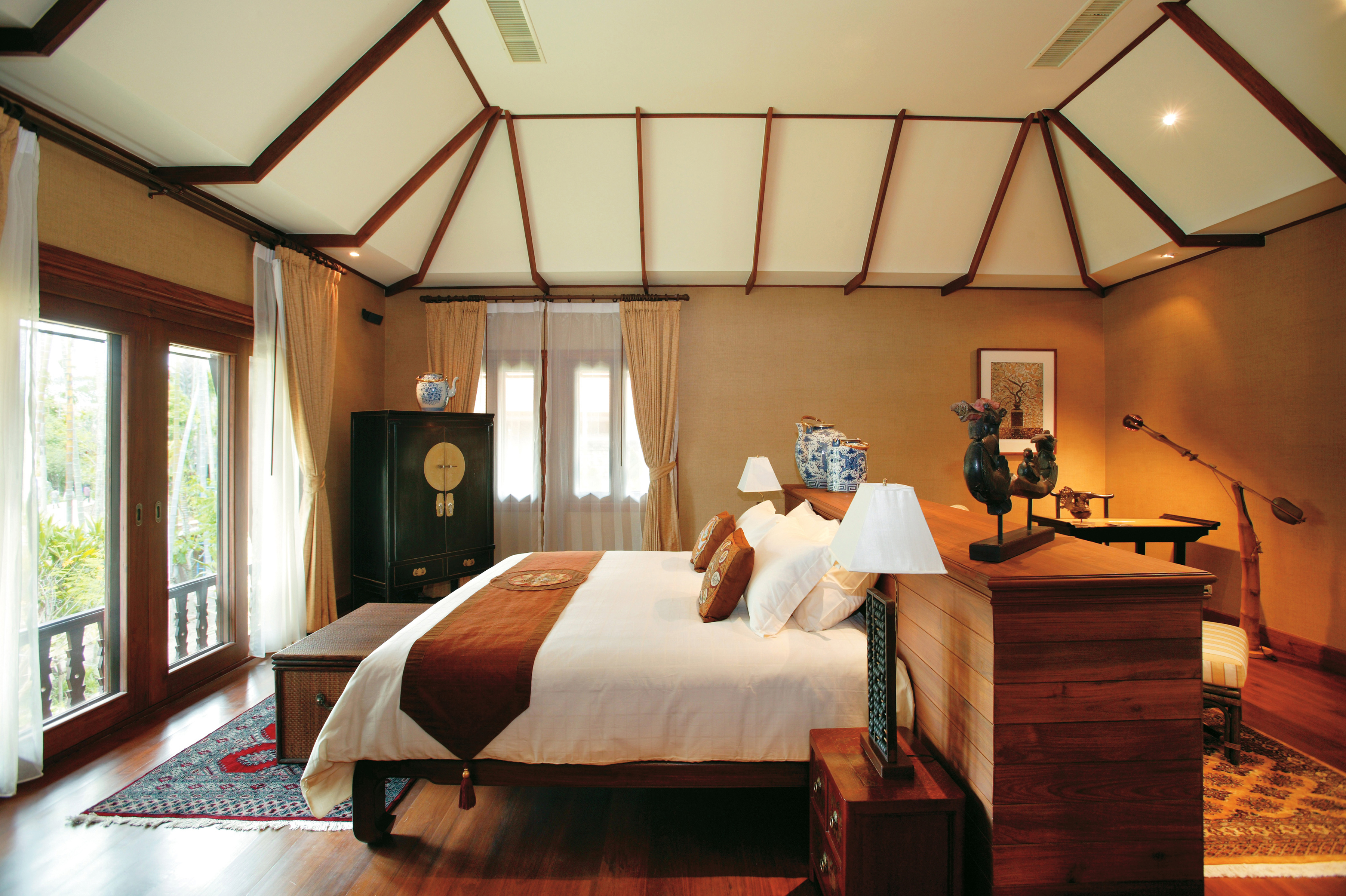 Spa and programmes
The spa has an encyclopaedic range of decadent treatments and offers a series of wellness retreats to target specific health objectives from back pain to stress relief, women's health to Ayurvedic rejuvenation and a juice cleanse to fitness-focused retreat, varying in length from two to 21 nights.
The Women's Health retreat, for instance, focuses on correcting hormonal imbalances affecting physical, mental and emotional health. The retreat combines a holistic health assessment with nutritional advice, indulgent treatments, yoga and fitness classes.
We signed up for a taster of the stress relief retreat starting with a health consultation with the resident Ayurvedic doctor. After filling in a lengthy questionnaire and answering questions about general health and symptoms she assessed our dosha type and diagnosed the imbalances we were suffering from.
Our pulse apparently was jumping around erratically halfway between a frog and a snake. Even though this was only the initial consultation we could feel the stress draining away.
The programme the doctor put together for us over the next couple of days included two heavenly ayurvedic treatments, Abhyanga and Shironasya, that left us floating on air, an Inner Visualisation meditation (surprisingly moving and emotional) and a Thai boxing session (invigorating, fun and a real stress-buster).
The Abhyanga is a dosha-specific personalised (in terms of oil and pressure) body massage while the Shironasya focuses on the marma points of your face, neck and shoulders before clearing congestion from the sinuses using herbal rice pouches.
You could spend weeks here, in fact, working your way through them all
We also had a one-to-one pranayama session (breathing techniques for healthy respiration and meditation) and an EFI (Energy Field Imaging) body scan which was fascinating.
Stripped down to my bra it pinpointed the electromagnetic biofields, chakras and meridiens revealing where I was low in energy and identifying imbalances and congestion that could lead to disease.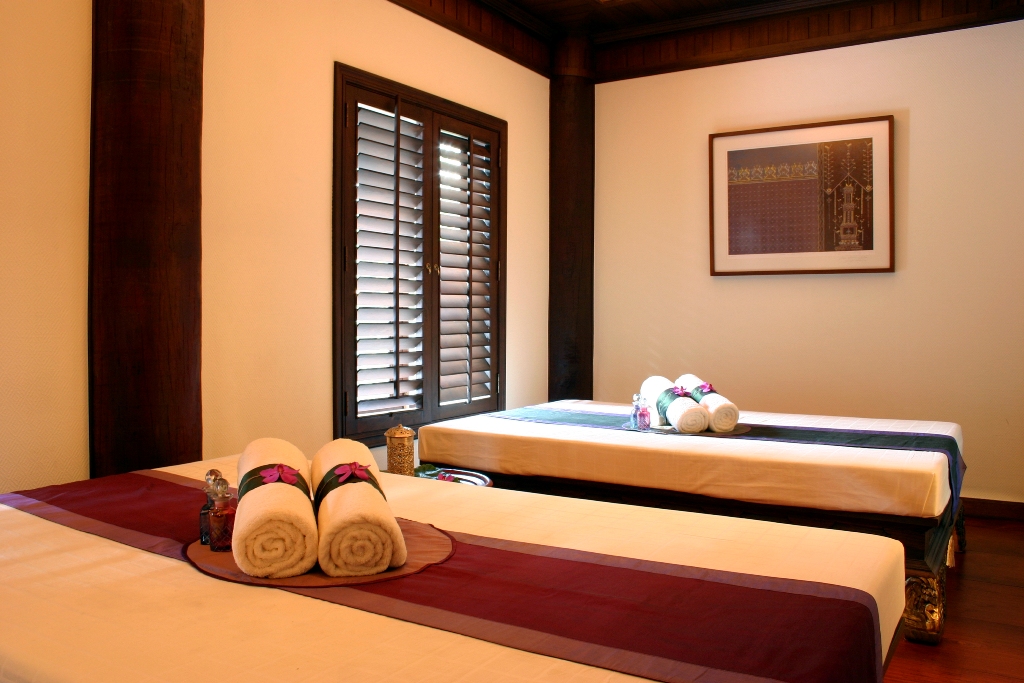 As well as ayurvedic treatments, the spa offers traditional Thai, Lanna, Shiatsu, Swedish and aromatherapy massages, reflexology and a range of beauty treatments, facials, body polishes and wraps.
You could spend weeks here, in fact, working your way through them all – and if the few days we experienced are anything to go by it would be time well spent.
Room rates from £460 for two sharing and including breakfast www.dharadhevi.com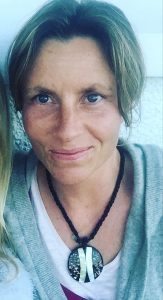 For more wellness travel ideas check out Queen of Retreats. Queen of Retreats was founded by Caroline Sylger Jones, an author and freelance journalist who travels the world checking out spas, retreats and healthy holidays for international newspapers, glossy magazines and websites.
Follow on Twitter: @QueenOfRetreats
Follow on Facebook: @QueenOfRetreats
Follow on Instagram: @QueenOfRetreats
Spa review: gut health retreat at Cugó Gran spa, Menorca, Spain
Spa of the Week: Four Seasons Bali reviewed
Spa of the week: Carbis Bay Hotel and Spa, Cornwall
Spa of the week: Amanfayun resort, Hangzhou, China
Like this article? Sign up to our newsletter to get more articles like this delivered straight to your inbox.