Looking for something to start training for? From colour runs to mud challenges and obstacle courses we've rounded up seven races to test your mental and physical agility this year
15th MARCH 2014: The Mighty Deerstalker 10k
High, steep, wet and wild, this challenging night run claims to be the toughest off road run in the UK. Starting and finishing at the historic Traquair House (bonny Scotland's oldest inhabited house) the course is not for the faint hearted with its blend of steep ascents, water crossings, forest and trails. Obstacles – a blend of the natural and man-made – come with names like 'The Rack', 'The Scree' and 'The Tunnel' and are strategically placed to challenge participants along the way, all of whom are dressed in tartan and tweed by the way…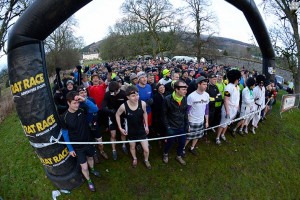 Why do it? If you are at your fitness peak and fancy a hardcore challenge against the likes of 3,500 other brave souls, this could be for you. It's also set in the picturesque Tweed Valley, you can camp over night and there's a party afterwards, so if you're akin to a beer and a blow out to celebrate your efforts, we say go for it!
Enter: £55 per person or £50 for a team of 5. Beerstalker party and camping tickets are also available to buy for £10 and can be purchased after buying your race entry. mightydeerstalker.com/
JUNE-SEPTEMBER 2014: Colour Run
Described as 'the happiest 5k on the planet', this gentle un-timed challenge takes place across six locations between June and September and is, as the title suggests, a big celebration of colour. Participants start the race in white and are doused from head to toe in a kaleidoscope of happy hues as they pace their way through, concluding with the gigantic colour festival at the finish line.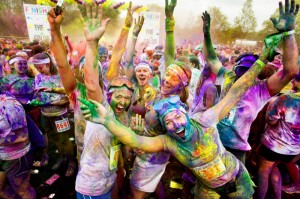 Why do it? You get to take time out from those gruelling 10 minute miles and have a flippin' good time. The explosion of colour will put a massive smile on your dial and you'll see all ages and levels of fitness running for fun – from 2 year old tots to pensioners. Pavement pounding pals assure us it's a laugh-a-minute with an infectious vibe hard to find on other 5k-ers.
Enter: Solo runners £25, team runners £23 thecolorrun.co.uk/
FROM APRIL 26TH: Tough Mudder
Designed by the Special Forces, this is a series of 12 mile long obstacle courses packed with challenges to test your strength, stamina and mental grit. With a reputation for being the toughest physical challenge out there, it will demand a lot from you – testing your upper body strength as much as your running abilities. Think mud, fire, ice-water, 12 foot walls and underground mud tunnels and you get the picture. No running in straight lines required here.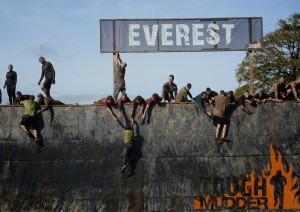 Why do it? Completion rate is 78 per cent so you'll experience a true sense of accomplishment, as well as enjoying a few giggles (in between gritting your teeth!) on the way round. Camaraderie comes first so forget about achieving your best time – this is all about pulling all of your best physical and mental assets out of the bag and having a brilliant time whilst you're at it.
Enter: There are 16 events across several locations in the UK and Ireland, kicking off on 26th April in West London.
Prices are £105 per entrant for the London event which includes an event t-shirt & headband, entry to the post-party and a free pint for those that complete the course toughmudder.co.uk
13-14 SEPTEMBER 2014: Coast to Coast
Trek, run, cycle, kayak – this coast to coast adventure is a two day experience across the Scottish Highlands, where you'll get to test your endurance levels amidst some of the most beautiful scenery in the world. Starting on the North Sea Coast, you'll finish up at the West Coast's Atlantic seaboard, having racked up a mighty 105 exhilarating miles.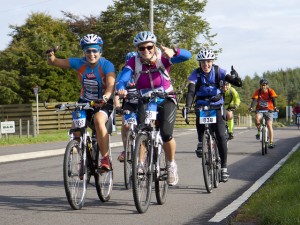 Why do it? You get to drink in one hell of a view and there's a big focus on team spirit so if you're competing as a group, it promises to be a pretty awesome bonding experience.  But it's challenging too. Expect to get 57 miles under your belt on day 1 alone and be up at the crack of dawn to combat day 2. Tired toes can however be dipped in the warm and soothing pool at the Isles of Glencoe Hotel – a 4* hotel that resides at the end of the course. We say book a room, stay overnight and enjoy a wee dram or two…
Enter: Costs are £195 for 1 day or £225 for the weekend scotlandcoasttocoast.com/
28TH SEPTEMBER-22ND NOVEMBER: Men's Health Survival of the Fittest
Six urban obstacle courses across five major cities, comprising 10 kilometres of mud, water and sweat-inducing challenges. Despite the title, it's mega popular with us ladies too and there are prize categories for the first male/female to make it across the finish line. Obstacles include a Giant Slippery Wall, Ramp it Up (skateboard ramp minus the skateboard), Slip n Slide and an 8 foot wall at the end to push your endurance levels to the limit.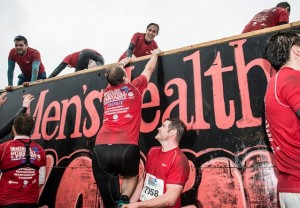 Why do it? Known for its great camaraderie, it's brilliant for both teams and those going solo and is set against some pretty cool iconic backdrops (Battersea Power Station and Edinburgh Castle included).  Each course is moulded around the urban landscape – so you're never entirely sure what obstacles lay in wait. Alas, if you like a challenge, don't mind getting your hands dirty and like a few surprises along the way, this could be the one for you.
Enter: Register early – if you book by the end of August, it's £55, rising to £70 by the end of October. Teams pay slightly less each – £50 for a team of 5 and £40 for a team of 10. London prices are a fiver on top mhsurvival.co.uk/
MAY 24th: Trailblazer 10k and half marathon
10 kilometres of soft, springy woodland forest trails that take you deep into the green wonderlands of the Forest of Dean, Bedgebury Forest or Clumber Park.  Race past field edges, open water and tall trees before hitting the event village at the finish where you can enjoy a well deserved post-run snack and a bevvy.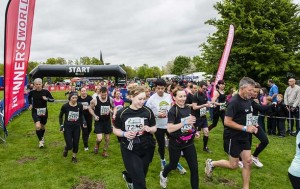 Why do it? We hear the terrain is great – undulating rather than hilly – with good running surfaces for every caliber of runner, from the seasoned pro to the absolute novice. In fact, 70 per cent of runners in the 2013 event were heading off road (or treadmill) for the very first time, so if you're new to trail running, you'd be in good company. You also get a race T-shirt and a fab goodie bag at the end.
Enter: Registration starts from £30 for the 10k and £45 for the half marathon rwtrailblazer.co.uk/
20th & 21st SEPTEMBER:  Wild Warrior
This extreme obstacle circuit is set in the pretty Peak District National Park and there's the choice of a 5k or 10k. Cited as the 'ultimate mud run', you navigate your way through fields, woodland, water and mud via the Swamp of Doom, Water Slides, Tightropes, tunnels, quick sand and cargo nets. Plus the quintessential gigantic wall to try and haul yourself over of course!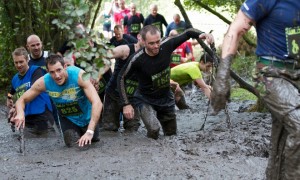 Why do it? It's a bit like an adventure playground for adults with tons of fun and challenging surprises along the way. You'll experience a brilliant team spirit but it'll certainly test your endurance levels too!  There's also something mysteriously pleasing about being caked in mud, with friends, in the great outdoors with only the finish line to think about…
Enter: £49 if you register before March 31st, rising to £59 for late entrants. The event is already 40% full so if you're keen, it's wise to get in early. xrunner.co.uk/events/wild-warrior-obstacle-course-race/
Like this article? Sign up to our newsletter to get more articles like this delivered straight to your inbox.