Looking for natural beauty products this summer? DIY beauty queens Elsie and Dominika from Clean Beauty Co are on hand to share their hacks in a new video series, starting with how to make natural shaving cream
The shelves are lined with hundreds of 'get your glow', 'summer bronze' and 'revitalise your skin' products with ingredients lists longer than your arm. But Clean Beauty Co, founded by Elsie Rutterford and Dominika Minarovic make beauty products at home with nature's ingredients. Our new DIY Beauty series features easy recipes for making your own natural beauty alternatives.
This week, the girls share their recipe for a natural shaving cream from their new book, Clean Beauty
. Shaving creams help stop any friction between the blade and your skin, in turn reducing the risk of irritation and redness. If your summer wardrobe calls for perfectly pampered pins, you may be familiar with the dehydrating effects of shaving, with exposed pores leading to rashes and infections – not ideal in the hot weather.
The ingredients in this natural shaving cream ensure the skin is left supple and soft, with a nourishing combination of oils and butters. 'Mango butter is high underrated', says Clean Beauty Co. 'It's incredibly high in vitamins A, C and E, which help to keep the skin strong and fight any infection from shaving. Castor oil is antibacterial as well as moisturising, leaving behind a gorgeous shine. The addition of Dr Bronner's helps to get an amazingly foamy texture that your high-street brands have, without resorting to harsh synthetics'.
Ready to get stuck in with a new beauty venture?
Natural shaving cream recipe
Makes 50g. Shelf life of 6 months in an airtight container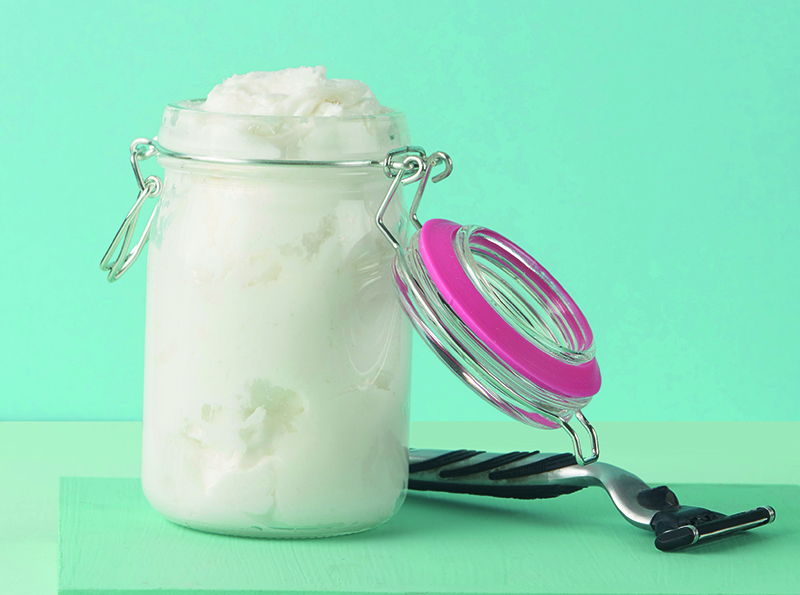 Ingredients
10g mango butter
20g coconut oil
10g castor oil
10ml Dr Bronner's castor oil
Method
Melt the coconut oil and mango butter in a bain-marie
Add the castor oil and stir well
Place in the fridge and allow to cool until almost solid
Finally add the Dr Bronner's to the mixture and whip with an electric whisk to achieve a foam mixture. This should take a few minutes.
Decant into a pump or foam container.

Clean Beauty Co is a modern, luxury beauty brand built on an ethos of high performance natural ingredients. They pride themselves on promoting positivity and transparency in beauty, empowering individuals to take control over what they put on their skin. Buy their book, Clean Beauty
, published by Square Peg, for £15.23.
READ MORE
How to do anti-ageing face massage in 4 minutes
How to get rid of puffy eyes – 2 minute facial massage
6 best fairtrade beauty buys
5 summer beauty foods from the A-list makeup artist
Best tinted lip balm – Zelens Lip Enhancer is our Beauty Product of the Week
Best sweat-proof makeup to last through your workout
Like this article? Sign up to our newsletter to get more articles like this delivered straight to your inbox.