MOTR, or 'movement on the roller,' is a Pilates workout that's completely new to the United Kingdom. We tried a class at bePilates in London, one of the nation's first studios to have the equipment.
So… what is a MOTR?
The MOTR, the single piece of equipment that makes this workout possible, is like a giant foam roller with resistance bands attached to one end. The bands can be adjusted to replicate the resistance of three, six or nine pounds. It was designed to focus on alignment, balance, core control and functional movement patterns.
How do I use this thing?
The great thing about the MOTR is that it's versatile. You sit on it, lay on it, stand on it, kneel on it — you name it, you can do it on a MOTR. Once you find one of those positions you can use the resistance bands and your own range of motion to work your arms, legs, core, back… pretty much any part of your body. This is why it's key to have an instructor around — you're going to need someone to explain each position and help you in and out of the bands.
What are the classes like?
At bePilates, the group classes are limited to four people each, so you get as much one-on-one attention from an instructor as possible. If that's still not enough for you, or you dislike exercising with other people, you can even schedule a private lesson.
For an hour, your instructor will take you through a series of positions for a full-body workout. With resistance from the MOTR, and the added challenge of staying balanced, you'll do variations of familiar moves like crunches, bicep curls, lunges and planks.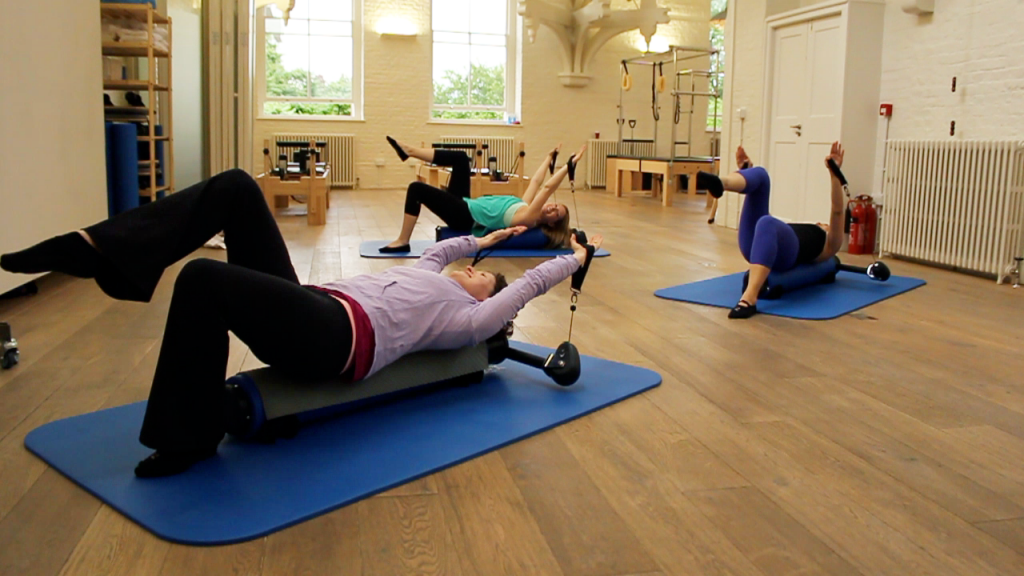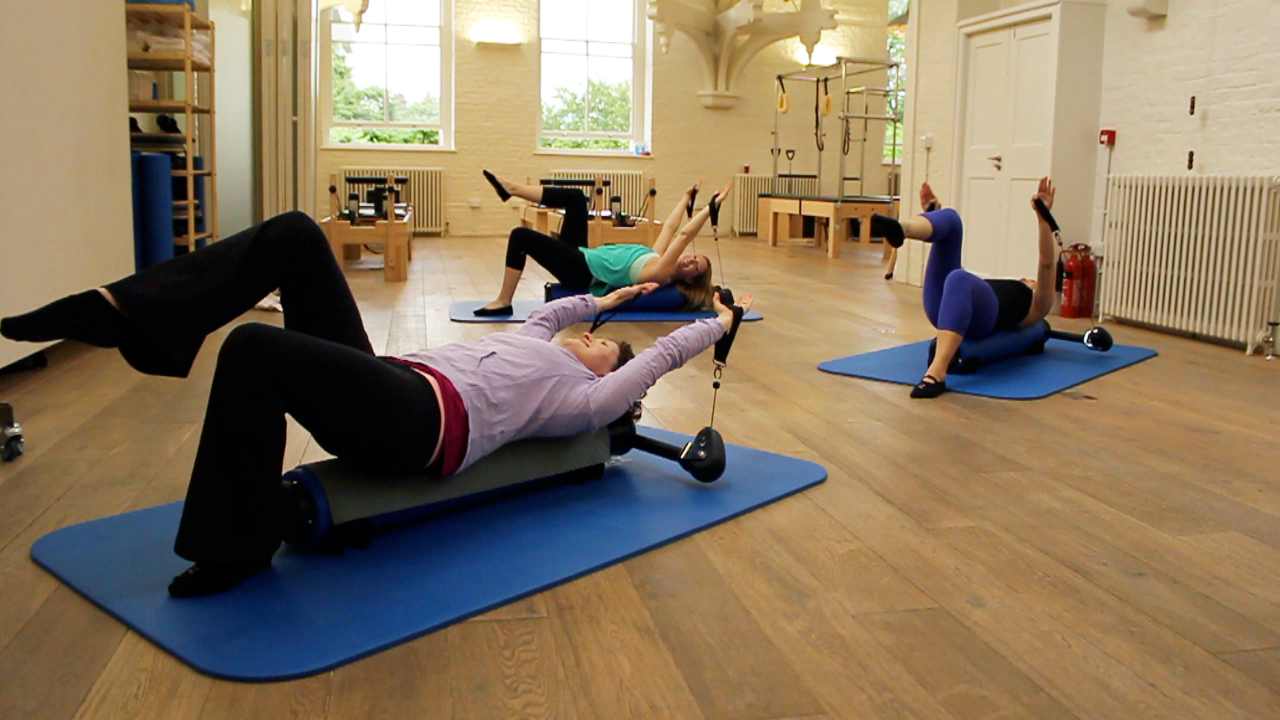 For example, one position in the class I took involved laying on the roller with our head at the same end as the resistance bands. Then with the help of the instructor, we put the bands around our feet and lifted them towards the ceiling for some standard leg lifts. On the MOTR, however they are much more challenging as compared to doing them on the floor because you have to focus on balancing your whole body on a round object, meanwhile you also have nine pounds of resistance attached to each foot.
I had never done Pilates or anything similar to the MOTR workout and walked away a Pilates convert.
How hard is it?
Do not, I repeat, do not shy away from this workout for fear of difficulty. I had never done Pilates or anything similar to the MOTR workout and walked away a Pilates convert. While the equipment itself can look complicated and intimidating at first, it's anything but. Instructors will always make sure you're moving correctly and feeling comfortable. Once you're in position, the rest comes easily.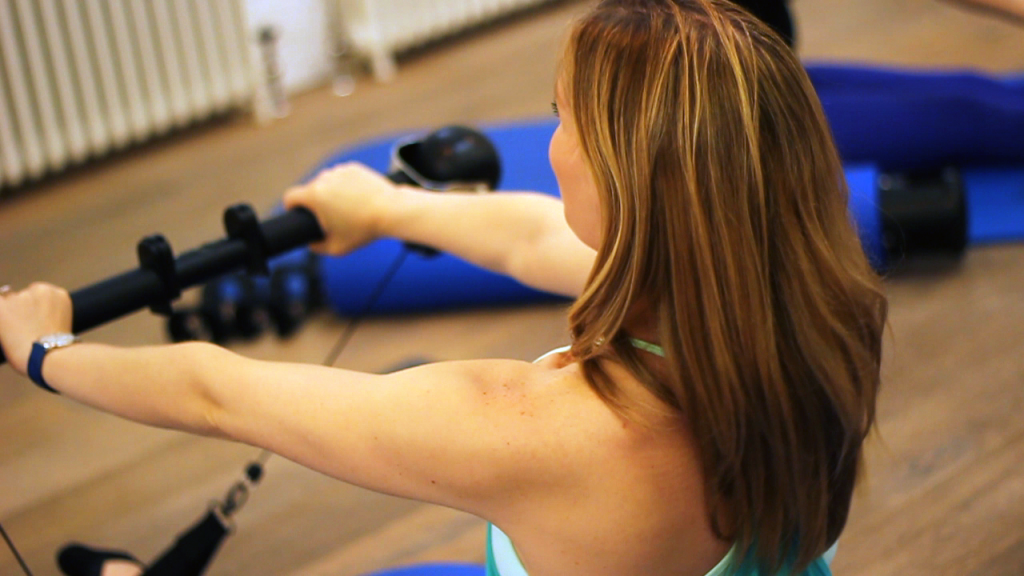 The workout itself is going to challenge you; it's gentle but it's tough. The slight resistance paired with movement and balance cause the targeted body parts to burn. There's a lot of holding body parts in the air and pulsing, like the infamous Pilates 100 workout, or your average barre class.
Since most of the positions are sitting or laying, the workout is low-impact; you won't be breathing heavily or dripping sweat. The following day, you'll be sore in your core, shoulders and upper back, and every part of your thighs that you can think of.
The following day, you'll be sore in your core, shoulders and upper back, and every part of your thighs that you can think of.
What will I get out of it?
Ah, the possibilities are endless. MOTR, along with any form of pilates, increases your stability, flexibility, and core strength. Regulars of these classes will improve their alignment, flexibility, balance, and breathing technique, too. The best benefit though is the tone you'll achieve; pilates is lengthening and strengthening to build long and lean muscles.
How do I get started?
While MOTR pilates is quickly spreading in the U.S., it's incredibly new to the U.K. BePilates is one of the first studios in the country to have the equipment, and one of the only in London. The studio is located near the Baker Street station, group classes cost £35 per session and private lessons are £75. You can schedule an appointment via phone call or email, or you can take a look at their class calendar and book online directly.
Kentish Town Studio, located near the Chalk Farm and Camden Road stations also has MOTR equipment, and you can take one of their class for £18, or four for £72. MOTR classes are not held as often at this studio, but private pilates equipment sessions are available at £60 each. To join, you can send them a new client form to tell them you'd like to try the MOTR class.
If you're itching to try the workout and can't get to either of those studios, you can buy a MOTR to keep for yourself. The workout itself requires very little room, and you can collapse the equipment to keep anywhere you like. Balanced Body has all to tools you'll need to purchase the MOTR and learn how to use it efficiently.
MORE FITNESS TRENDS TESTED:
13 fitness trends to watch in 2015
Like this article? Sign up to our newsletter to get more articles like this delivered straight to your inbox.