Are you watching what you eat in the run up to Christmas? Bestselling author Jonno Proudfoot of The Real Meal Revolution, Low Carb Cooking has four delicious low-carb recipes to keep you on track before the festivities begin
Some people like to limit the treats they allow themselves a few weeks before the onslaught of Christmas goodies and the never-ending need for festive drinks. Others say well it's too late now I'll just cross that bridge in January. But limiting ourselves before we stuff ourselves might not be a bad idea.
Surely if we limit eating some carbs before Christmas, we can enjoy a guilt-free Christmas all the more? Well if you are saying no to whipped cream on that hot chocolate and no to your fifth mince pie, then these delicious low-carb recipes might help you out too.
Low-carb tip: Courgetti over spaghetti
Courgetti, zoodles, zucchinilini, whatever you call them, you would definitely have seen them. They are everywhere, you can even find them pre-spiralised and packaged up on the shelves in all major supermarkets.
Tasty, juicy, filling and significantly low in carbs with one courgette having only 6g of carbohydrates
But don't waste your money on pre-packaged courgetti, get yourself a spiraliser and cut them yourself. Courgetti works as a great substitute to spaghetti, it is tasty, juicy, filling and significantly low in carbs with one courgette having only 6g of carbohydrates.
Jonno says that the key to cooking courgetti is to cook in batches. This way the courgetti won't crowd the pan and start leaching their juices making them too soggy and watery. He also says you need a really hot pan throughout the cooking process.
If you know that courgetti alone won't be sufficient in filling you up (it's actually really filling), why not try having half courgetti and half wholemeal spaghetti – you'll still be cutting your carbohydrate intake in half.
Low-carb for veggie lovers: Walnut and sage courgettes with stilton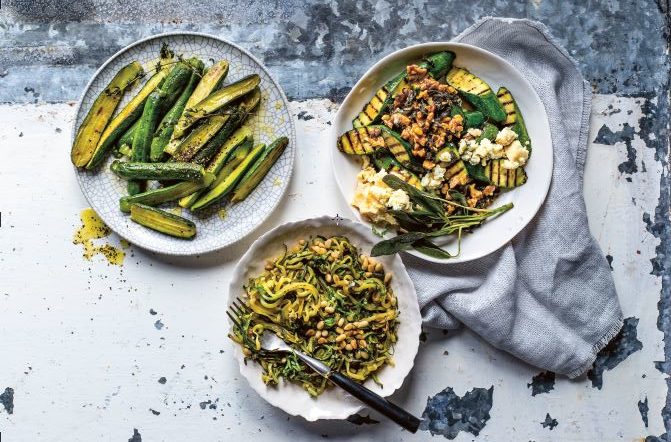 Serves 4
Ingredients:
400g large courgettes, sliced
2 tbsp olive oil
3 tbsp butter
1 handful sage leaves, shredded
60g toasted walnuts
50g Stilton
Salt and black pepper
Method:
1.Get a griddle pan smoking-hot.
2.Mix the sliced courgettes with olive oil until each slice is coated evenly.
3. Grill the slices on each side until the edges are charred, then leave them to cool, preferably tightly packed so they keep softening in the residual heat.
4.In another pan, heat the butter until it goes brown and nutty. The moment it turns brown, toss in the sage and walnuts. Remove from the heat and stir vigorously until it stops sizzling.
5.To serve, tip the charred courgette disks onto a platter and drizzle them with the nutty butter. Crumble the Stilton over the top and dig in.
Goes well with: Steak – and a ferocious red wine.
Low-carb tip: Fill up on lean protein
If you're a meat lover you will be thrilled to hear that filling up on meat is a perfect choice if you are looking to lower your carbohydrate consumption.
A single chicken thigh contains 28 grams of protein. So with the recommended daily intake of protein being 56 grams for the average man and 46 grams for the average woman you've hit the jackpot.
It is now a well known fact that eating protein will help to keep you feel fuller for longer. A study from the University of Missouri saw 20 overweight females, where half where put on a normal protein breakfast diet (13g) and the other half were put on a high protein breakfast (35g) diet.
High protein breakfast eaters were found to have snacked less on fatty foods in the evening
Results found that participants who had eaten a high protein breakfast had reduced food 'cravings'  and increased levels of a hormone that is associated with satiety. The high protein breakfast eaters were found to have snacked less on fatty foods in the evening, as compared to those who ate less protein at breakfast.
So less cravings and feelings of satiety, if this were to be repeated over a longer period of time, weight loss results would be certain.
If you aren't a 'big breakfast' person aim to have a bigger lunch that is full of high protein foods, that way you will crave less fatty food and food in general when it comes to your evening meal.
Low-carb for chicken lovers: Casablanca Chicken Casserole

Serves 4
Ingredients:
3 garlic cloves, chopped
1½ tsp smoked paprika
1½ tsp ground turmeric
1 tsp cumin seeds
4 tbsp olive oil
8 chicken thighs, bone in, skin on
2 onions, chopped
500ml chicken stock
1 lemon, thinly sliced
100g pitted green olives
1 pinch saffron
1 handful fresh coriander, chopped
Salt and black pepper
Method:
1.Blend the garlic, paprika, turmeric, cumin seeds, some salt and half the olive oil in a food processor into a smooth paste.
2. Massage the paste into the chicken pieces and leave them to marinate for 4 hours.
3. Heat the remaining olive oil in a large pan and add the onions and chicken thighs to cook on each side until golden-brown.
4. Then, add the stock (and enough water to reach halfway up the chicken if needed), the lemon slices, olives and saffron and bring it to a simmer.
5. Leave it to simmer uncovered for 30 minutes, then stir through the coriander, season with salt and pepper, and serve.
Goes well with: Charred Asparagus with Lemon, Beans with Caper Dressing, Roasted Kale.
Low-carb for fish lovers: Tuna poke bowls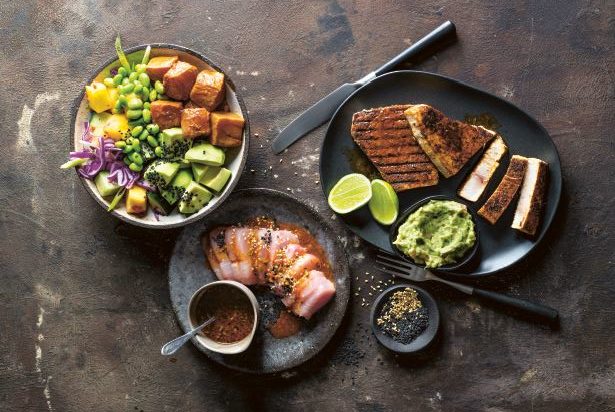 Serves 4
Ingredients:
800g fresh, raw tuna, cut into
2.5cm cubes
150ml sesame oil
4 tbsp soy sauce
3 tbsp lime juice
2 tbsp rice vinegar
2 tbsp any good Asian chilli garlic sauce
1 thumb ginger, grated
250g fresh pineapple cut into
2cm cubes
680g finely shredded purple cabbage
1 English cucumber, cut in quarters lengthways, then cut into 2cm chunks
150g steamed edamame beans
4 spring onions, chopped
2 avocados, peeled and cubed
2 red chillies, finely chopped
2 tbsp toasted black or white sesame seeds
You're probably thinking, 'What about the pineapple?' What you get in carbs in this small amount of pineapple, you get a million times more in digestive enzymes. But that's not a licence to be naughty. With the pineapple included, this is a once-a-week or month kind of dish. Unless of course you don't give a toss about carbs. Then you can eat it whenever you like.
Method:
1. In a large mixing bowl, stir the tuna, sesame oil, soy sauce, lime juice, rice vinegar, chilli garlic sauce and ginger together, and leave it for half a day – or an hour, at least.
2. Mix the remaining ingredients, except the sesame seeds, together in another large mixing bowl and divide them between four serving dishes.
3. Finally, top the bowls with the marinated tuna and sprinkle each bowl with some sesame seeds.
Low-carb tip: Never run out of eggs
'Eggs are wonderful, versatilie, delicious, wholesome and nature's perfect multivitamin,' says Jonno Proudfoot.
There are so many things you can do with an egg, fried, poached, boiled, scrambled, baked, omelettes, fritattas, egg mayo – the list is so long and eggs are so easy to cook with, there really is a reason that university students always have an egg in their fridge.
One large egg (50g) contains six to seven grams of protein and only a smidgen of carbohydrates. As we know, protein keeps you fuller for longer, so by starting your day with two eggs you might miss the urge to have your lunch at 11am…
Low-carb for egg lovers: Tomato, salami, pecorino and basil omelette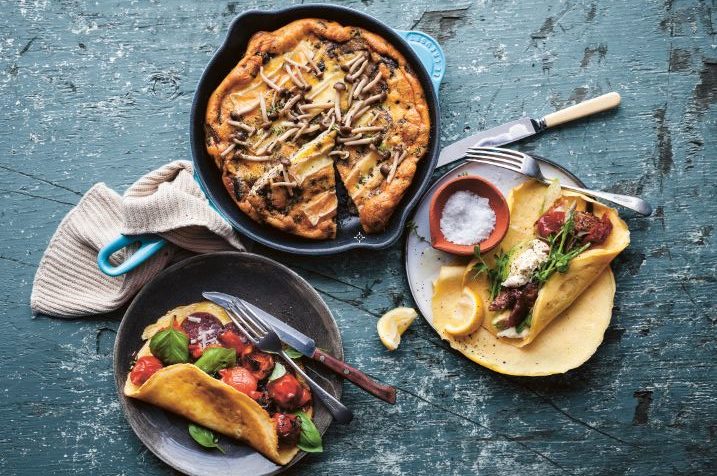 Serves 1
Ingredients:
2 large eggs
1 finger of butter
4 slow-roasted or pan-fried cherry tomatoes
4 slices salami
Small handful grated pecorino
5 leaves fresh basil
Salt and pepper
Method:
1. Turn the grill in your oven on to high (so it has time to warm up while you get your other bits together) and place one rack as close to the heating element as possible.
2. Put a small omelette-sized pan on a fairly high heat
3. In a small bowl, mix the eggs with some salt and pepper.
4. Add a knob of butter to the pan and the moment it has melted, add the eggs.
5. Using a wooden spoon or spatula, move the mixture around, exposing as much of the mix as possible to the base of the pan, but without leaving any gaps.
6. Once the egg has formed a reasonably solid base, but is still very runny on top, remove it from the heat.
7. Add the cherry tomatoes and salami and cover with the grated cheese, then place the whole pan under the grill.
8. Watch and wait as the eggs puff up and the cheese starts to bubble and melt. The moment your cheese starts going brown and bubbly, remove it from the oven.
9. Scatter with basil leaves and extra cheese, if you have any, and devour it. You could totally use Cheddar instead of pecorino for this one. If you do use Cheddar, I would triple the quantity to make sure that what you miss in salty flavour you make up in gooey goodness.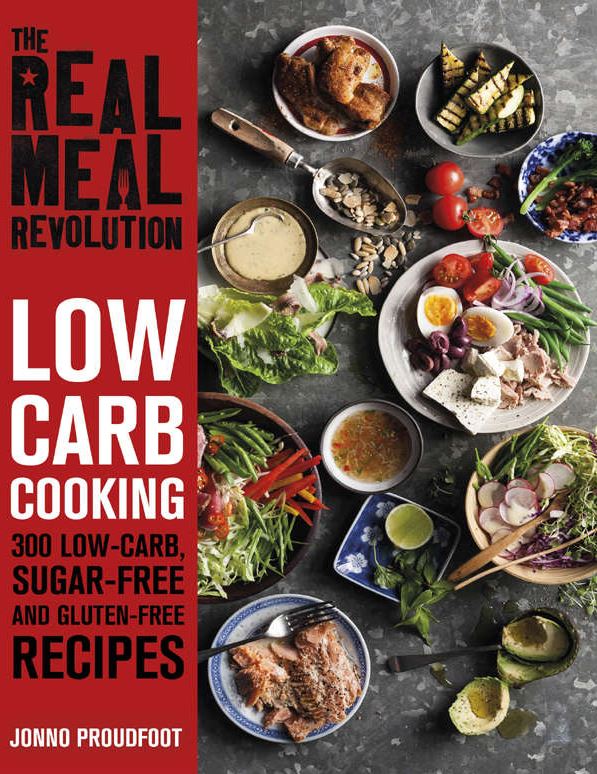 The Real Meal Revolution: Low Carb Cooking by Jonno Proudfoot is published by Robinson on November 22nd, £20.00. Available to buy on Amazon.
More Healthista Content:
20 eco-friendly fitness gear MUST HAVES
What is omega 3, 6 and 9 and which ones do you REALLY need?
5 bloating fixes you can do tonight
9 indigestion causes and exactly how to fix them
Like this article? Sign up to our newsletter to get more articles like this delivered straight to your inbox.