Fresh Fitness Food are a delicious new food prep company that deliver fitness-friendly nutritious meals to your door
When Fresh Fitness Food offered me my own tailored package to help me achieve my fitness aims (tone and lean up) I was half expecting to receive chicken and rice in a tupper-ware box at some point during the morning after I had already left for work… They're a new company claiming to deliver nutritionally-balanced meals for people with fitness goals.
Wow, was I mistaken. Fresh Fitness Food calculated the correct amount of macronutrients (that's protein, carbs and fats) that I should be consuming to achieve the weight and size I was after.  I filled in an online form on their website with my current weight, how active my lifestyle was and what my body goals were and within a second I had my macronutrient break down sent across to me. I was meant to be consuming around 1600 calories a day, with 115 grams of my calorie intake being made up of protein, 180 grams being made up of carbohydrates and 45 grams being made up of fat.
At 2am the night after completing my form a delivery driver dropped a black Fresh Fitness Food bag outside my doorway out of sight of passers-by. As I left for work at half past seven in the morning, I saw the bag tucked away behind my plant pot. Surely it couldn't have actually arrived this early? Eagerly grabbing the bag and heading for the tube I sneaked a peak at the contents. Four plastic Tupperware boxes stared back at me alongside a knife and fork, a bottle of green juice and a little tiny box on top that looked like it contained a cake.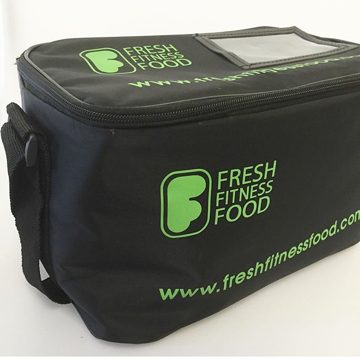 As I entered my office I laid out all of the products on the table and my heart lept in excitement… food can really do that to me. Not only did my meals look incredibly delicious but my personalised macro-nutrients were written on the label of each box along with the ingredients and description of the meal. Exciting!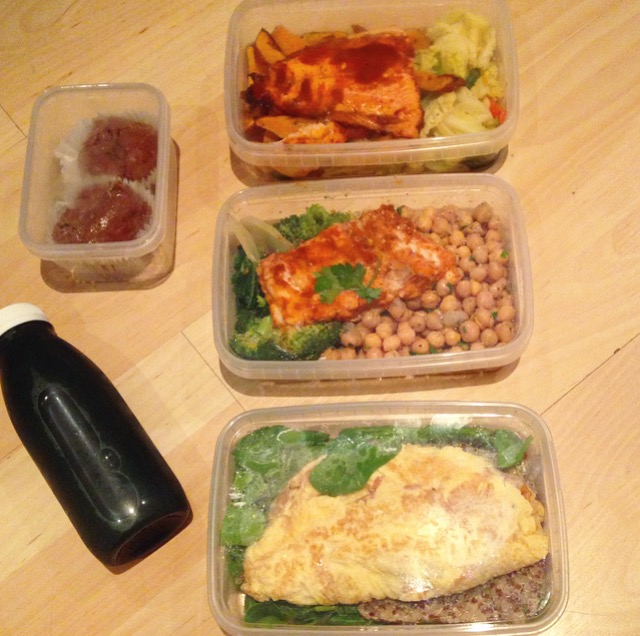 'Wow that is a lot of food, I am never going to eat all of that'
8.30 am
Seeing all of my meals for the day laid out I instantly thought, 'Wow that is a lot of food, I am never going to eat all of that'. But I did, obviously. Sitting down at my desk at 8.30 am, I opened my first meal and started eating the omelette. It tasted so fresh and homemade, the egg was filled with moisture and the fluffy quinoa gave it a deliciously light balance.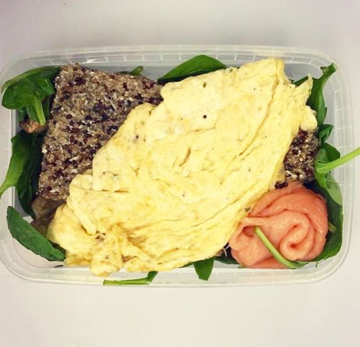 11 am
Mid-morning I normally get the hunger pangs and reach for a piece of fruit but still feel peckish. But today I decided to give my green juice from Fresh Fitness Food a try. Made from kale, spinach, apple, lemon, parsley, celery, cucumber and spiralina it tasted healthy and not too sweet, proving there wasn't a ton of sugar added like many shop bought smoothies.
2.00 pm
Normally at 12.30 I am crawling around the Healthista kitchen searching for something (anything) to eat and my stomach tends to start talking / complaining loudly too. However I felt peaceful and relaxed, no 'hanger' (hungry/anger) strikes but quite content to wait until two o clock for my lunch. My second meal was made up of baked cod with squash and almonds, the cod was lightly spiced and melted in your mouth and the pulses gave a Moroccan style twist to the dish.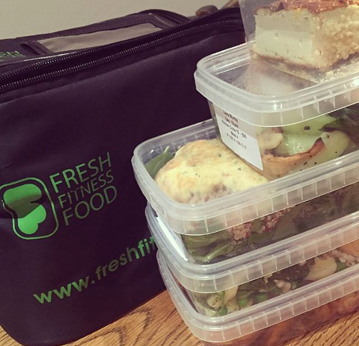 6.30 pm
Dinner, my often favourite meal of the day was made up of a lemon and dill crusted salmon fillet with fresh Thai vegetables. I had some baked sweet potato chips in some Thai spices and a delicious salmon in gluten free breadcrumbs that added a spicy kick to the sweet potato.After dinner and the meal I had been long awaiting was the steamed pear and chocolate pudding, that only needed microwaving for one minute. The cake was so light and fluffy and the warmth from microwaving caused the chocolate to melt in the middle of the cake. I had to double check my macros; was this really allowed on a toning up diet? Surely it was too tasty to be healthy?
I felt full and satisfied but not bloated or stuffed
I had been told that by eating the correct amount of macro-nutrients for your body your overall energy levels would improve, but I hadn't expected to feel it straight away. I found I could concentrate for longer at work and push even harder in the gym, I felt full and satisfied but not bloated or stuffed and each meal was delicious.
The type of meals are altered around your dietary requirements, each meal is completely gluten free and you have the option of cutting out dairy, nuts or any other allergens you may have, there are not vegetarian or vegan options but there are pescatarian options which is what I opted for.
Packages start from £20 per day for three meals. You can decide which days you want food delivered; this includes getting all of your meals delivered on Friday if you are away over the weekend. You also receive an e-mail with the subject saying, 'WHAT'S IN YOUR BAG?' with the description of your meals and the calorie and macro intake broken down.
There are numerous plans you can try dependent on what you want to achieve, from competition Preparation for bikini competitors and athletes to those looking to lose weight or tone up and even a package for those looking to lead a healthy lifestyle in today's busy society.
My meal plan for one day:
Free range egg omelette with spinach
Kcal: 390.16 Protein: 22.05g Carbs: 44.71g Fat: 13.68g
Moroccan baked cod with squash and almonds
Kcal: 522.47 Protein: 37.70g Carbs: 56.68g Fat: 16.10g
Lemon and dill crusted salmon fillet with fresh thai vegetables
Kcal 426.37 Protein: 30.36g Carbs: 47.74g Fat: 12.66g
Dessert
Steamed pear and chocolate pudding – microwave 1 minute
Kcal: 219 Protein: 23g Carbs: 27g Fat: 2g
Juice
Kale, spinach, apple, lemon, parsley, celery, cucumber and spiralina juice
Kcal: 40 Protein: 2g Carbs: 8g Fat: 0g
Kcal: 1609.62 Protein: 116.63g Carbs: 185.94g Fat 44.37g
Fat Loss, Competition Preparation, Muscle Gain and Performance, Lifestyle, Sculpt and Tone.
Sign up now at Fresh Fitness Food.
Like this article? Sign up to our newsletter to get more articles like this delivered straight to your inbox.