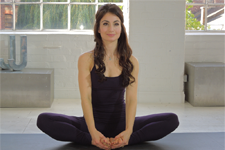 Roxy Ghawam-Shahidi, 29 played Leyla Harding in ITV's Emmerdale and lives with her partner, the actor Arsher Ali and their three Persian cats.  In the first of our Fit Files series looking at exactly how healthy women stay that way, Roxy tells Healthista how yoga changed everything and why a bit of lovely kit goes a long way
'12 years ago I 'borrowed' a yoga DVD from my grandma. It featured the yoga teacher, Barbara Curry, who wore luminous lycras and featured cheesy 90's backgrounds, but it inspired me. She was my first yoga teacher.
'When I started on Emmerdale my schedule wasn't massively demanding. Sometimes I would only need to do two lines. So I would often have most of the day free. I was in a new city with a new job, so I Googled yoga workshops and came across Nichi Green's Yoga Space. It looked great so I started that day. We clicked after the first class and became good friends after the second one. She was one of the first people I was friends with outside the Emmerdale cast. I think we both had girl crushes on each other by the end!
'Over the last two years it's become an addiction and in the last few months when I was still in Emmerdale, I had an intense schedule. I did yoga every morning and evening and it helped clam me down and energise me for my work the next day.
'When I left Emmerdale I had more time to spare. I was in a new house, I had moved to a new area, my friends weren't nearby anymore and my partner was away. Yoga became my lifeline. Practicing yoga helped me get in touch with my body and had a really positive knock-on effect. I was lethargic and often tired before but I now look and feel totally different.   The first thing I start my day with is my yoga exercises and now have massive amounts of energy.
Yoga's not only helped me achieve and maintain a great body I have more energy and I've shed excess fat but it also helps my inner focus and my posture has improved so my body looks slimmer
My routine is about energizing in the morning and de-stressing in the evening  If I'm mega busy I might only have 15 minutes in the morning and 15 minutes at night but if I have the time I'll do an hour  in the morning and in the evening.  I maintain a balance between high energy yoga that tones and energizes the body and relaxing postures that create flexibility and relaxation
I believe your body is your gym  Today for example I woke up and did half an hour high energy yoga then left the car at home and walked to work for 40 minutes. Then I did a 15 min pre-show warm up (more high energy yoga) I walked back to my digs after the show for  another 40 minutes and tonight I plan to do an hour of deep relaxing stretches. So that's a crazy three hours but yesterday I had two shows shooting and drove from Nottingham to Manchester, so I did 20 minutes energizing yoga in the morning and ten minutes relaxing yoga at might.  My motto in managing time and exercise is 'only do what you can but not less than you can'.
The most inspirational DVD instructor I've found is Shiva Rea her brand of yoga is real high energy feel good stuff and my favourite Yoga centre is the Yoga Space in Leeds,  I became close friends with the founder, Nichi Green during my time at ITV Leeds. www.theyogaspace.co.uk
My food mantra  is 'don't eat anything you can't pronounce' I follow a plant biased diet; it keeps me feeling light and full of energy.
My guilty pleasure is coffee Coffee was always great at helping me get going in the morning ,before a show or long run but coffee every day just wasn't good for me so I looked for alternatives and found a great Guarana based drink called 'Wake Up', produced by Whole Earth. I add a dash vanilla and cinnamon. It gives me the kick up the backside I sometimes need.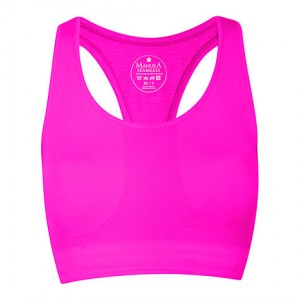 I love gorgeous kit  and get all my Yoga clothes from www.manukalife.com.  Beautiful, light and durable.   I only started jogging again recently after investing in Helly Hanson from head to toe, two pairs of running tights, support tops and a fleece, and I haven't  stopped running since. I know it might sound silly but having a running out fit made me feel like a runner so I ran
MY FOOD DAY  Breakfast: Peanut butter and banana on whole grain bread (one piece) or homemade granola Bars packed with oats, nuts and fruit. Snack fresh fruit and a hand full of raw nuts Lunch A big salad (avocado, beetroot, pine nuts, chick peas, spinach etc) with a light dressing and some oat or rice crackers (two) or homemade soup  Snack  Dried fruit/ fresh fruit Main A light stir fry packed with crispy veg or a creamy stew
ON THE PLAYLIST For high energy runs EMINEM.  For high energy yoga I've recently discovered and had the pleasure of working with jazz artist Arun Ghosh (Jazz artist).  For relaxing yoga I enjoy the silence.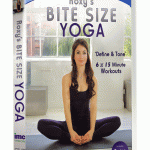 Roxy's first yoga DVD is 'Roxy's Bite Size Yoga' £12.99 from www.imcvision.com
Like this article? Sign up to our newsletter to get more articles like this delivered straight to your inbox.