Are you worried a vegan diet could be affecting your calcium intake? Nutritional Director Rick Hay reveals how a vegan supplement could help
Why your body needs calcium
If you're a vegan, getting enough protein is probably top of your nutritional concerns. But what about getting enough calcium? Not eating dairy could lead to calcium deficiency, which can in turn lead to bone loss and well, you know the story from here. Old lady hunchbacks and fractures that won't heal. Alarmed? Read on.
Calcium is one of the body's most common plentiful minerals. It plays a key role in processes such as bone health, muscle and immune function, as well as nerve signals and hormone secretion. 'Calcium is required for bone health and for building strong teeth and nails,' says Nutritional Director Rick Hay.
Your body does not produce calcium, so we have to rely on our diet to get the amount we need. When you do not consume enough dietary sources of calcium the body takes what it needs from our bones. This can cause our bones to become softer and weaker, and could increase your risk of developing osteoporosis.
Your body does not produce calcium, so we have to rely on our diet to get the calcium we need.
Sources of dietary calcium include, milk, cheese, eggs and other dairy foods. It's also found in green leafy vegetables, such as broccoli and cabbage (but not spinach). Fish that includes edible small bones such as sardines and pilchards, also contain calcium. One cup of skimmed, low fat or whole milk contains about 300mg of calcium.
If you are a vegan who is worried about their calcium intake, there is some good news. There are many sources of vegan friendly foods that you can eat to up your calcium levels.
Vegans can get calcium not just from leafy vegetables such as broccoli and cabbage but also soy products such as soya beans and tofu as well as from beans, pulses seeds and nuts. In fact, 100 grams of tofu contains 350mg of calcium. Other sources of calcium suitable for vegans include kale, pak choi, okra, spring greens, dried figs, chia seeds and almonds.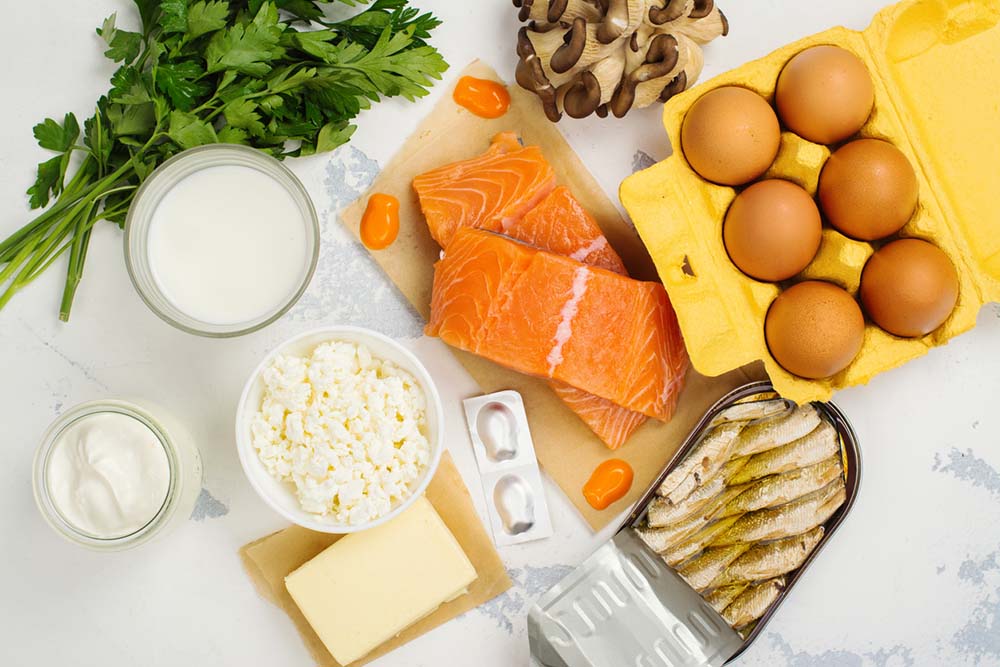 It is recommended that adults aged 19 to 64 need 700mg to 1,000mg of calcium per day. The National Institutes of Health (NIH) suggest that adults should get 1,000 mg of calcium daily.
However, the NIH recommends a slight increase of 1,200 mg daily if you are a women over the age of 50 or if you are pregnant and breast-feeding.
In fact, calcium may ease symptoms of premenstrual syndrome (PMS). A 2015 study published in US National Library of Medicine and National Institutes of Health, on 62 female students aged 20 to 25, found that women with PMS have lower intakes of calcium and magnesium, and lower serum levels.
It is recommended that adults aged 19 to 64 need 700mg to 1,000mg of calcium per day.
Too little calcium can also increase your risk of developing osteoporosis, a condition that weakens bones meaning that they can easily fracture. Osteoporosis is especially common in older women.
The Royal Osteoporosis Society says that 3.3million people in the UK over the age of 50 have been diagnosed with the disease. However, the number of sufferers in their teens, twenties and thirties is also increasing due to an increased trend to cut out dairy from your diet. In fact, there are currently 8.5million  #dairyfree hashtags on Instagram alone.
Calcium is also essential for growing and developing children. Children who don't get enough calcium in their diets, may not grow to their full potential height, or could even develop other health issues.
Calcium supplements
You should be able to get all the calcium you need from your daily diet. However, if you don't eat dairy, are lactose intolerant or are vegan you may find it difficult to get enough calcium in your diet.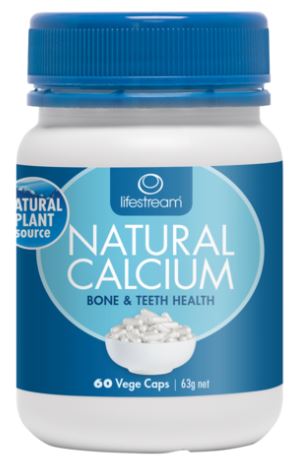 If this is the case, you might benefit from a taking a supplement containing calcium. Look for a supplement that contains 1,000mg of calcium carbonate. Calcium carbonate and calcium citrate are the two most recommended forms of calcium found in supplements.
However, these may not be suitable for vegans says Hay. 'Much of the calcium on the market comes from bovine sources in the form of hydroxyapatite, this isn't ideal for vegetarians and vegans,' says Hay.
Lifestream have a natural vegan calcium from a certified organic sea vegetable called Lithothamnium calcareum.
'This form of calcium has has a unique porous honeycomb like structure for optimal absorption. It contains a wide range of minerals such as, boron, magnesium, zinc, copper, iodine and other trace nutrients that can aid in the absorption of calcium,' says Hay.
Other ways to protect your bones without dairy
The Vegan Society suggest choosing nourishing drinks, such as smoothies, fortified milk alternatives or hot chocolate. They also suggest using soya alternatives to meat, yoghurt, milk and custard.
You could also add, soya cream to your porridge, peanut butter to your smoothies, cashew nuts or silken tofu to soups or use crumbled tofu and vegan mayonnaise as a sandwich filling. Olive oil and vegan spread added to vegetables and potato will also help to increase your calcium intake.
Another way we can protect our bones is through exercise. Exercise has important additional benefits, such as increased muscle strength and coordination, which can decrease the risk of trauma leading to osteoporotic fractures.
Exercise also has other benefits important for general well being, such as decreasing cardiovascular disease, decreasing the risk of diabetes and helping depression.
A study published in the Postgraduate Medical Journal showed a positive correlation between bone mineral density (BMD) and exercise, specifically high impact exercises.
Therefore, exercise should certainly be encouraged in those who are at risk of osteoporosis and those with osteoporosis.
More Healthista Content:
6 daily self-care tips that will make you fall in love with yourself
Foot reflexology to help your sinus pain
WIN an overnight spa stay worth £279 by taking our 5-minute survey
Do you want to experience ultimate relaxation? To be in with a chance to win an overnight spa stay for two including treatments and meals, complete our five minute survey about how your gut health affects your relationships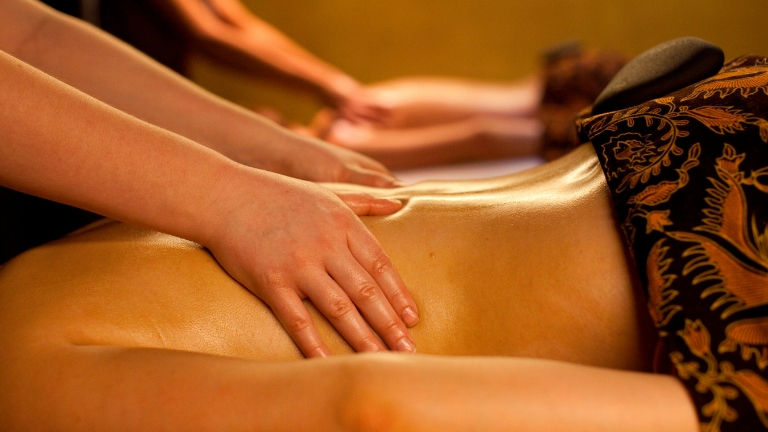 Like this article? Sign up to our newsletter to get more articles like this delivered straight to your inbox.