Healthy meal prep is a slog. Healthista's Vanessa Chalmers tested out a popular meal delivery service, Fresh Fitness Food, to see if it stood the test of better weight loss results
Wanting to eat healthy is one thing but putting it into practice is another ball game entirely. In recent years, healthy meal delivery services have sprung up to rescue fitness foodies tired of their soggy salad tuppaware lunch and Sunday meal prep labour.
I jumped on the hype in the last week of my eight week weight loss transformation with No1 Fitness (read all about it here). A manic week during the Christmas period, the idea of someone doing the hard work for me was perfect. It seems celebrities agree – Made In Chelsea's Ollie Proudlock (ripped as hell), Joshua Patterson and Binky Felstead (new parents this year), social media star Zanna Van Dijk and Matt Willis are or have been clients of Fresh Fitness Food (FFF).
The food delivery service has been dropping off cool-bags around the M25 for six years, growing a loyal customer base of 650 or so people. People, whether a city worker, fitness fanatic or busy mum, who all have one thing in common – they require a little help to stay on track with achieving their goals.
For a starting price of £20 a day, you can open your door in the morning to macro-counted meals expertly created by nutritionists and chefs.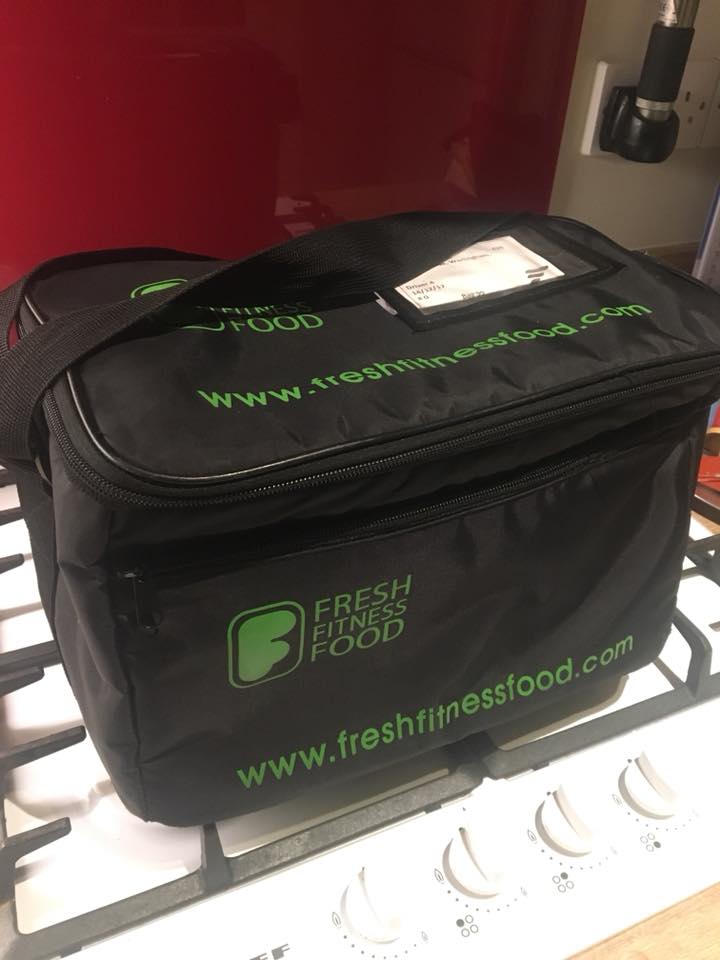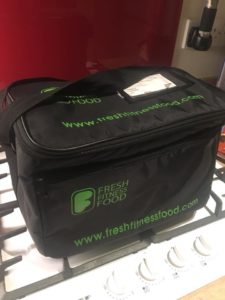 How does healthy meal prep delivery work?
When you get to the site you'll be asked to pick a package from seven.  For me this was 'fat loss', but there are packages to build lean muscle mass, prep you in the lead up to a comp or simply feel healthier and more energised with their Wellness and Office plans.
FFF have an excellent understanding of every persons' complexities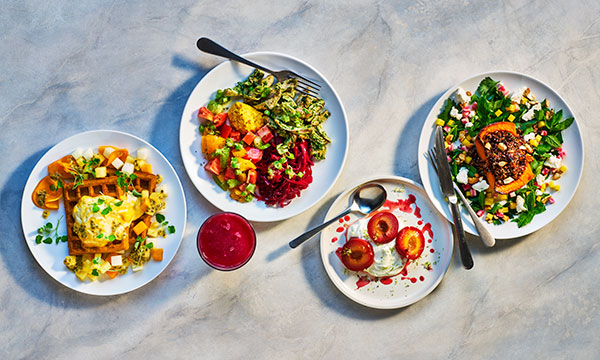 When you enter your details such as weight and height, your macros will be recommended or you can enter them yourself. My personal trainer wanted me on 1300 calories with a macro ration of 40 per cent protein, 30 per cent carb and 30 per cent fat, which was simple to arrange. A nutritionist then calls to go through the details of your bespoke plan. Do you have any allergies? Do you dislike any foods, or prefer red meat to fish? No worries –  FFF have an excellent understanding of every persons' complexities.
Your able to choose how your calories are broken up in the day. Some people would rather four main meals than three meals and a snack, or you can even change the calories amount day-to-day depending on your activity levels or a 5:2 diet. Whatever you prefer, the team of nutritionists will be on board to advise and educate. Although vegetarians, vegans and paleos can find the right nourishing and wholesome packages, extreme low carb, calorie deficit or the latest fad diet trend might be questioned, for example, especially if you are pregnant.
Here is a taster of what each healthy meal prep delivery package offers on £20 a day:
Plant-based (1900 calories)
Meal 1: Turmeric high protein pancake with fruit salad, tropical turmeric overnight oats and a high protein mango yoghurt
Kcal: 537.41
Protein: 28.46
Carbs: 78.80
Fat: 12.04
Meal 2: Lentil burgers with herby hummus and sprouts
Kcal: 517.98
Protein: 27.98
Carbs: 65.83
Fat: 15.86
Meal 3: Sweet potato and coconut curry with plantain
Kcal: 530.02
Protein: 6.29
Carbs: 74.60
Fat: 22.94
Snack: Indian spiced nuts
Kcal: 290.50
Protein: 8.00
Carbs: 11.30
Fat: 23.70
TOTAL Kcal: 1875.91
Protien: 70.73
Carbs: 230.53
Fat: 74.54
Fat Loss (1550 calories)
Meal 1: Bombay spiced omelette with diced tomatoes roasted with ginger and garam masala, baby spinach, spiced potatoes and a tomato chutney
Kcal: 398.79
Protein: 23.53
Carbs: 40.47
Fat: 15.87
Meal 2: Sumac and lemon baked salmon with thinly sliced radish and citrus dressed white cabbage, with roasted cauliflower, quinoa, a cashew and burnt lemon mayonnaise, pickled cucumber and toasted white and black sesame seeds        
Kcal: 575.26
Protein: 43.52
Carb: 28.42
Fat: 31.94
Meal 3: Argentinian spiced chicken thigh with baked aubergine and button mushrooms and rosemary and jalapeno dressing, served with steamed winter cabbage, mixed potato hash, and picked herbs and lime zest          
Kcal: 478.96
Protein: 42.24
Carbs: 32.77
Fat: 19.88
Snack: Red crudites with basil hummus
Kcal: 99.20
Protein: 3.20
Carbs: 12.60
Fat: 4.00
TOTAL Kcal: 1552.21
Protien: 112.49
Carbs: 114.26
Fat: 71.69
Lean Gains (2600 calories)
Meal 1: Summer strawberry fool with fruit salad and ginger and buckwheat granola, served with a strawberry puree, macerated strawberries and micro-cress.                     
Kcal: 507.80
Protein: 52.58
Carbs: 57.00
Fat: 7.72
Meal 2: Mexican braised beef with charred corn, grated beetroot, carrot, tenderstem and steamed savoy cabbage, served with brown rice and a burnt tomato, lime and ginger salsa                                                                            
Kcal: 886.55
Protein: 55.10
Carb: 93.32
Fat: 32.54
Meal 3: Chermoula roasted white fish with courgetti and a roasted vegetable salad, oven baked cauliflower, white, purple and sweet potato hash and a chermoula sauce 
Kcal: 598.36
Protein: 41.57
Carbs: 66.89
Fat: 18.28
Meal 4: Turkey cottage pie with shredded spring greens, carrot, and picked red cabbage, steamed broccoli, sweet potato mash and a sundried tomato pesto       
Kcal: 663.84
Protein: 52.10
Carbs: 73.99
Fat: 17.72
TOTAL Kcal: 2656.55
Protein: 201.34
Carbs: 291.19
Fat: 76.27
Does the healthy food delivery TASTE good?
I eagerly zipped open my cool bag at 6am on the Monday morning to find four tuppaware boxes. It felt familiar. But considering the recipes are designed between a Michelin star trained menu consultant, head chef and nutrition team, I hoped to god it wouldn't taste too bland.
Breakfast was a red pepper omelette with cumin roasted courgette and wild rocket, which I could heat up in the microwave (like all meals). I wouldn't normally choose eggs for breakfast, I suffer with severe sweet tooth disorder. But decided to stick with it knowing how great a source they are for protein and therefore muscle recovery after my morning workouts.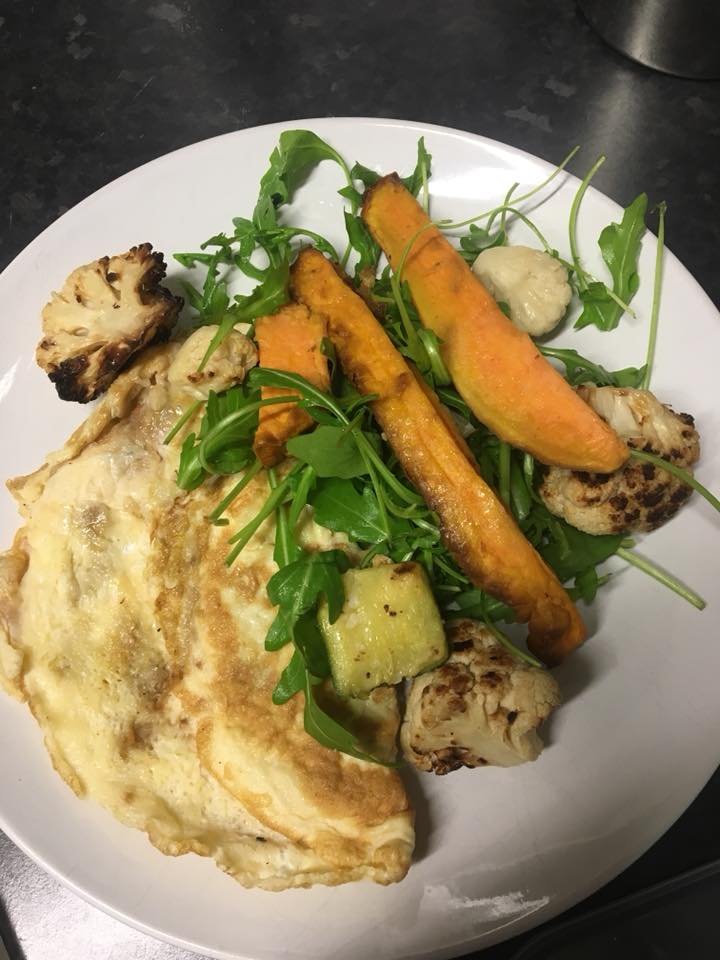 Sometimes the eggs were scrambled with chives, accompanied with things like turkey sausages, mushrooms, baked beans and even a brown sauce (not quite HP, unfortunately, but doubt slashing the sugar content by miles).
It didn't disappoint, and my worries about bland food were soon eradicated.
Dinner and lunch always had a high quality lean protein – we're talking teriyaki chicken breast, Moroccan beef tagine, rosemary grilled white fish and BBQ marinated salmon. Sounds good right? It didn't disappoint, and my worries about bland food were soon eradicated. Alongside was a mixture of carbohydrates such as white rice of mixed potato salad, and non-starchy vegetables such as steamed greens and cabbage, roasted squashes and beetroot and balsamic pickled mushrooms.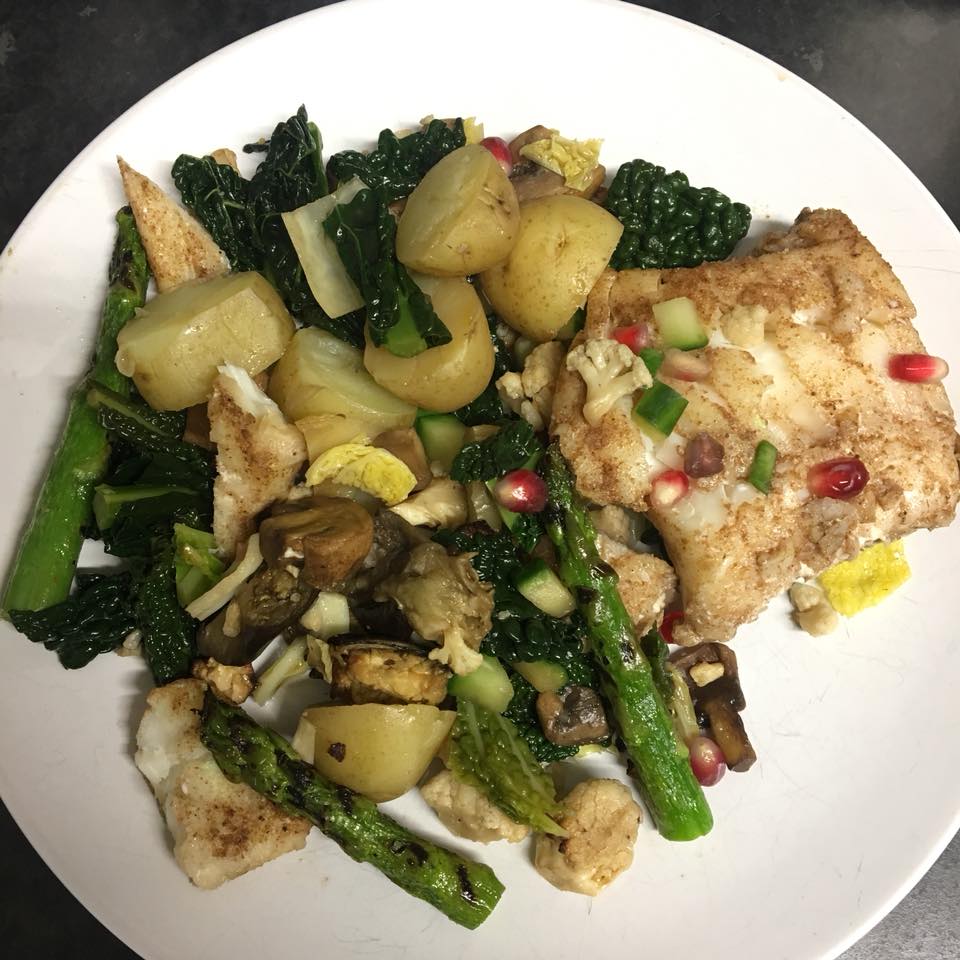 The first question I'm sure you're asking is, did it actually taste good? I'm rarely one to complain about quality of food (that's how much I love it), but being on a strict calorie deficit it had to taste good. It passed the test particularly in the flavours department.
What's more, apart from my eggs for breakfast, I only had to eat the same meal a couple of times. It was genuinely exciting to see what was on my menu every day. That's because there is a three week meal rotation, and every three months a total menu change to reflect the seasons.
I noticed that my fat macros were in the form of dressings or sauces, such as Dijon aioli, tarragon and walnut pesto or healthy take on ketchup. It's inspired me to create my own delicious sauces for meals.  For a lower-fat plan, a client may miss out on garnishes like these, but I found most of the foods stand alone well as they are.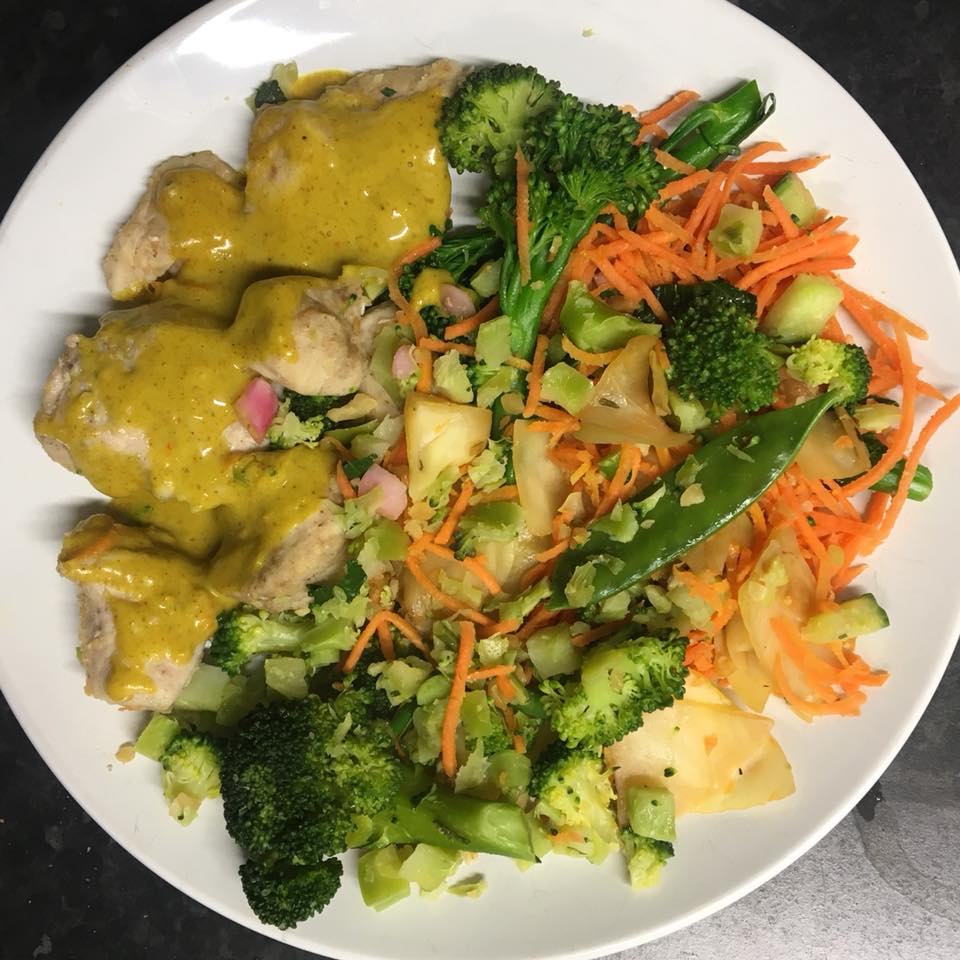 The snacks, which you can alter how many you get, surprised me the most. I was sent spiced granola cookies and berry friands (a light cake), which I wasn't expecting on a weight loss plan. But these were all slotted into my macros, meaning I was able to stay sane on a Sunday evening when craving something sweet.
Later on in the week I asked to change my snacks (FFF notice that sometimes when people have sweet things, they only desire more), and instead had a refreshing juice such as beetroot or snack pot of picked eggs and spinach. Sometimes I missed it out completely and just had my own fruit snack. My colleague Will gladly took the snacks off my hands.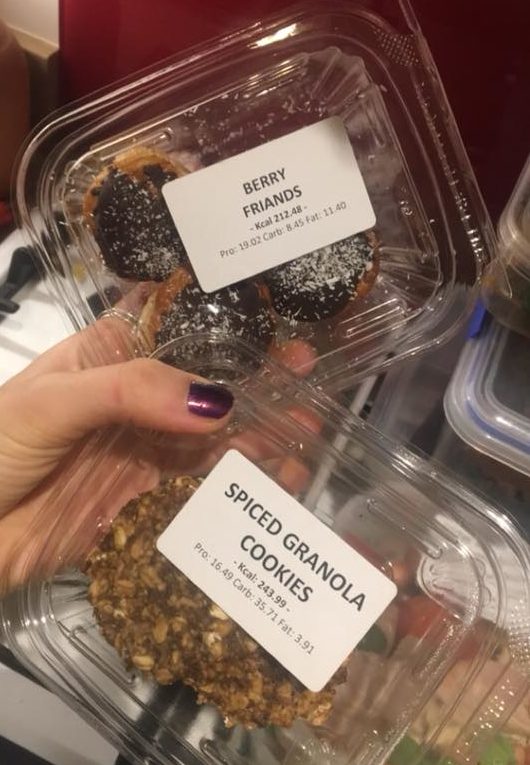 Don't forget, each package's plan will differ. I was on the fat loss package, but on the other end of the scale, those aiming for lean muscle can expect more slow-release carbohydrates such as sweet potato, brown rice and quinoa, with high fibre vegetables to aid satiety. Comp prep meals are in low sodium meals to prevent water retention, and the wellness package gets more of the sweet breakfasts like chia pots and protein waffles (I'm not jealous at all).
With all packages though, the food is gluten and refined sugar free, nutritionally balanced with essential vitamins and minerals, wholefood ingredients and guaranteed to be freshly made the day before delivery.
Will you achieve your goals?
I felt like a superhero eating this food, and my workouts felt more worth my time
The best part of this delivery service is the results you are bound to get. So often I hear 'you can't out train a bad diet', or '80 per cent of results are in the nutrition'. But this is the part I tend to mess up on.
With FFF, there was no more guess work with perfectly calculated macros (although some days, there was a little less or more calories, only by about 50). On the boxes I noted labels with my macro breakdown, which is actually an indication to the kitchen staff for how much of each food in grams should go into the box. According to FFF, every person's is different, and it puts me at ease how precise they are with their measurements.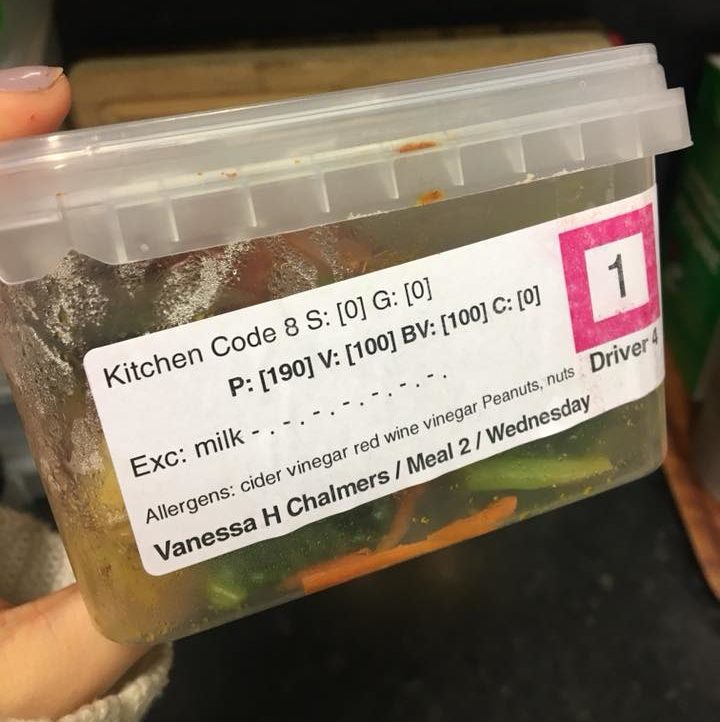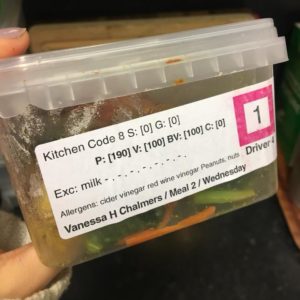 Naturally the biggest thing I was worried about was being hungry. But the foods used made sure I was full until my next meal. I could thank my macros leaning towards plenty of protein for that, too, which I relished in especially when I opened my coolbox to find a goat curry – get in.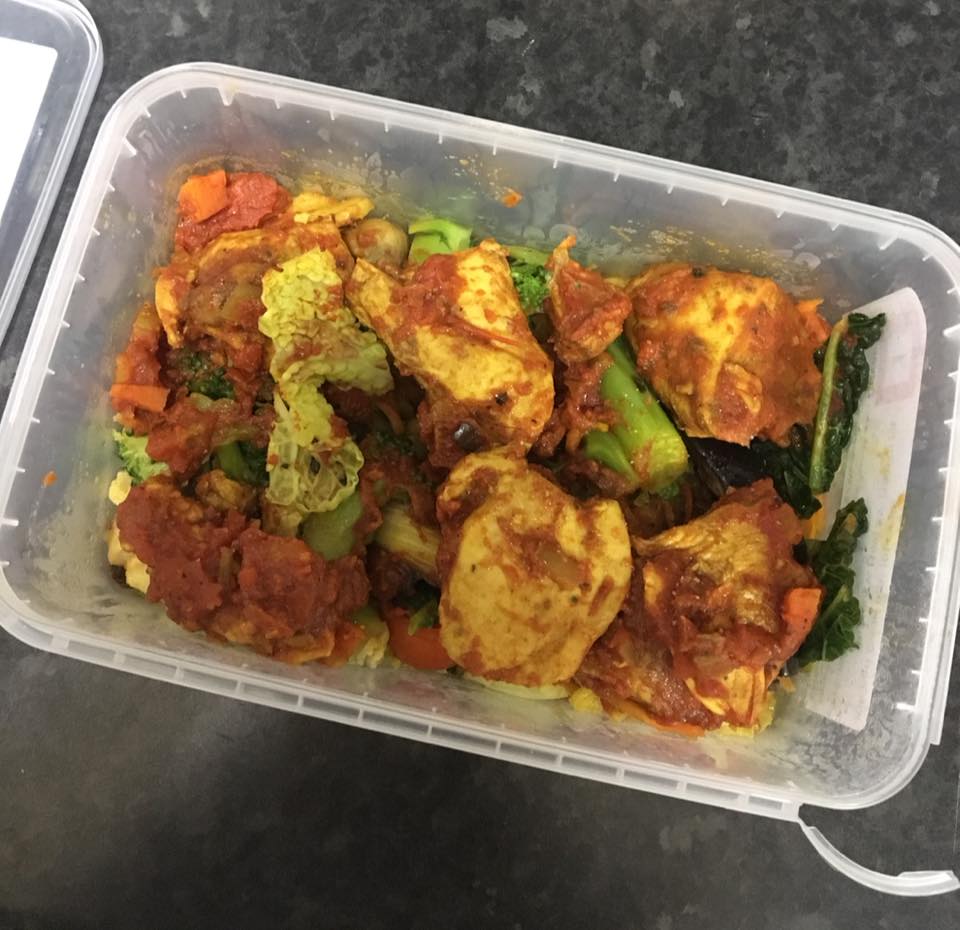 I felt like a superhero eating this food, and my workouts felt more worth my time knowing they were correctly fuelled. I also saw less bloating, my digestion improved after a few days, cravings reduced and determination shot up. I'm confident that if I had stayed with FFF for a longer period I would have seen a surge in my results, considering in one week it helped me to lose 1kg/2.2lbs whilst training with my PT Ben Camara at No1 Fitness.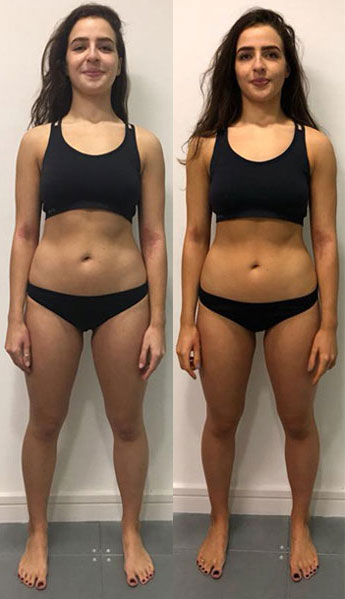 Is it value for money?
The flexibility of FFF is outstanding. First of all, they easily accommodated for the fact I was staying at a different house for two nights in a stressful week leading up to Christmas. As long as you can give them a couple of days notice, you can pause your service too. This might happen if your meals 'build up', because you've eaten out, say.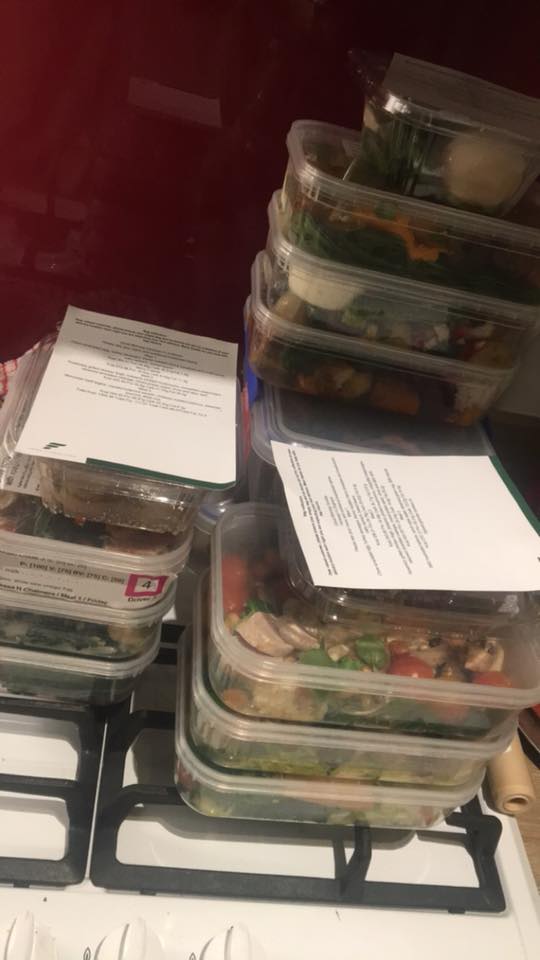 This happened to me on my last weekend. Food for the weekend is delivered on a Friday (and is still fresh by Sunday, just!). With a couple of meals out planned, I was able to freeze the meals and save them for another time. With food waste a hot topic right now, FFF kitchens work closely with food bank company City Harvest, and the plastic boxes are recyclable too (although I have hoarded them).
Secondly, they personalisation of the food is to the nth degree. During my plan, I was eating more carbohydrates in the form of potatoes and rice than I would normally. I asked if this could be changed to more starchy vegetables which wasn't a problem. I was worried I sounded annoyingly fussy, but I was assured there are much more obscure demands they can fulfil than that.
As I said before, the nutritionists on hand are keen to educate their clients, which is an added bonus for anyone facing confusing health messages from the industry. They are keen to bust myths and enlighten clients on what a 'healthy' diet entails, all whilst taking peoples preferences seriously.
Even the small daily bites of information are useful; on each meal box there is a nutrition tip such as, 'Rocket is a great source of several nutrients that support eye health, including beta-carotene, a carotenoid your body converts into vitamin A.'
Healthista verdict
If you're looking for a healthy meal prep service, FFF offers choices for not only seven typical goals (weight loss, lean muscle gain, wellness, for example), but the ability to customise your menu for your all your fussy needs – give or take depending on whether the nutritionists are able to support it. The only cons I had were at the start of the week when I wanted to adjust my carbohydrate content, but this was fixed by the next day.
Having food delivered to my door whilst I was rushing round like a mad man wasn't a relief, it was a god send. It's hard to keep healthy let alone tracks calories AND macros for specific goals, and having someone do this for you took away not only the stress, but the guesswork. It helped me lose weight quicker than when I was tracking myself, and held me back from overeating.
The most important thing was the food, at the end of the day. I doubt anyone wouldn't find the meals delicious to eat. Disappointing that you have to eat out of Tupperware? Yes. But that's the life of a fitness freak, right?
If you take pleasure in cooking, you may struggle with the service. I love healthy eating because I like to explore foods and recipes, so after a week on FFF I was dying to make something myself that didn't involve the basics for a macro balanced meal. Socialising was also difficult.
It comes down to how serious about your goals you are, because if you can stick with FFF, you will get results. It may be £20 per day, but you feel like you have the support of an expert team with your best interests at heart.
Prices start at £20 per day and increase in price depending on how many meals, nutritional requirements and length of time you sign up for.
Discount offer: Healthista readers can get £25 off their first order with Fresh Fitness Food using Healthista25 at checkout. Find more information at www.freshfitnessfood.com
READ MORE
8 week weight loss transformation
5 best healthy food delivery services
Healthy meal ideas – new online tool for recipe inspiration based on your tastebuds
WE LOVE: Pollen and Grace healthy food delivery service – if you're as busy as we are you'll LOVE this idea (the food is sensational)
3 easy vegan recipes from the meal plan that feeds your family for a £1 a day
Like this article? Sign up to our newsletter to get more articles like this delivered straight to your inbox.