It's December, which can only mean one thing – time for the Healthista Christmas gift guide. From a smart watch to a selfie mirror here are 16 Christmas gifts your friends, family and even you will love this Xmas 
'Tis the season… to be jolly organised and get your Christmas shopping done before it's too late.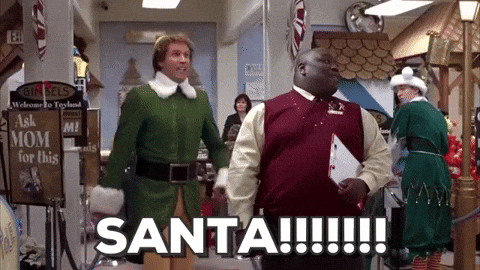 You don't need to worry about the busy shops or queueing round the corner, when we literally have the entire internet to shop from. There really is nothing wrong with shopping online, it's still making an effort.
Healthista are here to save the day with hand-picked Christmas gifts that will make even your fussiest friend bubble over with festive spirit.
From a must-have smart watch to a Hollywood selfie mirror, we have rounded up 16 of the gifts we think everyone needs this year – it's basically Healthista's wish list. Hint hint.
The weighted blanket trend has seriously taken off this year. Which is no surprise considering that cases of anxiety are at an all time high.
Indeed, a recent Government survey revealed that more than two-thirds of adults in the UK (69%) reported feeling worried about the effect Covid-19 is having on their life and doctors in the UK have seen an increase in people coming to them with anxiety issues.
Not only that but with more people working from home, seeking comfort has never been so popular.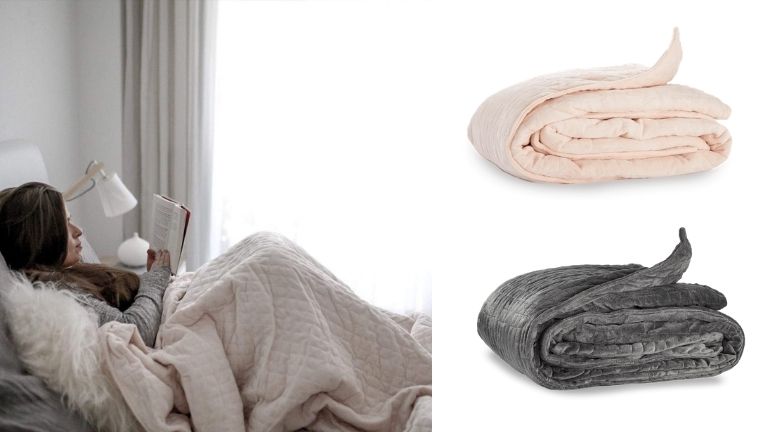 Do you know someone who has suffered with their anxiety this year? Why not gift them a weighted blanket from Calming Blanket.
Designed to improve your sleep and reduce the effects of anxiety the calming blanket utilises the relaxing principles behind deep pressure stimulation therapy – to mimic the feeling of being warmly held (like a hug). This is commonly used by therapists to calm those with autism or sensory disorders.
Even those who don't suffer from anxiety related sleep issues can benefit from a calming blanket as it can promote the deep REM stage of sleep that is beneficial to productivity levels and mental wellbeing.
Christmas film and your favourite snacks while being wrapped in a velvety blanket sounds like a pretty good Xmas prezzie to me.
Each blanket pocket is separately sewn and filled with eco-friendly glass beads that effectively increase the weight of the blanket. It's recommended you get a blanket that's 10 per cent to 15 per cent of your body weight.
There's a swanky new fitness watch in town.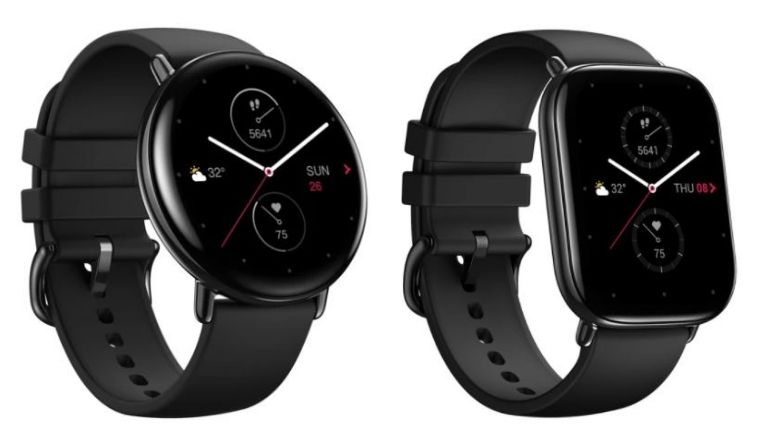 Available in a circle or square design, the Zepp E comes in many different stylish colours from pebble grey to ice blue.
Not only does the Zepp E watch look amazing, but it has a battery life that has seriously wowed the Healthista team. You can literally wear Zepp E for a whole seven days before it needs charging.
With 11 sports modes that will accurately track fitness activities – outdoor running, treadmill, walking, outdoor cycling, indoor cycling, swimming, climbing and skiing – the Zepp E is the perfect fitness journey companion. Oh and it measures your sleep quality too.
So, if you know someone who is on the 'new year, new me' fitness bandwagon, then this is the fitness watch for them.
Cleansing, lifting and toning – this all-in-one facial massager is guaranteed to be a Christmas present favourite this year.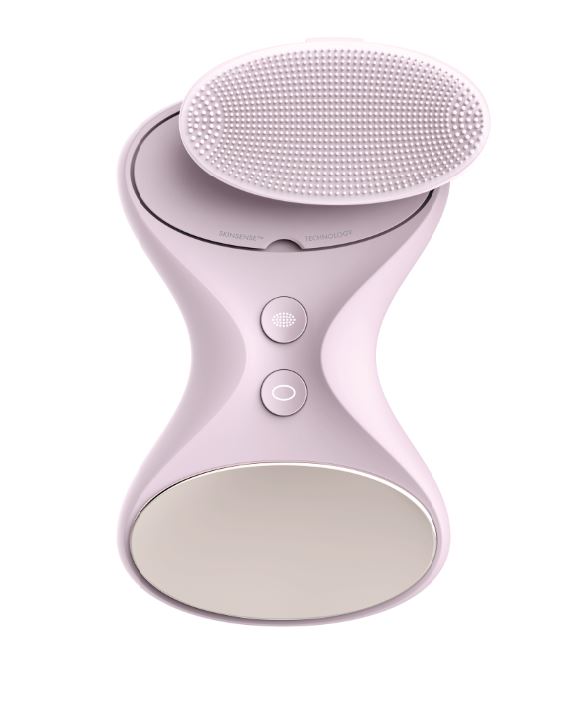 Available in white, pink or black, the BeGlow Tia is an innovative beauty device that effectively cleanses, lifts and tones the appearance of skin.
The rechargeable sonic device uses dual-pulse technology that delivers low and high frequency pulsations.
These pulsations help to increase the strength and definition of facial muscles, including the jawline and cheekbones – HELLO contoured face.
Plus, its anti-ageing titanium applicator encourages healthy circulation to leave the skin looking radiant and energised.
So, if you know any beauty gadget lovers out there – this is the gift for them
Also available in Tia Rouge, exclusive to Look Fantastic, £229.
How to use :
Makeup remover: apply cleanser to your face, then moisten your brush head and use in cleansing mode.
Cleanse your skin for about 1 minute: move the brush head slowly to cleanse your entire face without rubbing your skin, gently press and apply strong pulses as you move to the oily areas of your face.
Anti-Ageing: After cleansing, evenly apply your preferred serum, moisturiser or mask to your skin, and then start the anti-ageing import mode. Slightly massage your entire face in smooth upward strokes for 3 minutes.
Clean Contouring: Start the dual-pulse contouring mode, hold the device against areas of concern such as chin, jawline and cheekbones. Move the device over each area, spending more time on 'problem' areas. Use this mode for up to 3 minutes.
Clean the device: Wash the device with water, place it in a dry and ventilated cool place, let it dry naturally.
If we learnt anything in lockdown, it's that self care is seriously important for our mental health. Because when you look good, you feel good too!
Despite what some people may think about the self-care trend, it isn't selfish. In fact, it should be a vital part of our everyday routine in order to ensure we are the best version of ourselves mentally, physically and emotionally.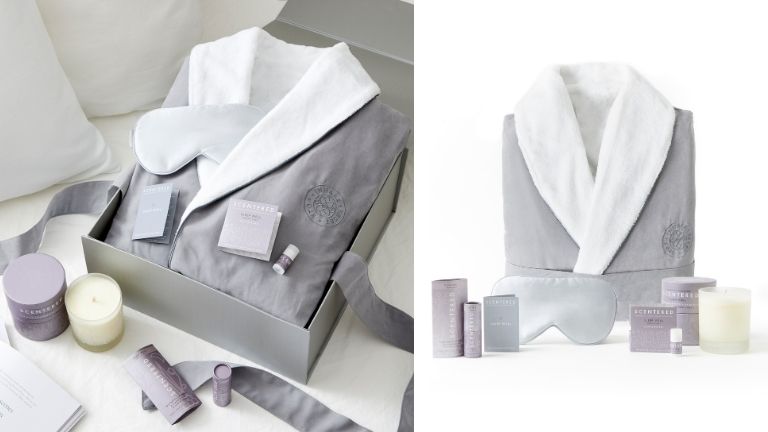 If you know someone who loves everything self-care or could do with a kick up the bum to start embracing a self-care routine, then the Self-Care Recovery Set from aromatherapy and well being brand Scentered is the perfect gift for them.
Plus, with many spas and treatment businesses closed or offering limited appointments, why not give someone the opportunity for 5* indulgence at home.
The luxury set contains, a luxury spa bathrobe, a silk soft eye mask, an aromatherapy mental well being balm (full size and pocket size) and an aromatherapy candle.
Ps: the spa bathrobe is to die for. We refused to take it off…
Forget diamonds, makeup and beauty products are a girls true best friend and well some of us like to look after our make up as if it had feelings – we're totally serious.
That's why Stylpro not only offer a quick and easy way to wash and dry your make up brushes, but also a mini fridge to keep your most loved beauty products fresh for the skin.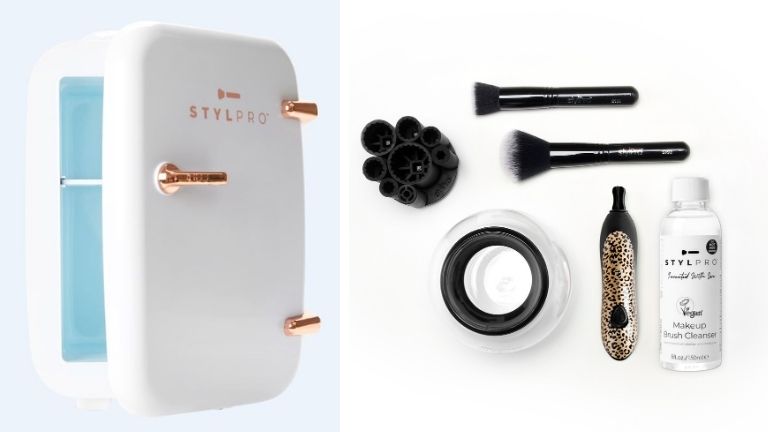 This Christmas, Stylpro's four litre beauty fridge, is the perfect accessory for anyone who is makeup and skincare obsessed.
Keeping your skincare products at a cooler temperature will help to keep them fresher for longer and reduce harmful bacteria.
Plus, it's very refreshing to apply cooler face cream! Available exclusively on ASOS, £49.99 
Cleaning makeup brushes can be a real faff. In fact, some people would rather just buy a new set of brushes than wash them…
If you know someone like this then Stylpro's makeup brush cleaner gift set is the ideal prezzie. Available in four new designs – cheetah. glitter, blush and pearl – this really is the easiest and quickest way to clean makeup brushes.
We're obsessed. Also available from – Boots, Just My Look, Argos, Next, Very, Littlewoods.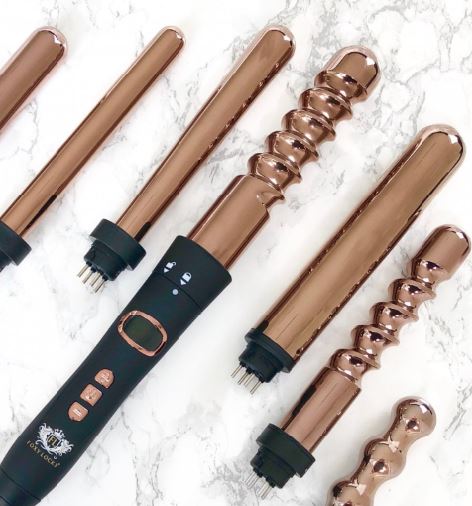 Give the gift of a good hair day with Foxy Locks, seven in one hair curling wand set.
With seven different interchangeable barrels in this curling wand set, the person you buy this for will be able to create endless styles for every occasion. 
From tight and defined curls to big beachy waves, the hair possibilities are endless. 
The rose gold titanium barrels evenly distribute heat whilst locking in hair moisture, leaving gorgeous curls as well as healthy, shiny-looking locks. 
Whoever receives this as a Christmas gift will be floating on h'air.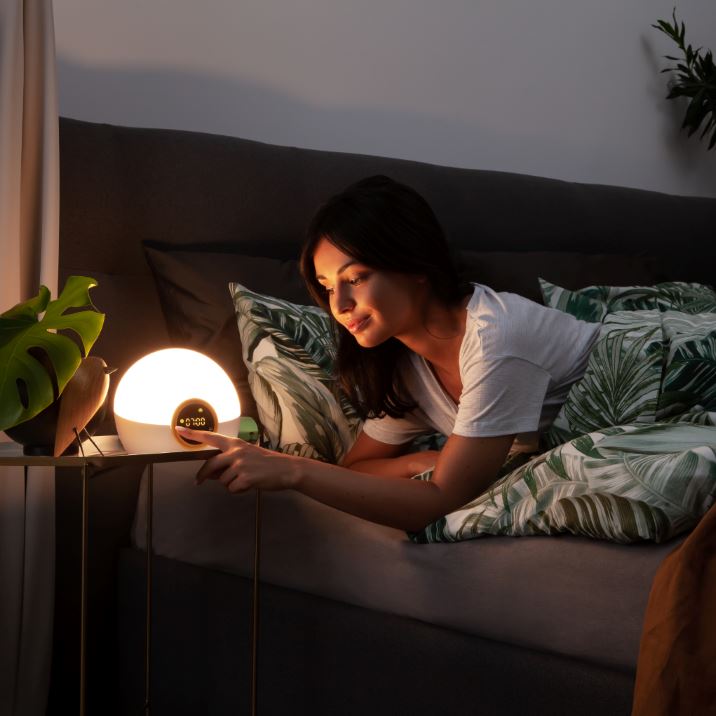 An on-trend gadget that has been doing the 'have you heard about' rounds this year is the Lumie Bodyclock.
It may seem like an odd Christmas gift, but the person you buy it for will be thanking you every morning for the rest of their days (or until the clock finally gives up the ghost).
The Lumie Bodyclock mimics the light and colour of a real sunset and sunrise, so you'll always fall asleep to and wake up with gradual, natural light.
Using a wake-up light like this helps your circadian rhythms, or your internal body clock reset to natural cycles.
Members of the Healthista team can confirm that this device WORKS. In fact, the Lumie Bodyclock is hands down one of the best and most serene ways to wake up and start your day.
We all know the importance of lip care during the winter months.
There is nothing worse than dry, cracked or sore lips – especially when it's kiss under the mistletoe time of year (support bubble and households only of course…).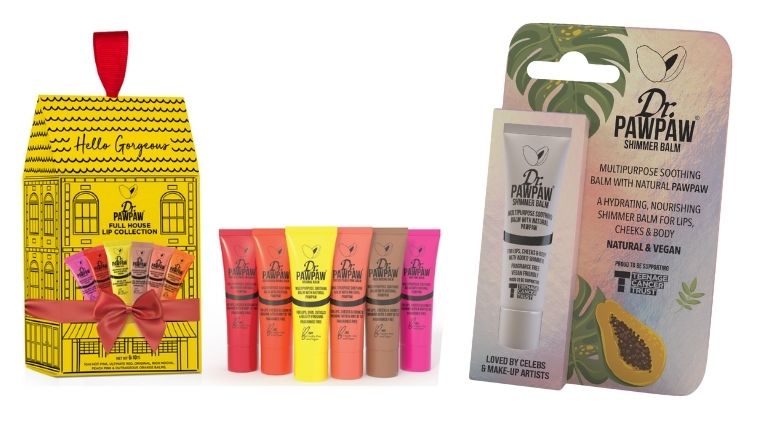 The Dr. PawPaw Full House Lip Collection is the perfect stocking filler for those who always have a lip balm handy.
The Christmas gift set includes the full range of five pocket-sized tinted balms plus one super hydrating clear balm: Original Balm (10ml) for lips, skin and hair and Tinted Peach Pink, Hot Pink, Rich Mocha, Outrageous Orange and Ultimate Red Balms.
And why not add a little shimmer – 'Tis the season after all. The new Dr. PawPaw shimmer balm is created with environmentally friendly iridescent pearls to add an instant glow to lips and skin.
What's more, Teenage Cancer Trust will be Dr.PawPaw's official 2020/2021 charity partner and 15p from the sale of Dr. PawPaw Shimmer Balm will go to Teenage Cancer Trust.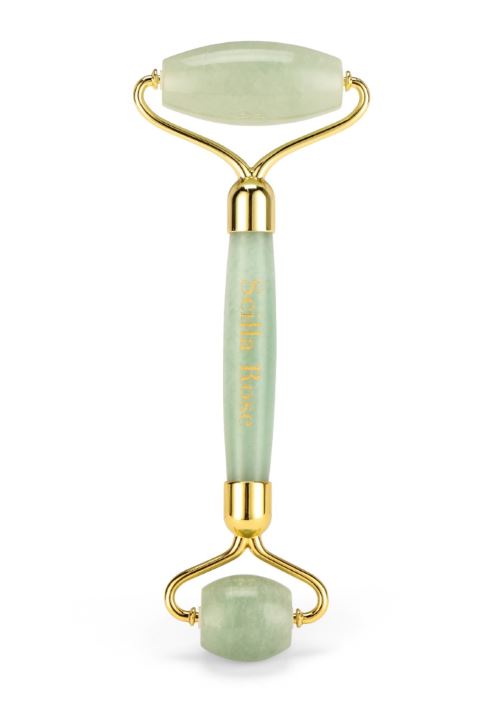 If there's something every woman needs, but doesn't know she needs – it's a Jade Roller (and a great facial serum obvs).
Handcrafted and made from premium 100 percent authentic New Mountain Jade Stone mined from Brazil, Danielle Collins' Scilla Rose Jade Roller is a beauty must-buy. 
If you know anyone who loves to spoil themselves with a face massage before bed, then this Jade Roller will help take their facial routine to new heights.
*Do note that Jade is a natural stone and each roller may vary slightly in appearance. 
Making the perfect gift, the Scilla Rose Jade Roller comes in a silk lined box for storage and safe keeping, and includes an instruction card with hits and tips on how to get the best from your roller. 
If someone has asked specifically for a great serum, look no further than Fusion by Danielle Collins. A Pro Lift Facial Moisturising Serum for concentrated skincare treatment, made entirely from high performing pro-active botanical seed oils.
It supports the skin's natural ability to regenerate new skin cells and fight the visible signs of ageing.
Applying the Fusion serum to the face with a Jade Roller, will ensure the serum penetrates deep into the skin to help plump, hydrate and even out skintone. 
To use: Smooth 2-6 drops over the face and neck, ideally on damp skin. Use in place of your regular moisturiser. It is easily absorbed and non greasy. 
To learn how to use the jade roller, you can watch Danielle Collins' YouTube video: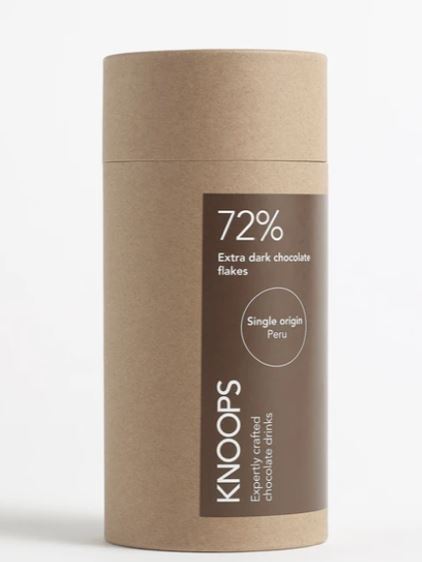 Aka the BEST hot chocolate ever – trust us.
If you know a hot chocolate fan, you simply have to buy them some chocolate flakes from the artisan hot chocolate guys at Knoops.
Also, all of Knoops chocolates of 54% cocoa or higher are vegan-friendly.
Here at Healthista we tried the 72% delicious extra dark chocolate flakes. It tasted less sweet than normal hot chocolate, but we actually preferred that.
The 72% Single Origin from Peru had notes of banana caramel and cashew and was oh so smooth. 
To make, heat 250ml of milk (1 large mug) – frothed milk works best for the authentic Knoops taste. Add 8-10 tsp of chocolate flakes and stir until fully dissolved. 
If you're a Mrs Hinch fan then you'll know all about wax melts. Well her favourite brand Ava May offer everything from candles to wax melts to diffuses and here at Healthista, we are fans too.
Oh and while we're on the topic of candles, did you know that there's a 'right' way to burn a candle?
Ava May Aromas founder, Hannah Chapman, said there's a simple trick to ensure your favourite candle burns evenly right down to the bottom of the jar.
It can be frustrating when you get to the bottle of the candle but are still left with loads of non-melted wax around the edges. This is known as 'tunnelling'.
'The first burn is so important to maximise how long your candle will last and how well it will burn,' says Chapman.
'This is when your candle's memory kicks in, and the second time it burns, it will only melt as far as it did the first time you burned it. So, if you don't melt the entire top layer of wax the first time, the candle will most likely tunnel its entire life!'
To prevent tunnelling, Chapman suggests that you let your candle burn one hour for every inch in diameter on its first burn until the whole diameter of wax is burning.
For example, if your candle is three inches across, it should burn for three hours to melt the top layer evenly.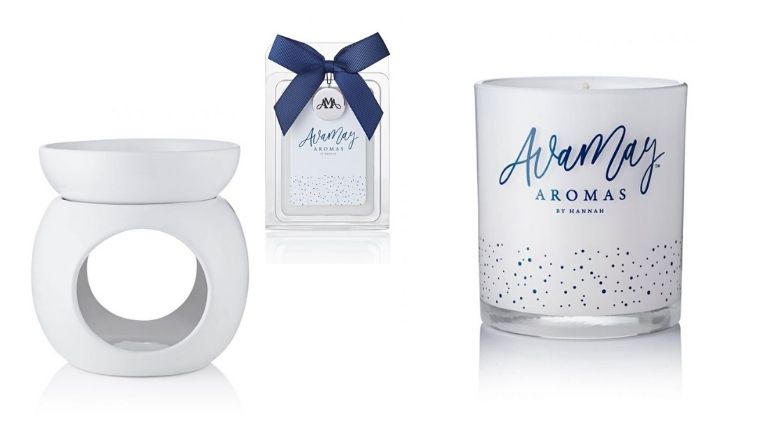 If you know a candle or wax melt fanatic then anything from Ava May is guaranteed to score you top Christmas gift points.
Healthista particularly loves the Ava May single wick candle that offers 30 hours of burn time with plenty of scents to choose from such as, Dark Opium and Spring Awakening, hand poured into a solid glass jar.
For the Wax Melt Burner, we love the round ceramic burner that is available in both white and grey. Add a hand poured Wax Melt in scents such as Baby Powder, Sea Shells and Fairy Soft, that provides a minimum of 24 hours of burn time.
Christmas scents such as Mistletoe Kisses, Cranberry Orange and Cinnamon and Frankincense and Myrrh are also available.

This year, we have all missed out on hugging those we love most, and even though it's Christmas, people still won't be able to see, let alone hug their loved ones.
If you know someone who is in need of something to hug, gift them the Kally Body Pillow this Christmas.
The Kally Body Pillow provides comfort and support, and is ergonomically designed by experts to help people enjoy longer periods of deep, uninterrupted sleep – yes please.
Supporting the back, neck, spine and legs, the Kally Body Pillow encourages the healthiest sleep position – the foetal position.
The gift of sleep is something we all need right?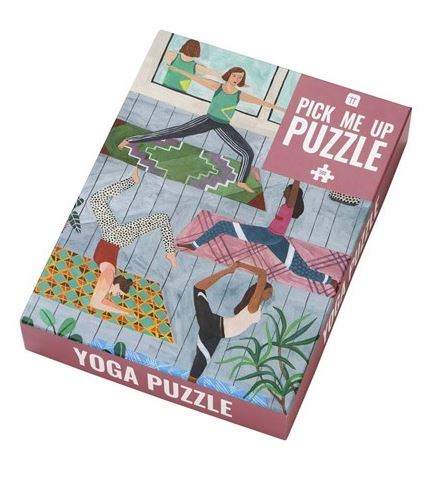 Who doesn't love a puzzle at Christmas?
Whether you like to puzzle solo or make it a family affair, this 500-piece puzzle from earlybird designs is perfect for yoga lovers.
If you know a yoga lover who has missed the studio over lockdown or can't quite manage a downward dog after Christmas lunch, this puzzle is the next best thing.
As its 500 pieces, it will keep you occupied if you find yourself bored of Christmas TV shows, but it isn't too tricky to complete if you've got a brain that's only thinking about Christmas turkey and mince pies.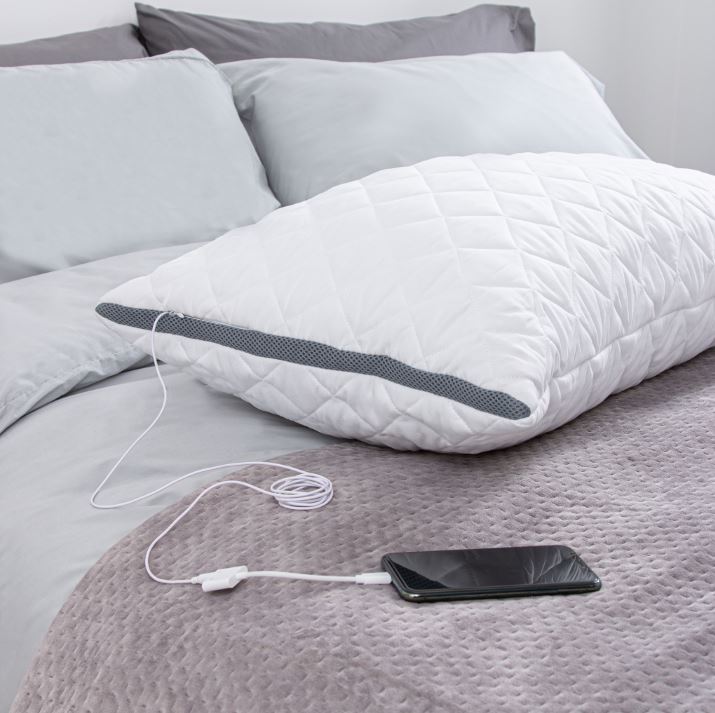 This is more than just a pillow. It's a luxury quilted pillow with an integrated sound system.
Yes you read that correctly. A pillow that is also a speaker.
Take my money.
Know anyone who listens to music 24/7? Or know anyone who spends most of their time laying in bed? This is the Christmas gift for them, (although you'll probably end up buying on for yourself too right?)
Designed to help promote wellbeing, relaxation and sleep the Soundasleep speaker pillow can be used to listen to music, audio books, podcasts and mindfulness apps.
Simply plug in your phone to listen to apps including Apple Music and Spotify. Plus, you can download the Soundasleep app that so you can track your sleeping pattern, control yours or your partners snoring with its anti-snore function  or use one of the apps meditation sessions to help you drift off.
The ultimate self-care Christmas gift.
Who doesn't love a selfie? Well perfect your selfie look with this stylish Hollywood Selfie Mirror.
After all, the key to a perfect picture is lighting right?
If you know a selfie fanatic, this gift may just make their entire Christmas.
With 12 LED bulbs spaces around the outer frame, this mirror will help provide the selfie taker with the light they need for a flawless look.
Simply mount it onto a wall or stand it up on a dressing table to add a touch of glamour to any bedroom.
It really is every girls dream!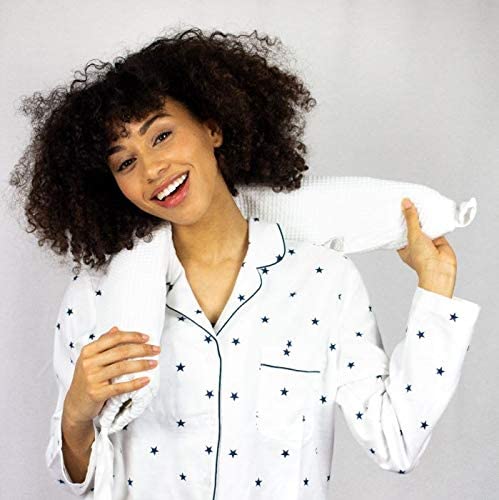 Is there anything that a hot water bottle doesn't fix?
Headache? Hot water bottle. Back ache? An extra hot water bottle. Arthritis or joint pain? Three hot water bottles.
As far as we're concerned, the hot water bottle is the ultimate survival gift for winter. OK dramatic much, but honestly hot water bottles are life savers.
The Yuyu is the world's firs original long hot (and cold) water bottle.
If you like to provide people with Christmas gifts that they will get plenty of use out of, the Yuyu bottle is a gift for 365 days of the year,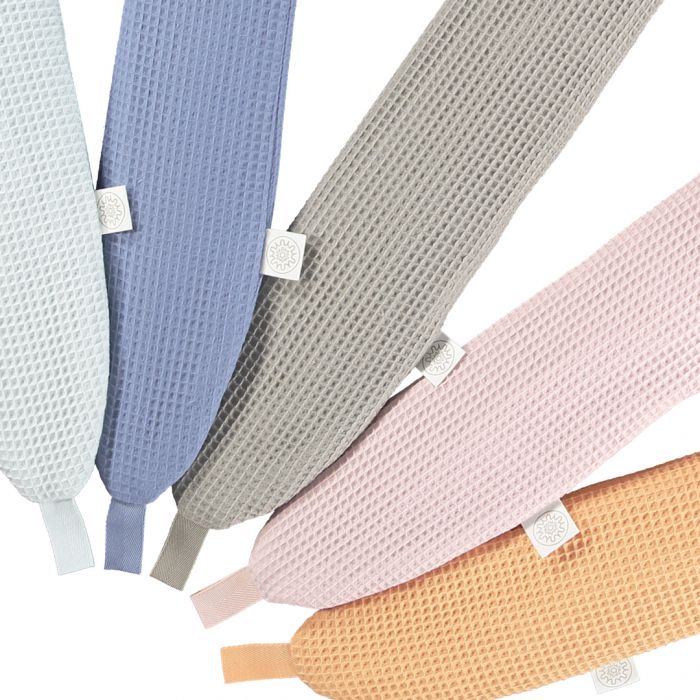 Ideal for wrapping around the body to help target any pain, comfort is hands-free and low fuss thanks to the wearable strap.
The long hot and cold water bottle can also be doubled up and used in the summer to help cool you down on those particularly hot days.
Relevant Healthista Content:
7 ways to survive the Christmas season stress-free
9 hangover cures to get you through Christmas
Healthista Content you may also like:
How to combat Seasonal Affective Disorder (SAD) this winter – the expert's guide
8 best squat proof leggings – tried and tested
Low-carb recipes for last minute Christmas weight loss
6 ways to stick to your healthy eating habits at Christmas (without being a bore)
Like this article? Sign up to our newsletter to get more articles like this delivered straight to your inbox.