Struggling to figure out the best way to have a healthy Christmas and still enjoy some festive treats? Nutritionist Charlotte Watts reveals two healthy recipes that will stop you pigging out on the unhealthier options
Christmas traditions don't need to be sugar and wheat fests that leave us feeling bloated, fat and miserable.
Navigating the true definition of treat – in all aspects of our lives – can give us a rest that leaves us feeling positive for the coming year.
There are some key habits to set to enjoy Christmas to its full and then sail through into New Year without a crashing come-down or a downright painful landing when you resolve to suddenly give it all up.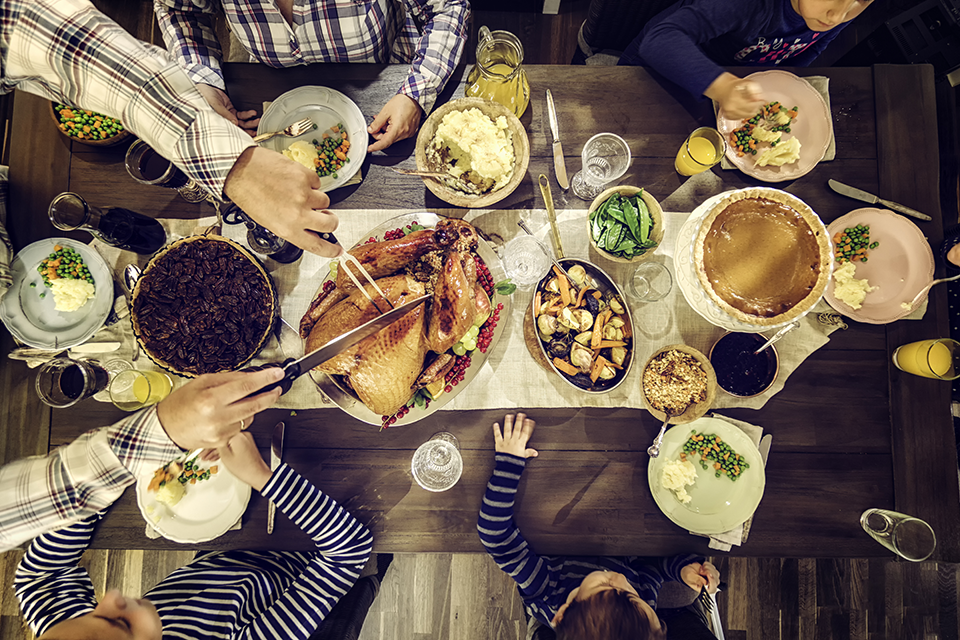 But know when to rest and recover
Make decisions away from the shops
Get back to an old style Christmas – no, this doesn't mean don't believe the advertising!
This season was traditionally when we stocked up on nutrients and antioxidants to keep us vital over the coming winter months… Reclaim that wisdom and enjoy your full winter health.
Try these Christmas treats that taste delicious but come without the payback.
Almond pastry mini mince pies – low-sugar & grain free
Making Christmas items that we can so easily buy isn't simply about the end-product, but also the creative joy of sourcing the ingredients and spending some quality time with a practical, tactile and engaged activity.
There's a whole lot more here to feel the real spirit of Christmas, especially if you put on some festive music and plan to share with friends.
The lack of grains and low sugar content doesn't detract from taste, but helps you enjoy a treat without feeling bloating, nausea and the urge to eat more sugar after.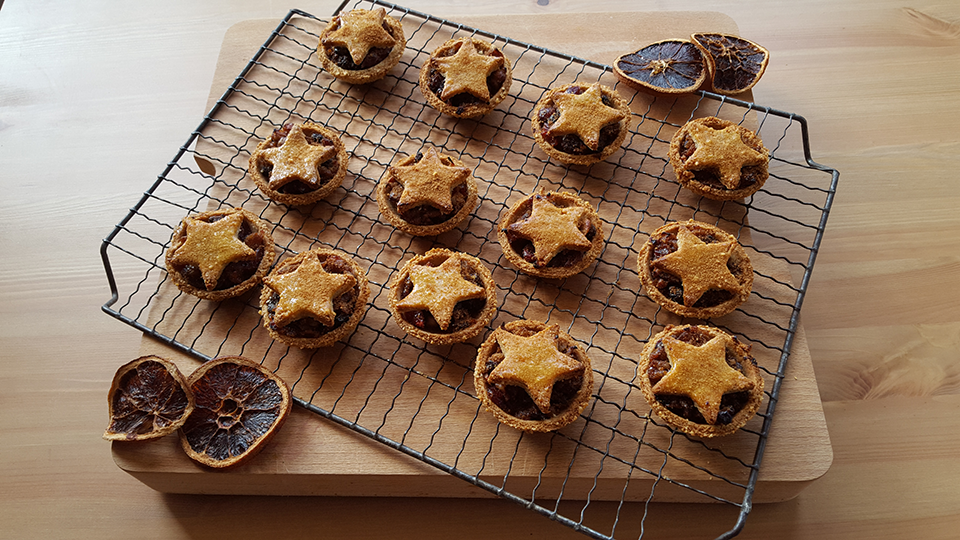 Prep time: 45 minutes to 1 hour
Cooking time: 15 minutes
(makes approx. 12)
Ingredients:
For the mince meat:
150g/5oz grated apple (2-3 apples)
200g/7oz dried fruit (I used raisins, sultanas, currants and cranberries – 50g/1.75oz of each – but you could change the dried fruit to your liking)
50g/2oz chopped nuts (I used walnuts and pecans – 25g/1oz of each – but you could change the nuts to your liking)
Zest of ½ a lemon and juice of 1 lemon
Zest of ½ an orange and juice of 1 orange
1 inch fresh ginger root (peeled and grated)
½ tsp ground ginger
½ tsp all spice
½ tsp ground cinnamon
2 cloves (ground)
Pinch of grated nutmeg
Cinnamon stick
25g/1oz coconut oil (or butter if you prefer)
(1-2 tbsp brandy or whisky – optional)
For the almond pastry:
225g/8oz ground almonds (plus extra for lining the trays)
1 tsp coconut sugar
½ tsp ground ginger
½ tsp cinnamon
½ tsp nutmeg
Zest of ½ lemon
Zest of ½ orange
Pinch salt
15g/½oz butter (plus extra for greasing the tins)
1 whole egg
To glaze and dust:
1 egg yolk (or milk or butter if you prefer – I find egg yolk gives the nicest finish)
1 tsp coconut sugar
½ tsp cinnamon
Method:
1. First make the pastry. Put all ingredients in food processor/mixer (or mix by hand) and mix until combined (do not overwork the pastry or it will not have a nice crumbly texture once baked).
2. Work together with your hands, if it feels a little moist add a little more ground almonds.
3. Wrap the pastry in cling film or foil and place in the fridge for 20 minutes to chill.
4. Whilst the pastry chills you can make the mincemeat filling. Place all the ingredients in a saucepan and cook on a medium heat with the lid on for 15 minutes, stirring occasionally.
5. After 15 minutes, remove the lid and allow the mincemeat to reduce to a sticky consistency. Once the mincemeat has reached the desired consistency, remove from the heat and allow to cool.
6. Preheat oven to 180°c/350°F/gas mark 4.
7. Grease a Yorkshire pudding/muffin tin with butter. Cut out circles of greaseproof paper the size of the holes in the tin, stick these in, grease them and then add a teaspoon or so of ground almonds to each hole in the tray, then shake so the almonds cover the base and sides of the holes.
8. On a clean work surface, sprinkle some ground almonds and then roll out the pastry with a rolling pin to about 2mm thickness.
9. Use a cookie cutter to cut out circles for the base (I used a 2 ¾ inch/65mm diameter cutter but adjust your cutter size according to the size of your tray) then either smaller circles (according to the size of the top of the pie) or a shaped lid (I used a star shaped cutter).
10. Cut out matching lids to the bases as you go so you know there is enough pastry to top your pies. Once you have cut out all the pastry you can gather up the offcuts, mould these together and roll out to make the remaining mince pies.
11. Use a palette knife to lift the pastry off the worktop without breaking it. Place the bases into the tray and press gently so that the pastry touches the side of the tray (you can use a small lump of the pastry instead of your fingers if you want a more professional finish).
12. Spoon the mincemeat into each pastry base, a heaped teaspoon in each will be about the right amount.
13. Once all the bases are filled place a lid on top of each pie and then glaze with an egg yolk egg wash (if you are using a round lid make two small slits it the lid to allow the air to vent out whilst cooking).
14. Bake for 12-15 minutes checking occasionally and turning around the tray half way through cooking if your oven is unevenly baking the pies.
15. Once out of the oven dust the mince pies with a light dusting of cinnamon sugar. Allow to cool for a couple of minutes before loosening the pies from the edge of the tray with a small palette knife (or similar) and lifting out onto a cooling rack.
16. Best served fresh but they will keep for a few days in an airtight container and can be refreshed in the oven before eating if they weren't freshly made that day.
Cashew nut gingerbread ice cream
This dairy-free ice-cream helps rather hinders your metabolism with the presence of coconut MCTs – the medium-chain triglyceride form of saturated fats that we cannot store.
Also kind on your digestion and immunity, the presence of fats slows down the sugar release and the spices support circulation and immunity.
This is the perfect alternative to yet more hidden sugars; making yourself means you know exactly what went in, so you can eat with full consciousness. It can be stored in the freezer for 1-2 months, so you don't need to eat it all at once.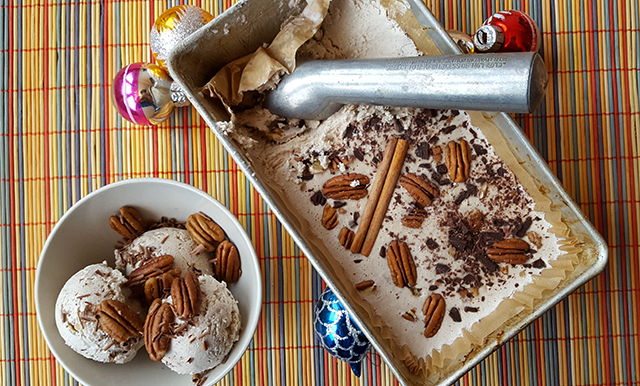 Pre-soaking time: 2-12 hours
Prep time: 10 minutes
Freezing time:  12 hours
(serves 6-8)
Ingredients:
For the ice cream:
1 cup/4oz/125g raw cashews
400ml can coconut milk
160-200ml can coconut cream
¼ cup/60ml agave/fructose syrup/maple syrup/runny honey
1 tsp vanilla
2 tsp ground cinnamon
2 tsp ground ginger
1 star anise (ground in spice grinder)
2 cloves (ground in spice grinder)
1 allspice berry (ground in spice grinder)
For topping:
1oz/25g dark chocolate (chopped)
1oz/25g pecans (whole)
2-4 chunks crystallised ginger (chopped)
Cinnamon stick
Method:
1. Soak cashews in cold water overnight or pour boiling water over then and leave for 2 hours.
2. Once cashews have been soaked, drain off the water and put the nuts in a blender/food processor with the coconut cream, syrup and flavourings (reserve the coconut milk – if you add all your liquid at once then the ice cream won't have a nice smooth consistency).
3. Blend for 1 minute, until smooth, then add the coconut milk and blitz for a further minute until well combined and smooth.
4. Pour the ice cream mix into a loaf tin lined with baking parchment/a loaf tin liner or pour straight into a tupperware container.
5. Sprinkle the chopped toppings over the top of the ice cream mix, they will sink in slightly, then lightly place the whole pecans on the top and add a cinnamon stick for decoration too if you wish.
6. Cover and place in the freezer overnight.
(N.b. if you have an ice cream maker you can set the ice cream in this for a smoother consistency, add the toppings once churned when you put the ice cream into a container to put in the freezer).
7. Allow the ice cream to sit out of the freezer for 30 minutes before serving so that it softens. Alternatively, you could slice the ice cream into portions once frozen for ease of serving (but do still leave it out of the freezer to soften slightly before serving).
8. Top with more pecans and some shavings of dark chocolate to serve.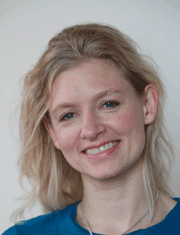 Charlotte Watts is a nutritionist and yoga teacher whose work has focused on how nutrition and yoga can meet to help people cope with the demands we face in the 21st century.
Her practice and teaching of mindfulness weaves these together and has culminated in her new book De-Stress Effect, The: Rebalance Your Body's Systems For Vibrant Health And Happiness.
She has also authored The De-Stress Diet (with Anna Magee) and 100 Best Foods for Pregnancy as well as 100 Foods to Stay Young.
Related Healthista Content:
How to save money this Christmas with these 5 simple tips
5 healthy self-care tips to practice over Christmas – a nutritionists guide
Healthista Content you may also like:
Add more whole grains to your diet with these 3 healthy plant-based recipes
Could stress be causing your bloated stomach? 7 things this expert says you should do
5 benefits of peanut butter – plus why it can help you lose weight