2018 is the year of the hybrid, and now lifestyle trend 'hairclubbing' at Blade Soho jazzes up the tedious chore of a hair appointment with bubbles, Netflix and a sophisticated party vibe. Vanessa Chalmers tries it out
blow-dry booked into the diary gives me a thrill. It's invaluable me-time to look forward to. But for others, a trip to the hairdressers is another chore, a time to mull over the day's appointments and chaos.
It's not just coffee the clients are throwing back
That's why Julia Olofsson created the hair clubbing experience, injecting fun back into a trip to the salon. I enter bustling Blade on a Saturday afternoon. The stylists are hard at work across the floor, but it's the busy bar that catches my eye (naturally). Here, two men sit with an unfamiliar bottle of beer, talking over a laptop, uber relaxed, whilst cocktails are mixed by staff ahead. The scene is lively, but the jazz music mellows the atmosphere immensely. Julia jumps out with stylist Ben by her side.  I keep my demands simple – a glamorous blowout, which it turns out Ben is the in-house expert – but Julia is quick to show me their drinks list as I get comfortable.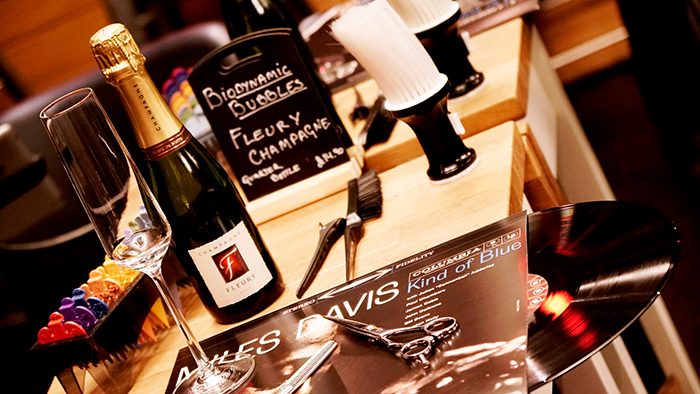 Growing up, Julia watched as her mother darted between her clients' hair and kitchen to make them coffee. So, following in her footsteps, she started her own salon and added a coffee shop, immediately creating a more relaxing environment. Fast forward a few years, and its not just coffee the clients are throwing back.
Scrolling through the menu on the iPad mounted in front of my chair, my eyes goggle at the variety of beverages, from biodynamic wines, craft beers and premium bourbons.
'We are a bit spoilt with our drinks', says Julia, who goes on to tell me about their Ethiopian Sidamo Arabic, Japanese matcha and rare single malts that have been hand selected by Blade from distilleries across the world. 'It's nice for me to educate girls. They think whisky is too strong for them but there are floral, spicy and candy-like whiskies', says Julia, nodding to the Ameretto. She credits her own alcohol education to her husband, Stroo, a musician and photographer who's influence in Blade is noteworthy.
Blade accurately describes their salon as 'the kitchen at a great house party'.
Stroo is the self-taught cocktail conessieur, but it's not your typical A-Z of classics from a cosmo to a sex on the beach. Instead I see mixes unique to Blade. It sounds a little haphazard, but take my word for it, the inventions are impressive. Boozy Hot Chocolate fortified with bourbon, Rhum Agricole Honey Chai Latte and Anti-Oxi-Zombie with Green Chartreuse, organic ceremonial matcha and fresh cold pressed orange juice are just a couple that take my fancy, and the prices are more than respectable despite the unique service.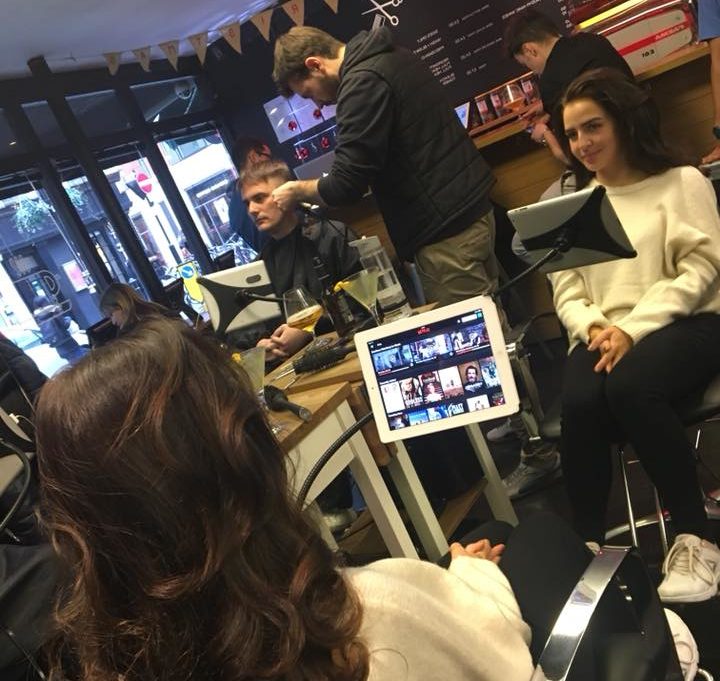 The drinks are made at the front bar, or, as I later discover, a hidden subterranean bar down the stairs. Where a lady chills out whilst her hair colour develops, it is here that I spot some of Blade's exclusive bottles, such as their Engine Oil beer. Despite being nine per cent alcohol, Julia describes it as 'chewing on chocolates'. There's a chance for customers to join their alcohol adventures, too, with customers getting involved with beer tasting just a few days before.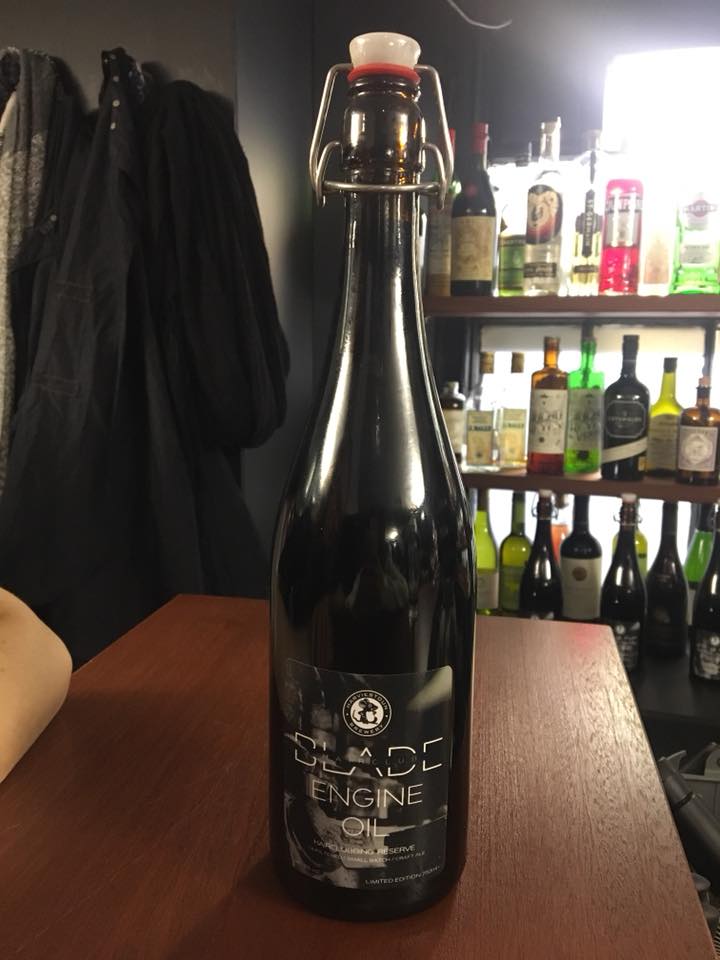 Unfortunately, I am on a sober stint. But, unlike other bars and pubs, there is a non-alcoholic list worth my time. Clearly, Blade are clued up about the mindful drinkers of London, and Julia tells me her Moscow heritage inspires their teas. I go for an organic hemp tea with lemon, honey, ginger, turmeric and black pepper because it's screaming 'health' at me. And it's delicious. I neck it down and get the recipe from Julia.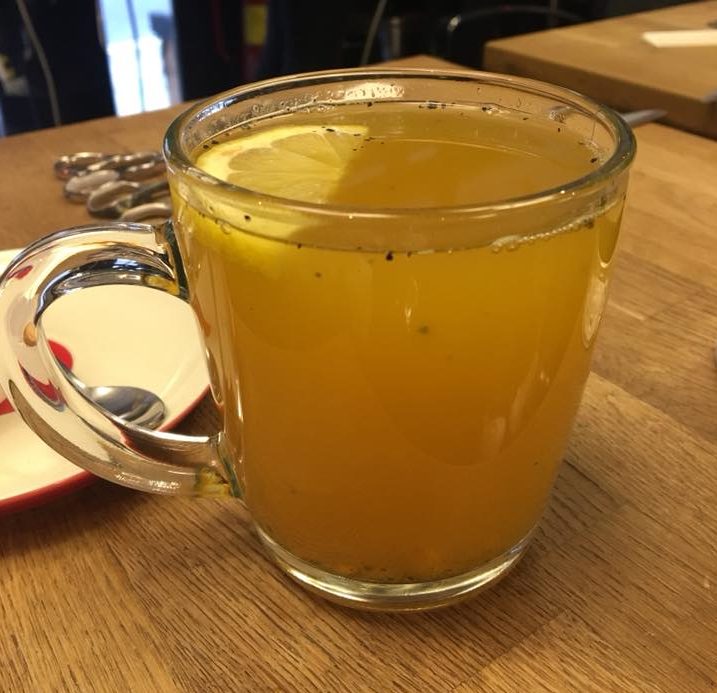 What's more, Julia and Stroo are vegan, and so their drinks (and snacks) are too. I spot some Loving Earth raw dark chocolate – perfect for box set binge time. As far as hairdressing products go, at the moment Blade use Schwarzkopf, who despite not being 'vegan', claim they don't test on animals.
Blade accurately describes their salon as 'the kitchen at a great house party'. It's a house party I've never been to, as Julia insists they are the first to be doing hairclubbing, and plan to be the first in New York, too. 'Come here to hang out with your friends', she says, telling me about their memberships. For £45 a year, you can get up to 25 per cent off salon prices and full access to the members' bar, with two guests, even without a hair appointment. It's so popular there's a waiting list.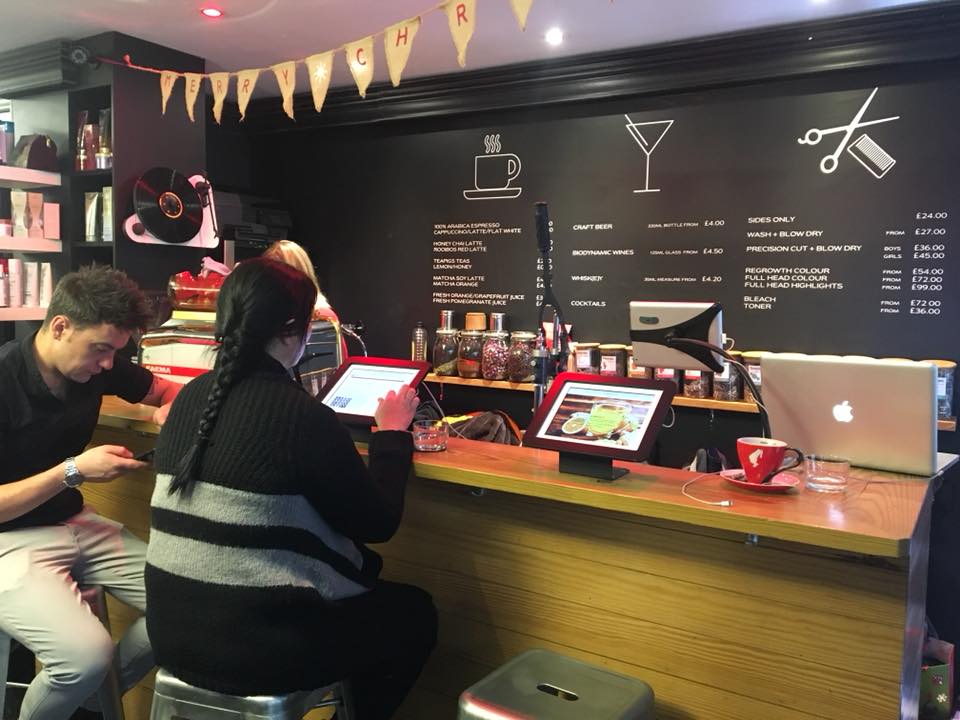 'We don't want people to be intimidated when chosing your style,' Julia continues. 'It takes away the fear and we are able to get more creative when we have the time to discuss what you really want.' I think it's safe to say, we have all had a disaster dye or cut experience when feeling under pressure.
At Blade, I've never felt more relaxed. I feel fussed over as Ben asks me my plans for the evening. By the end of my trip, he's become my therapist as we converse about dating, work and the Kardashians. The usual hairdresser chit chatter, but something felt friendlier. His big and bouncy blow-dry lived up to expectations – but where to go all glammed up when the party is here?
Find out more about Blade Soho and their prices by visiting their webiste 
READ MORE
Reviewed: London's vegan-friendly hair salon PLUS the surprising hair trend to look out for in 2017
Spa review: Kurhotel Skodsborg, Copenhagen
WIN Vaishaly Signature Facial and Eyebrow Threading worth £145
The yoga retreat that can restore you in TWO days
17 best products for curly hair – from two Instagram natural hair superstars
Like this article? Sign up to our newsletter to get more articles like this delivered straight to your inbox.