Face lifts no longer need to involve surgery. Award winning Aesthetics Clinician, Dr Nina Bal reveals results of her amazing non-surgical face lift – here's everything you need to know
It's no secret that a face lift can be a rather expensive investment for an ageing face.
Although face lifts offer incredible results, going under the knife is a scary ordeal, not to mention the not-so-convenient recovery time.
So, what if you could get a face lift without the scary surgery and without breaking the bank?
Dr Nina is the official cosmetic dentist in the Series 2 of the UK TV Show Bodyfixers
Well now you can. Advanced Facial Aesthetics Clinician Dr Nina Bal, offers clients a non-surgical face lift that uses a combination of two signature treatments to get the desired anti-ageing face lift.
You might recognise her from TV as Dr Nina is the official cosmetic dentist in the Series 2 of the UK TV Show Bodyfixers on E4 and from This Morning Show with Holly and Phil on ITV.
Dr Nina Bal, founder of Facial Sculpting Clinic in Chelsea, tried her non-surgical face lift for herself. Here's what you need to know about this miracle anti-ageing treatment…
What does a non-surgical face lift involve?
'The new combined treatment of Prohilo and Endolift is the best non-surgical facelift on the market,' says Dr Nina Bal.
'The procedure involves two treatments – Profhilo and Endolift – and it can be carried out in two ways,' explains Dr Bal explains.
#1 First session of Profhilo, then 4 weeks later, the Endolift and the second session of Profhilo at the same time.
#2 Endolift treatment and a first session of Profhilo together, then after four weeks, the second session of Profhilo.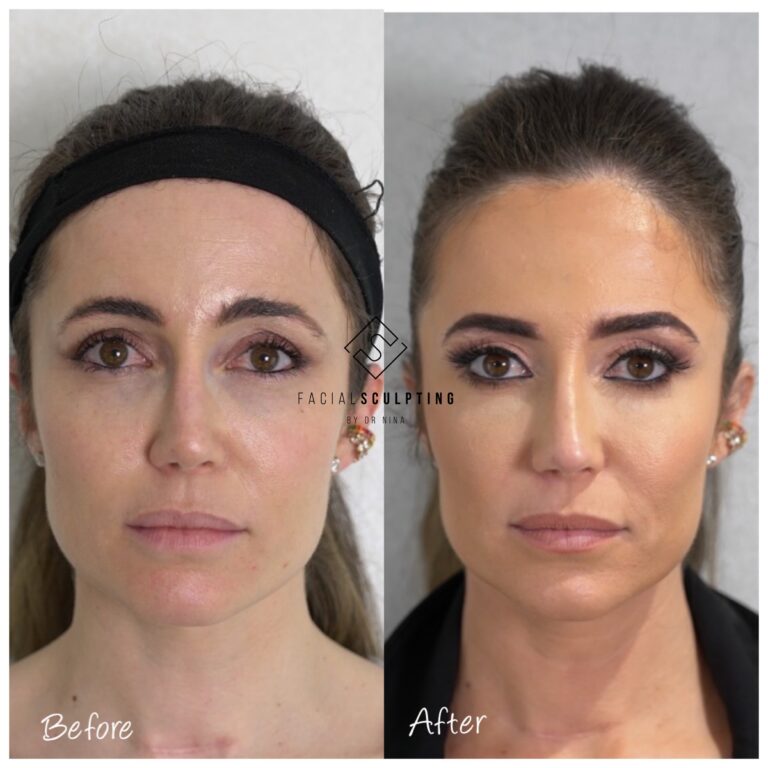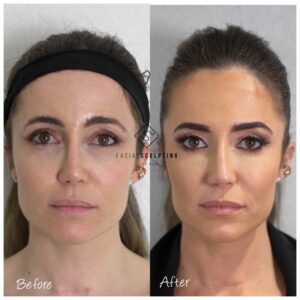 How does Endolift work?
'Endolift is a combined laser application that combines skin rejuvenation and facial contouring without the need for surgical intervention,' explains Dr Nina Bal.
'After the patient is injected with a local anaesthetic, the laser treatment is performed with the lastest Eufoton LASmaR 1500, which is certified and approved by the American FDA for laser assisted liposuction. (See video below).
https://www.instagram.com/p/CU8M4jKKbkl/
'The main desired result Endolift offers is skin tightening, which causes the face to appear more toned and chiselled. It can also help to remodel the deep and superficial layers of the skin, stimulating collagen production and reducing excessive fat.
'Some may experience minimal swelling lasting 24 to 48 hours, and you can return to your daily life the same day. Bruising is unlikely, but minor of it happens.
'My patients love this treatment as it comes with no downtime (that's the recovery time) and the effects are immediate, lasting approximately two years depending on an individuals skin structure, making it an affordable option too'.
How does Prophilo work?
'Using pure hyaluronic acid, Profhilo® is a revolutionary anti-ageing injectable treatment that works as a moisturiser beneath the skin,' says Dr Bal.
Hyaluronic acid is a naturally occurring substance that's found in our bodies and frequently used in moisturising serums because it attracts water molecules.
Except that the kind you find in cosmetic products dissipates quite quickly, hence the need to apply it morning and night.
The hyaluronic acid in Profhilo has been 'cross-linked' intensifying the bonds between the molecules so that it stays in the skin for longer.
'Profhilo® works to improve and restore skin firmness by providing ultimate hydration to ageing and sagging skin tissue whilst also having a tightening and lifting effect,' Dr Bal explains.
'The unique treatment can be used on the face and neck, but also on hands, arms, knees and the abdomen area.
'And unlike other fillers that are injected deep into the face Profhilo is injected into the superficial layers of the skin where it spreads out to do it's magic'.
Profhilo works by:
Rejuvenating tired, dull and ageing skin
Stimulating the production of collagen
Increasing firmness and elasticity by plumping the skin to reduce fine lines and wrinkles
Natural looking results to reveal healthier, softer, younger looking skin.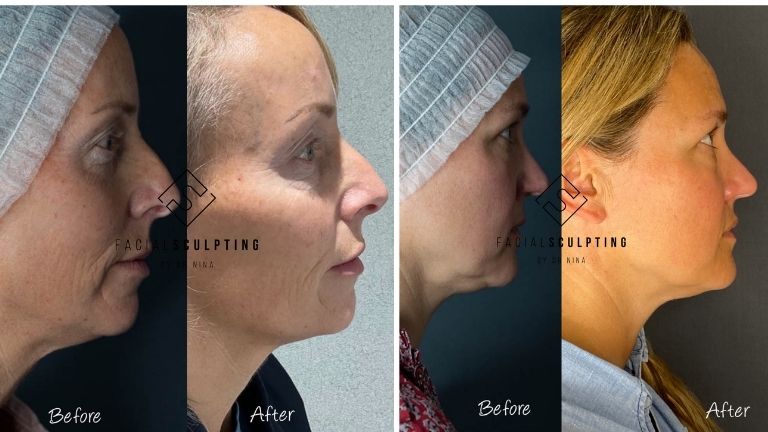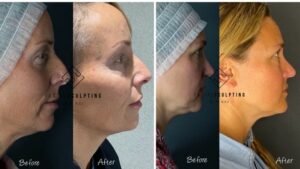 Taking control of the ageing process
'With my non-surgical face lift, patients will see results straight away, and will continue to see improved results over the next three to six months, with final results lasting for up to two years,' explains Dr Bal.
'The two treatments work well together because the Profhilo works by treating the skin laxity and improving the skin firmness of the dermis, and the Endolift tightens the skin layer underneath the subcutaneous layer.
'By using the two in conjunction with each other I can provide the best non-surgical lift of the subcutaneous layer and the dermis at the same time – it truly works wonders, the proof is in the pictures!'
Combined Miracle Non-Surgical Facelift by E4's Body Fixer Doctor, Dr Nina Bal:
Prices range from: £3500 +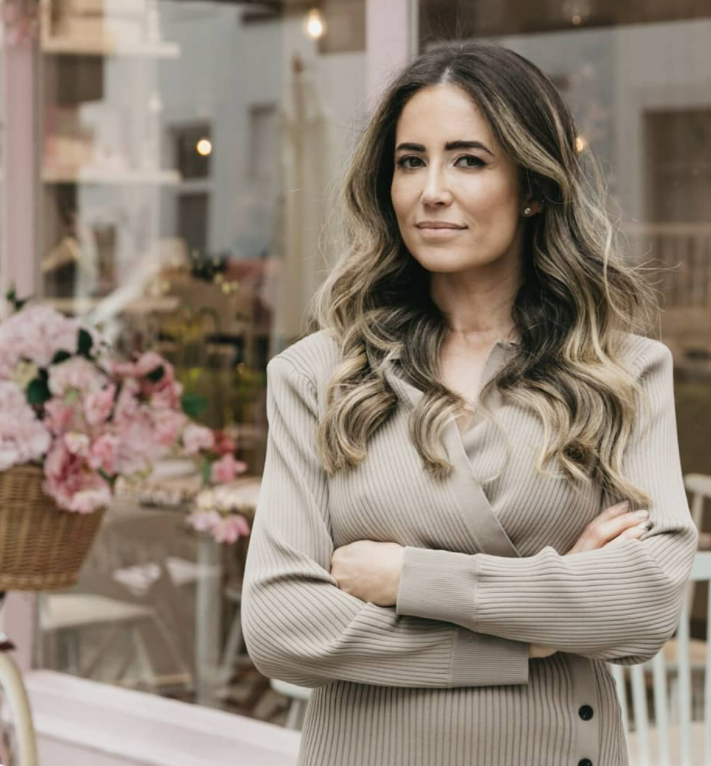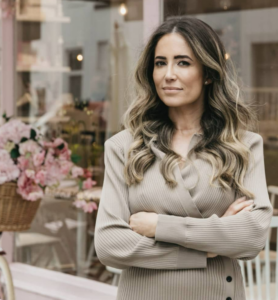 Dr Nina is currently based at Tempus Belgravia, 11A W Halkin ST, Belgravia, London SW1X 8JL
Nina's accolades include:
Diamond Awards 2021 Finalist
Private Health Awards 2021 Winner – Best Aesthetics Facial Sculpting Specialists
Global Excellence Awards 2020 Winner -Most Outstanding Facial Sculpting Treatments
Finalist in the Facial Aesthetics Awards 2019 – Dermal Fillers category
Winner of the Aesthetics Dentistry Awards 2018 – Facial Aesthetics category
Shortlisted as one of the best young dentists in the UK by the highly prestigious Dental Awards
More Healthista Content:
Feeling burned out? 7 benefits of taking a 'brain break'
5 natural substances for pain relief
5 ways to convince your partner to use sex toys & spice things up in the bedroom
15 Best Advent Calendars for December 2021
4 ways the menopause affects your skin
Like this article? Sign up to our newsletter to get more articles like this delivered straight to your inbox.