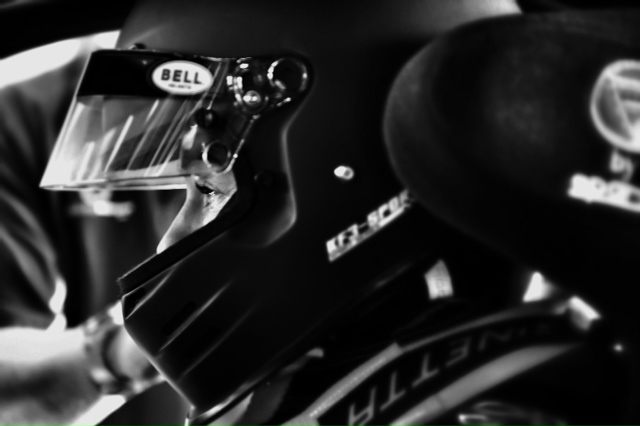 Dr Barbara Kubicka is an Aesthetic Medicine Physician, but when the day job is done she wheel spins into a petrol-fuelled world of intense training and high-speed racing.
From ensuring her lipstick could stand the test of time around the circuit and her nail polish matched the car, Dr Kubicka has approached her sporting passion with a sense of femininity that's helped her overcome the stereotypes attached to motor racing.
The sport has long been regarded as a world of exhaust fumes, engine revving, and competitive testosterone on wheels, and the argument for sports women in this field has been exhausted but never concluded.
This hasn't stopped some girls in the motor-racing world from following their dreams. Polish born Dr. Barbara Kubicka is one of them, being the only female competing in this year's Ginetta GT5 Challenge, which starts Ginetta GT5 Challenge season started on March 30th and ends on October 5th.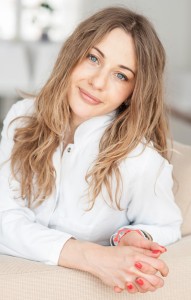 'I didn't have any family connection to racing but I have always been drawn to cars,' she said: 'The first thing I did when I turned 17 was a racing driver course.'
Barbara spent seven years getting her foot in the door as a rally co-driver when she was involved in an accident that left her with a spinal injury and over six months of recovery.
Having spent time studying abroad in Paris, Barbara moved to England. She said: 'I came to England to really do things by myself but it took me six years to slowly build my confidence to get on the track again.'
Barbara is a fully accredited aesthetic medicine physician with her own private practice in Belgravia, London. She completed her medical qualifications at Warsaw Medical University, and College de International de Medicine Esthetique in Paris.
'The training to get back into it was quite interesting. You learn a lot about yourself. I love a challenge,' she says and it certainly shows.
On top of her studying Barbara spent two years working for NHS hospitals as a trainee at Imperial College London in various fields including Breast Surgery, A&E and Endocrinology.
Three years ago Barbara got into the driver's seat and started karting again. Today she is the only female competitor in the Ginetta GT5 Challenge.
The championship is made up of seven races and 36 competitors.
I asked Barbara how she felt returning to racing and finding out she was the only female entrant.
'I was intimidated and felt terrified. With the accident I wanted to choose the right competition to start back in racing again. I narrowed it down to just two championships, and then chose to go with GT5,' she said.
'If I had known it was going to be all male competitors I don't think I would have put myself forward, so I was overwhelmed when I found out.'
As it turns out it is thanks to the male dominant season that Barbara is standing strong as a female driver today.
She said she has learned the skills and found the strength to compete as a woman and an individual.
She said: 'It is time for women to do it our way. Yes we are different to men, we have a different set of skills, but they are not worse or better, we just utilise them in our own way.'
There are three aspects of training for Barbara: physical, nutritional and psychological.
Many men have said women are not made for racing physically. As Barbara explained you need to be strong enough to control the car at high speeds and manage the g-force.
But she said this is not a problem for her, she has a personal trainer who works her very hard to manage this impact of the sport. They meet twice a week, but she said she tries to take part in exercise at least twice more a week on her own, sometimes swimming. she said: 'I enjoy cardio work outs most.'
Nutrition is another area of training. Barbara said as a woman this area is very important. You need to consider right management, but essentially foods which give you energy and will help keep you focused.  Barbara tries to drink her two litres of water a day, and enjoys fresh fruity and vegetable juices, fish and salads
But it's the psychological training that has had the biggest influence on how she's progressed.
She said, 'The bigger part of driving is in our heads. Driving is one thing, even driving fast, but racing has a whole other element to it. The skill is in your head, to be in control and not in fear. If your head isn't relaxed your reaction times are slower and then so is your driving.'
'To begin with my coach told me to push myself and be angry and aggressive. This is the way men race, it is down to testosterone, but it isn't my way.'
'I got very frustrated,' she said, 'I don't have that sort of testosterone, I'm a woman.'
'I soon realised my way of coping with the pressure of racing is through positive emotion.'
Barbara describes sitting in the grid awaiting the starting light gantry countdown.
'You can hear everything around you. You feel it in the pit of your stomach. Each time I still think to myself what am I doing here,' she laughs.
'But then I check what I can feel around me, the steering wheel, the pedals and bring myself to the present moment, then I concentrate on my breathing. This is where psychology is key: by switching off preconception you switch off fear too.'
'Once I am out on the track it is even more important to take it one step at a time. I'm just concentrating on the next corner, or the next breaking point. Sometimes, if my mind is wondering I just flex my fingers and toes to bring me back to the here and now.'
But what about motivation off the track? With few women where does Barbara get her inspiration.
'I've met quite a few women in motor sport now, but never anyone to aspire to. They all still do it through aggression and anger and that's just not my way of racing.' She said.
Barbara believes for women to succeed in this sport they need to be coached by women too because they understand these differences in the approach.
In fact Barbara's unperturbed approach to racing almost resulted in her not making it to the grid in time.
'Before a race I try to keep my spirits up. On one occasion I was walking with a friend before the race, we were discussing which lipstick would stay on while I was racing.'
She pauses to explain further: 'When I finish a race it is important I look my best emerging from the car because that's when people want to talk to you about your performance.'
She said: 'So here we were comparing two lipsticks when I hear this yelling for me to hurry. And they're all asking me 'what have you been doing, where were you!?' and I simply said 'I was doing something very important.' Because I was.'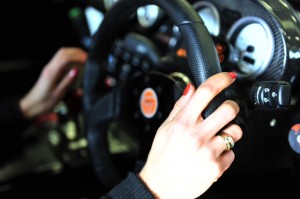 Besides her lippy some of the other focal decisions Dr Kubicka has had to make include selecting which colour to paint her nails.
'So I hear you've customized your car with a dash of pink,' I ask Barbara.
'Almost red, yes. To match my nails!' She hastily adds.
The car, a black Ginetta G40, was launched in 2010 when it won the coveted autosport national car of the year. It weighs just 800kgs and Barbara said it's great in handling.
The 1.8 litre engine works at a maximum speed of around 130mph on race day and has been customized with its driver's signature and name on either side.
But is setting it aside from the crowd a brave move?
When Williams test driver Susie Wolff, currently named the fastest woman in the world and a potential female F1 racer was competing in Deutsche Tourenwagen Masters (DTM – the German Touring Car Masters)  she questioned the sponsorship gimmick to have her racing in a bright pink car. 
Anyone on the circuit sees her coming a mile off and the men, determined not be beaten by a girl work even harder not to let her pass.
But Barbara said having found her unique and female approach to racing she is ready to stand out more than ever.
She said: 'I asked myself this season what can I do differently? I decided I wanted to be myself. I've learned not to look around but to focus on my own journey. Women need to be able to be themselves.'
Next season she promises to make her car more aggressive and even more visible.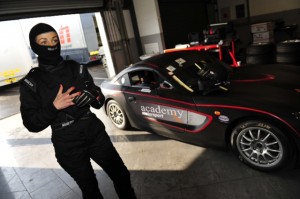 Barbara said she doesn't let sexist comments affect her, but holds on to the passionate emotions and reminds herself why she is racing.
'The more you hear sexist remarks about women racing you start to believe them and it is very difficult to stand up and say no, actually I can do this,' she said.
Barbara has just two more races this season, Brands Hatch on August 10th and Donington Park October 5th.  Currently she's ranked 24th on the results table.
'It's a long route for women in this motor racing, but I build on my faith and one day I want to get on the podium,' Barbara assures me.
'A big part of my understanding and journey has been thanks to reflection of my day-to-day life. I work with women on a daily basis and it's helped me to embrace femininity in all areas of my life. That is the most important thing.'
You can find out more about Dr Kubicka's treatments and practice ClinicBe here.
Barbara also told Healthista her secrets to beautiful skin. Read them here
Like this article? Sign up to our newsletter to get more articles like this delivered straight to your inbox.