When it comes to adding flavour to healthy food, alcohols such as sherry, port and masala are your friends. Here's an expert guide to cooking with alcohol
The extent of my cooking with alcohol was always adding a little red wine to a tomato salsa or beef casserole.
But recently, I spoke to chef Jamie Raftery, aka The Holistic Chef who uses alcohol as a key part of his plant-based cooking to enhance flavours without calories or fat.
If this comes as a surprise to you, join the club. I had always steered clear of cooking with too much alcohol because of well, the alcohol.  But after you have cooked and reduced it down, the actual alcohol disappears, leaving behind pure flavour. Right, so that's why top chefs seems to love to splash liquor all over their dishes.
'There's no alcohol left when you reduce it down, so what is left is only the flavour and complexity of the dish,' says Jamie. 'I have stopped using meat stocks in my cooking and now use small amounts of different alcohols instead.'
cooking with alcohol is a great way to get flavour into healthy cooking, without adding fat or salt
Alcohol molecules evaporate quickly, allowing the subtle aromas to hit our nostrils instantly, enhancing our overall perception of the flavour.  This 'volatility effect' works best when a dish has a lower alcohol concentration, for example port, sherry or marsala.
Turns out, cooking with alcohol is a great way to get flavour into healthy cooking, without adding fats such as butter or seasonings like too much salt.
Here are a few guidelines to get you started:
A splash of spirit  such as rum or brandy will naturally intensify the flavours of a finished dish. This is because, unlike herbs and spices and seasonings, alcohol is the only ingredient that bonds with both the fat and water molecules, bringing the flavours together.
Marinades In a marinade, alcohol bonds with aromatics like garlic and herbs that dissolve in fat and helps absorb the flavours in the meat. It can also help tenderise the meat itself.
Sauces By deglazing a pan (that is, adding some alcohol after sautéing onions/garlic and proteins) with a spirit or fortified wine such as port or sherry, the aborption of flavour into the browned proteins in the dish would be more intense than if you only deglazed with stock or juice.
What to alcohol to use with what foods
Fish and seafood Add a dash of sherry to most fish or seafood dishes to give it great depth of flavour without adding calories or fat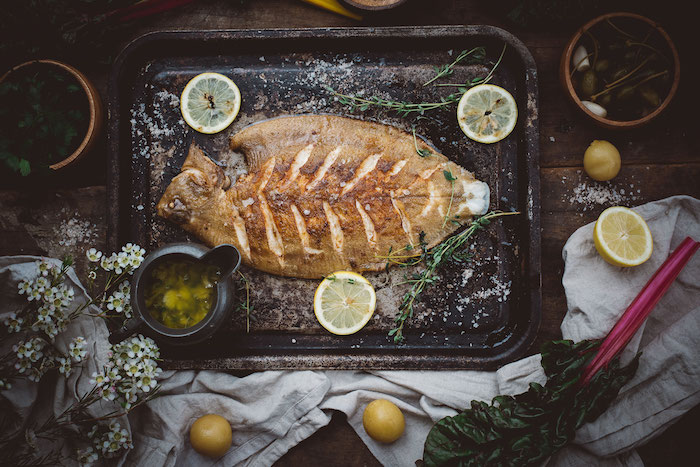 Steamed veggies A drizzle of rum provides a naturally sweet glazed finish for healthy greens
Red meat, roasts and soups try using a splash of brandy in heavier and heartier foods such as these.
Chicken Try making a creamy sauce with a little masala to really bring out the flavour of chicken.
Duck or lamb Try adding a hint of port – its floral notes go beautifully with herbs such as rosemary
How to cook healthy with alcohol – the chef's guide
Here are Holistic Chef Jamie Raftery's tips to cooking healthy with alcohol at home
Use it in sauces   'I often use alcohol in sauces,' says Jamie. 'I'll add some port, red wine or sherry just before I add other liquids such as vegetable stock, water or miso and then let it reduce down'.
Reduce it 'If you're sautéing onions or garlic, add your meat or protein, vegetables, aromatic herbs and spices, stir and sweat that down, then add a splash of alcohol such as a port and then reduce it at a high temperature until all the alcohol is gone, leaving the flavour and intensity' he advises. 'Then you can add your stock and simmer it. It's at this point you could add some cream or milk. I don't cook with dairy and might use an almond or oat milk instead'.
Don't waste it 'People often don't want to waste a whole bottle of alcohol when they're cooking. I love the new Just a Splash sachets of cooking alcohol. They come in port, marsala, rum, brandy and sherry and  contain seasonings too, making them perfect for cooking with. If you're cooking for four, a whole sachet is perfect. But if you're only cooking for two, half is fine'.
Jamie's suggestions for healthy cooking with different alcohols
Easy sherry and mushroom sauce Use a wide based pan and sauté some button mushrooms in a little rapeseed oil. Once they have caramelised, add about 100ml of sherry and reduce that down on a high heat to about half. Then finish it off with some fresh herbs. This goes beautifully with quinoa or brown rice.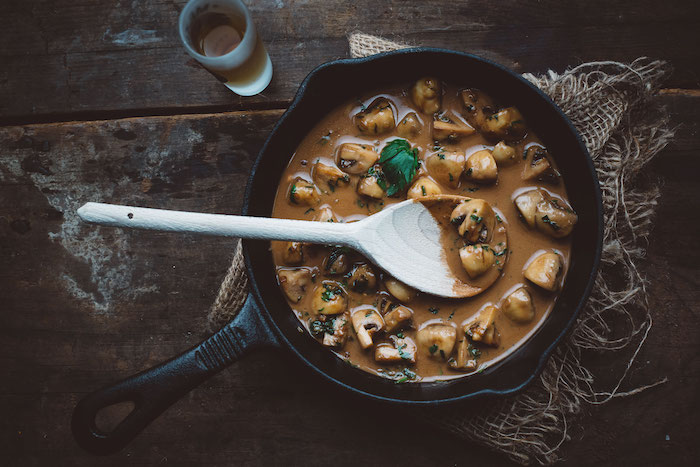 Healthy chicken marsala Flour the chicken pieces and then sauté in some onions, garlic and thyme. then add 100ml of marsala and reduce that by half, Then add chicken stock and simmer until cooked. Right at the last minute, add some green beans, broad beans or asparagus tips and serve on a bed of spinach leaves for a healthy finish.
Stewed pineapple with rum and lime zest Peel the pineapple and cut it into large dice, then dip it in a little coconut sugar.  Put the diced pineapple into to a warm pan (not too hot) with no oil and watch them caramelise slowly. Add a splash of rum after caramelisation when the pineapple has turned dark in colour. Finish with a little coconut milk, a lime leaf, a cardamon pod and a shaving of lime zest and serve alone or with a scoop of coconut ice-cream.
Brandy and apples Peel a Bramley cooking apple and lightly roll it in some coconut sugar then sprinkle with a little lemon zest, orange zest, nutmeg and cinnamon and bake in a medium over for 10-15 minutes.  Add a splash of Brandy at the end to enrich the flavour.

HEALTHISTA LOVES:
New Just a Splash range of cooking alcohol sachets that come in recipe sized 100ml pouches. These are enough to make a dish for four, but they have screw top lids and are re-usable so there is no waste if you're only cooking for one or two. What's more, they're all blended to contain seasonings as well as a lower ABV (alcohol by volume) to work optimally with the cooking process, helping the food's natural flavour shine through.
Just a Splash are all vegan-friendly and come in five variants: rum, marsala, brandy, sherry and port. They're £1.99 a pack from the Just a Splash website or from Ocado. Find out more on the Just A Splash website.
MORE HEALTHISTA FOOD CONTENT:
10 Organic essentials every healthy kitchen needs
11 best healthy granola brands 
5 healthy foods this silver medallist swears by 
Like this article? Sign up to our newsletter to get more articles like this delivered straight to your inbox.