It's Week 5 of Karen's Body Makeover Challenge and although she's missed a couple of classes (life gets in the way sometimes) she's upped her steps and has still lost three inches from her waist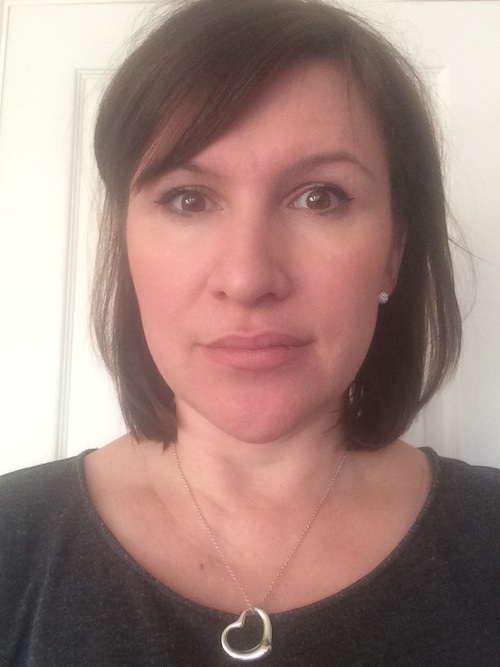 I have not had the best week. I was extremely tired, moody and irritable at the beginning of the week and had no idea why. I am teaching my daughter Sidnie to drive and she has her test very soon which is also adding to my already high stress levels! Then I got my period exactly one week early which is very unlike me – my cycle is normally 28 days exactly. At least this explained why I had been so ratty with everything and everyone and also why I had gained one pound. I emailed Charlotte as I was a bit concerned by this. She explained that she often sees women having a few difficult periods whilst doing lots of liver detoxification and that periods often come earlier as oestrogen clearance through the liver is being upregulated. This will probably explain why my skin was so awful last week and also my rather paltry one pound weight loss.
Unfortunately, I have not made it to Charlotte Watt's yoga sessions this week. I got stuck in traffic on Tuesday night and had to take my daughter to work on Sunday.  However, on Friday night Charlotte went through some new yoga sequences from her latest book, The De Stress Effect which is due out in March. I really enjoyed the session and again, felt amazing afterwards. I have not yet invested in a bolster but can really see the benefit of using one so I have decided to treat myself and order one. Hopefully it will arrive before next Friday's De Stress Effect meeting where the case studies on Charlotte's programmes meet weekly to discuss our ups and downs.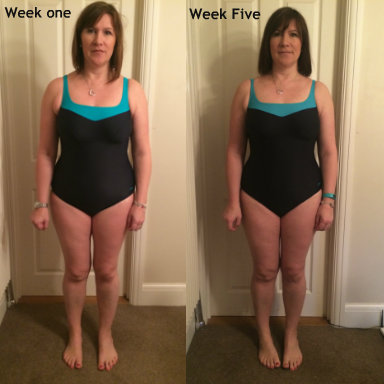 On a positive note I am finding that my Garmin Vivofit is proving to be incredibly motivational. I am so pleased with how many steps I have managed to do this week. It's amazing because if I still have quite a few steps to do by the end of the day I tailor my evening walk to ensure I do at least 12,500 steps. Yesterday my husband and I walked to Cissbury Ring which was 11,000 steps there and back. I was totally exhausted when I got back but felt fantastic  and was amazed when my final reading for yesterday was 17,766! So even though I didn't make it to yoga I certainly made up for the toning I missed out on in Charlotte's class.
On Tuesday I had another Skype session with Charlene Hutsebaut. I explained to Charlene that I was feeling really lethargic and had no energy this week, she said to take it a bit easier this week and that I might have overdone things a bit. I did only manage two out of the four strength training sessions this week due to work commitments and feeling a bit crappy.
Exercise this week: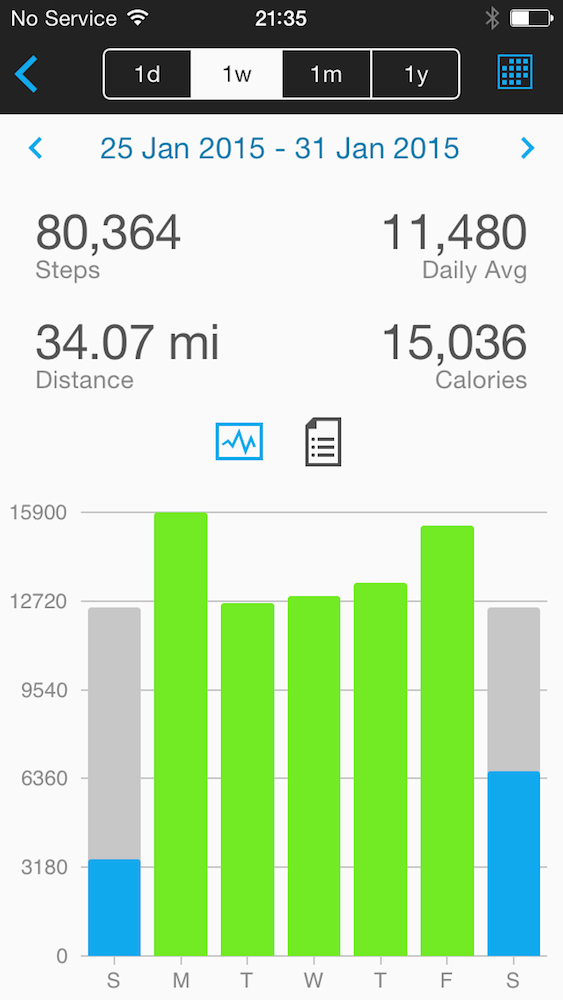 Tuesday: Morning 45 minute walk, evening 20 minute walk. Total: 12,660 steps.
Wednesday: Morning 45 minute walk, evening 20 minute walk. Total: 12,901 steps. 10 minute strength training routine.
Thursday: Morning 45 minute walk, evening 25 minute walk. Total: 13,370 steps.
Friday: Morning 45 minute walk. Day off work, cleaned my house from top to bottom. De Stress Effect Group with one hour of yoga included. Total: 15,417 steps.
Saturday: Rest day, had a day off work. I had a bit of a lazy day catching up on the washing and ironing but still managed 6,633 steps. (My son has just bought a Fitbit Charge which is very similar to the Vivofit and he smugly proceeded to tell me that he had managed to do over 25,000 steps during his ten hour shift at work).
Sunday: Walked to Cissbury Ring with my husband Vic, and my dogs Reggie and Willow, and managed a total of 17,766 steps today, woohoo! Also did a ten minute strength training routine.
Monday: Morning 45 minute walk, evening 15 minute walk. Total: 12,685 steps.
The table below shows Karen's body measurements from Week One to Week Five.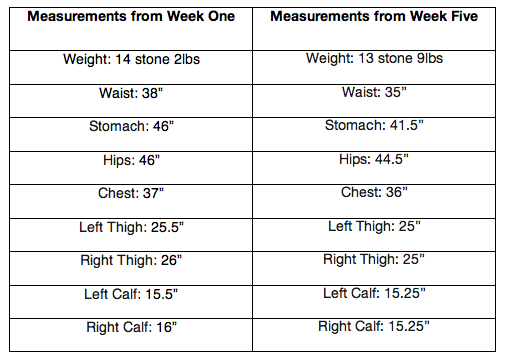 Daily Menu example:
Breakfast:
Scrambled Egg on a small piece of rye bread with tomatoes cooked in a little coconut oil.
Coffee with whole milk.
Lunch: Yorkshire Provender Vegetable Soup with Pearl Barley.
Dinner: Prawns cooked in coconut oil, with chilli, peppers, onions, sugar snap peas and red and white quinoa.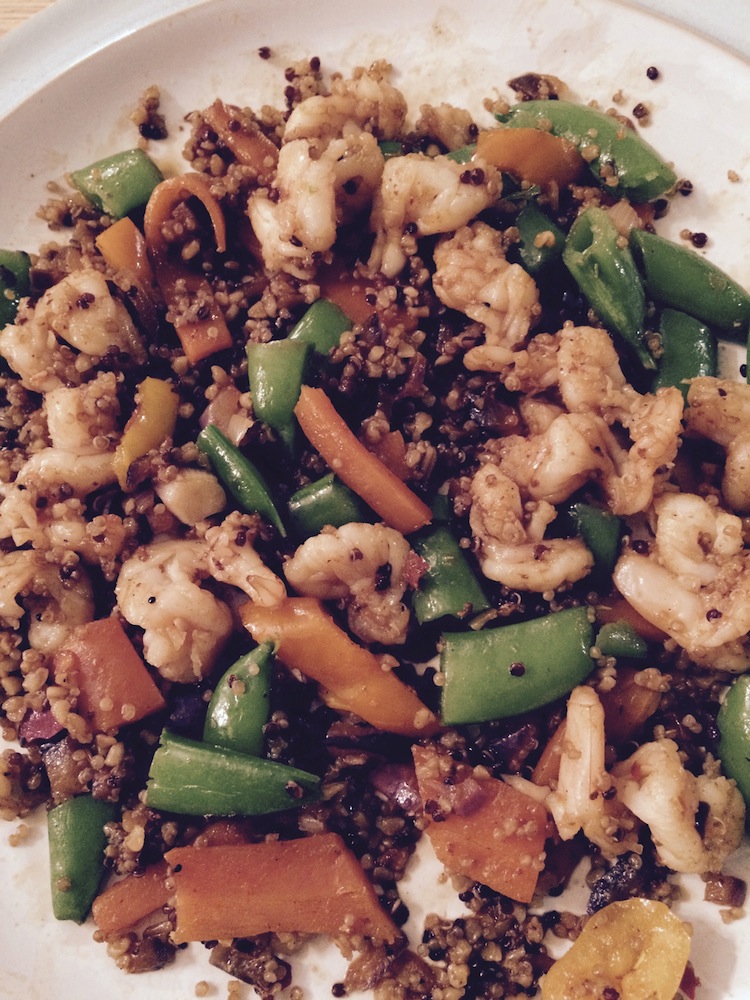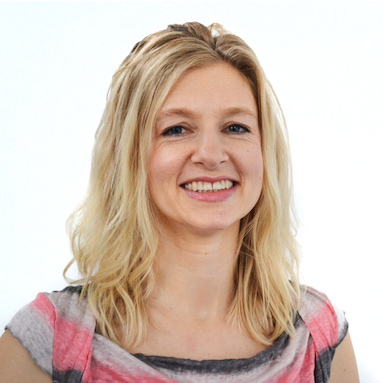 Charlotte Watts is a nutritionist and yoga teacher whose work has focused on how nutrition and yoga can meet to help people cope with the demands we face in the 21st century. Her practice and teaching of mindfulness weaves these together and has culminated in her new book The De-Stress Effect: Rebalance Your Body's Systems for Vibrant Health and Happiness
. She has also authored The De-Stress Diet (with Anna Magee) and 100 Best Foods for Pregnancy and 100 Foods to Stay Young. Find out more at charlottewattshealth.com. Charlotte is also Healthista's Calmista blogger. Follow Charlotte @cwnutritionyoga.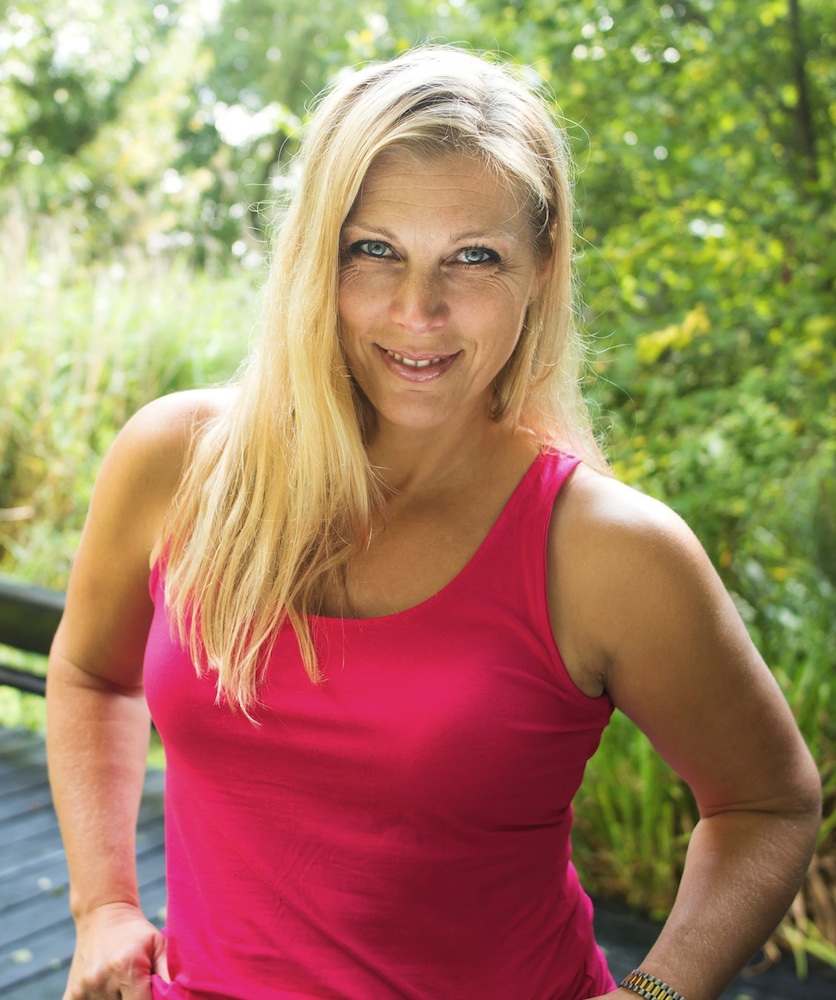 Charlene Hutsebaut B.P.E, B.Ed, CSCS is a personal trainer, pilates instructor, brand ambassador, speaker and writer with over 15,000 client hours and 22 years of experience in the fitness industry.  Charlene runs her Personal Training Consultancy in London at the exclusive St. Pancras Hotel Spa and  is a sought after inspirational corporate wellness speaker. She has a regular fitness column in Total Sports Performancemagazine as well as for Passport – the inflight magazine for Monarch Airlines and has written for Bodyfit, Prima, FitPro, Fitness Life New Zealand and has been featured in London, Fabric, Grove, Woman, Natural Healthmagazines, as well as The Daily Mail and Express. To find out more about Charlene, please visit her website. Follow charlene @positivelyslim.
Check out our previous Body Makeover Challenges…
BODY MAKEOVER CHALLENGE 1: Charmian Walker Smith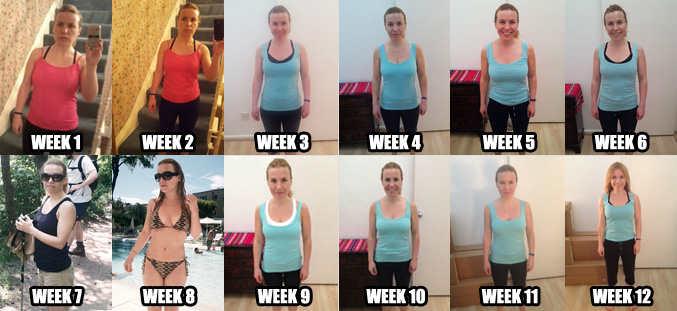 BODY MAKEOVER CHALLENGE 2: Caroline Williams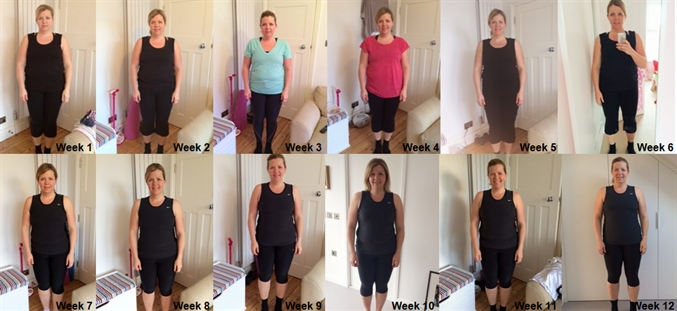 BODY MAKEOVER CHALLENGE 3: Thelma Mensah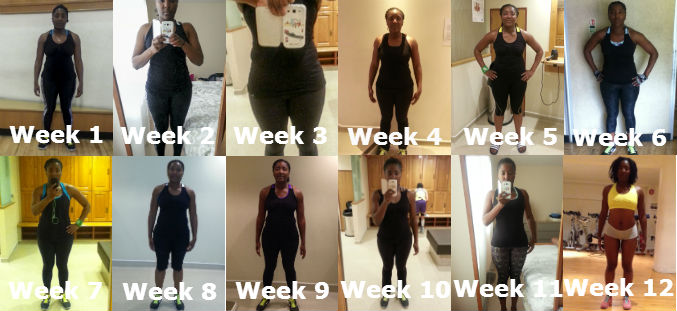 BODY MAKEOVER CHALLENGE 4: Anastasia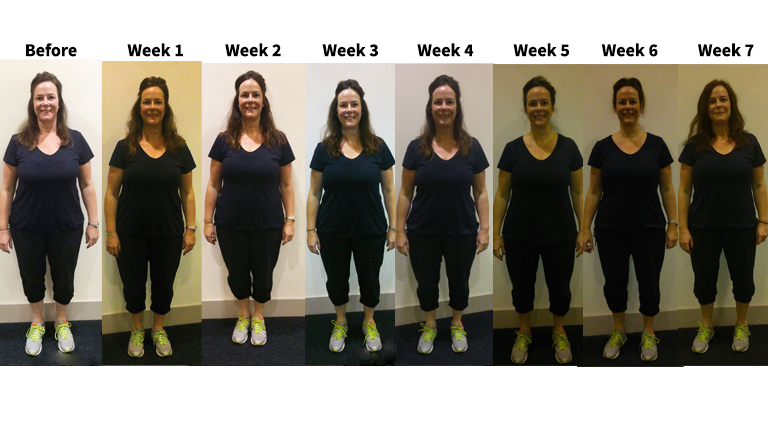 Like this article? Sign up to our newsletter to get more articles like this delivered straight to your inbox.