Here are the 5 suggestions for all-natural gifts from Healthista's resident natural beauty expert Janey Lee Grace
Often the perception is that if you choose an organic or a natural product it has to look like something from an economy range. For a long time producers of natural products didn't take on board the importance of packaging and a luxury feel to the product.   Let's face it, most of us like to have products that look and feel nice to use, as well as of course being effective. It would be way too 'personal' to buy our mums natural deodorants, shower gels or exfoliators but some products are also great gifts So here are five of my choices for completely natural gifts….or you could just treat yourself!
1. THE AWESOME ORGANIC HAIR PERFUME
Tabitha James Kraan Organic Hair Perfume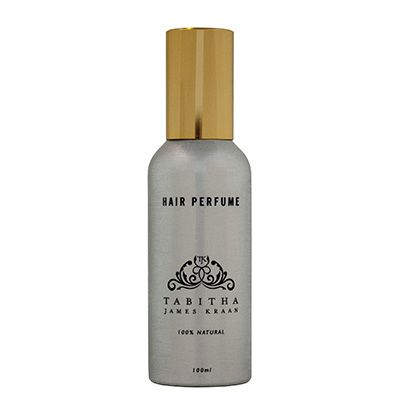 Let's start with the hair, its every woman's crowning glory and while we might not want to give a shampoo or conditioner as a gift how about the AWESOME organic hair perfume from Tabitha James Kraan, an award winning organic hairdresser based in the Cotswolds. Tabitha advises not washing the hair too often but in between use her unique organic dry shampoo and hair oil, to finish off the look check out this amazing hair perfume. It's light and the fragrance suits all, it seems to manage to even work for guys (my teenage son steals mine). It feels uber luxurious to spritz this around the hair as you finish styling – a tiny bit goes a long way.
It's designed to restore life and energy to the hair, refresh whilst delivering an exquisite scent, hydrate the hair and soothe the scalp, and also cool the body if sprayed onto the nape of the neck. Here's the lovely quirky bit – it contains Tabitha's signature Amethyst Stone, which is believed to soothe restlessness and worry and calm the mind. It also has a practical function because it removes the need for chemicals as the stone blends the oils and liquids when shaken.
It feels uber luxurious to spritz this around the hair as you finish styling – a tiny bit goes a long way.
◦    99.5 per cent Certified Organic Ingredients
◦    100 per cent natural Ingredients
You can also wear it on your skin as a perfume too.
If you didn't already know this, spraying normal perfume in your hair can damage it due to the alcohol content, so a specialized hair perfume full of caring organic oils is a much better option.  A lovely addition to your hand bag essentials, the 100ml spray bottle also makes an ideal companion for travel.
Price £49 Buy here
2. THE DIVINE COCONUT AND ROSE CREAM
Go Coco-nutty – Tiana Fair Trade Organics Rose Fresh Coconut anti ageing moisturiser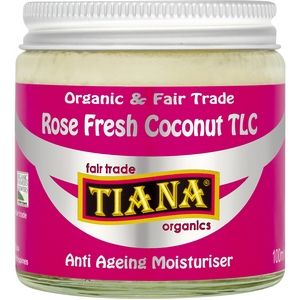 Most of us know the benefits of coconut oil and of course it's a multi-functional product so great to add to smoothies, cook with et. al, but let's face it, we don't always want to carry a large jar of coconut oil up to the bathroom. Finally, Tiana Fair Trade Organics have come to the rescue with their range of beauty products. You can get the deep intensive hair conditioner with added Argan, the pure coconut oil and my favourite – the organic coconut oil with Rose Damascena, the perfect facial moisturiser. It feels a little like lard but soon turns to oil, so the tiniest amount is needed and it smells divine.
It deeply hydrates and nourishes the skin and can be used on your face as well as your body
Rose Fresh Coconut is a luxuriously rich multi-functional moisturiser with a delicate scent of roses. The effectiveness is based on a high concentration of antioxidants, nutritive, anti-bacterial and anti-inflammatory properties.  It deeply hydrates and nourishes the skin and can be used on your face as well as your body – it helps to fight against skin ageing and avoid the appearance of stretch marks amount to dry areas. It can be used to calm irritated skin too. I had a rough patch of skin on my neck and after two days of using this moisturiser it disappeared. It can be used on fine lines, wrinkled, sensitive, dry irritated or blemished skin. Apply a small amount to any dry areas including around the eyes.
Price £17.99 Buy Here 
3. THE LUSH BODY OIL
Mel Millis Organic Phytonutri Roe & Pomegranate rebalancing Oil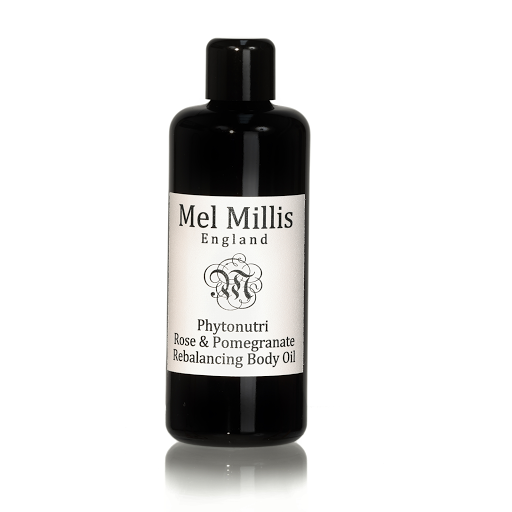 Mel Millis Phytonutri Rose & Pomegranate Rebalancing Body Oil comes in a 100 ml dark glass bottle, which corresponds with the need to keep carrier and essential oils from direct light. It has a medium thick texture, with a slightly brownish colour. The scent of this body oil is divine, lasts for hours and isn't over-powering. The oil absorbs pretty quickly which is perfect for use in the morning when you dress up to face the day. You will notice your skin so very nourished and silky smooth.
It is expensive but so are the ingredients in this body oil. You could reserve its use for special pampering moments, even though its texture and quick absorption make it perfect for using it any time. With no preservatives, aside from antioxidants in oils, it should be used in 6 months after opening.
With ingredients which combat premature ageing skin, it boosts skin based nutrients that effectively help repair and protect damaged or irritated skin.
Its been formulated with Argan carrier oil which is rich in essential fatty acids and is known for its anti-aging and antioxidant properties. Rosehip oil is rich in Vitamin F (omega 3 and omega 6), promotes skin regeneration. Pumpkin seed oil is another potent antioxidant, rich with essential fatty acids and skin-firming and lifting properties. Pomegranate oil, the super-fruit, potent antioxidant and high in ellagic acid, promotes skin's elasticity. Rosehip CO2 Extract, rich in Vitamin C, promotes skin's hydration as well as collagen production. Geranium oil balances and regulates the sebum, promotes skin circulation and is a good lymphatic cleanser (used against cellulite). Precious Rosa Damascena Oil needs no explanation. Chamomile oil has anti-inflammatory and soothing properties. Neroli oil, another expensive oil, has soothing properties, balances sebum and promotes skin-cell regeneration; it is also used against stretch marks. Rosemary oil is cell-renewal stimulant and promotes and improves circulation.
With ingredients which combat premature ageing skin, it boosts skin based nutrients that effectively help repair and protect damaged or irritated skin. Apply after a shower or bath by massaging into the skin to feel moisturised, nourished and rebalanced.
Price: £48.00 (100ml) Buy Here
4. THE SOPORIFIC BATH OIL
Beatitude Peace Bath Oil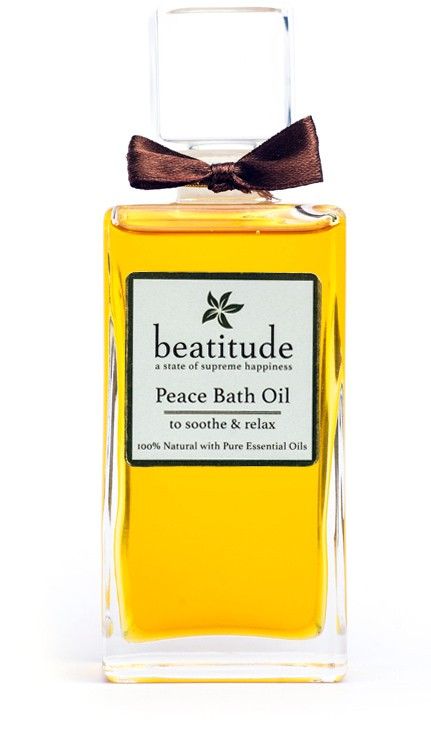 For a soothing and relaxing bath this is the oil to use and the gorgeous glass bottle makes it a lovely gift. After a hard day, turn your bathroom into a peaceful haven with this soothing blend of essential oils. The one hundred percent natural ingredients include Ylang Ylang, Lavendar, Mandarin, Petitgrain and Cedarwod which combine to help your body relax and de-stress. The oils of Oat, Camellia and Peach Kernel nurture the skin. The oil leaves your skin lovely and smooth with no greasy residue, making it the perfect bath oil for bedtime.
Beatitude is a brand founded by a fully trained aromatherapist so you know it has been blended with care.
Once added to water (you only need one teaspoon per bath) the oil disperses and bubbles naturally, combined with the heat of the water the oil also softens the skin without any added effort.
Beatitude is a great brand to look into for those in your life who deserve a little touch of luxury and something a little more special than a typical bath set from a discount store!
Please note: due to the content of essential oils this product is not recommended during pregnancy.
Price: £24 (50ml) Buy Here
5. THE £4 SOAP THAT YOUR SKIN WILL LOVE
Calm-Down Magic Cleanser – Chuckling Goat's natural lavender soap for hands & body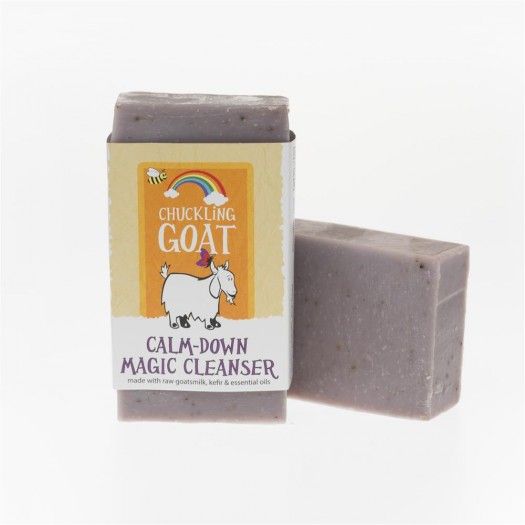 Cleopatra knew what she was doing when she bathed in goat's milk. This gorgeous natural soap by Chuckling Goat contains goat's milk and a blend of essential oils. It's calming, soothing and relaxing – great for winding down in a tub at the end of the day. It is also free from any nasty chemicals, dyes, perfumes, pthalates, parabens or petrochemicals. It's creamy and has a gorgeous uplifting aroma that cleans without feeling it strips away the natural oils as some soaps do.  A base of goat's milk, probiotic kefir, coconut oil, sustainable palm oil and olive oil.  Lavender essential oil has a calming scent which makes it an excellent tonic for the nerves and anxiety issues. Therefore, it also can be helpful in treating migraines, headaches, depression, nervous tension and emotional stress as well as insomnia. Perfect for a stressed out mum, it even makes the little room smell nice just by leaving the bar by the sink!
£3.95 Buy Here
MORE BY JANEY LEE GRACE:
5 best natural mineral powders under £20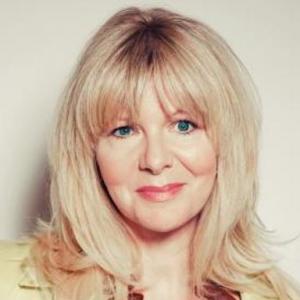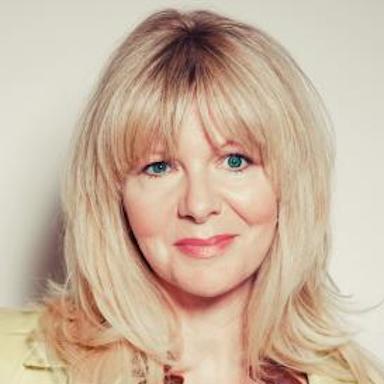 Janey Lee Grace is known to over 8 million daily listeners via BBC Radio 2, is a passionate representative and Media spokesperson for the organic and natural health world, and has been voted number one personality in the 2013 and 2014 Natural Beauty Yearbook.  She currently writes columns for many magazines recommending natural products and services, is a passionate public speaker and interviewee on UK radio and TV, and the author of five bestselling books on natural nealth, including two Amazon Number 1's.
Visit Janey's website, imperfectlynatural.com, follow Janey on Twitter and Facebook.
Like this article? Sign up to our newsletter to get more articles like this delivered straight to your inbox.