A mineral powder foundation can help your skin if make-up clogs your pores – Janey lee Grace picks the best 
Mineral make up has been around since ancient times. Minerals such as iron oxides, talc, zinc oxide, and titanium dioxide are ground into tiny particles to create the makeup.  Cleopatra grounded minerals to create the kohl she wore around her eyes. The difference from conventional makeup is what's left out of mineral makeup.  They don't clog the pores or irritate the skin as they don't contain preservatives, parabens, mineral oil, chemical dyes, and fragrance. Plus, because they're made from natural pigments and oxides they're inorganic and don't contain moisture, so as bacteria can't grow, there's no need for preservatives.
The difference from conventional makeup is what's left out
Why I use it
Being fair skinned I have to think about sun protection but don't want to lather on synthetic SPF products. Fortunately mineral foundation has a natural SPF factor, and on hot summer days (here's hoping!) mineral powder foundation wears better than liquid foundation. Some foundations are 100 per cent mineral, others use a carrier powder like cornstarch. Most are loose powder, though some are pressed and can be applied with a cosmetic sponge.  They can give a good coverage even for skin with blemishes and rashes and can look fresh and flawless if applied correctly. The trick is to shake some of the loose powder into the lid, using a nice full brush, applied with a soft brush – a kabuki brush works well – circle it around the lid before applying in big circular movements to your face and neck.
NATorigin Loose Powder Foundation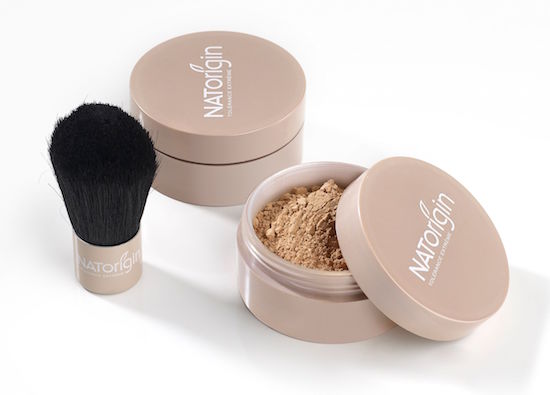 This mineral powder is made with 100 per cent naturally sourced ingredients. It's a loose powder foundation formulated with ultra-micronised shells of organic argan nuts. I found this make up unusual as it enhances and brightens the skin but leaves a matt satiny finish.
it enhances and brightens the skin but leaves a matt satiny finish
I took particular notice of this powder as it is made for sensitive skin or allergies and it has a natural fresh scent. It's enriched with extracts of organic arctic raspberry seed oil which makes it soothing. To apply I lightly swirled a powder brush around the perforated inner lid then tapped off the excess. I used the brush in a circular motion all over my face and neck. It was quick and easy and I only needed one application. A real winner.
It's certified organic, hypoallergenic and even approved by Allergy UK
Find out more on NATorigin's website.
Available on Amazon.
Price: £18.75
Perfect Finish Make-up by Logona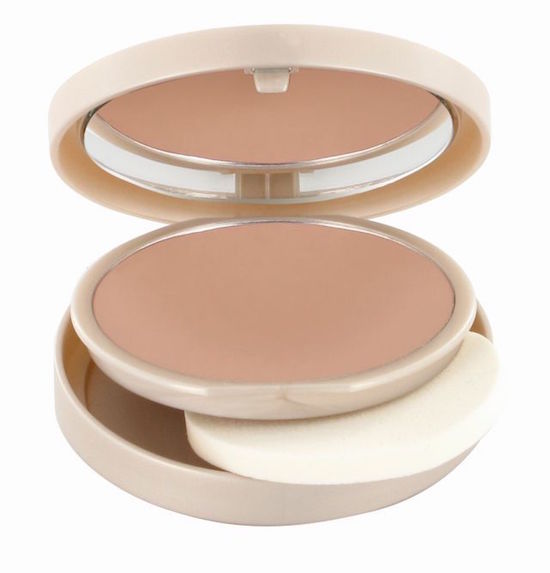 Perfect Finish is not only a beauty product it is also an anti-aging skin care treatment. It contains jojoba oil and shea butter which deeply nourish and hydrate your skin. When I'm in a hurry I often skip my usual moisturiser and just apply the mineral foundation as I know it will do the job. It also contains several gemstones in powdered form, such as quartz, amethyst and amber, which gives the skin a lovely glow, which in turn gives a youthful appearance.
it is also an anti-aging skin care treatment
It can be applied to give a medium coverage or on those days when my skin is particularly red, a high coverage acting as a concealer. It comes in a convenient case with a sponge which is ideal for my handbag. So on those days I need a top up this is the only make-up I need to have with me.
Find out more on Logona's website.
Available on Amazon.
Price: £9.99
Mirror & Makeup Mineral Foundation for Combination to Oily Skin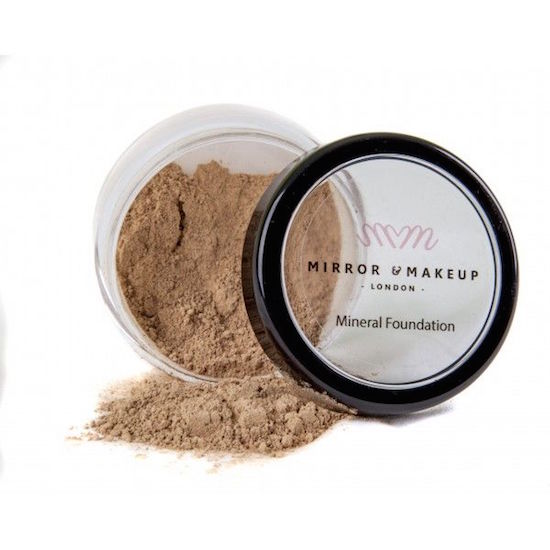 I've literally only just discovered this tiny company who make mineral powders and great brushes. This mineral foundation is perfect for skin disorders such as acne, breakouts, rosacea, and eczema. The anti-inflammatory properties in the foundation give the skin the boost it needs to repair itself.
It also seemed to brighten my skin and it's very affordable.
It doesn't clog the pores but allows the skin to breathe. The foundation is very light and gives a flawless cover. I didn't feel like I was wearing heavy make-up but it gave my skin an even and natural tone. It also seemed to brighten my skin and it's very affordable. I like the fact that it's a small pot too, lasts for ages.   Mirror and Makeup products are Vegan, Cruelty Free and Halal certified.
Find out more on Mirror & Makeup's website.
Available on online at Mirror & Makeup.
Price: £12.00
Perfection Organic Foundation Xenca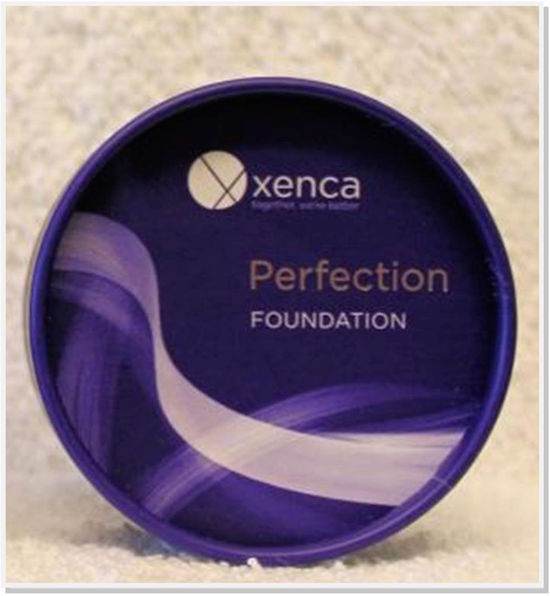 This light silky pressed powder is not technically a mineral powder though it contains some minerals (this is what provides the colour and some light reflection) but the active ingredients that are so beneficial for the skin are organically-farmed botanicals including shea butter, sweet almond oil and apricot kernel oil.   It was created in Milan for UK health and beauty company Xenca,  Perfection Organic Foundation contains sweet almond oil, shea butter and apricot kernel oil (all organically farmed). The formulation is rich in proteins, glucides, mineral salts and vitamins A, B and E. There are four carefully selected shades which can adapt to a wide range of ethnic skin tones. This one really did feel silky and gave a nice glow.
Find out more on Xenca's website.
Available online at Xenca.
Foundations cost £17.95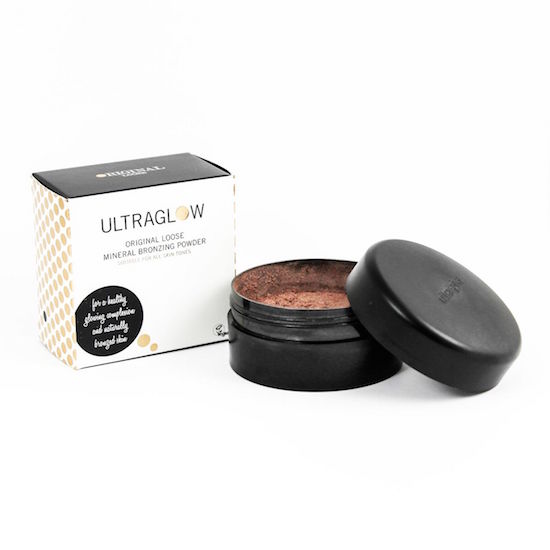 Ultra Glow is a loose bronzing powder. It's a diffused fine powder with a hint of a golden shimmer so it looks very natural. I only needed to use a small amount and it lasted a long time. One shade suits all, as you can gently build the colour required by extra layers of powder. It gives a natural sun-kissed look and does not dry the skin. I use it as a blusher on face and décolletage. And I can just wash it off when I need to. It lasts for ages, so is very economical. The powder is Vegan. They also have the Ultra Glow Active Matte Bronzing Powder which is believe it or not a water resistant matte powder, looking forward to trialling that in the swimming pool!
Find out more on Ultra Glow's website.
Available on Amazon.
Price: £17.99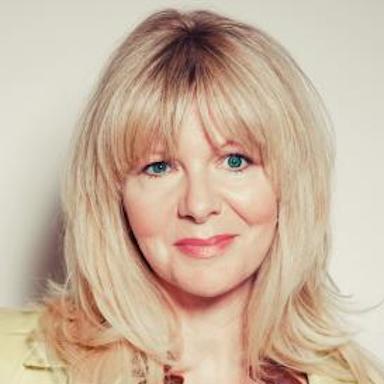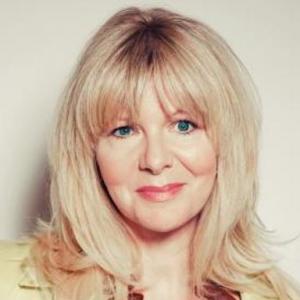 Janey Lee Grace is known to over 8 million daily listeners via BBC Radio 2, is a passionate representative and Media spokesperson for the organic and natural health world, and has been voted number one personality in the 2013 and 2014 Natural Beauty Yearbook.  She currently writes columns for many magazines recommending natural products and services, is a passionate public speaker and interviewee on UK radio and TV, and the author of five bestselling books on natural nealth, including two Amazon Number 1's.
Visit Janey's website, imperfectlynatural.com, follow Janey on Twitter and Facebook.
Like this article? Sign up to our newsletter to get more articles like this delivered straight to your inbox.