Love crisps, but hate the guilty after-taste? Never fear, these healthy snacks will satisfy your crisp itch without ruining your diet

We're a nation of crisp lovers, who love nothing better than to reach for our favourite bag of crisps when our salty cravings hit.
And let's face it, there are hundreds to choose from. But are any of them any good for you?
Well, you're in luck, because the Healthista team have been on a snack-tasting marathon, testing all the latest savoury treats and we're pleased to say, YES,  there are plenty of healthy 'crisps' out there – from veggie, to fruity and extra spicy, there are plenty of healthy crisp-like snacks that really hit the spot.
So what were we looking for? All of the healthy crisps we picked had to have a great flavour, but most importantly we wanted them to have that extra crunch factor, to really satify that crisp-shaped urge.
We guarantee you'll want to keep these healthy snacks stashed away for a rainy day, when those cravings strike.
Healthista tip: keep your friends close, but your snacks closer, you won't want to share these goodies.
1. Best superfood crisp
Some people crave chocolate,  but at Healthista, we crave seaweed, and why wouldn't you when these light-as-a-feather treats are only 18kcal per pack. These super thin seaweed crisps are  as tasty on their own, as they are on sushi or crunched up and sprinkled on top of a salad. Think crispy chicken skin texture but without the saturated fat and completely cruelty free.
We tried Clearspring original seaweed snacks, but they're also available in a new punchy flavour: black pepper. These crisps are made with just four ingredients: nori, sea salt, organic sesame and rapeseed oil.
And that's not all, they're gluten free, rich in fibre and packed with essential vitamins and minerals: magnesium, zinc and iron to keep you looking healthy and young. Uh, yes please.
The Healthista team all agreed that Clearspring was way less greasy compared to other seaweed snacks we've tried. But, still contain plenty of healthy, brain-boosting omega 3, to give to keep you going throughout the day.
A perfect office  healthy snack for when those salty cravings hit.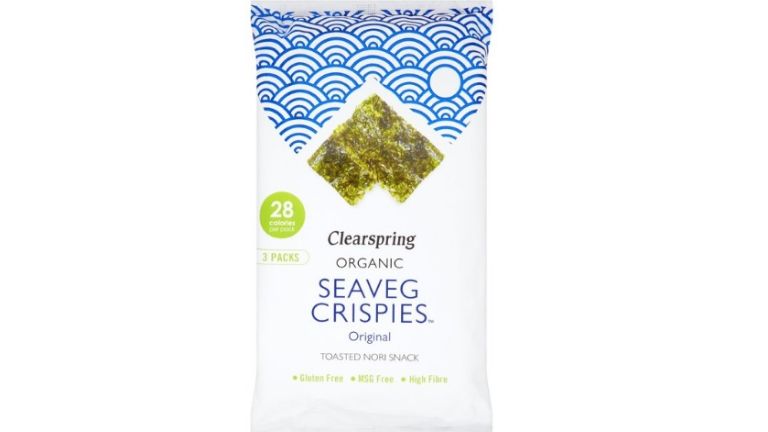 Nutritional info: Calories per 5g: 28kcal, Sugar: 0g, Fibre 1g £2.25
2. Best low calorie crisp
Of course, we had to include Itsu's popular crispy seaweed snacks. Can you believe these are only 24 calories a pack?.
We tried everyone's fave, the Sea salt original. Trust us, when we say that if you love wasabi, soy and salt – these are the perfect snack for you. Hang on though, let's not forget the more important stuff – these seaweed snacks contain all of your essential B vitamins, and are high in iodine, which is great for your metabolism and will help regulate your thyroid hormones.
Snack your way to a healthy body.
Nutritional info: Calories per 5g: 24kcal Sugar per 5g: 0.1g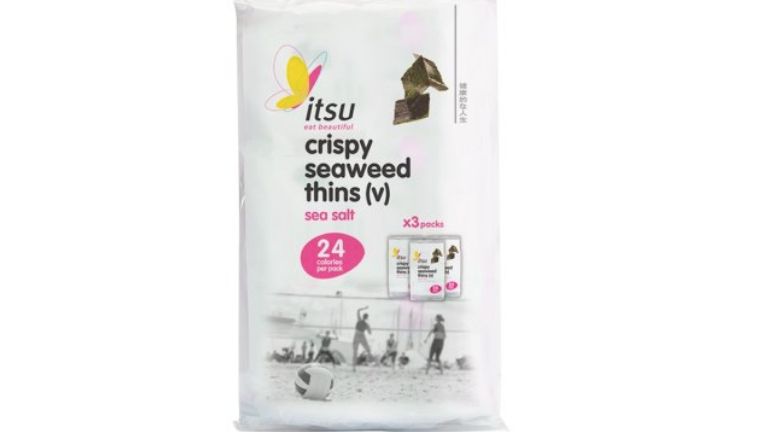 3. Best crisp on the go
A crisp a day keeps the doctor away – well in Nairn's case, yes that might actually be true. Nairn's have done it again, with their totally delicious light and crispy pop oats crisps. A great healthy snack on the go and at only 83 calories per pack, we won't feel the need to resist.
Made using gluten free oats, these pop oats are a coeliac's dream healthy snack. We tried salt and vinegar, which had the classic tangy flavour combo, that didn't disappoint.
We love how healthy these pop chips are – pressure cooked, NOT deep fried. It's this which means these crisps have 60% less fat than your average packet of crisps.
Oh, and did we mention they're only 80p a bag. What are you waiting for? It's time to ditch your favourite fried crisps and swap them for a healthier alternative.
Nutritional info: calories per 20g: 83kcal Sugar per 20g: 0.2g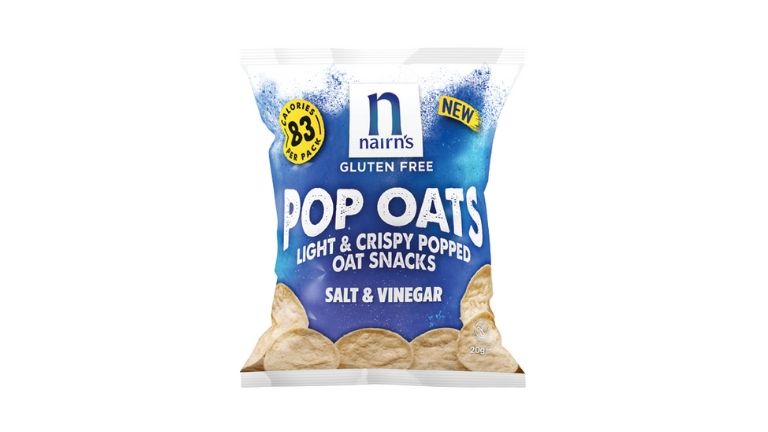 3. Best crisp for the crunch
When it came to the crunch – and flavour for that matter – Well And Truly Crunchy, well and truly delivered. We ate a whole pack in one go, we just couln't stop. Looking for junk? Well, there's none in here, just natural flavourings. These were so good, in fact we're still struggling to believe they're gluten free AND have 40% less fat than normal crisps.
We tried the paprika flavour which had a smokey BBQ taste. Mmm.
Packs come in three flavours and are around 150kcal per pack. Which, if you were feeling very generous, you could share with friends or the whole family. Just don't ask us to share our packet.
Nutritional info: Calories per 30g: 129kcal, Sugar per 30g: 1.0g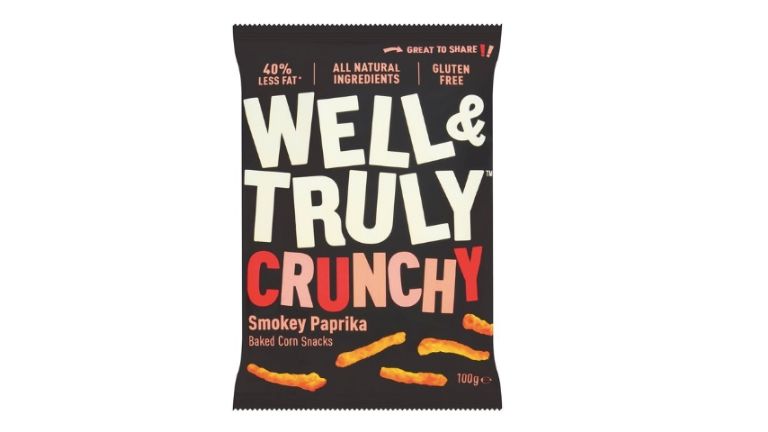 4. Best crisp for variety
Snacking just got cool – if the packaging wasn't gorg enough, these crisps are one of the tastiest we've tried and with five flavours available, there's a flavour for every day (well nearly).
Emily's instagrammable veggie and fruit crisps each provide 1 of your 5 a day. Here at Healistha, our editor Anna Magee's favourite lunch time snack are the 96kcal calorie crunchy French beans, sugar snap peas and black edamame bean crisps.
The crunchy red apple flavour was also a huge hit with the team. These dried apple snacks have the perfect amount of sweetness – just like eating a crunchy apple, except more fun.  And with zero preservatives and no added sugar, you can easily much your way through packets at a time.
It's time to get your crunch on.
Nutritional info: Calories per 30g: 124kcal Sugar per 30g: 19.2g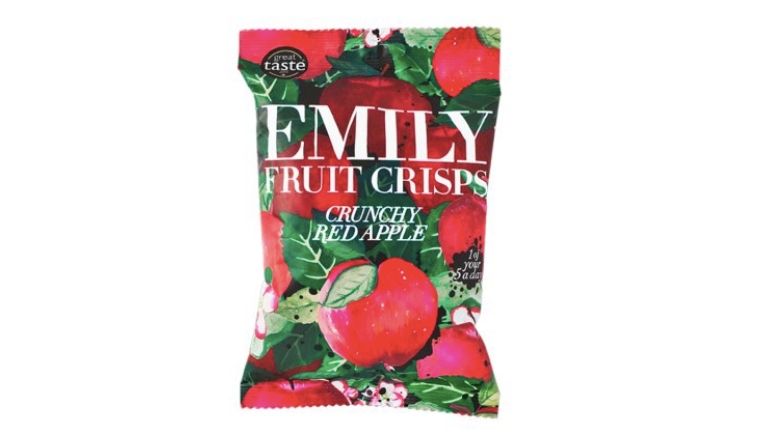 5. Best crisp for flavour
Looking for the ultimate binge worthy snack – Healthista have you covered. Who needs pizza, when you have Fairfield's tomato and herb lentil bites?
No really, these have all the flavours of a pizza in a bag – just without the carbs. These contain just 3.6g of sugar and we went crazy after just one bite. I don't know about you, but we think combining pizza with crisps is genius.
They're made with lentil and chickpea flour, so are suitable for people following a gluten-free diet, as well as being cruelty free and use natural tomato and basil ingredients, giving these crisps that authentic Italian taste that's oh so delicioso.
Nutritional info: Calories per 100g: 477kcal, Sugar per 100g: 3.6g Fairfield Crisps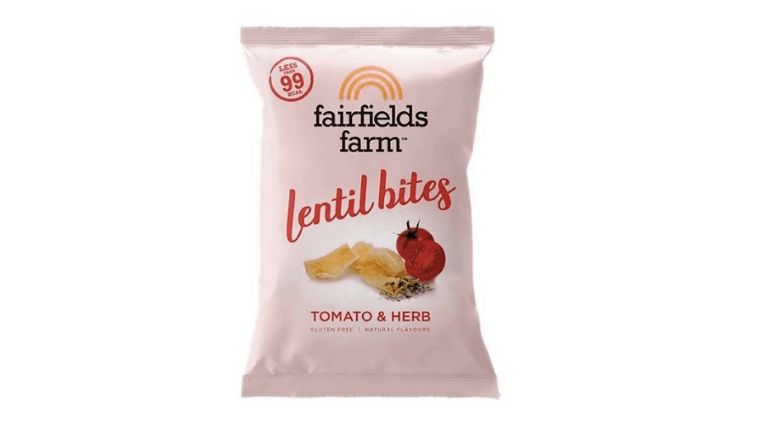 6. Best vegan crisp
If you're a Propercorn lover, you won't want to miss Proper's launch of their new healthy snack: Properchips. These are our latest healthy snack obsession – and they're proper good. Properchips are made with lentil flour, which is similar in texture to the Indian snack, poppadoms. We love them on their own, but you could dip them in a dip if fancied a more substantial snack.
We tried the sour cream and chive flavour, at 93kcal a pack and we were surprised when we discovered  these are actually vegan and gluten free. Yep, we know what you're thinking: sour cream contains milk. Well, yes, but after double checking the ingredients, their was no dairy in sight – just coconut oil, parsley and chives. Who would've thought that these could be used to create a vegan alternative to sour cream –  INSANE right?
Nutritional info: Calories per 20g: 93 kcal Sugar per 20g: 0.3g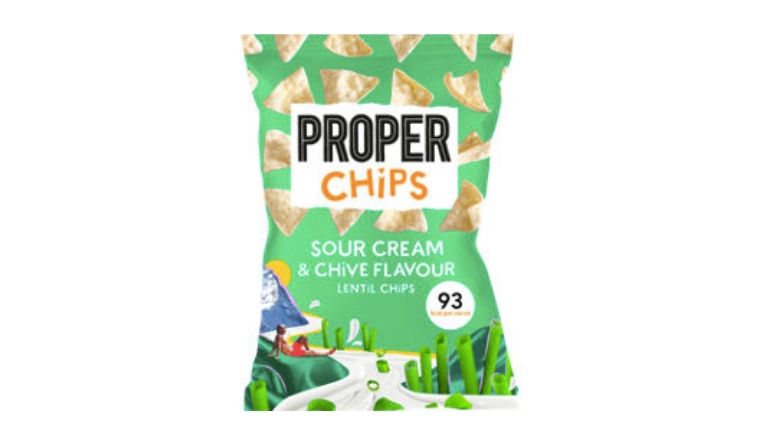 7. Dorito cravings? Try these instead
Gran Luchito are a new low calorie gluten free, lightly salted tortilla chips, made with whole corn. Ditch the doritos, we promise Gran Luchito is WAY more exciting.
Why? Firstly, they have are free from artificial colourings and actually taste like authentic Mexican chips. Second, they are extra large, so perfect for dipping into your favourite salsa. Finally, they are only 163kcal a bag, making them much healthier than your normal bag of tortilla chips.
It's time to live every day like its Taco Tuesday.
Nutritional info: Calories per serving:163kcal Sugar per serving: 0.8g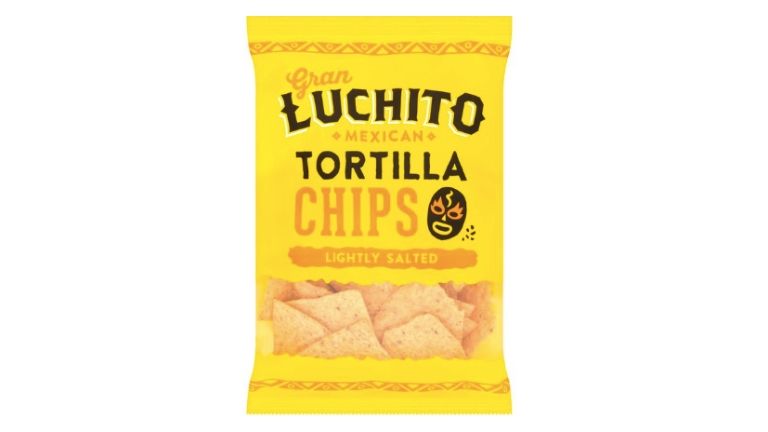 8. Looking for a healthier alternative to Wotsits?
Hip Hip hooray for Hippeas – a posher version of cheesy Wotsits with none of the nasty ingredients. We tried 'Sweet n' Smokin' which was oh so good.
These chickpea puffs were light and crispy and had an addictive subtle smokey taste. If you're anything like us, you'll want to scoff the whole pack in one go. And yes, I'm afraid we did.
Don't feel too guilty though, they're only 90 calories per serving, not to mention gluten free and vegan.
So ridiculously moreish, you'll be licking the bright orange powder off all your fingers. We were definitely in our hapPEA place (arrgh excuse the cheesy caption please).
Nutritional info: Calories per 22g serving: 99kcal Sugar per 22g serving: 0.9g

9. Best vegan cheese crisp alternative
Want a cheese flavoured crisp but without the cheese? Look no further than Ten Acre Crisps.
We tried 'When the Cheese Met the Onion' and immediately fell for them. Forget Walker's, these are much tastier and less artificial. They're basically your vegan cheese and onion equivalent to Kettle Chips, hand cooked, with a great crunch and delicate cheese flavour– not overpowering at all. And we love that these quirky crisps are so beautifully British, using potatoes and flavourings all from the UK.
They're also suitable for people following a range of diets, since they're gluten free, vegetarian, vegan, Halal and Kosher.
Definitely an all – round winner.
Nutritional info: Calories per 40g pack: 201kcal Sugar per 40g pack: 0.6g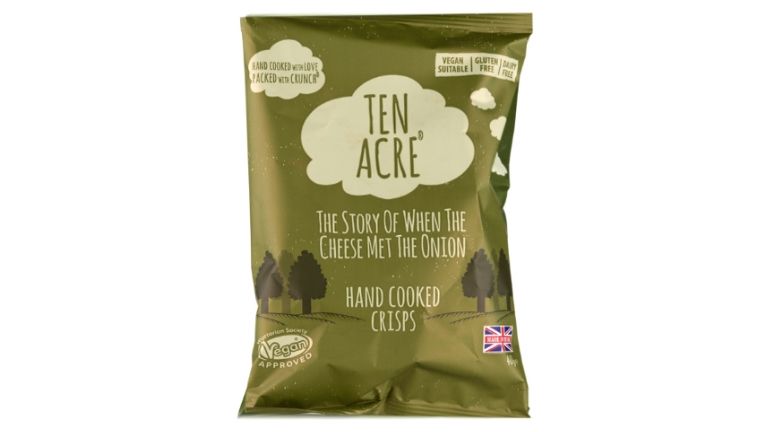 10. Best low calorie crispbread for all of your favourite savoury toppings
Looking for a low – calorie snack? Amisa's organic gluten-free crispbread, is packed with 4.3g of fibre per pack and comes in four handy mini packs, so great for a light lunch snack.  They're a kind of savoury ice cream wafer – not as thick as rice cakes and similar in texture to a ryvita cracker.
We tried the Chestnut crispbread. The nuttiness of the chestnuts gives a lovely earthy flavour, which would work well with cheese, or any savoury topping for that matter, be it dipped in hummus or layered with avocado or smoked salmon. Delicious.
Nutritional info:  Calories per 100g: 343kcal Sugar per 100g: 3.9g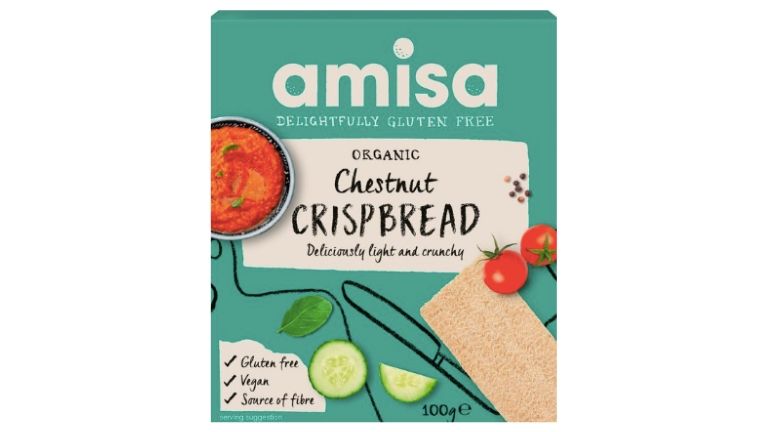 More Healthista Content:
5 healthy recipes to help balance your hormones
How to lose weight – a top nutritionist's guide
7 hay fever remedies recommended by an actual doctor