Louise Watson's back pain was so bad she was given morphine and told nothing could be done. Then she discovered a new gadget that delivers a proven therapy normally used within a clinical environment
When Louise Watson was on her way to a friend's wedding two years ago, she tripped walking on some cobbled streets and rolled her ankle underneath her.
At the time she thought little of it and when Louise felt a slight twinge in her back, she simply changed into some flat shoes and carried on with the festivities.
'The following day I was in agony,' remembers Louise, 28, a PR manager. 'I couldn't sit down properly and walking around was excruciating.'
Over the next two days, the pain in her lower back, pelvis, hip and knee got progressively worse.
'Along with a constant radiating pain in the bottom of my back, and a sharp pain anytime I tried to move, I couldn't feel anything in one of my legs,' says Louise, who lives in Kent with her husband Jason, a nurse. 'That's when I realised something serious was wrong and went to the doctor's.
'It was particularly scary when they did reflex tests on my legs, and when they tapped my left knee nothing happened – I had lost all nerve sensation and the doctors couldn't work out why.'
Getting a diagnosis
Unable to figure out what was wrong, Louise was recommended an MRI scan. But facing a five month wait for one on the NHS, she chose to pay and go privately.  'They diagnosed a L5-S1 disc bulge, it's where a disc on your back doesn't completely come out but sort of pokes out.'
That explained Louise's excruciating pain. As for treatment, doctors were stumped.
'I was told I just needed to give it time to heal and that it could take anything up to three years to recover,' Louise recalls.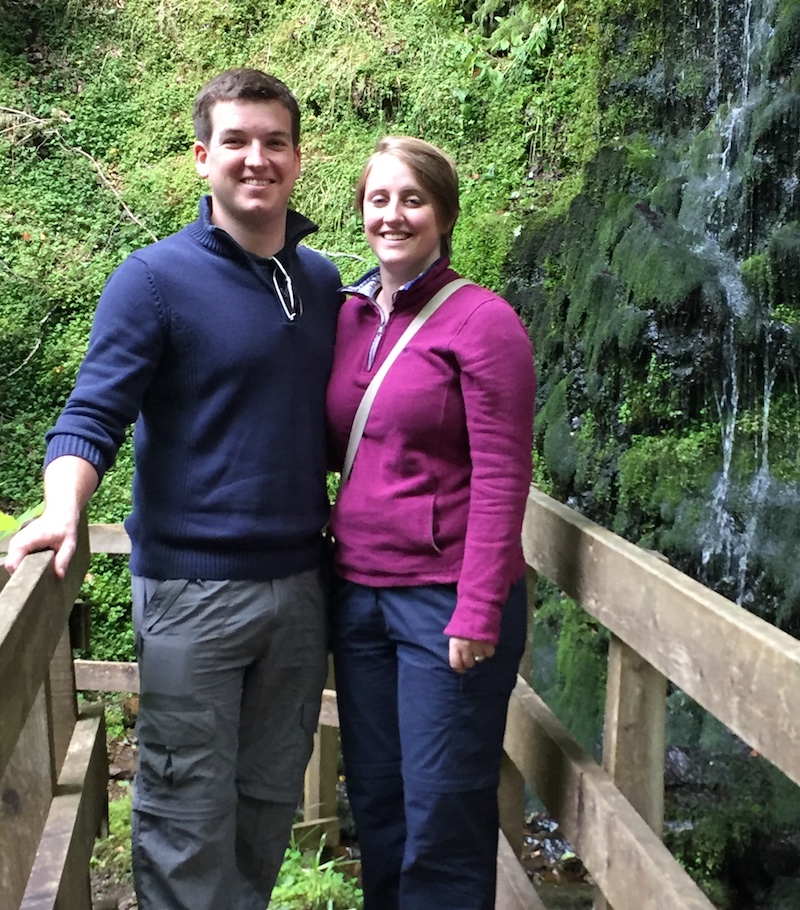 Dealing with the excruciating back pain
'Meanwhile, they threw painkiller, after painkiller at me and not much else. I worked my way through a load of anti-inflammatory drugs, most of which made me feel incredibly sick so I couldn't take them.
'Within a few days of diagnosis I was on high doses of oral morphine tablets and liquids, which made me terribly nauseous and unable to focus, along with gabapentin, a nerve painkiller and amitriptyline, an anti-inflammatory.
'The most worrying thing wasn't the fact that I was utterly exhausted and couldn't walk my dogs for ten minutes without being wiped out (I used to do walk them daily for an hour) or even the fact that I had to stop going to work four days after the accident and had to give up a job I adored.
'Most frustrating really was that I was on a cocktail of powerful drugs and still in so much pain!'
Louise saw an osteopath once weekly who used an ultrasound treatment to help with muscle pain and also had acupuncture. But little helped.
'I'd been off work for two months and feeling completely exhausted. I needed to sleep for four hours after the shortest walk and was on a high dose of morphine,' remembers Louise.
'I didn't feel human, I couldn't focus for longer than 20 minutes on a TV show, or on a conversation. I couldn't even wash my hair without help.
'The worst thing was that after nursing patients all day, my husband Jason had to come home and look after his 26-year-old wife who couldn't even get in and out of the bath without his help.
'It felt as if all my independence had been taken away. I have never felt so helpless.
'There were a lot of tears.'
The £200 gadget that finally helped
Desperately scanning the internet for any fixes for her pain, Louise stumbled across a gadget called Arc4Health, a small, pre-programmed unit she could use anywhere, that is drug free, non-invasive and wearable and could be used while Louise went on with her day, even while moving around or working.
'I was skeptical about it to be honest, but after having tried so many different things and having seen some really great reviews online, I went in not terribly hopeful but desperate for anything to work.'
The Arc4Health (left) is the first device based on Microcurrent Therapy that can be used at home. Microcurrent Therapy is the application of frequency specific electrical currents to the injured part of the body. It can help injured tissue heal faster and provide relief from pain caused by injury, such as Louise's accident, or chronic conditions that cause pain such as arthritis.
The Arc4Health (left), certified as a Class 11a medical device, is based on Microcurrent Therapy and is considered to be the smallest wide spectrum device in the world. Microcurrent Therapy is the application of frequency specific electrical currents to the injured part of the body. It can help injured tissue heal faster and provide relief from pain caused by injury, such as Louise's accident, as well as chronic conditions that cause pain such as arthritis.
'For the first 'cycle' I used it for three hours three times daily for two weeks, and because it's so compact I could wear it while watching TV or being at my computer and then 45 minutes a day after that.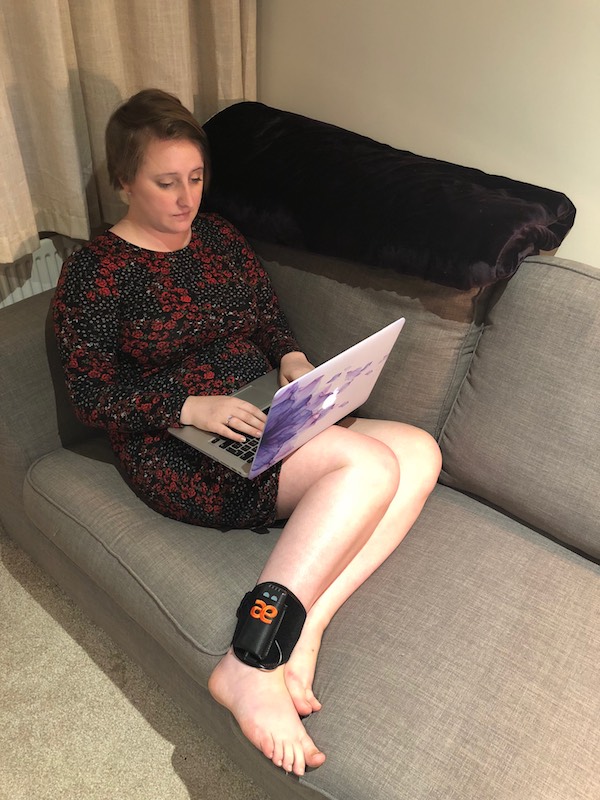 'There are no cumbersome wires or fittings to carry around and because the device is so small, I could wear it around my ankle and cover it up in boots or sit at my desk with it on my leg.'
Staggeringly, after only two days Louise began to feel the pain in her leg easing up. 'After ten days there was a noticeable difference in my back and little things like bending over to pick things up – which would really hurt before – now wouldn't strain my back.'
Getting my life back
After those first ten days of using her Arc4Health, Louise began coming off the morphine. 'I was on such a high dose it took a while to come off, but I'm happy to report that after 16 weeks of treatment with nothing but the Arc4Health I was morphine free and back at work.
'I now take the odd paracetamol if I get any occasional pain in my lower back. But compared to the painkillers I was on only four months ago, that's nothing short of miraculous.
'I still use the Arc4Health 45 minutes daily and I plan to stay on that for the time being as I don't want the effects to drop.
'What's the best thing about all this? Well, there are so many things I am thankful to have back.
'I can get in and out of the bath and wash my hair on my own now. I am working again. I can walk the dogs for as long as I like every day and I can tie my shoelaces again.
'I feel like Jason and mine's relationship is back on track because I no longer feel like his patient.
'Mostly though, it's being able to focus on what people are saying that I really love the most. When I was on so many painkillers I literally couldn't keep track of what people were saying and it would upset me so much. Now that's all changed. I feel like myself again'.
What is Microcurrent Therapy?
In our bodies, every cell communicates with all other cells by a series of minute sequences of electrical current, which regulate the proper functioning of the body. When disease, injury or stress is present, these currents are compromised, resulting in the impairment of natural healing processes. Microcurrent Therapy can kick-start and accelerate the many processes involves in correct cellular functioning, resulting in faster healing.
What's the evidence?
In a 2001 study published in the American Journal of Pain Management looked at 1949 patients using Microcurrent Therapy for pain managementfound that 93 per cent of participants claimed a significant pain reduction with conditions such as localised back pain, migraine headaches and carpal tunnel syndrome. When asked if the treatment was of therapeutic benefit, all but 136 of those, reporting across all pain categories who had at least three weeks experience of the device, stated that it had helped them significantly.
What do the experts say?
'I've been working in the field of Microcurrent Therapy since the early 1990s and believe it has a demonstrative effect in tissue repair after injury and pain management,' says Tim Watson, a Professor of Physiotherapy at the University of Hertfordshire.
'The delivery of microcurrent from outside the body acts as an energy source to enhance or to activate the normal repair response. The effect of the treatment may not only enhance repair but can indirectly diminish the pain felt.
'Clinics may offer it in short weekly spurts however research now shows that home-based treatment of at least 1-2 hours a day is the most effective way of administering the therapy and is proven to have the strongest results.'
'I came across the Arc4Health a couple of years ago when it was being developed and I saw it benefit someone who tried it for back pain and she had such immediate relief that I was intrigued,' says Dr Clive Dewing, an NHS GP in Hawkhurst.
'My brother also tried it for arthritis in his ankle and it soon helped his mobility, pain and overall wellbeing. Proven safe and with no side effects like some drug therapies, I think Arc4Health could be an excellent substitute in many cases'.
Other uses for the Arc4Health
Along with back or other joint pain, the Arc4Health can be used in just about any pain condition whether it's the result of an injury, as Louise's was or is a chronic condition such as pain from arthritis, migraine, repetitive strain injury, carpal tunnel syndrome and more. Check arc4health.com for more information.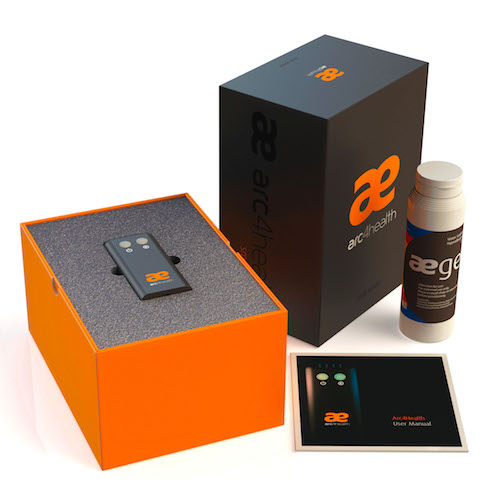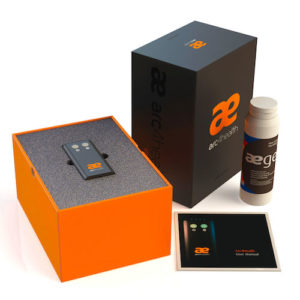 The Arc4Health costs £249.99 from arc4health.com
More stories:
Weight loss transformation: I lost a stone and my hot flashes disappeared in 12 weeks
Weight loss transformation: Vanessa feels stronger than ever in the final week
Got insomnia? These 11 foods are proven to help you sleep
Like this article? Sign up to our newsletter to get more articles like this delivered straight to your inbox.