Baby Botox – also known as the 'blink impact', is when Botox is administered in small doses to subtly tweak expressions. This is what happened when Chlara Marino, 29 had the treatment with Dr Vicky Dondos at Medicetics
Gone are the days where Botox would leave someone with a glassy-looking forehead and a frozen, expressionless face.
Now, the new innovative way to use Botox is to improve the first impression our faces make on other people, but ever so subtly.
'We have completely changed the way we use Botox,' says Dr Vicky Dondos, co-founder of Medicetics.
'15 years ago we got over-excited about the wow effect people used to see after having Botox. Deep lines and wrinkles would have completely vanished, it was obvious you had had treatment and your face would look significantly different.
'Now though, Botox is used as a preventative way to slow down the effects of ageing and tweak the impression a face makes, I call this the blink impact'.
you will still look completely like yourself – just a fresher more vibrant version.
Have you heard the phrase blink and you miss it? It basically means barely visible, but still noticeable. That's what Dr Dondos says this new baby Botox treatment offers clients.
People may think you have had something done, but as the treatment is subtle, you will still look completely like yourself – just a fresher more vibrant version.
'The doses of Botox we administer nowadays, are much lighter and the way we place the Botox is also far better,' continues Dr Dondos.
'We place the Botox all over the face but in tiny doses. For example, just lifting the tail of the eyebrow can open the eyes and make them look bigger as well as refreshed and more awake.
'We use this technique a lot in the lower face as well, if there are over active muscles that are pulling the edges of the lips down and causing people to have a grumpy expression, we can soften that as well. But the overall look of the patient is that nothing has changed. They still look like themselves'.
Healthista spoke to 29 year old Chiara Marino, who after seeing fantastic results from cosmetic clinic Medicetics where she works, decided that her first ever cosmetic treatment would be baby Botox.
We quizzed her on why she wanted the treatment in the first place, exactly what the treatment was like and were the results worth it? Let's find out…
'I just wanted a fresher look'
Baby Botox was my first ever cosmetic treatment. I'm only 29 and turning 30 soon, so I have never thought to have cosmetic treatments before now.
When I was younger, I was always aware that I had lines on my forehead, they weren't obvious but I could definitely see them.
At the age of 25 though, the lines on my forehead seemed to be deeper than they had been before. There seemed to be lines around my eyes as well, and also between my eyebrows.
They're not so evident that someone would stare at me and say, 'Oh, you need to get something done.' and I'm not saying I looked old or anything but I did look tired, and a bit grumpy! All I wanted was to look fresher and more relaxed – like I had been on holiday.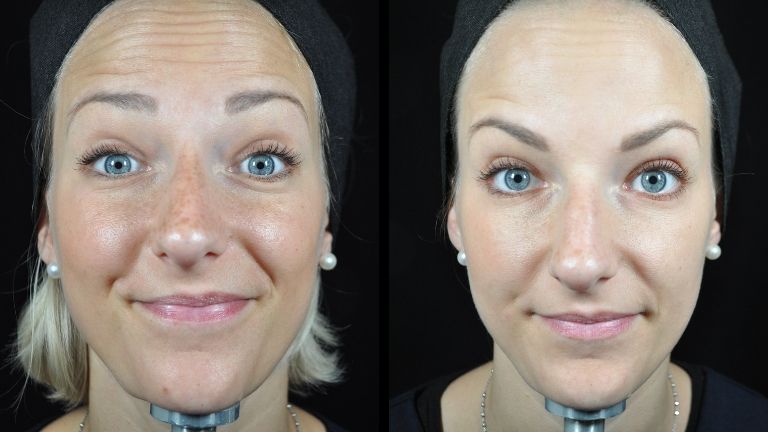 I didn't want to get rid of my forehead lines completely and lose my expression – the last thing I wanted was that paralyzed look you can see a mile away.
But when I'm smiling (and the lines are more evident), I did want to lessen the deepness of the lines on my forehead and around my eyes.
I work at Medicetics and had seen first hand what baby Botox has done for many patients and colleagues.
'Do I go through with the treatment?'
As well as working for Medicetics and having a pretty good idea about exactly what Baby Botox could do for me, Dr Dondos still explained everything thoroughly, so I could decide finally whether I wanted to go through with it.
We also discussed side effects, my main concerns, what results can be achieved and what Dr Dondos wasn't willing to do in case it looked unnatural.
If you ask Dr Dondos to do something that isn't achievable or if she knows what your asking for won't look natural or subtle, she will refuse to do it.
Dr Dondos made me look in the mirror, raising my eyebrows, frowning, smiling, to see where the work needed to be done.
During my consultation, as well as discussing Botox, Dr Dondos also wanted to suggest other options such as products that I could use, a beauty regime, facials to stimulate the skin, getting an infusion of active ingredients and injectables.
Dr Dondos made me look in the mirror, raising my eyebrows, frowning, smiling, to see where the work needed to be done. She said, that the more Botox you use, the less natural it will look.
One treatment is often enough to achieve the final look you want, but sometimes you may have to go back for more treatments to obtain your desired look.
Then Dr Dondos showed me where she would be injecting and that she would apply the Botox gently. A few injections around the eyes and on the forehead.
The consultation was around 20 minutes in total, depending on how many questions you have of course.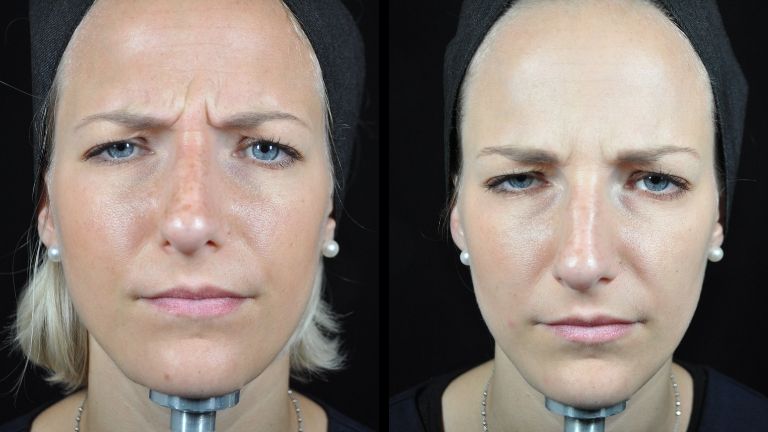 'The treatment wasn't painful'
During treatment, at first the skin is prepared with antiseptic solution. Dr Dondos then asked for my final answer to confrim I was ready to go ahead with the treatment.
She guided me though the entire treatment, telling me what she was doing and where. She told me when the needle was about to enter my skin so I knew exactly what was going on. Dr Dondos injected between my eyebrows, in forehead and around the outside of my eyes.
I can bear pain, so for me it wasn't painful. But even for those who aren't great with pain, I wouldn't say it's one of the most painful treatments as the needle is very small so doesn't sting. The treatment is completely bearable and quick. I honestly couldn't even feel it.
'No bruising, no swelling and no bumps'
About ten minutes after the treatment I noticed that there was no swelling, no bumps and no bruising – I couldn't see a thing.
So if you need to go out afterwards or don't want anyone to know you have had a treatment, you can go out and be assured that nobody will notice a thing.
You won't see results automatically either, you need to wait for the products to kick and start working on your muscles.
you can go out and be assured that nobody will notice a thing.
So for the first two or three days, the areas that were injected will look exactly the same, and you won't feel any different, even if you try to raise your eyebrows, I still looked exactly the same.
Around the fourth or fifth day though, you will start to notice a difference and at this point, if you try to raise your eyebrows the lines won't be as evident anymore. I felt the sensation that I couldn't quite squeeze my  muscles as much as I used to.
Final results will be seen two full weeks after the treatment.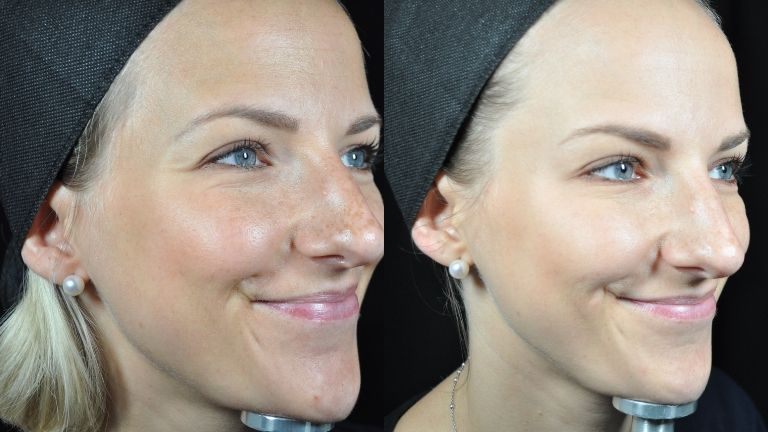 'Results are said to last up to four months'
About two weeks after the baby Botox treatment a few friends came to visit me, and I was happy to show off my new forehead.
I had told my friends I was getting the treatment and although a few of them said 'you look so much better now', all of them agreed they wouldn't have been able to tell I'd had anything done if I hadn't told them.
Basically, unless you know my forehead very well you wouldn't have noticed a thing.
I am beyond happy with my results, and I am so glad that the overall look is very subtle – exactly what I wanted. My boyfriend noticed that I looked more relaxed and less stressed.
all of them agreed they wouldn't have been able to tell I'd had anything done if I hadn't told them.
Results are said to last three to four months. Obviously this is something that I will find out, as it's the first time for me. Dr Dondos said everyone is different so lasting results can vary.
As I work with Dr Dondos, she has been keeping an eye on me. But she has also said I am to follow up in two weeks time, as other patients are told to do also in case a top up is needed.
A two week follow up si advised, as after two weeks you will see the final look. From there the doctor will know whether a tweak and top up is needed or not.
For more information on the blink impact , contact Medicetics on: 020 7402 2033, info@medicetics.com or visit the website: medicetics.com
Relevant Healthista Content:
The Botox and fillers user's guide – how to not look fake or 'done'
Like this article? Sign up to our newsletter to get more articles like this delivered straight to your inbox.