It's time to talk gynea stuff, and for our next installment of our new gynea series we discuss heavy and irregular bleeding. Join us everyday for two weeks for expert advice on common intimate issues
Call them what you will – 'women's issues', 'intimate health problems', 'gynae things', whatever, all women will experience at least one or two intimate conditions at some stage in their life.
Over the next two weeks, Healthista will be sharing some common intimate conditions many women experience but don't talk about.
Here is what is helpful to know about some of the most common intimate issues, today we discuss heavy and irregular bleeding.
Heavy and irregular bleeding
Heavy bleeding can, quite literally, be a pain.
Your period is classified as 'heavy' if it lasts more than seven days or the bleeding is extensive (say, you are soaking a tampon or sanitary towel every hour or so) and gets in the way of your daily life.
It can also potentially lead to anaemia leaving you feeling tired and washed out.
Your period is classified as 'heavy' if it lasts more than seven days
Irregular bleeding or bleeding between periods is pretty common in the first few months of starting hormonal contraception or at the start of the menopause.
It can also happen after a period of excessive stress; sudden weight loss or can be a symptom of a medical condition like polycystic ovary syndrome (PCOS).
Bleeding after sex and/or the menopause should always be checked out by a medical professional.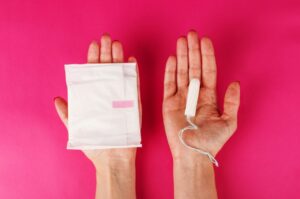 What can help:
Consultant gynaecologist Tania Adib from The Medical Chambers Kensington, says there are a number of ways of managing heavy bleeding by making lifestyle changes.
Getting enough sleep and taking regular exercise (yoga can be particularly helpful for also dealing with the stress associated with heavy periods) is a good place to start.
Plus eating iron-rich foods like red meat and taking an iron supplement to replace the iron you lose through blood loss (take these with orange juice as the vitamin C will help you absorb the iron better) will also help.
there is evidence that taking vitamin D supplements could help
Adib adds that there are a number of perscription only medications that can help like the hormonal contraceptive pill, a hormonal IUD or tranexamic acid  which helps the blood clot to reduce the bleeding.
If your periods have always been irregular you don't need to see a doctor but you should if this suddenly happens (especially if you're under 45 and unlikely to be peri-menopausal) and/or you are trying to get pregnant.
Treatments will depend on what is causing it but things that have been shown to help regulate your cycle include regular exercise – particularly yoga, maintaining a healthy weight and there is evidence that taking vitamin D supplements could help.
More Healthista Content:
Weak bladder? 9 tips to manage your symptoms
Warning signs of cancerous moles and what to do about them
Side effects of the pill you may not know about
5 ways your exercise routine could be messing with your sleep
5 foods proven to reduce stress and anxiety
Like this article? Sign up to our newsletter to get more articles like this delivered straight to your inbox.