It's time to talk gynea stuff, and for the penultimate installment of our new gynea series we hear a gyneacologist's guide to dealing with hot flashes for a 'no sweat' menopause
Call them what you will – 'women's issues', 'intimate health problems', 'gynae things', whatever, all women will experience at least one or two intimate conditions at some stage in their life.
Here is what is helpful to know about some of the most common intimate issues, today we discuss the menopause
A no sweat menopause
Menopause is the time when women stop having periods (normally this happens aged 45-55) and which typically causes symptoms like hot flushes, night sweats, brain fog, weight gain, tiredness, mood swings and irritability.
Some women breeze through it with barely a symptom, for others it can be debilitating but for most of us it is somewhere in between and moderate symptoms can generally be managed with lifestyle changes and over the counter products.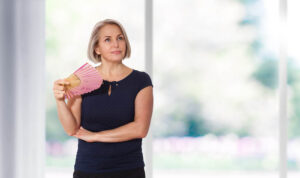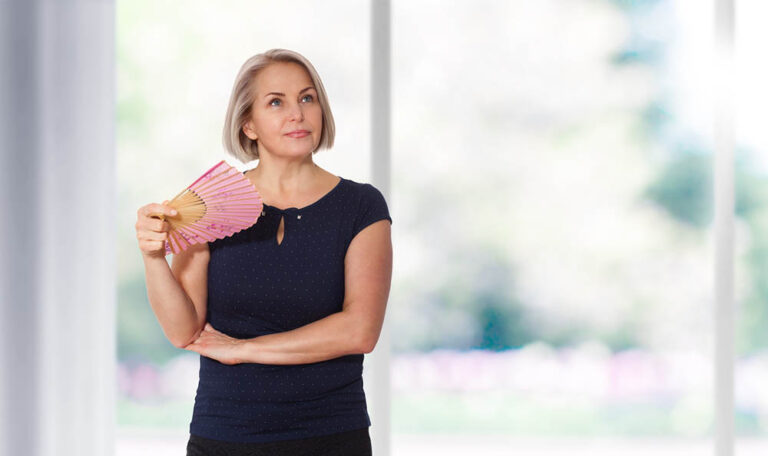 What can help:
Consultant gynaecologist Dr Anne Henderson who has spent nearly 35 years researching and helping women through menopause takes a holistic approach.
She explains HRT can be 'one arm' of that holistic approach and is a fan of the newer body-identical hormones (a fully regulated form of HRT in which hormones are indistinguishable from those produced naturally in the body).
Not everyone needs or wants to take HRT and in her new book Natural Menopause, she is keen to point out good nutrition, exercise, herbal remedies and mental wellness practices can all improve menopausal symptoms – used on their own or in conjunction with HRT.
recommends laying off the stimulants like caffeine, alcohol and refined sugars
Alison Cullen, Nutritional Therapist for A.Vogel takes a similarly holistic approach and recommends laying off the stimulants like caffeine, alcohol and refined sugars and eating regularly 'to avoid blood sugar dips and also to help maintain a healthy weight.
A sage supplement – like A.Vogel's Menoforce Sage Tablets, £14.25 – can help reduce hot flashes and sweats and magnesium can help with mood swings and tiredness.'
Try also Healthspan's MenoSerene, £17.95, containing plant oestrogens.
You can keep Physicool Rapid Cooling Mist, £12.99 to hand as 'this really takes the sting out of a hot flush. At the first signs, spray it lightly over your chest and neck for an instantly cooling and calming effect.'
More Healthista Content:
10 menopause symptoms myths debunked
Warning signs of cancerous moles and what to do about them
4 ways you can change your relationship with exercise for the better
'The skincare clinic that helped clear my cystic acne'
Side effects of the pill you may not know about
Like this article? Sign up to our newsletter to get more articles like this delivered straight to your inbox.