If you haven't managed to get to a flight to the sunny shores or catch some of those rare British rays this summer, these are the best fake tans to effortlessly fake it
We all have different skin; fair, sensitive, dark, oily… And boy, are there a lot of fake tans out there too. Lotion has been joined by gels, mousse and oils, as us fake-tan loving Brits demand more, more, more! According to the NPD Group Inc., a global information company, sales of sunless tan products reached £3.5 million in the period January-June 2015, an increase of 9.2 per cent on the same period in 2014.
People no longer want to look orange, they want to look like they have just been on holiday
'Customers want a golden glow without taking adverse risks in the sun.' says June Jensen, Director U.K. Beauty for The NPD Group. 'In addition to the new product launches this year, people are also demanding new products that give the most natural glow. People no longer want to look orange, they want to look like they have just been on holiday.'
From foams to gels, lotions and sprays, we've tried them all and bring you the best. Whether you're building your tan for the au naturel look, or lathering it on for an emergency fix- don't think there isn't something that can work for you!
1. BEST FOR INSTANT Sunkissed Instant Tanning Gel (cool tone)

This tanning gel was just divine to apply. It glided over the skin smoothly and was easy to move around to go over the spots I had missed. It really is instant, and one application is enough as the colour is quite intense.
The tan is formulated to work with your skin tone to really enhance the bronze colour. I used Cool Skin Tone – many people don't know their skin has an undertone of either warm or cool, and make the mistake of picking face makeup that doesn't match too. Sunkissed suggest if silver jewellery looks more radiant on your skin than gold, or you've previously experienced a green/blue colour when tanning, then you are cool toned.
The tan came off with no residue left in the shower the next morning; I'm baffled at how they managed that one.
RRP £4.99 sunkissedbronzing.co.uk
2. BEST FOR GRADUAL Green People Self Tan Lotion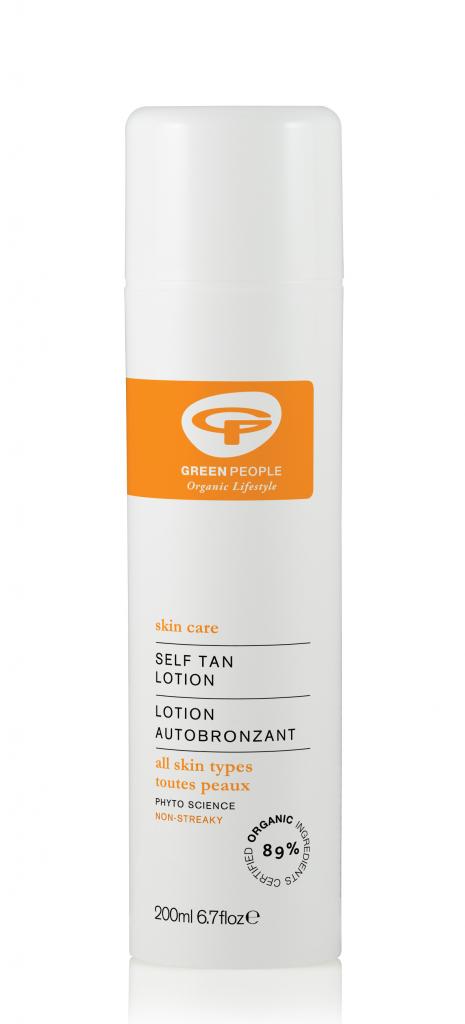 I often wake up the morning after applying a gradual tan and see no difference, and the more I apply, the more orange I become. But this little beauty did the job after one application.The lotion was just like a normal moisturiser and with no tint, so I managed to slap some on before bed without doing the body twirl in the mirror making sure every spot was evenly covered. The bottle boasts 'no streaks' and true to their word, there were none – only a natural even glow. Even better, I hardly noticed when the tan began to fade.
The first certified organic self-tan in the UK, it's made without harmful chemicals, making it suitable for those prone to eczema or psoriasis. Although scented with organic rosehip, geranium and sandalwood, my only criticism of the product was the overpowering smell of gherkins and vinegar as it was put on my skin, but this didn't last through to the morning.
RRP £19.95 greenpeople.co.uk
3. BEST FOR OVERNIGHT Manuka Doctor ApiBronze Anti-Callulite Gel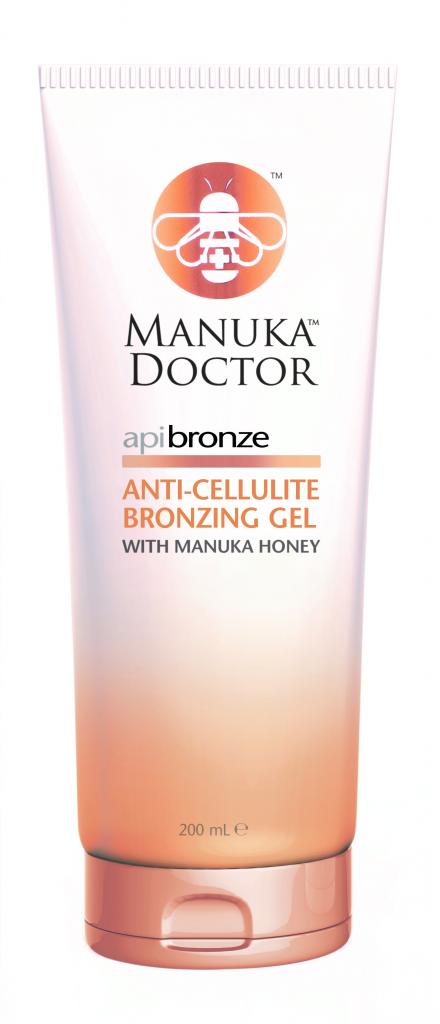 The non-sticky formula was smooth to apply considering it contains Manuka honey- it really did look like pouring honey from a jar – yum! The gel has an anti-cellulite formula, with Purified Bee Venom (PBV) which promotes skin's elasticity, and improves skin's firmness for younger looking body contours, so particularly worked well in my tricky, fleshier areas.
I applied this to clean, dry skin before going to bed the night before a big night out with some friends. Often working weekends, I don't have the luxury of pampering and preening myself before getting ready to party, so developing tans are a godsend for an over-night transformation for me. It does develop after an hour, but you can't wash for seven hours. Normally this would be a problem if you left it to develop over the day because of the smell, but Manuka Doctor doesn't emit that biscuit aroma.
The gel blends nicely when applying, however, once it had developed the top of the thighs had quite a visible line where I had stopped applying with the mitt. This was made more obvious by the orange-tinted colour. I wasn't so keen on the colour at first, but I was complimented on it – apparently it looked more natural to my skin tone than a deep brown.
RRP £24.99 manukadoctor.co.uk, Holland and Barret, Tesco Beauty Stores
4. BEST FOR SCULPTING UTan 40 Minute Turbo Tan Lotion

The great thing about this tan is it looks amazing as soon as you apply it, as well as when you wash it off after 40 minutes. With wild indigo flower to shape, sculpt, and tone, my legs looked like I had already put on high heels.  Rainforest extracts pracaxi seed extract and wild strawberry leaf seed extract made the skin look and feel healthy and new. I personally loved the deep brown colour as soon as I put it on, but after the wash it still had a radiance that looked more of a natural glow. A little amount goes a long way, and you could build this up over a few hours as the developing time is so quick – definitely useful in an emergency.
This product feels like a luxury with it's perfumed scent and salon spray-tan finish. An extra bonus was there was no hard work scrubbing it off as it naturally faded without leaving any dodgy patches.
Any patches I had from previous fake tans I attacked with UTan Tan Remover, a body scrub which I literally saw working before my eyes, particularly on those stubborn parts around the ankles and tops of the feet. I warn you though, it is incredibly drying, so don't forget to lather on the moisturiser after!
UTan 40 Minute Turbo Tan Lotion RRP £25.00 and UTan Tan Remover RRP £10.00 utanshop.com, Boots
MORE: 7 WAYS YOUR HEALTH IS WRITTEN ON YOUR FACE
5. BEST FOR PRE-HOLIDAY Bondi Sands Gradual Tanning Milk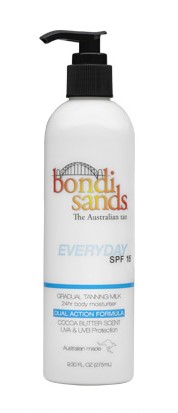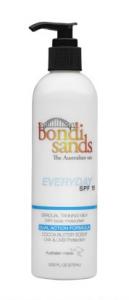 The Bondi Sands range aims to bring the sand, sea and sun of Australia to miserable rainy England, and I just had to try this stuff out simply because of the name.  I imagined myself showering in the juices of a coconut whilst on a white sandy beach.
I applied it before bed and in the morning I had an even, golden colour, and with aloe vera and Vitamin E it left my skin looking naturally nourished and tanned as though I had been sitting in the sun for a few hours. This tan gave me a little extra confidence to meet friends in a white, sleeveless top, as it didn't have the orange glare or the 'my skin is thirsty for moisture' look that I have found fake tans can leave. With the benefit of SP15 I didn't need to worry about applying sun-cream, so this fake tan is great if you're terrified of hitting the beach on holiday with a couple of milk bottles for legs. I will probably use this all year round, topping it up twice a week or so to keep the colour and skin hydrated.
RRP £10.99 Superdrug, bondisands.co.uk

6. BEST ON A BUDGET No More White Bits
An instant tan I used quickly (and I mean in about four minutes) to get rid of those white bits before an event. I didn't see a huge difference in colour as the formula seemed to be quite weak, but I could tailor the colour if I wanted to as a buildable tan, so it works both ways.
The tan absorbed fast, but looked best a few hours later. I'm not really sure if this is instant, gradual, or developing, but it seems to work for all purposes which is great for the affordable price.
7. MOST GLAMOROUS Tan Truth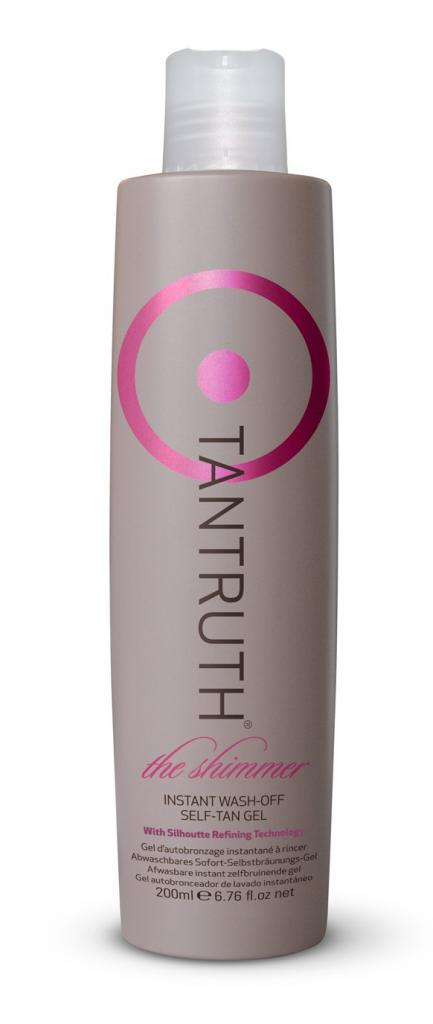 Adding that extra glam, this tan has an added shimmer that really glitters. The gel works instantly on the skin and with no icky smells, so is perfect for a special event. A little goes a long way, and I mean I put a two pence amount on my mitt intending to tan just the top of the arm, but its strong pigment meant I used that for the whole of my two arms.  I won't be needing to buy another bottle of this for a while then!
However, the bottle's design isn't the best; you can't really control how much comes out, and considering you don't need a lot, some of mine got wasted being wiped up with a tissue or creating a mess.
The formula is enriched with Shea Butter and after a shower the tan had disappeared and left my skin feeling soft.
£8.39 sallyexpress.com
8. MOST LONG-LASTING St Moriz Instant Tanning Mousse
I know, mousses can be scary…but I promise this one is a delight to work with. I shook the bottle well before squirting a handful into the mitt. I

always start with a lot and apply it to an arm or leg in one go because I find mousses absorb quickly, meaning you have to apply them fast and with pressure to avoid lines forming before your eyes. Then you can add little bits where you'd like more colour.
The tan was dark when I applied it, but felt too moist to have worn clothes in it all day. So I left it to develop overnight. When I woke in the morning under my duvet smelt like a warm biscuit mix, and my pyjamas were sticky. When I saw myself in the mirror I didn't recognise my face – I had gone about five shades darker! Horrified, I ran straight to the shower hoping to scrub it off. But once the water had run clear I didn't bother using soap, and the beauty of this product is the colour once you've had a shower. A beautiful caramel brown that lasted for at least three days.
I will warn you however, that the mousse loses its colour by the end of the bottle, coming out as a pale colour. All that aside, this is my favourite for providing a long lasting colour that you can top up a couple of times a week, at a very affordable price.
9. BEST FOR THE SKIN AND BEGINNERS Handmade Naturals Tanning Cream (for face and body)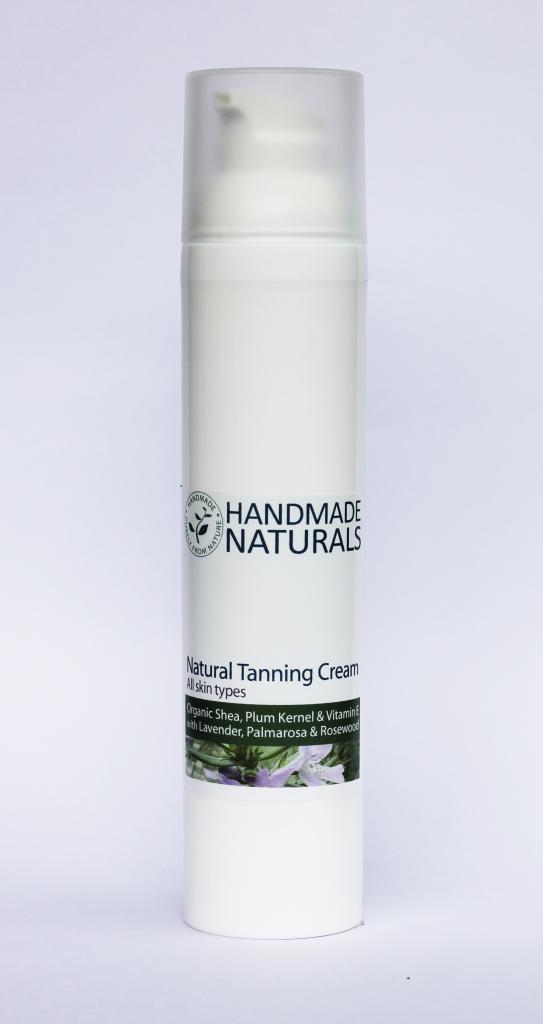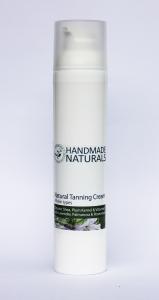 This tan is sacred for dry and irritable skin like mine. Its endless list of ingredients make it the most natural fake tan I have come across. Virgin organic shea butter, jobaba and plum kernel oil to name a few are packed into this little bottle of palmarosa, lavender and rosewood sented lotion, keeping the skin fresh whilst adding a natural glow. I was a little dubious when I applied it, as it's so light and quick-absorbing I wondered if there would be much colour difference, but the appearance after a few hours was non-streaky and sun-kissed.
A lot of fake tans can give my face a dirty look, grabbing to the drier patches of skin. But this was subtle and with a little added makeup, I was ready to go.
I think this tan would be great for fair-skinned or beginner tanners as simplicity and kindness to the skin leave little room for mistakes. I just wish this bottle packed with essential oils and butters came in a larger size!
RRP £12.00 handmadenaturals.co.uk
8 EXPERT TIPS FOR APPLYING FAKE TAN
Moiya Saint, expert tanner who was worked with the celebs on Strictly Come Dancing and X Factor, has an 8 step guide to achieving the perfect fake tan. We're listening!
1. Leave 24 hours after waxing or shaving before going bronze. It takes this amount of time for waxed skin to settle down- rush it and you will risk your new colour looking mottled.
2. Exfoliate your skin beforehand to remove the dead layer, which helps the tan absorb and look more even. Avoid oil-based scrubs as they leave a residue which can result in a crocodile effect. Pick one with spherical beads, not grains, as the latter can change the skin such as BeautyLab Pre-Tan Skin Polish, £18
3. Pay attention to your cleavage Believe it or not, the place where a fake tan can fade fastest is between the boobs, because it sweats off quickly. Prevent this by scrubbing the area well before tanning.
4. Before applying tan, add lotion (again oil-free) to your knuckles and wrists. This will dilute the overall colour for a more natural effect.
5.  Use a mitt Apply a small amount to a mitt – not to your skin – and start from the feet up, making long, sweeping movement upwards.
6. Use a small mitt on your face too to ensure all curves and angles are covered. Be careful around your hairline. Dry and grey hair can be porous and will soak up the colour.
7. Wear loose, dark clothing afterwards and avoid tight elastic (around your waist or ankles) that may disrupt the colours even development.
8. Stay moisturised Fake tans are really dehydrating, so apply a light body lotion every day to stop the colour getting dull, such as BeautyLab Hydrating Tan Extender £18. Exfoliate your skin after three days to give it extra boost.
MORE: 7 BEAUTY TREATMENTS THAT COULD DAMAGE YOUR HEALTH
Like this article? Sign up to our newsletter to get more articles like this delivered straight to your inbox.