Can't quit your snacking habit? You aren't alone, as research finds that 1 in 3 people are consuming more unhealthy snacks since lockdown. Nutritionist Rob Thorp suggests 7 healthy snacks to keep you full on the go
Recent research by OnePoll, found that almost one in three (28 per cent) people have been found to be consuming more unhealthy snacks and drinks since lockdown.
Just because you are in a rush and on the move now that lockdown has ended, doesn't mean you need to compromise on the healthy snacking front.
one in three people have been consuming more unhealthy snacks and drinks after lockdown
The key to healthy snacking is preparation. You are less likely to settle for something unhealthy if you have a plan, or a ready-made snack in your bag.
As lockdown eases and normality begins to be return, don't get caught short when it comes to healthy snacking, and have the following healthy snacks to hand…
Healthy snacks #1 Nuts
From peanuts and cashews, brazils to almonds, nuts, in small quantities make an excellent snack.
The high fat and fibre content of nuts makes them very filling, so they are a great choice for those trying to cut back on the calories.
A small handful is likely to satisfy your hunger for a sustained period of time, making you less likely to snack mindlessly.
high in vitamins E and B, as well as magnesium
They are high in vitamins E and B, as well as magnesium, which help to boost the immune system, vital for busy parents constantly on the move and those who experience stress.
Almonds, pistachios, hazelnuts, and pecans particularly are packed full of fibre which is essential for maintaining a healthy digestive system and promoting a healthy gut which is also important if you live life in the fast lane.
As well as being low in calories (compared to other nuts), pistachios contain a high level of vitamin B6 which helps the body produce hormones. These include serotonin which regulates mood and norepinephrine which helps your body deal with stress.
Pistachios are also high in protein (3.6g of protein in a 100 calorie serving), as protein comprises about 20% of their weight. Therefore, eating pistachios will help with satiety and make sure you feel full.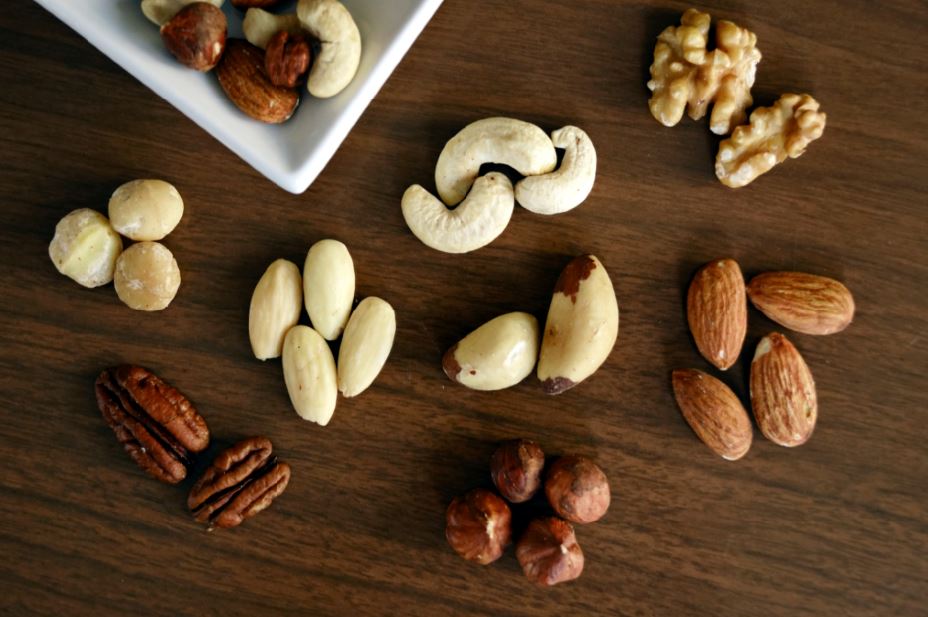 Healthy snacks #2 Edamame Beans
Edamame beans are whole, immature soybeans that are packed-full of protein and low in calories.
Unlike other plant sources of protein, they contain all nine essential amino acids, as well as iron and vitamin K which can help to keep your energy levels up and your body functioning optimally.
they contain all nine essential amino acids, as well as iron and vitamin K
Keeping a stock of frozen edamame beans in your freezer is a good idea, simply boil them and portion them out for the week, storing them in the fridge so that you have a healthy snack to hand whenever you need it.
Healthy snacks #3 Dark Chocolate
Dark chocolate is not only delicious, but it also has some impressive health benefits as it is naturally high in iron, magnesium, copper, and manganese.
Perfect if you have a sweet tooth, dark chocolate is also packed full of antioxidants, which may protect your cells against free radicals, that may play a role in heart disease and other health problems.
chocolate is also packed full of antioxidants
The lower amount of sugar in dark chocolate means that you will have less frequent cravings for sweets, while the higher amount of vegetable fats increases your satiety – making you feel full for longer.
Dark chocolate is an acquired taste, but you can train your brain to enjoy eating it. Start by eating a chocolate that's slightly darker than you're used to and then slowly move up darkness levels, once you get used to each level.
If you are looking for a healthy, dark chocolate-based snack for on-the-go, Vite Brain bars are a great choice. Not only will they satisfy your sweet tooth, they are also packed full of nootropic ingredients which enhance mental performance, helping you feel sharper, think faster, and focus longer.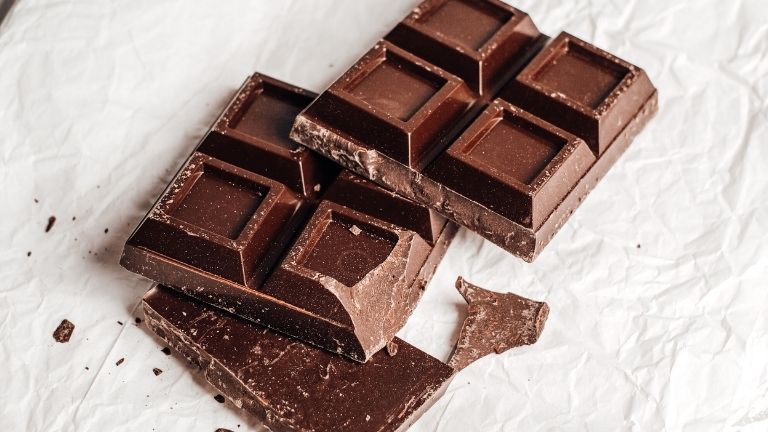 Healthy snacks #4 Fresh Fruit
If you have got a sweet tooth, fresh fruit is a great, healthy snacking choice. Loaded with a variety of vitamins and antioxidants, fresh fruit can easily be eaten on the go, and as part of a healthy diet.
If you are trying to cut down on sugar then snacking on lots of fruit could prove dangerous, so opt for fruits which contain fewer natural sugars like berries, cherries, apples, pears, peaches, and apricots.
Healthy snacks #5 Carrots and Low-fat Houmous
Carrots and low-fat organic hummus are a great snack that can provide a quick hit of energy and up the fibre and vegetable content in your diet.
promotes good eyesight, healthy skin, and resistance to infection
Like all deep-coloured orange-red vegetables, carrots provide generous amounts of beta carotene, which promotes good eyesight, healthy skin, and resistance to infection.
Paired with organic, low-fat hummus, which is a good source of plant protein and fibre, snacking on this pairing late afternoon can help you to feel fuller for longer, and stop you overeating before dinner time.
For ease when you are out and about, opt for snack-size pots of carrots and hummus.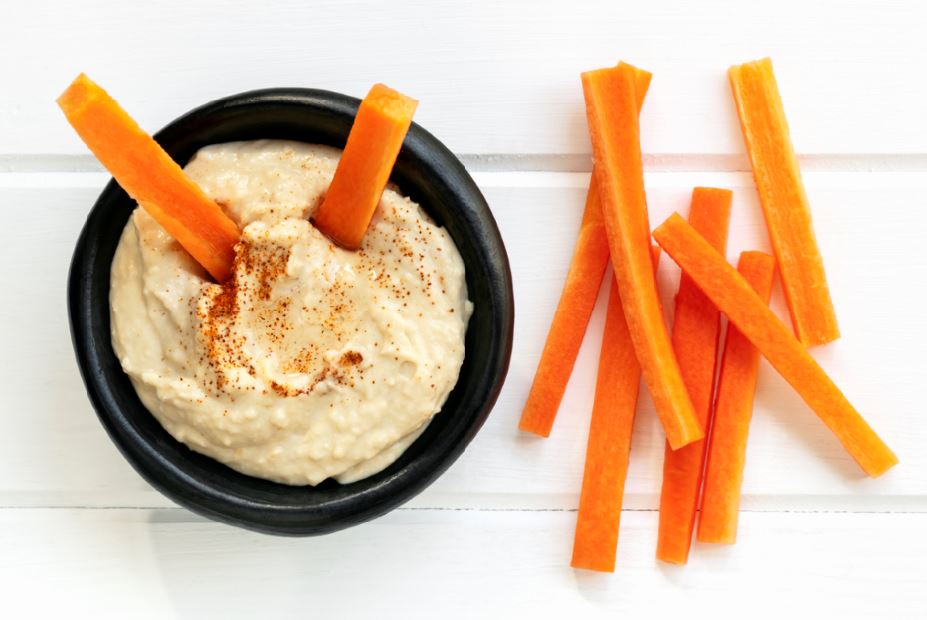 Healthy snacks #6 Homemade Energy Balls
Homemade energy balls or protein bites are a great snack to keep in your handbag, fridge, or freezer. They are naturally sweet and contain fibre and protein too.
This means the energy release is more sustained which leads to increased energy, better mood, and enhanced focus.
My go-to recipe is chopped medjool dates, shredded, unsweetened coconut, almond butter, extra virgin coconut oil and a pinch of salt.
Healthy snacks #7 Popcorn
Low in fat and high in fibre, popcorn can be a healthy snack, if you know what you are looking for. It does contain some vitamins and minerals including iron, zinc, magnesium, and some B vitamins, but not in large quantities.
The high fibre content in popcorn helps in weight management, since it increases general satiety and decreases subsequent hunger.
The healthiest way to enjoy popcorn is to make it yourself, but if you are buying pre-made, the plainer the flavour the better.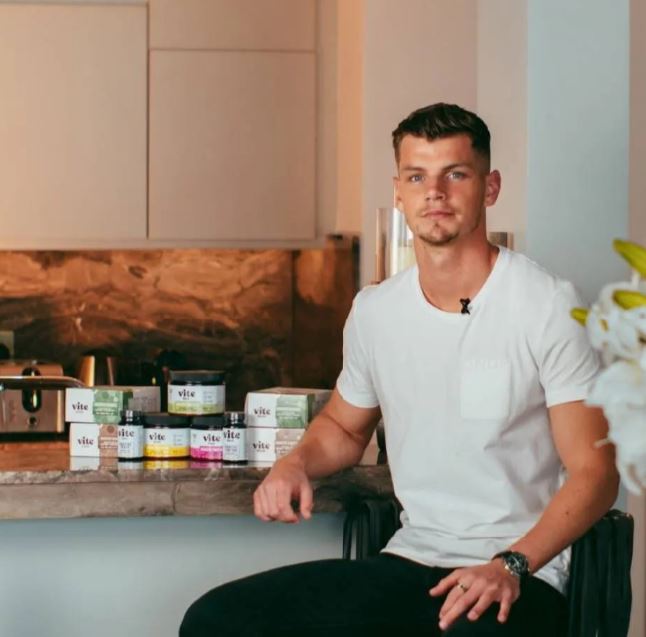 Nutritionist and Founder of Vite Naturals, Rob Thorp
More Healthista Content:
5 reasons you need to start drinking herbal tea
Feeling stressed or overwhelmed? Try this quick breathing exercise
Celebrity trainer Sarah Lindsay reveals the fitness lockdown goals we should be aiming for – ps: they aren't what you think
Stressed out? These stress-reducing foods could help
3 low carb dinner recipes that will actually fill you up
Like this article? Sign up to our newsletter to get more articles like this delivered straight to your inbox.