Celebrity trainer, Christianne Wolff shares 7 detox recipes that are filling, fast and simple – keep them up your sleeve as quick lunch or dinner staples when you're in a hurry
Courgette Noodles

Ingredients
1 courgette
Sauce
1 tsp coconut oil
1 clove of garlic, chopped finely
2 tsp basil pesto
1 tbsp fromage frais
2 tbsp of fresh or frozen peas
Salt and pepper
Lemon zest to finish
Preparation Method
1 Grate the courgette in long strokes along the grater.
2 Gently fry the courgette with the garlic. Stir in the pesto, fromage frais and
the frozen peas.
3 Stir until coated, season with salt and pepper, then take off the heat.
4 Serve on a bed of green leaves.
N.B. If you make this when you are not on a detox, you may add grated Parmesan
cheese, if liked.
Baked Sweet Potato with Spicy Asian Coleslaw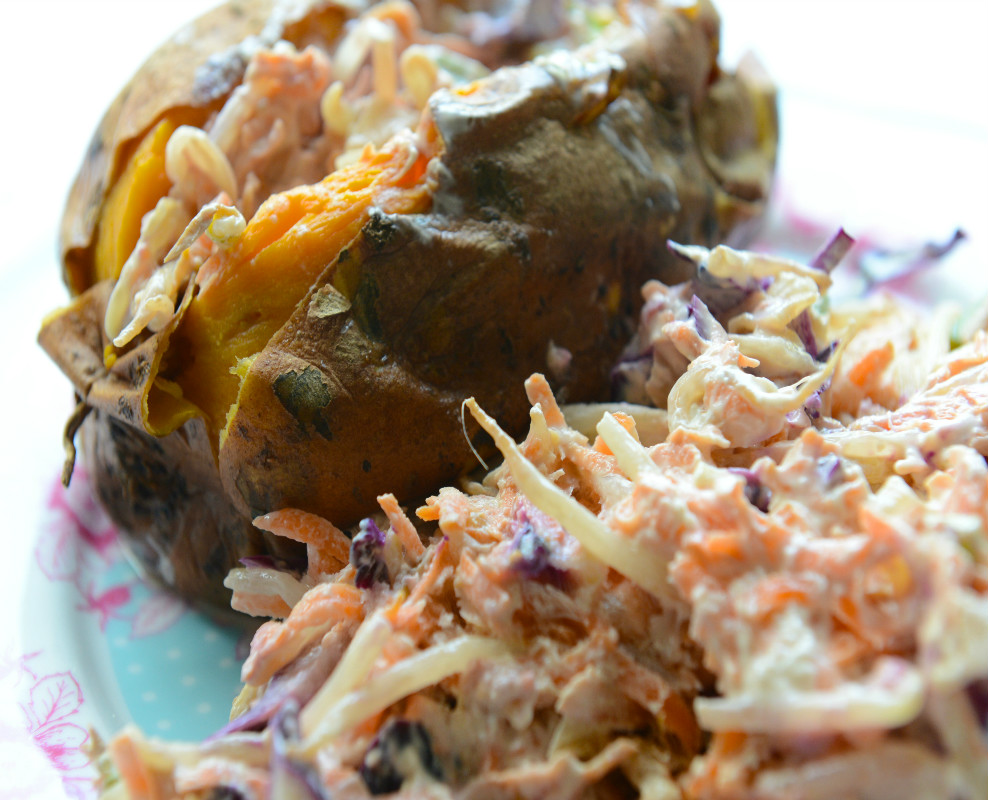 Serves 4
Ingredients
4 large sweet potatoes
¼ of a medium white cabbage, shredded
¼ of a medium red cabbage, shredded
2 large carrots, grated
3oz / 85g / 1 cup bean sprouts
4 spring onions, sliced finely at an angle
For the coleslaw dressing:
¾ pint / 425mls natural yogurt
1 tbsp wasabi paste
½ tsp grated ginger
2 tsps light soy sauce
2 tbsps water
Preparation Method
1 Scrub the sweet potatoes, prick several times with a fork, and bake in the
oven at 200°C / 390°F / gas mark 6 for about an hour, or until cooked.
2 To make the coleslaw, first thoroughly combine all the prepared vegetables in
a bowl.
3 To make the dressing, mix all the ingredients together in a separate bowl.
4 Add the dressing to the salad and mix thoroughly.
5 Cut a cross into the potato and open up the cavity. Pile in the coleslaw and
enjoy.
Egg Fried Rice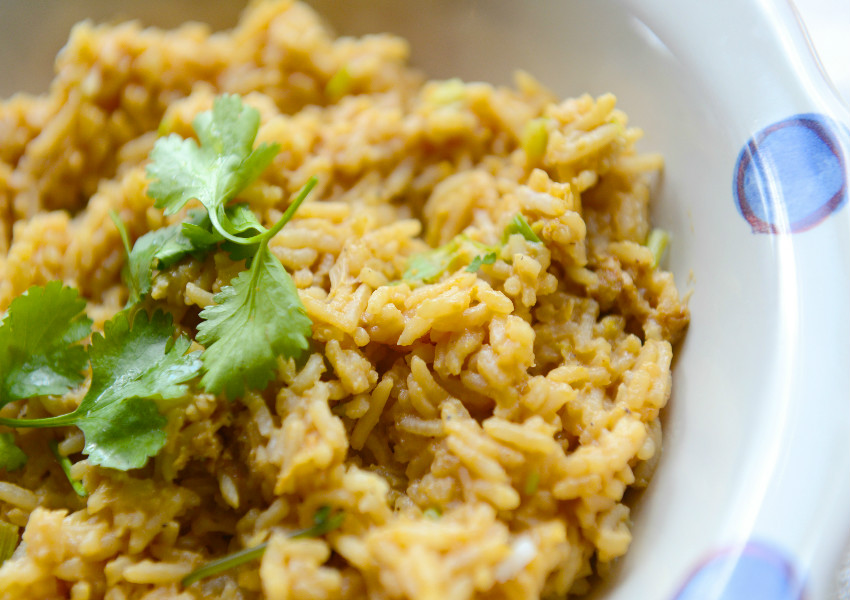 Ingredients
4fl oz / 125ml brown basmati rice
1 large egg, beaten
2 spring onions
Pinch of salt
1 tbsp oil
Preparation Method
1 Cook the rice for 15 minutes in a pan with a lid, on a low heat, without
stirring or lifting the lid.
2 Allow the rice to go cold and fluff it up with a fork.
3 Fry the onions with half the oil for 3 minutes. Add lemon juice and pepper.
4 Next add the rest of the oil to the pan with the rice and cook for 30 seconds.
5 Continue to spread the ingredients around the pan and add the beaten egg.
6 Finally, add the spring onion and soy sauce. To bulk this out I love adding
shiitake mushrooms or green vegetables, with tuna fish.
Halibut and Fennel Salad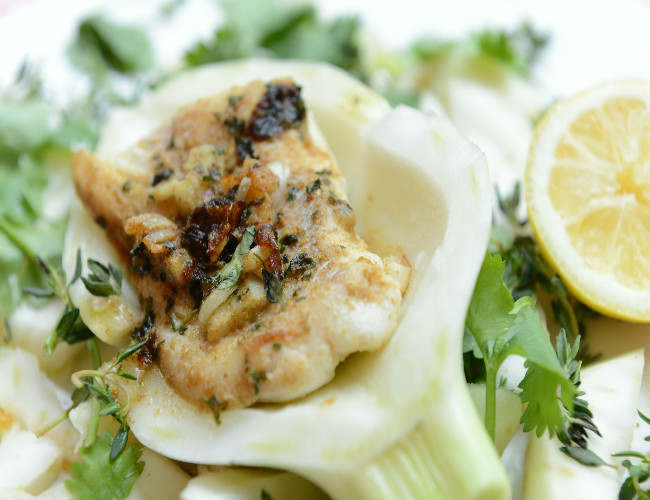 G-F / Summer / Winter
Serves 4
Ingredients
1 tsp ground coriander
½ tsp ground cumin
1 tbsp extra virgin olive oil
2 garlic cloves
4 x 6oz / 170g halibut fillets
1 tsp coconut oil
Salad ingredients
1 small fennel bulb, chopped
½ a red onion, chopped
2 tbsp fresh lemon juice
1 bunch chopped flat leaf parsley
1 handful thyme leaves
Preparation method
1 Combine coriander, cumin and oil with garlic cloves, and rub on fish.
2 Heat 1 tsp coconut oil in a pan and add fish.
3 Cook for around 5 minutes on each side.
4 Combine salad ingredients and serve with fish.
The anethole in fennel has repeatedly been shown to reduce inflammation and is also said to
help prevent the occurrence of cancer.
Quinoa Salad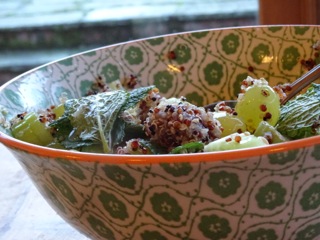 Serves 2
Ingredients
9oz / 250g / 1 cup cooked quinoa
2 celery sticks
2 spring onions
1lb / 500g / 2 cups grapes
1 lime, juiced
2 tbsp olive oil
1 handful mint
1 handful basil
Pinch of salt
Preparation method
1 Place all ingredients in a bowl and mix together for a very tasty and filling
salad.
Mediterranean Roasted Vegetables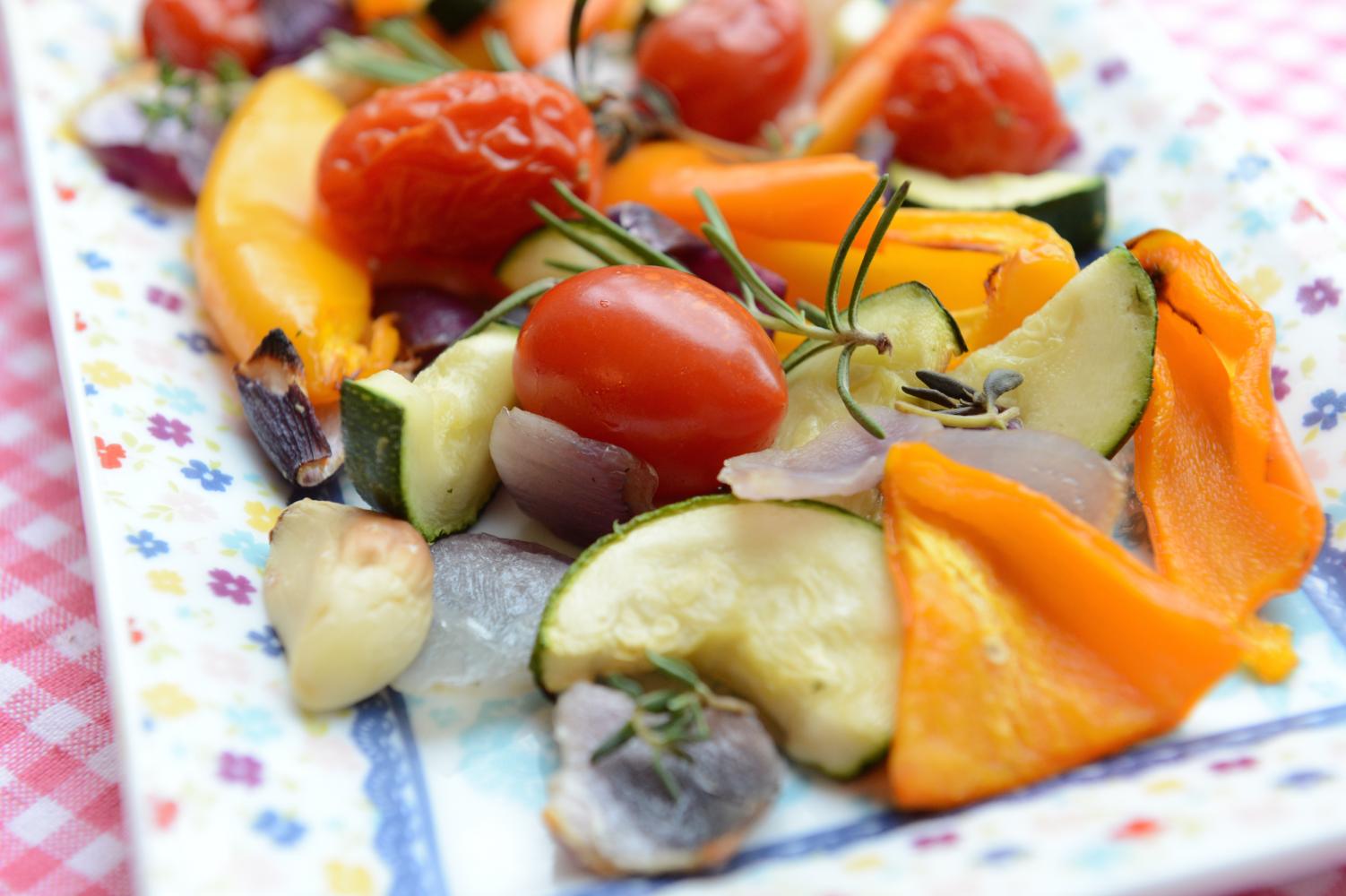 Serves 2
Ingredients
1 tray pre-prepared vegetables (Most supermarkets sell this in an oven-ready
tray, so you save on washing up, too!)
1 tbsp olive oil
Salt and freshly ground black pepper
Preparation Method
1 Add the olive oil to the tray of veg and mix thoroughly, then season.
2 Bake in the oven according to the instructions.
Scallops with Green Beans and Broccoli
Ingredients
6oz / 170g / ¾ cup green beans
1 large head broccoli, broken into florets
1 tbsp coconut oil
6-8 scallops
1 clove garlic, chopped
Juice of half a lime
Salt and freshly ground black pepper
Preparation Method
1 Put the vegetables onto steam for 5 minutes.
2 Heat the coconut oil in a frying pan and add the garlic and the scallops. Fry
the scallops for 1-2 minutes, until golden, then turn them over cook for 1-2
minutes more.
3 Transfer to plates with the vegetables. Squeeze the lime over the scallops,
season with salt and pepper, and serve immediately.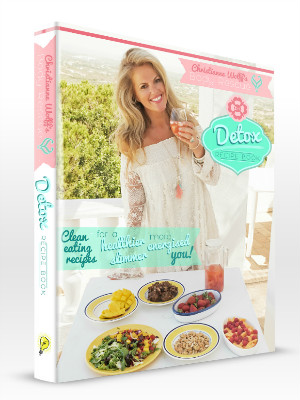 Christianne Wolff is a celebrity trainer and multi award winning author of The Body Rescue Plan and The body rescue detox recipe book, which won best healthy cookbook 2015. She also runs the membership plan on The Body Rescue Plan and owns The body rescue fitness and wellbeing centre.
Follow Christianne on twitter for more info and tips: @Christianne_W