With over 100k followers, Instagram superstar Bettina Campolucci Bordi shares mood-boosting recipes from her new book Happy Food: Fast, fresh, simple vegan
Having grown up in a multicultural home in East Africa, Bettina Campolucci Bordi, author of the book Happy Food, had the opportunity to experience a vast array of cultures through food.
Now this Instagram superstar wants to share with all of us every detail about the foods that brought so much happiness to so many moments of her life.
According to Bettina, 'Happy Food is a book for everyone! Grandmothers with newly-converted vegan granddaughters coming over for Sunday dinner, couples who want to increase their veggie intake, single people looking for a quick meal after a long day, families that have allergens but want to enjoy a meal together without compromising on comfort and taste, as well as anyone who wants to give vegan or gluten-free cooking a go.'
Here are five recipes Bettina shared with us to get you set on this incredible journey.
Mood-boosting recipe #1:
BRIGHT HEALING TURMERIC PORRIDGE & WARM BERRIES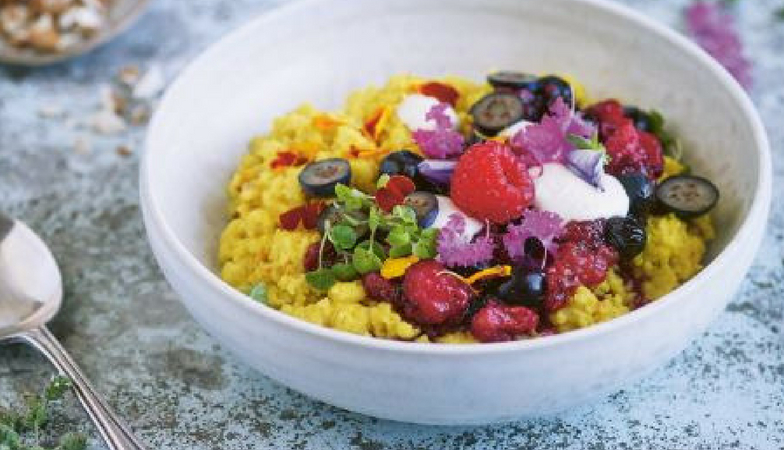 This recipe will not only boost your mood, it will also protect your body from inflammation, oxidative stress,  and blood sugar spikes. With ingredients packed full of B-vitamins, antioxidants and minerals, all of which play a crucial role in protecting the health of your nervous system, your mood is certain to be lifted after a bowl of this amazing breakfast. To maximise the mood-boosting properties of this quick and easy breakfast, choose brightly coloured berries to accompany your sunshine porridge.
Serves 2
110 g (4 oz / 1/2 cup) millet
250 ml (8 fl oz / 1 cup) water
160 ml (5 fl oz / ⅔ cup) Almond Milk or any plant milk, shopbought or home made
1 teaspoon ground turmeric
pinch of black pepper
1 teaspoon coconut oil, melted
For the warm berries
100 g (31/2 oz) each raspberries and blueberries
1 tablespoon maple syrup
1/2 vanilla pod (bean), scraped, or 1/2 teaspoon ground vanilla pod
To serve
a dollop of Coconut Yoghurt, shop-bought or home-made
chopped nuts (hazelnuts or pistachios)
micro herbs and edible flowers (optional)
Place the millet and the water in a saucepan over high heat and bring to the boil. Let it simmer for 5 minutes until the millet thickens and there is almost no water left. Add the milk, turmeric, pepper and melted coconut oil and bring to the boil. As soon as the mixture starts to boil, leave the porridge to bubble away until you get a beautiful, creamy, golden porridge.
Warm berries  While the porridge is simmering, put the berries, maple syrup and pinch of vanilla seeds or powder into a small saucepan and gently heat. Cook until the berries begin to soften, then mash some of the berries until you get a lovely sauce, leaving a few berries whole.
Ladle the porridge into the bowls, add a helping of warm berries, a dollop of coconut yoghurt and sprinkle with chopped nuts – my favourite for this porridge is pistachios but any will do – and some micro herbs and edible flowers, if using.
Tip  This recipe can easily be made in a larger quantity and reheated with a splash of plant milk
Mood-boosting recipe #2:
GARLIC & ONION FRIED RICE, FRESH SAMBAL & MASHED AVOCADO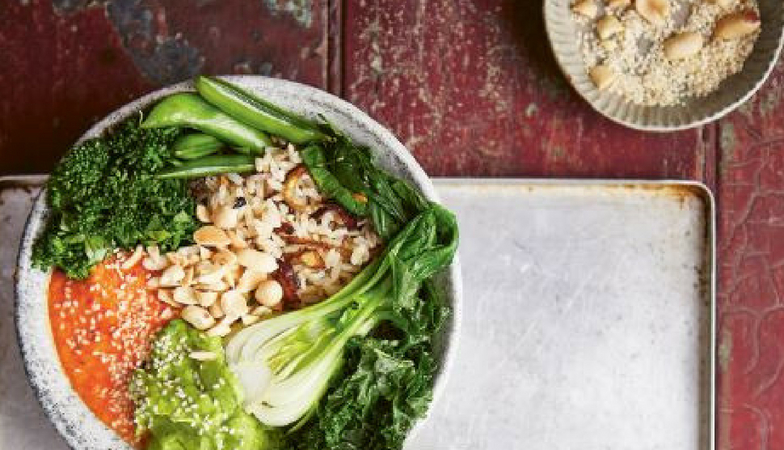 All the endorphin-promoting spices, magnesium-rich dark-green vegetables and potassium and omega-3 packed avocado in this recipe will get you smiling all day long after the way through this super healthy, super yummy bowl of delicious goodness.
Serves 2
440 g (1 lb / 2 cups) brown rice
1 tablespoon coconut oil, for frying
2 garlic cloves, peeled and sliced
2 shallots, sliced
For the sambal (makes one 200 g / 7 oz jar)
1 red Thai chilli
1/2 shallot
1 medjool date, stoned (pitted)
1/2 tablespoon salt
2 tablespoons grated fresh root ginger
1 garlic clove, peeled
1 tomato, deseeded and chopped
1/2 red (bell) pepper, deseeded and roughly chopped
1 tablespoon apple cider vinegar
squeeze of lime juice
60 ml (2 fl oz / 1/4 cup) olive oil
For the sides
handful of tenderstem broccoli (broccolini)
handful of kale
a couple of pak choi (bok choy)
1 avocado, mashed until smooth
To serve
sesame seeds
peanuts
baby spinach
lime wedges
Cook the rice following the packet instructions. Drain.
Sambal Put all the sambal ingredients into a food processor and blitz until you get a sauce-like consistency. Pour into a jar or an airtight container that can easily be stored in the fridge. (This will keep for over a week in the fridge.)
Bring a medium saucepan of water to a boil and blanch the broccoli stems, kale and pak choi for a few minutes, remove with a slotted spoon and set aside on kitchen paper (paper towel).
Heat a large pan over medium heat and add the coconut oil, garlic and shallots and fry until golden brown. Add the cooked rice and stir-fry until all the ingredients are well combined and rice is slightly golden.
Divide between 2 bowls and top with a handful of the broccoli and kale and a dollop of avocado. Serve with a good dollop of fresh and zingy sambal and a sprinkling of sesame seeds.
I love my bowl with an extra helping of baby spinach for added greens and a lime wedge for zing.
Tip Everything except for the mashed avocado can be frozen.
Mood-boosting recipe #3:
HAZELNUT CRUST PIZZA & PEPPERY ROCKET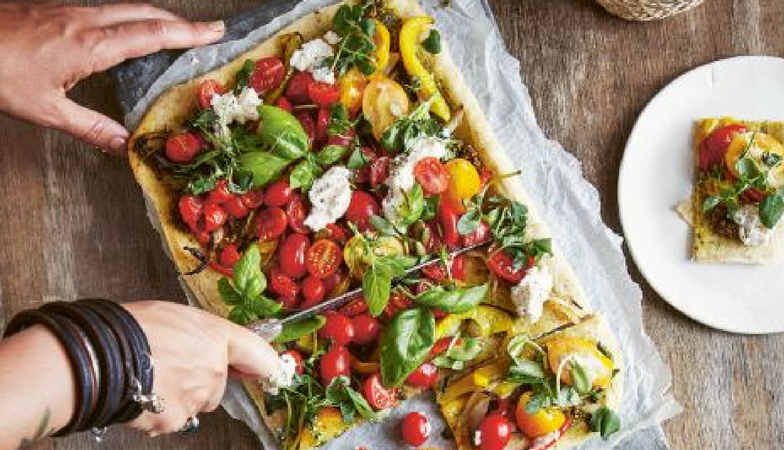 Who knew that pizza could be both mood-lifting! Calorie-, fat- and carbohydrate-heavy pizzas are well-reputed to drag your mood right down after a short-lived spike. Those days are GONE! Satiate your pizza-cravings with this booster pizza, full of healthy fats, vitamins and minerals that will keep you heart and brain happy
Serves 2–4
For the pizza base
210 g (71/2 oz / 11/2 cups) Gluten-free Flour Mix (see below)
30 g (1 oz / 1/4 cup) hazelnuts, ground in a coffee grinder or food processor
375 ml (13 fl oz / 11/2 cups) water
1/2 teaspoon bicarbonate of soda (baking soda)
1/2 teaspoon salt
2 tablespoons olive oil, plus extra for greasing
For the toppings
4 tablespoons Pumpkin Seed Pesto (see below)
1 red onion, sliced
25 g (1 oz / 1/4 cup) chopped sundried tomatoes
a handful of cherry tomatoes, halved
1/2 red (bell) pepper, sliced
1/2 yellow (bell) pepper, sliced
pink Himalayan salt and black pepper, to taste
To serve
basil
rocket (arugula)
drizzle of olive oil
micro herbs (optional)
Macadamia Ricotta (see below), optional, but recommended for
special occasions
Pizza base
Preheat the oven to 200ºC (400ºF/Gas 6). Add all the pizza base ingredients to a bowl and mix well.
The mixture will be quite runny, almost like a cake batter. Don't worry, it's meant to be that way.
Line a baking tray (baking sheet) with greaseproof paper (wax paper) and drizzle a very small amount of olive oil on the bottom. Pour the pizza batter into the tray and make sure you have a thin, even layer.
Topping
Cook in the oven for 15 minutes until the the dough has solidified. Once it has, take it out of the oven and it's ready to be pimped up with toppings. I love this base with a layer of the pumpkin seed pesto and scatterings of red onion, sundried tomato, cherry tomatoes and peppers. Add your toppings and put the pizza back in the oven for another 15 minutes until it reaches the desired crispness.
Just before serving, scatter a good helping of basil, rocket and extra drizzle of olive oil and salt and pepper.
If you have some macadamia ricotta ready-made, add some nice dollops of it on top, too.
Tip You can pre-make the pizza base. Get to the stage where you cooked the base in the oven, then wrap it up in greaseproof paper (wax paper) or cling film (plastic wrap) and freeze until you need it. All you need to do when you feel like pizza is top it off with your favourite toppings and pop it into the oven!
Mood-boosting recipe #4:
TOMATO, SPICY ROCKET, WATERMELON & FETA SALAD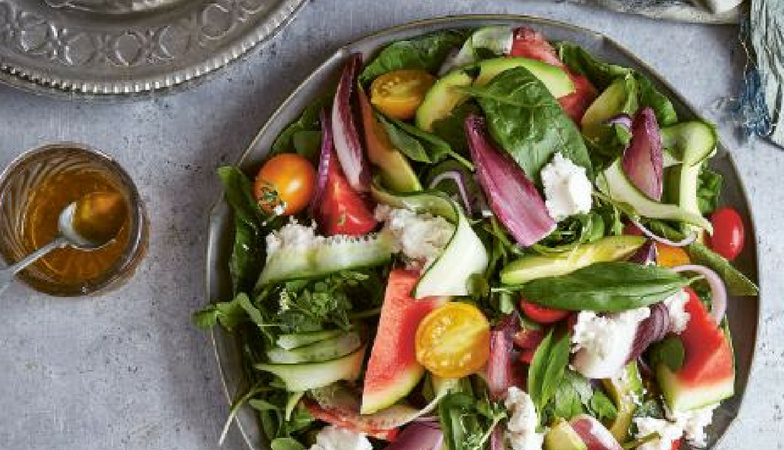 This summery rainbow-coloured salad is full of neuro- and cardio-protective minerals and nutrients to help keep your heart strong while your brain smiles
Serves 6
For the salad base
2 baby gem lettuces
1 small purple endive or chicory
handful of diced watermelon
1/4 red onion, sliced
1 avocado, sliced
1 cucumber, ribboned
handful of cherry tomatoes, halved
handful of watercress
handful or rocket (arugula)
handful of basil
To serve
Macadamia Ricotta (see below)
Big Batch Dressing (see below)
Either use the macademia nut cheese straight away as a soft, ricotta-type cheese or make the compressed feta, which will take more effort and time, but it's worth it! To ferment, add 1/2 tablespoon salt to the cheese mix and put the cheese into a nut milk bag – you can buy one of these in a health food store or online.
Place the bag with the cheese in a sieve on top of a bowl and add a heavy weight on top – perhaps a full jam jar, or anything that will apply a bit of weight to get rid of the excess liquid.
Put the cheese in the fridge for 24 hours to 'age'.
When you are ready to serve, add all the salad ingredients to a beautiful bowl (remember, you feast with your eyes first) and arrange attractively.
Finally, add the macadamia cheese either in dollops (the lazy version) or in chunks (the timeconsuming, eager version), and serve with the dressing on the side. Either way, this salad will taste refreshing, zingy and herby.
Tip The feta is freezable.
Mood-boosting recipe #5
VEGAN STICKY TOFFEE PUDDING
Who would have thought that sticky toffee pudding could be scrumptious and healthy and vegan? Full of power-packed energy bombs that will keep you on your toes, this date-y desert is full of minerals and nutrients that promote the health of your heart and nervous system
Serves 6
250 ml (81/2 fl oz / 1 cup) Almond Milk or plant milk, shop-bought or home-made
300 g (101/2 oz / 2 cups) medjool dates, stoned (pitted)
80 g (3 oz / 1/2 cup) coconut sugar
125 ml (4 fl oz / 1/2 cup) coconut oil
1 teaspoon bicarbonate of soda (baking soda)
95 g (31/2 oz / 3/4 cup) Gluten-free Flour Mix
1 vanilla pod (bean), seeds scraped
1 teaspoon ground cinnamon
1/2 teaspoon ground cardamom
1/2 teaspoon ground clove
pinch of pink Himalayan salt
For the sticky toffee sauce
140 g (5 oz / 1 cup) coconut sugar
250 ml (81/2 fl oz / 1 cup) coconut milk
1/2 teaspoon salt
To serve
Vanilla Custard (see below)
Preheat the oven to 190ºC (375ºF/Gas 5). Line a 20 cm (8 ins) square cake tin (pan) with greaseproof paper (wax paper) or use a good-quality silicone mould.
Start with the pudding. In a small saucepan gently heat the milk and dates for 5–10 minutes until the dates have softened. Once softened, set aside.
In a blender, blitz the coconut sugar and coconut oil until the sugar has mostly disintegrated. Add the bicarbonate of soda to the milk and date mix – it will start to fizz and bubble, but that is okay.
In a bowl, combine the flour, vanilla, spices, pinch of salt, coconut oil and sugar mix along with the dates and milk mixture and give everything a good stir.
Pour into the cake tin (pan) and bake in the oven for 30 minutes.
While the pudding is cooking, make the sauce. Heat a pan over medium heat, add the coconut sugar and coconut milk and let it heat through.
Add the salt and bring to a boil, then reduce to a simmer and let it simmer for 20 minutes until the caramel has thickened. Stir it occasionally to make sure it doesn't burn. A great way of knowing if it's ready is to see if it sticks to the back of your spoon.
Stir in a little more salt if desired and either use it straightaway or let it cool down before storing in a glass jar – it will become even thicker as it cools.
Once the cake is done, transfer to a wire rack to cool and enjoy with a home made custard and a drizzle of sticky toffee sauce.
Tip The cake, custard and toffee sauce all last for a long time in the fridge – well, that is, if you can keep your hands off them! – or freezer.
RECIPES FOR EXTRAS ON THE SIDE
PUMPKIN SEED PESTO
Pesto is one of my favourite fridge staples – it lasts forever, tastes good on anything and is super easy to make. This particular recipe is made with pumpkin seeds and was developed for clients with nut allergies. Personally,
Makes 1 x 250 g (9 oz) jar
250 ml (81/2 fl oz / 1 cup) olive oil, plus extra for sealing
120 g (4 oz / 1 cup) pumpkin seeds
bunch of basil (30 g / 1 oz)
1 garlic clove, peeled
1/2 tablespoon each salt and black pepper
Simply add all the ingredients to a blender and blitz until you have a lovely pesto.
You can choose to blend until smooth or to a chunkier consistency, if you prefer.
Tip The fantastic thing about this recipe is that it will keep in the fridge for at least 2 weeks. When you put it into a clean storage jar, make sure you cover the top of the mixture with a good layer of oil, as it serves as a natural preservative. One centimetre (1/2 in) above the pesto is more than enough
BIG BATCH DRESSING
Vegetables in general can be pretty boring, but I can tell you that a good dressing works wonders. And a tangy, tasty dressing that is available in your fridge at any given time is even better. This is a fantastic base that can be pimped up with different add-ins once one version becomes boring.
Makes 1 x 500 g (1 lb 2 oz) jar
250 ml (8 fl oz / 1 cup) olive oil
80 ml (21/2 fl oz / 1/3 cup) apple cider vinegar
1/2 tablespoon salt
1 tablespoon Dijon mustard
1 tablespoon maple syrup
pepper, to taste
Add-ins
dill
shallots
red onion
sesame seeds
chives
Get a small glass jar, add all the ingredients and give it a good shake. This dressing will last for up to a week in the fridge and you can pimp it up with alternative add-ins when you want to perk up the basic flavour!
Tip I love using recycled jars for this kind of thing. The perfect fridge staple – trust me!
VANILLA CUSTARD
I grew up loving custard, it was one of my staple foods as a child. This lovely recipe is a great alternative and a fantastic base for several sweet treats.
Makes 500 ml (17 fl oz / 2 cups),
serves 4
2 tablespoons very fine cornflour (cornstarch), such as Maizena
500 ml (17 fl oz / 2 cups) coconut milk (preferably from a Tetra Pak that is consistently creamy and doesn't separate)
3 tablespoons maple syrup
1 whole vanilla pod (bean), scraped
Blend the cornflour with a little bit of of the coconut milk in a medium pan over a medium heat, whisking until you have an even consistency. Then add the rest of the ingredients including the scraped vanilla pod – there is still a lot of goodness there – whisking until the cornflour and vanilla are fully incorporated into the coconut milk.
Whisk until the custard starts to thicken and then, as soon as the mixture begins to boil, take it off the heat and let it cool
GLUTEN-FREE FLOUR MIX
Many shop-bought gluten-free flour mixes can be unpredictable. Make a double batch of this and you will thank me later. It is not only practical but, more importantly, it works a treat!
Makes 900 g (2 lb) flour
210 g (71/2 oz / 11/3 cups) brown rice flour
140 g (5 oz / 1 cup) buckwheat flour
70 g (21/2 oz / 1/2 cup) white rice flour
40 g (11/2 oz / 1/2 cup) oat flour
40 g (11/2 oz / 1/4 cup) potato starch/flour
40 g (11/2 oz / 1/2 cup) tapioca flour
Mix all the flours together and store in an airtight container.
MACADAMIA RICOTTA
Creamy, indulgent and the closest you are ever going to get taste-wise to a ricotta cheese. Once made it lasts for a good week.
It is really versatile because there are endless flavour options and it can be used in many different recipes throughout this book.
Makes 1 x 500 g (1 lb 2 oz) jar
280 g (10 oz / 2 cups) macadamia nuts
160 ml (5 fl oz / 2/3 cup) water
1/2 probiotic capsule
pinch of salt
Start by soaking the macadamia nuts for 2 hours by putting them in a bowl and covering with water.
Drain the nuts and tip them into a blender along with the water and probiotic and blitz until you get a smooth texture. As this is a ricotta-style cheese the texture can be slightly bitty, which I personally love. If you are doing this in a high-speed blender, make sure not to overheat the mixture as this will kill off the probiotics. Once blended, transfer to a clean glass or plastic container. Do not use a metal one as the mixture won't ferment. Leave the container outside the fridge for 24 hours with a tea towel or muslin cloth (cheesecloth) on top so that the mixture can breathe.
After 24 hours your mixture will be slightly fizzy and bubbly. Place a proper top on and leave in the fridge until you need it. It will last for up to 7 days in the fridge.
Tip This is a great fridge basic. Dairy is the hardest food group to replace both taste-wise and on a comfort level. Many of my clients suffer from dairy intolerances and this has been a lifesaver in terms of being able to add some comfort back into your diet.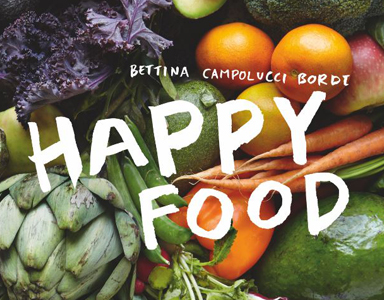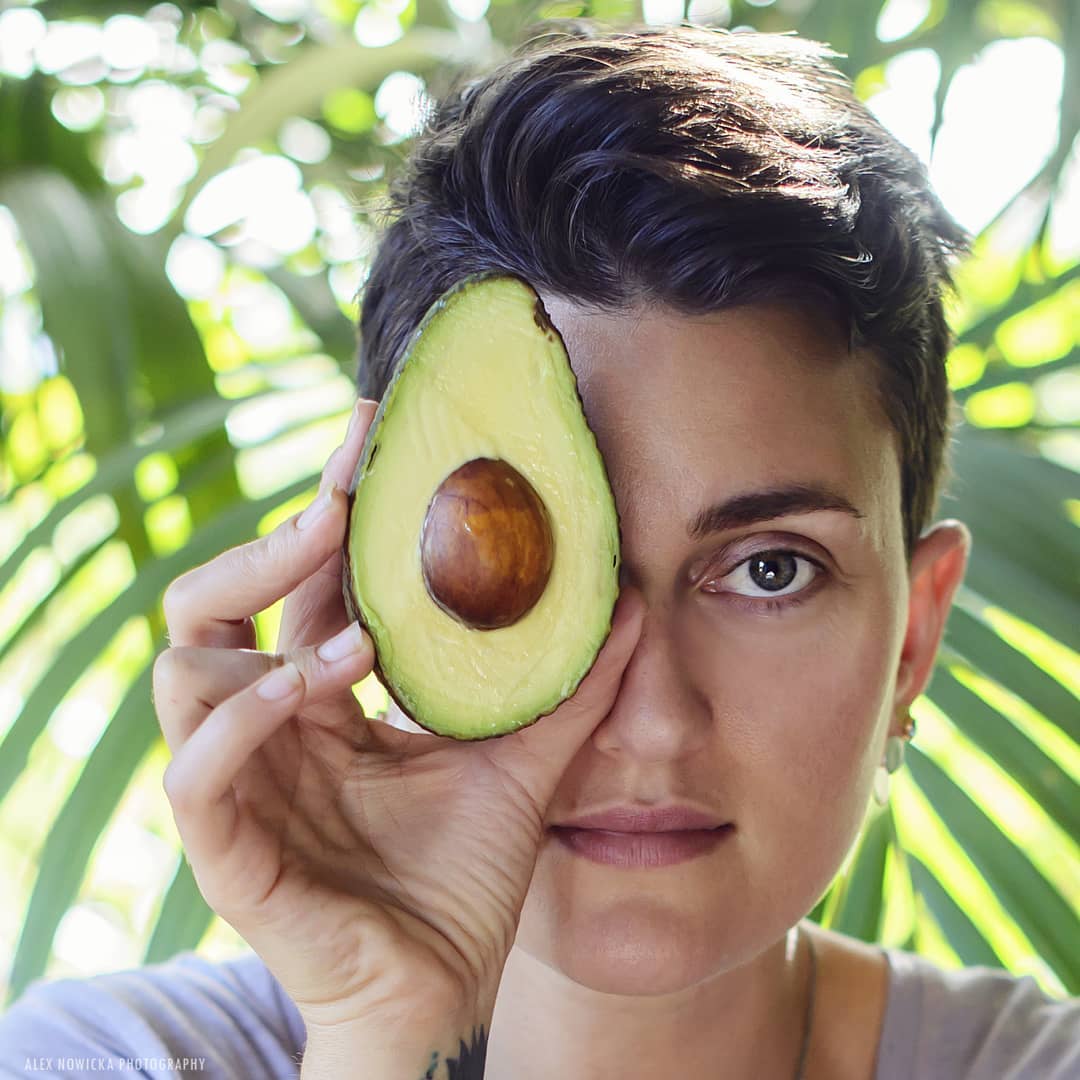 Bettina Campolucci Bordi is author of Happy Food: Fast, fresh, simple vegan
Related Healthista content:
Got insomnia? These 11 foods are proven to help you sleep
25 surprising ways to improve your brain health
The 30-second happiness trick you can do right now
Like this article? Sign up to our newsletter to get more articles like this delivered straight to your inbox.