The Healthista Xmas gift guide is here and boy is it exciting. From smart watches to bath oils, here are a whopping 42 healthy gifts your friends, family (and you) will love this Christmas
We are moments away from the first day of December and less than a month away from Christmas.
But not to worry, everyone can step away from their Xmas shopping panic stations pronto.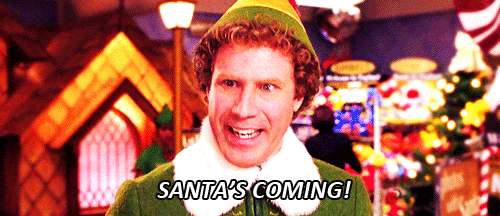 Healthista are here to save the day with Christmas gifts that will make even the Scroogiest family member crack a smile and that unbelievably hard to buy for friend will be singing your gift giving praises for days.
From fitness must-have smart watches to pamper-yourself bath oils, we have rounded up just about the biggest gift guide we have ever had – you're bound to find some Xmas pressie inspiration here. Good luck!
Christmas must-haves for gadget lovers
Behold, the most advanced Kindle yet, the all-new Kindle Oasis. Self-care Sunday of reading in the bath just got a whole lot better.
With their largest ever 7-inch display the new Kindle also includes page turning buttons that make it perfect for one hand reading.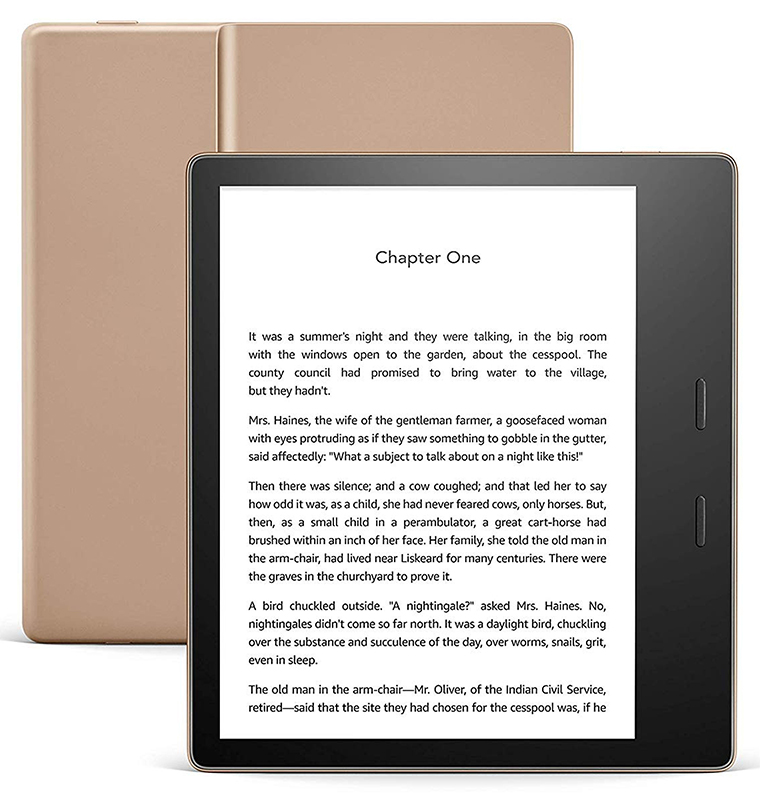 If you are a Kindle fan, your old Kindle may have something to worry about, because you are seriously going to want to get your hands on one of these golden beauties.
Oh and I forgot to mention the new feature – they have introduced an adjustable warm light setting that can change from white to amber.
So say goodbye to harsh bright lights when you are trying to read at night and hello to warmer lighting that won't strain your eyes.
Kindle Oasis also has an adaptive front light that automatically adjusts the brightness of your screen based on your lighting conditions.
And of course the absolutely necessary waterproof feature is still included. The Kindle Oasis is built to withstand getting splashed at the beach when you jet off for some Winter sun or dropped into the bath, hot tub or pool and can survive up to two metres of fresh water for up to 60 minutes.
This is a present that anyone would want to open this Christmas.
Available to buy on Amazon. 
Know a career woman whose phone is always running out of battery? Or does that describe you as well?
Discover the latest in portable power from Ted Baker, with the launch of these new wireless charging banks – and wow they look amazing.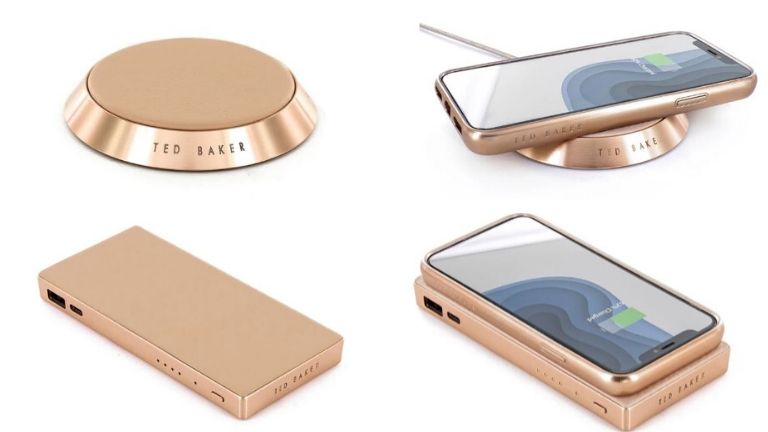 Ted ensures the best-dressed desk with his new wireless desk charger.
The Connected collection will help you stay fully charged on the move. In rose gold and rich taupe, the stylish pebble-grain leather and brushed aluminium design will look amazing on any desk or in a bag.
OK so we know everyone has camera phones these days but sometimes old-school is better. I mean just look at how cool this instant print camera is…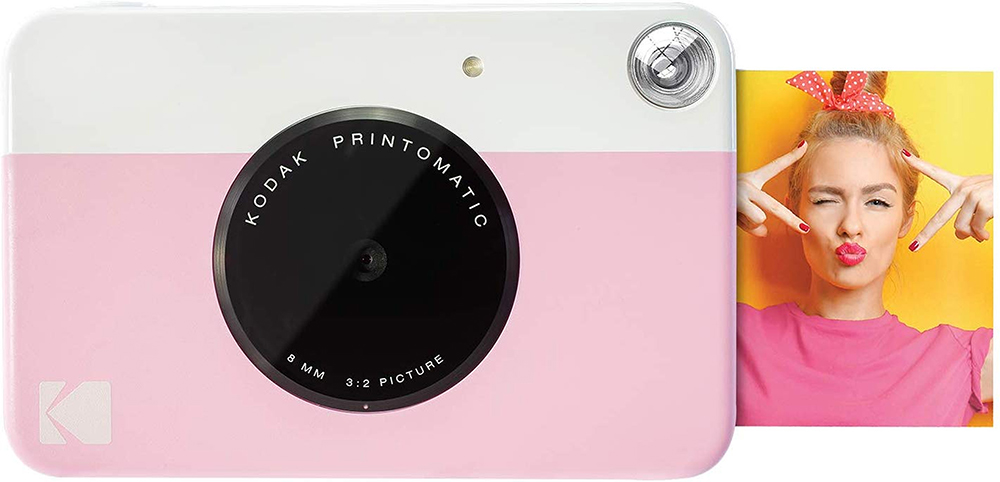 Forget computers. Forget cumbersome printers.
This cute little camera is a 10-megapixel, and offers a combination of a powerful sensor with a wide angle lens that instantly and automatically prints high quality colour or black and white photos directly from the camera itself – seriously how cool is that?
The camera uses Kodak Zink Photo Paper, so no ink cartridges, toners or film are needed. The photo prints are durable, water-resistant, tear resistant, smudge free and adhesive-backed.
Oh and it's also pretty compact so you can take it to all your Christmas events, as it will slip into your shirt pocket or bag – your selfie game has never been so strong.
Available to buy on Amazon. 
Portable speakers have been around for a while, but that hasn't meant they are any less popular, especially as a gift.
This Urbanista Sydney pocket size portable speaker isn't only adorable to look at (because it literally looks like a mini speaker) but has such an amazing sound quality for such a small speaker.
If you buy two, you can even stereo pair the two of them together for more of a surround sound.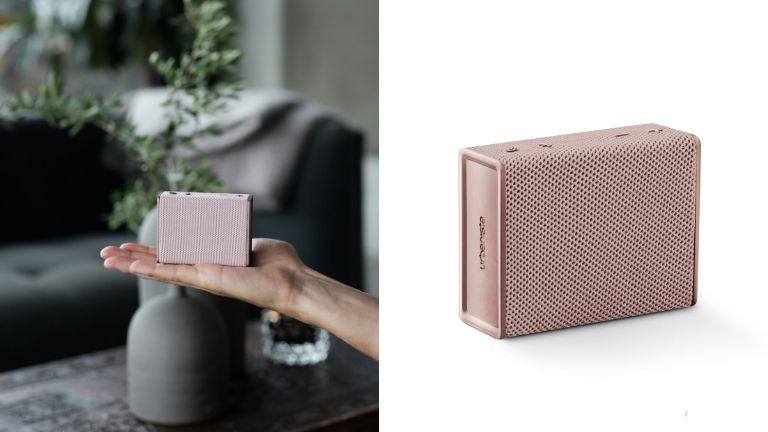 Perfect for your room, the beach, the park, festivals, it's also water resistant and small enough to be taken anywhere and everywhere.
They come in four vibrant shades and you can control the volume from the device as well as skipping songs. Oh and you can even connect to Siri on your iPhone.
Urbanista Sydney will make a great Xmas present and a wonderful travel buddy.
Smart watches are the ultimate Christmas gift
Smart watches and fitness trackers are still a big deal, and with good reason – they're getting smarter.
The Polar Ignite is a smart-looking smart watch that offers you a complete view of your daily activities, from walking up the stairs to how well you have (or haven't) slept, even down to the exact amount of hours.
Oh and this clever device knows exactly how many calories you've burned in a day, based on your weight, height, age, gender, your individual maximum heart rate and how hard you have trained.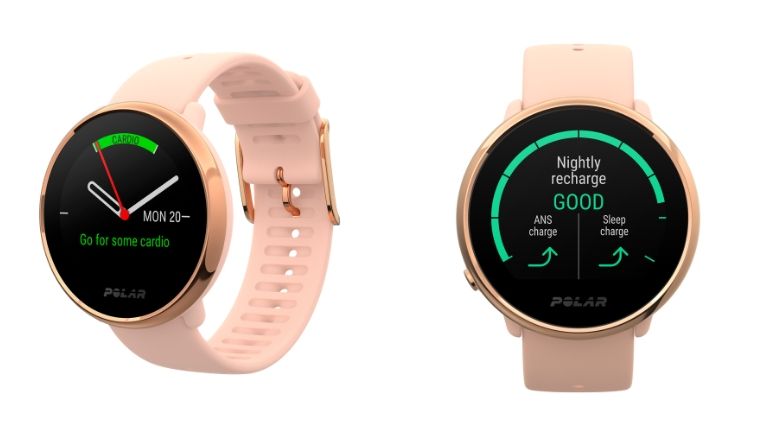 The smart fitness watch is also waterproof with an advanced wrist-based heart rate monitor and integrated GPS that can help you track your speed, distance and route when running or cycling.
One stand out feature is the group exercise tracker – which I myself have used plenty of times. During your group fitness classes, be that HIIT, spin or a weight-training class, you can track your heart rate find out how many calories you burned and see a summary of your workout afterwards.
Think of this clever watch as your workout partner, that can help you to reach your full potential while pushing you to your limits on a daily basis.
Polar Ignite's lightweight design is optimised for 24/7 use. You can wear it around the clock and it blends well with both your workday look and your training get up.
So treat yourself or a fitness fanatic to this top notch smart watch – ha that rhymed!
Oh look another smart watch, because of course a Christmas gift guide wouldn't be complete without a Fitbit – they are everybody's FAVE.
This year the new Fitbit kid on the block is the Versa 2. A premium, voice-enabled lifestyle smartwatch packed with even more advanced health, fitness and convenience features than ever before.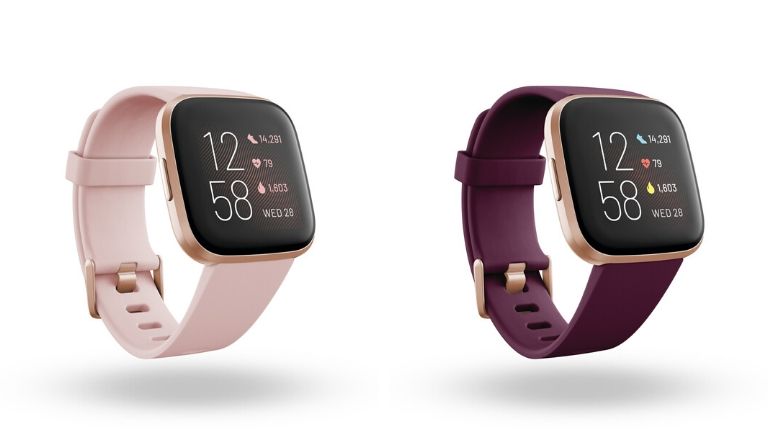 With over five days of battery life, the Versa 2 makes it easier than ever to stay motivated and on track with your fitness goals.
The smartwatch provides innovative sleep features, built-in Amazon Alexa, Fitbit pay, Spotify, smartphone notifications, on screen workouts, female health tracking and plenty more.
You can track your heart rate around the clock with 24/7 heart rate tracking, as well as a step counter, distance GPS tracker, calories burned, floors climbed, active minutes, hourly activity and stationary time.
Is there anything this smart watch can't do?
The design is both water resistant up to 50 metres and has a super-light aluminium case, making it comfortable enough to wear all day and at night.
Don't just buy this for a friend, put it on your Christmas list too.
After seeing and then reading about it this watch it simply had to be included in our Xmas gift guide – look at it!
This is a smart watch for those who still want a normal-looking watch. But here's the thing, it still does everything a fitness watch does… maybe even more.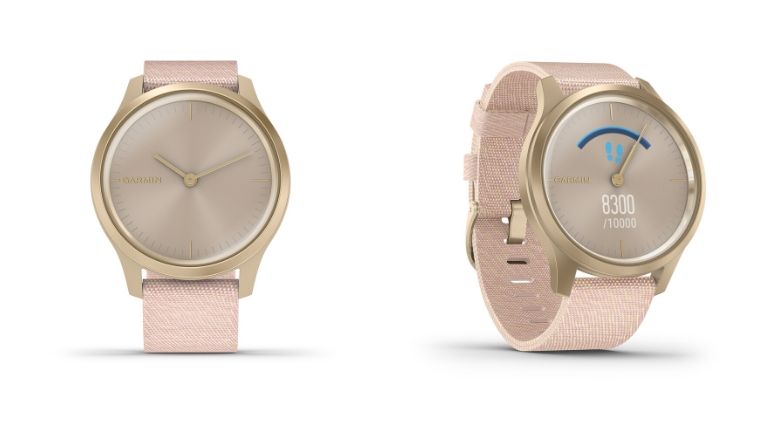 Combining the traditional look of a stylish analog watch with essential smart health and fitness features, you're going to need this watch to keep up with your busy lifestyle.
The display only appears when you need it to. The screen looks like a normal watch face until you tap or swipe to reveal the hidden touchscreen display.
You get your texts straight to your wrist, track your outdoor walks and steps with connected GPS, access a timer and stopwatch, monitor your heart rate, get a full picture of how you are sleeping with a breakdown of your light, deep and REM sleep stages and for the women, you can track you cycle and log physical and emotional symptoms.
But my favourite part? This smart watch helps you to track your stress levels, telling you if you're having a calm, balanced or stressful day – mind blown. Relax reminders will even prompt you to do a short breathing activity when you're feeling particularly stressed.
With up to five days of battery life, the Gramin vívomove 3S features a silicone band and stainless steel bezel, making it perfect for work and weekend attire and is comfortable to wear to bed.
Available in a variety of colours.
Headphones are no longer a luxury – they are an essential
Along with smart watches, another trend that will seemingly never die is the headphone trend – and like smart watches, there sure are a lot out there to choose from.
We particularly like these headphones from the Danish icons of sound, Bang & Olufsen, third generation wireless noise cancelling Beoplay H9 headphones.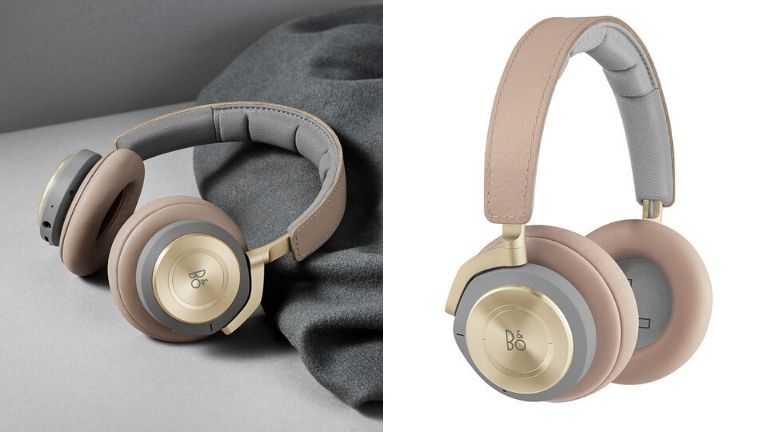 These new ear candy must-haves come in an over-ear style crafted in light-weight materials.
The headband is built up around a solid yet lightweight aluminium frame, covered with stitched cowhide leather, and underneath the soft lambskin coated ear cushion is adaptive memory foam that molds to the shape and curve of the ear for comfort and breath-ability – talk about luxury headphones.
Whether you are buying these for a friend or for yourself, be sure to tell them that everyone in the gym will probably stare…
Available in black and argilla bright.
OK we're obsessed. The new Adidas wireless headphones have arrived and boy are they amazing.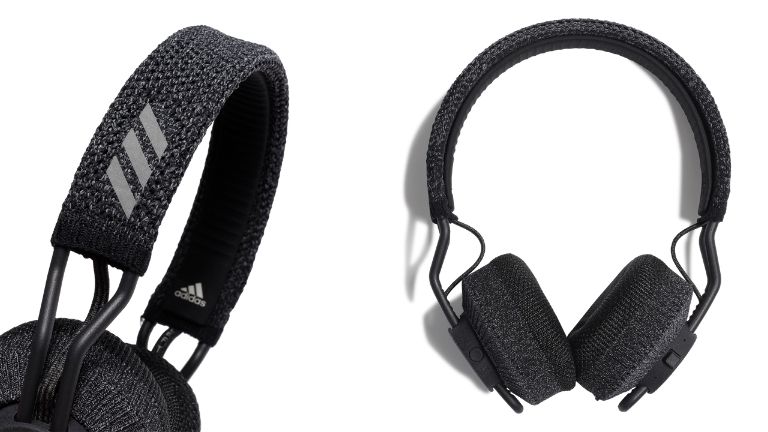 These over-ear RPT-01 headphones are fully equipped to meet the demands of your workout. They are also sweat-proof with removable, washable knitted ear cushions and simple controls – what more could you want from a pair of headphones?
Deemed lightweight and burpee proof – they literally will not fall of your head no matter what exercise you do. Oh and they have 40 hours of battery life until needing to be charged again.
These will make the perfect gift for your friends and family, or just treat yourself…
If on-ear headphones aren't your style and you prefer a more subtle 'earpods look', Bang & Olufsen have the perfect set for you.
Beoplay E8 Motions are designed for those who don't want to compromise sound and design for true wireless freedom. The headphones are truly and totally wireless.
The stylish white earphones come with a white leather and aluminium charging case and a range of frosted silicone fins for a better fit and protection.
As a perfect companion, the Beoplay Charging Pad now comes in white with aluminium details to match.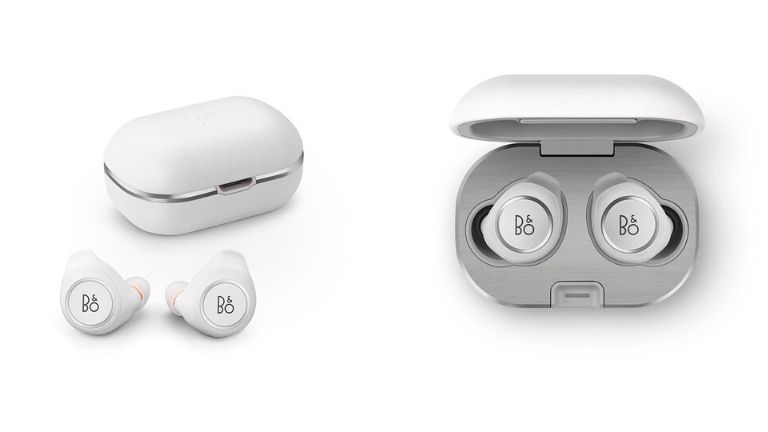 Top Christmas gifts for beauty lovers
Hair style gadgets always feature on Christmas lists. Especially when it's a fabulous brand like Cloud Nine.
The Original Iron Giftset is everything you need to achieve the best hair yet, or just the best hair this Christmas at least.
And this year, the multi award-winning Original Iron has been given a festive twist with limited edition rose gold detailing.
Oh and because its Christmas, Cloud Nine are giving you the chance to make your Iron extra special with their personalised monogramming service – fancy or what?
Not only will you get the multi award-winning Original Iron finished with rose gold detailing, but it will also come in a luxury gift box that includes a tortoiseshell, wide-toothed texture comb and a black, silken heat-resistant style case.
With innovative Variable Temperature Control, you can choose from 7 heat settings (from 100oC to 200oC) to minimise heat damage and maximise your style.
Plus, with mineral-infused ceramic plates, the Original Iron is designed to lock in moisture and seal the hair cuticle, gliding through hair effortlessly, leaving your hair feeling conditioned and cared for with minimal damage.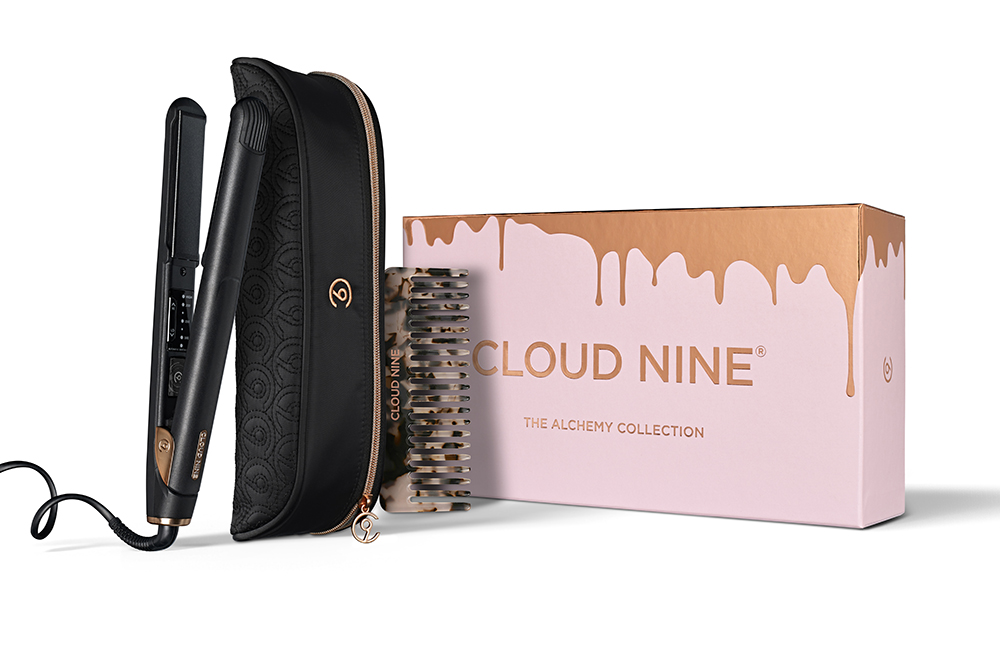 What's in the box?
Limited Edition Rose Gold Original Iron
Rose Gold Luxury Carry Case (worth £25) FREE
Luxury Texture Comb (worth £27) FREE
Protective Heat Guard FREE
The ultimate gadget in beauty – the Luna mini cleansing device also acts as a facial massager – bliss. We wouldn't be surprised if this was at the top of everyone's Christmas list this year.
The new Luna mini 3 is an upgraded facial cleansing massager with twelve adjustable massage intensities and a dual cleansing surface.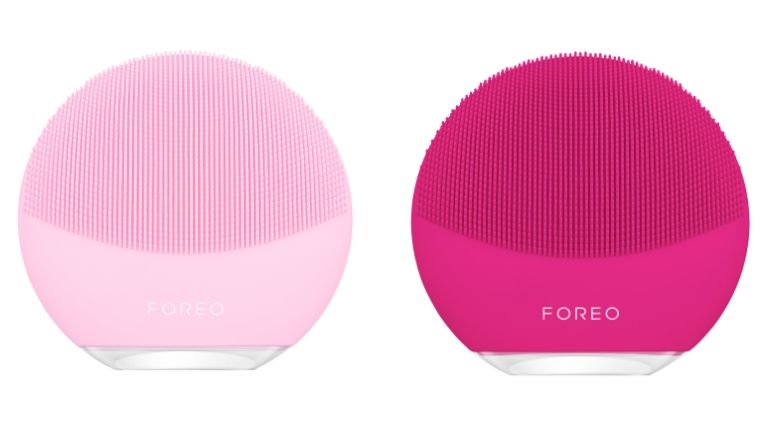 The new Swedish design features a larger brush head and improved sonic power that can reach deeper into the pores to remove 99.5 per cent of oil, dirt, sebum, sweat and dead skin cells to reveal a brighter, more radiant complexion – just in time for that New Year party.
Sonic waves are sound waves. They vibrate really fast and when these waves are directed into your skin, they extend deep into your pores to gently shake loose dirt and make up residue that wash cloths and non sonic face brushes can't reach.
Sonic waves also increase circulation, exfoliate the skin without pulling on it and improve detoxification by stimulating your skin at the cellular level.
The Luna mini 3 sends 8,000 T-Sonic pulsations per minute into your pores for a thorough deep cleanse.
Available in a variety of bright and vibrant colours, the LUNA mini 3 is lightweight, 100% waterproof and one single charge will offer up to 400 uses.
The new LUNA mini 3 is available from Harrods, Selfridges, Space NK and Cult Beauty.
For those who love a beauty and self-care gift wrapped into one, this may be the prezzie for them.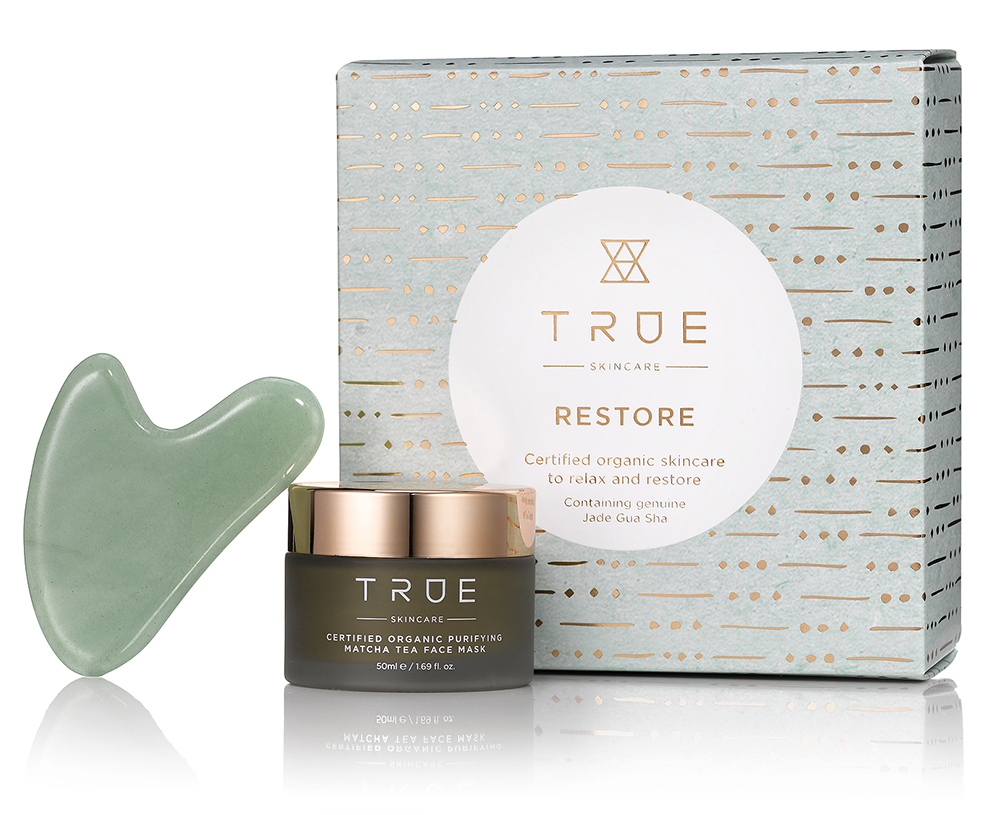 This TRUE skincare restore collection is guaranteed to provide the owner with radiant skin this Christmas and New Year and is inspired by the symbolism of the gemstones.
Harness your positive energy whilst achieving glowing skin with the perfect relaxation duo: an Organic Purifying Matcha Tea Face Mask (50ml) and genuine Jade Gua Sha massaging tool.
Gua Sha massage is used traditionally in China with a jade beauty tool for anti-ageing.
If done regularly, these movements will help reduce tension on the face, reduce puffiness and fine lines, and leave the skin looking radiant and glowing.
In this short video, reflexologist Michele Stevens shows you how to do a 'Zone facelift' massage using one:
Hen do pending? Mother and daughter quality time needed? Best friend catch up absolutely necessary?
This gift is the perfect thing to buy for a female friend or family member this year, and if you live in London you have no excuse not to buy this incredible gift..
Enjoy some 5* quality time together in Covent Garden with a Glamorous Blow Dry, Champagne and Luxury Afternoon Tea for Two at Charles Worthington Hair Salon.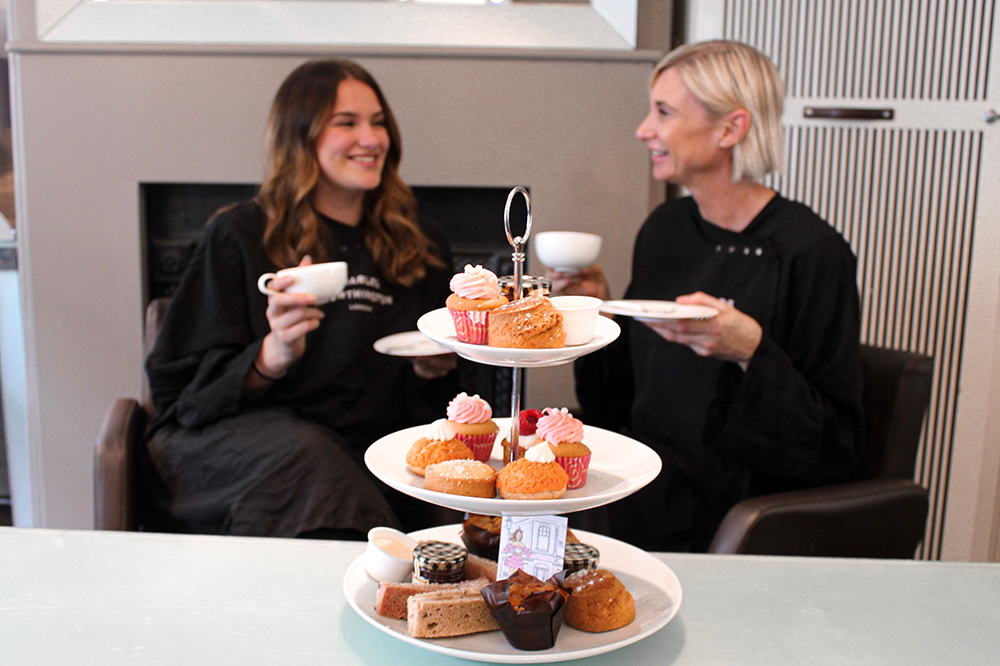 Known for their world-renowned expert stylists, you can rest assured you're in safe hands as you're welcomed into Charles Worthington.
During the experience you'll kick things off in sparkling style with a glass of Champagne each, before a relaxing hair wash and a glamorous blow-dry in a quiet salon within the five storey townhouse building.
You'll then be treated to a luxurious array of French-inspired sweet and savouries from B. Bakery London, who specialise in afternoon teas with a French twist – L'Afternoon Tea.
There isn't one woman out there who wouldn't love this gift, and if you aren't from London, what a perfect excuse for a visit?
Book now at www.charlesworthington.com or call them on +44 (0)20 7831 5303
The House of Charles Worthington, 28 Great Queen Street, London, WC2B 5BB
This time of year is Christmas party galore and let's not even mention the upcoming New Year part celebrations.
That means dressing up and taking off those warmer winter clothes and in their place you'll be wearing your cocktail dress.
Well, it's been a few months since summer and I can only guess that your holiday tan has seriously faded.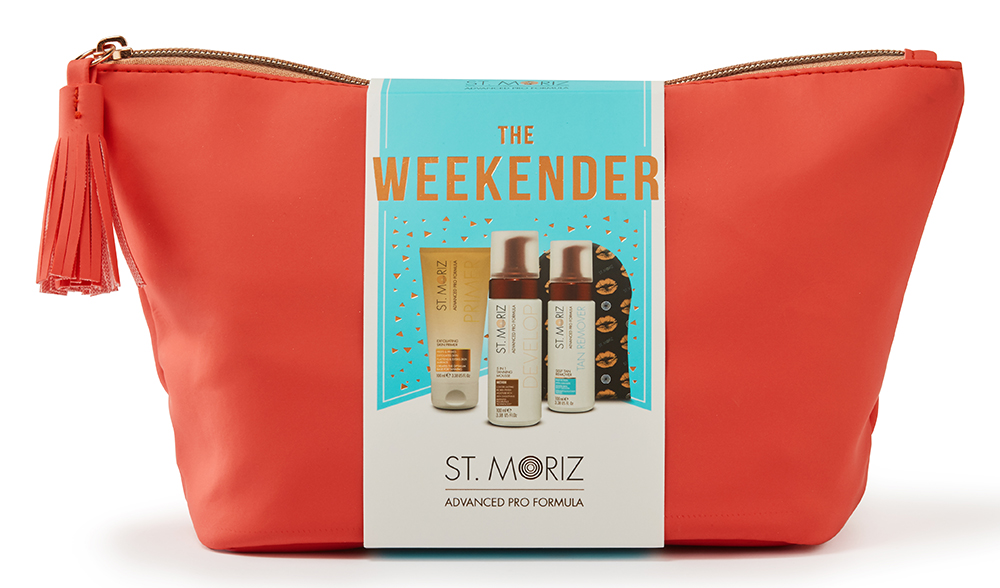 Behold The Weekender from tanning gurus St Moriz. This bundle contains all you need for tanning on the go, so whether you are attending a part straight from work or need to travel to get there, this travel sized tanning kit includes tan, primer and tan remover.
Prep, tan and maintain your glow using these perfectly sized products.
Available to buy at Superdrug.
Embrace your beauty wild side this Christmas with this Toni & Guy Instinct limited-edition hairdryer – talk about snazzy.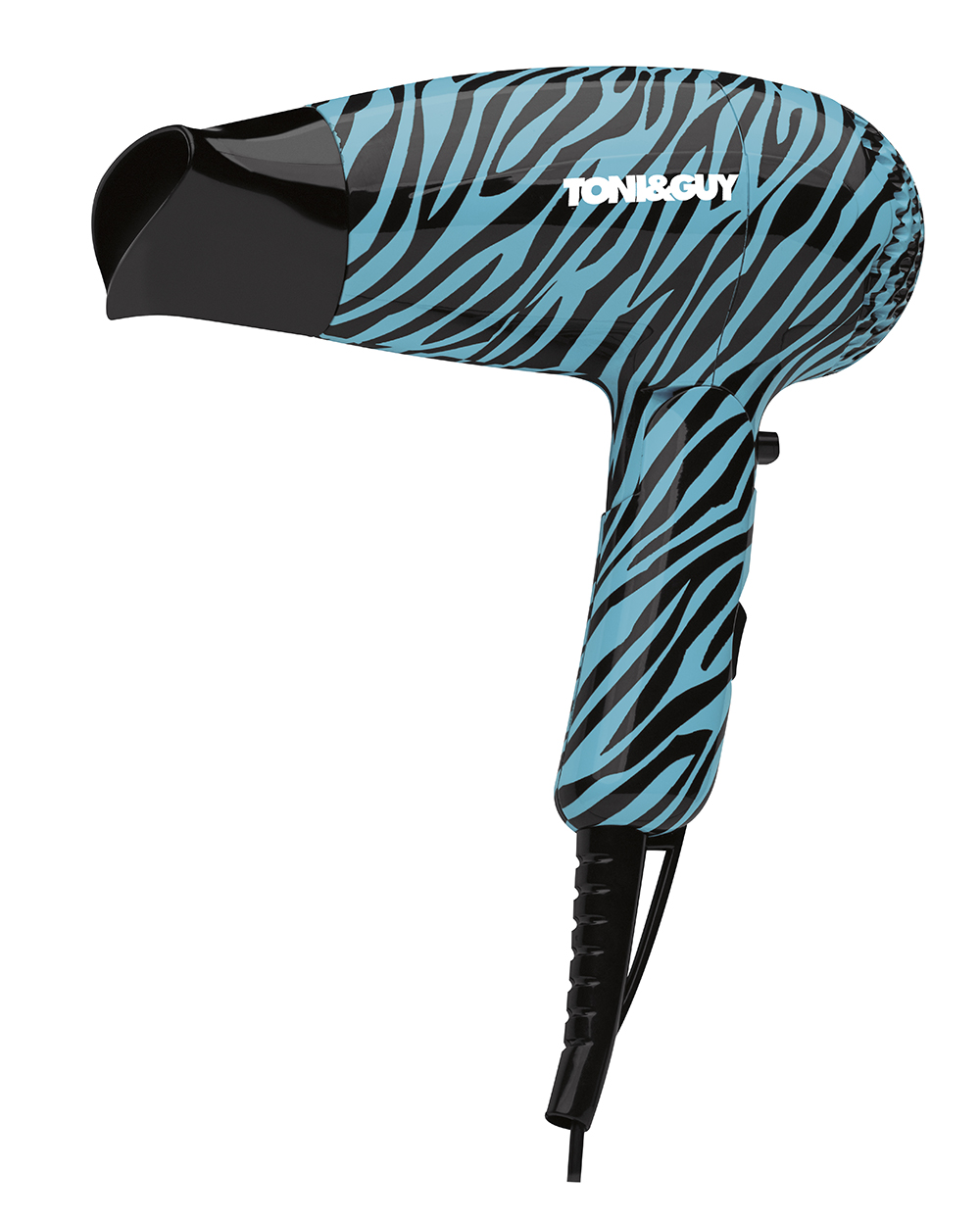 Perfect as a gift for family and friends or you may want to add this to your own Xmas wish list.
Offering 1800W performance for silky smooth hair the Toni & Guy Wild Instinct limited edition Dryer is equipped with two speeds andtemperature settings.
Key features include:
– 1800W performance for silky smooth hair.
– Two speeds and temperature settings.
– Cool shot to set your style.
– Compact design and folding handle.
– Unique trendy Wild Instinct finishing.
– 2 year guarantee.
Available to buy at Boots for £19.99
Are you a curly girl? Well Flora & Curl are launching their Travel Discovery Kit on Monday 2nd December.
This essential kit includes five travel sized curl essentials, making it the perfect gift this Christmas for those gals out there with curly locks.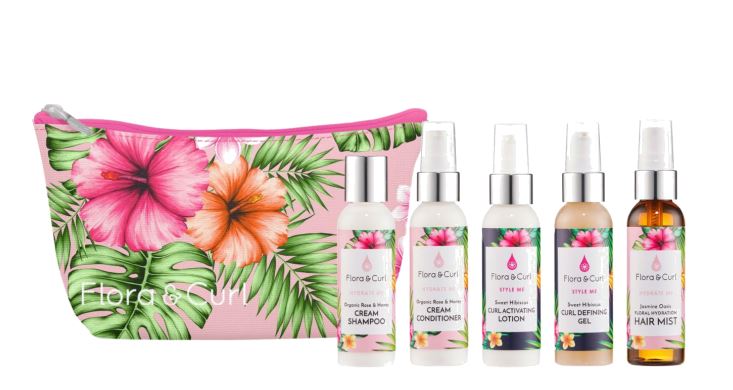 This kit comes with everything a curly-girl would need for naturally hydrated, healthy and defined curls.
Including, Organic Rose and Honey Cream Shampoo (60ml), Organic Rose and Honey Cream Conditioner (60ml), Sweet Hibiscus Curl Activating Lotion (60ml), Sweet Hibiscus Curl Defining Gel (60ml) and a Jasmine Oasis Floral Hydration Hair Mist (60ml).
Flora & Curl believe that everything we put on our hair should be rooted in nature. Their botanical haircare products are free from fillers, additives, sulfates, sulfites, silicones, mineral oil, petrochemicals, palm, synthetic colouring, synthetic dyes, DEA, TEA, and artificial fragrancing.
A healthy hair must have.
Not to miss stocking fillers
According to a National Trust survey, opening stocking presents is number three in the 'Top 10 Christmas Traditions for Adults' – there's a fact of the day for you.
At Healthista HQ we can vouch that these little sticks of wonder truly do the job that's intended of them. In fact I carry mine everywhere. It can easily be carried around as it's light and doesn't take up too much space in your bag.
And now they come in mini stockings – I am obsessed. Made from waste felt with festive embroidery, the stockings can be re-used year on year to decorate the tree or for gifting as part of your Advent countdown.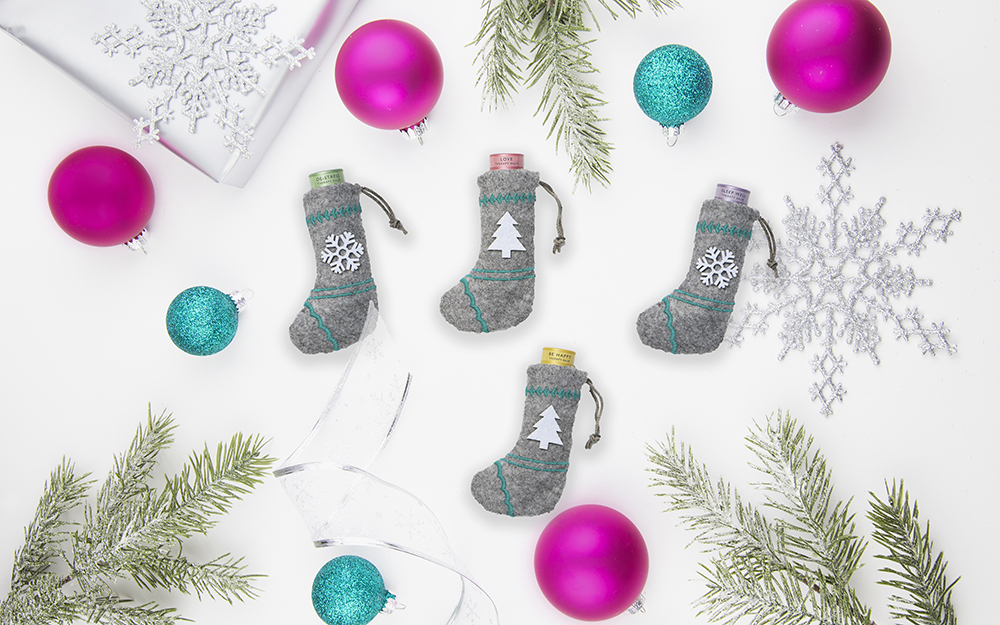 You can apply the balms to your wrists or temples throughout the day whenever you need to de-stress or calm down.
It is also 100 per cent natural, and is an essential oil based aromatherapy balm that is mess-free (as it is a balm not a liquid) so won't leak or spill in your bag.
Follow the Scentered Wellbeing Ritual for best results:
Stop – Apply a balm directly to your wrist, neck and temples.
Inhale – Raise your wrists or candle to your nose and deeply inhale, visualizing the mind state you wish to achieve in this moment.
Reset – Exhale deeply as you step into the next moment of your daily journey.
Scentered also offer balms to help you sleep, improve your mood, focus, escape and love. 

Here are some absolute stocking essentials if you are buying for a female this Christmas.
This ultimate eyeshadow kit contains a set of three eyeshadow duos and one eyeshadow brush – plus how beautiful does the set look?
These richly pigmented, easy to blend eyeshadows can be used to create eye looks from fun and festive to everyday natural.
They are also formulated to be crease-resistant and long-lasting to ensure your eyeshadow stays looking perfect throughout the day and all through the night.
Plus, look at these little crackers of joy.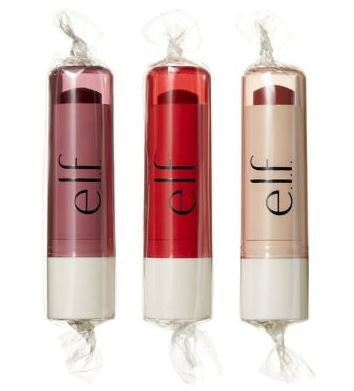 These tinted lip balms help create baby soft lips so you can always be kissable if you find yourself stood under some mistletoe this festive season.
Each color provides a sheer tint of coverage and are infused with Vitamin A & E, grape seed oil, and jojoba oil to help nourish, protect, and moisturize lips.
Oh and did I mention they have a minty flavor that will keep lips feeling fresh? What else could you need from a lip balm?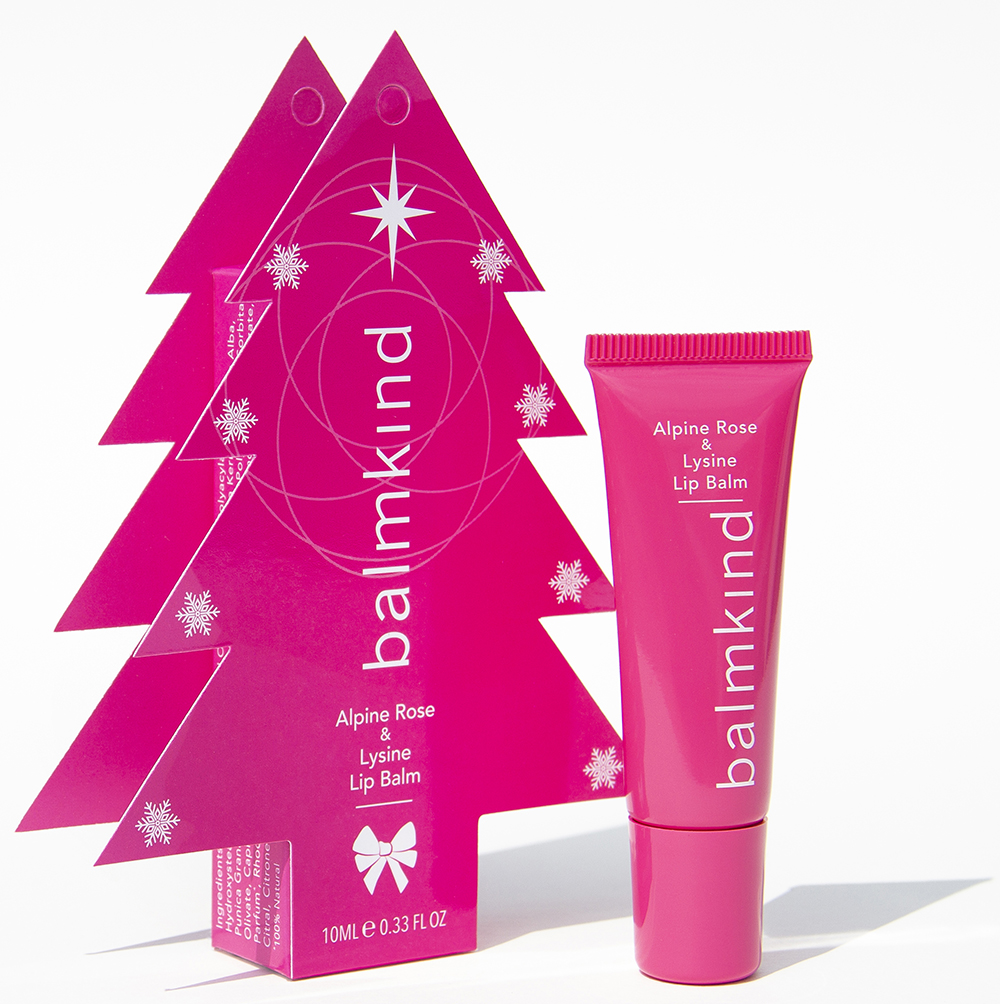 Stocking fillers are always a must where women are concerned – how else will we ask for our essentials that aren't even considered essentials? Well newsflash they are to us!
All women want (among loads of other things) is the gift or gorgeous lips.
Introducing Balmkind's enchanting 3D Christmas Tree, that will make the perfect stocking filler, you can even hang it on the tree – cute.
This cute little festive package contains a full size tube of award-winning Alpine Rose & Lysine Lip Balm (10ml) to nourish, soothe and protect even the most parched winter lips.
Everyone loves a pampering face mask but what about a glittery peel-off face mask – we are totally sold.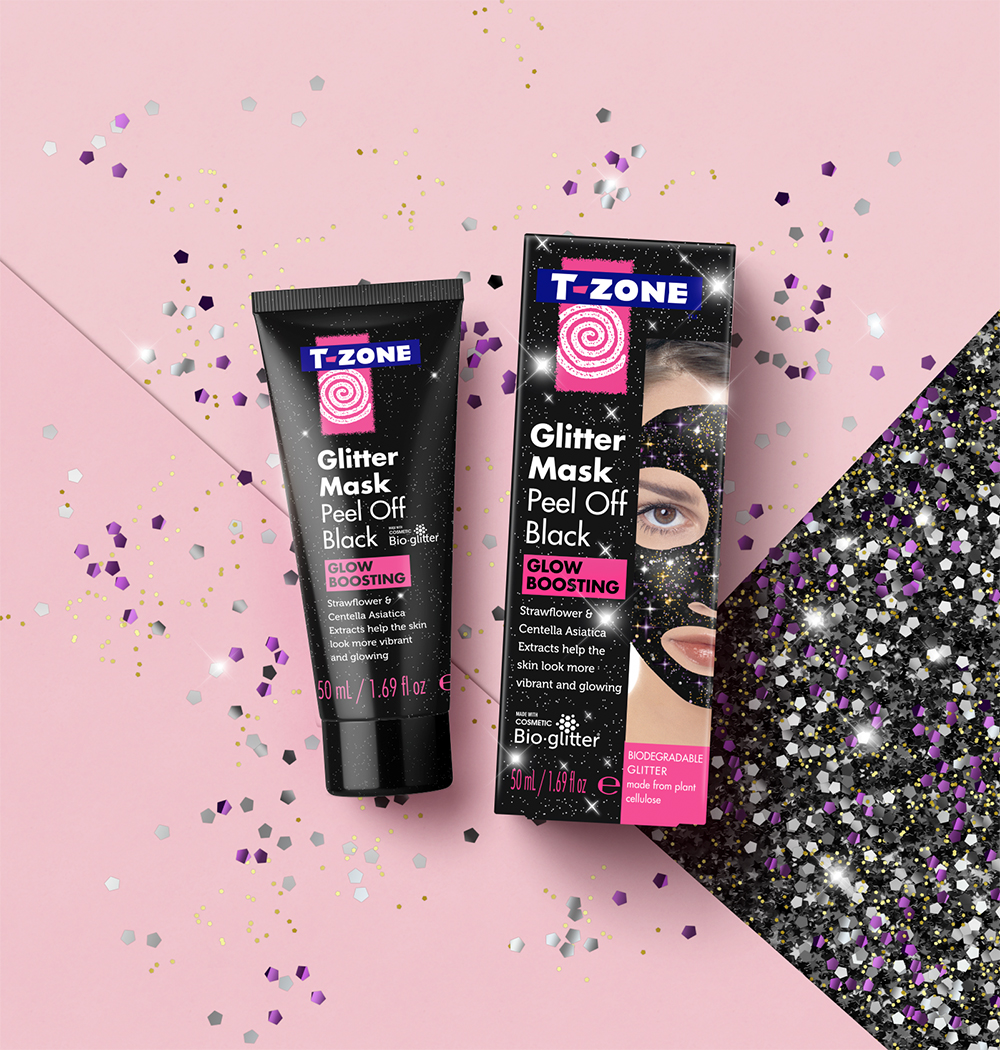 This T-Zone Glitter Mask Peel Off Black, available from Superdrug, draws out impurities to help keep your skin clear and fresh.
This little skin-wellness bottle is also enriched with skin caring strawflower and firming Centella Asiatica extract, to help the skin look more vibrant and glowing for your Christmas party and New Year celebrations.
If you have used one of these before you'll know how amazing they truly are.
For those of you who haven't used them before – get ready fro TMI (too much information)…you can literally see the black heads on the mask when you peel it away from you face.
To use: cleanse your face and then pat dry. It is recommended that you steam your face for two to three minutes or prepare the skin with a hot towel to open up your pores.
After pat drying, apply a medium, even layer to areas prone to impurities, avoiding eye area, eyebrows, hairline and lips.
Leave on for 30 mins or until completely dry. Gently and slowly peel off mask from outer edges and rinse off any residue. If it feels too uncomfortable to peel off, remove by rinsing off with warm water.
And voila your skin will be Xmas party ready.
Buying a stocking filler for a health conscious friend? Know a friend who loves gingerbread but also loves healthy snacks? Or do you think your children will have had enough chocolate and you think they'll need a healthy break?
These yummy little gingerbread bites are packed with protein (21%) and contain just one gram of sugar per piece. These delicious bites are topped with chopped almonds and gently spiced with a blend of ground ginger, cinnamon, nutmeg, and cloves.
Containing less than 100 calories per pack, these protein packed bites are perfect as part of a healthy breakfast or snack and come in a wide variety of other flavours including Lemon with Coconut, Mocha, Sour Cherry, Choc Chip and Gingerbread.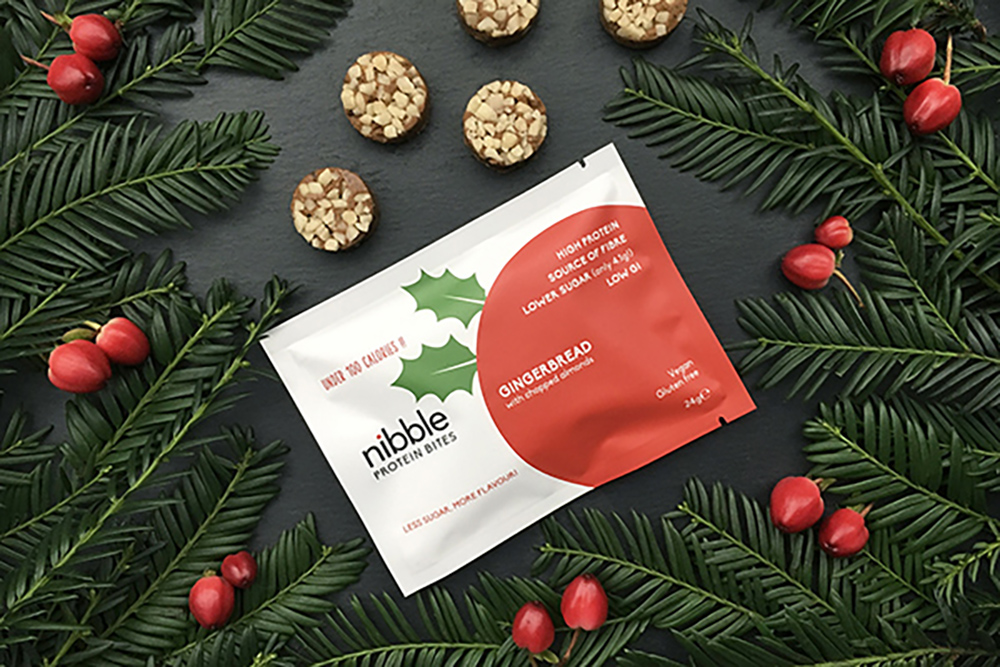 What do Nibble Protein Bites contain?
High protein
Low sugar
Source of fibre
Vegan
Gluten free
Dairy free
No artificial preservatives
High in vitamins and minerals
This book is the perfect Christmas present for book lovers who will be needing an inspiring new read come the New Year.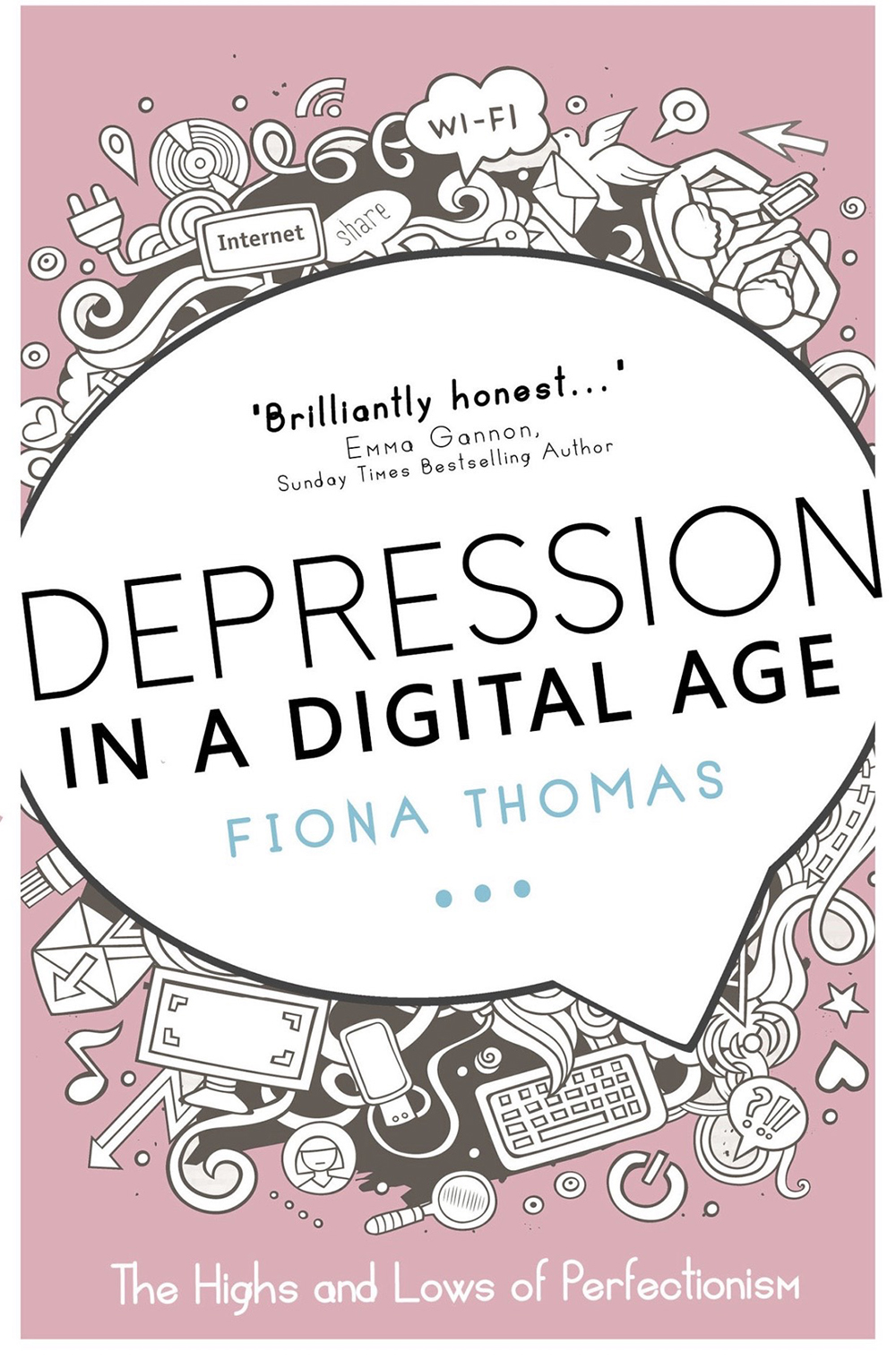 Depression in a Digital Age traces a young woman's online journey to finding her community, her voice, and herself.
From filters and memes to hate speech and catfishing, we're told the internet is a bad place. But growing up without the internet didn't mean life was perfect for 80's baby Fiona.
She grew up without an iPhone, used actual landlines to make calls, and didn't have the luxury (or perhaps the curse) of Facebook during her adolescent years.
But though her childhood took place in an analogue world, she found herself suffering from the same problems many young people face today; the race for perfectionism, high levels of anxiety, a fear of success.
Crippled by the very same issues as young people today, Fiona Thomas had body insecurities, anxiety, and stress, all caused by an obsession for perfection.
After an unfulfilling university experience, a stressful beginning in a management career, and a severe case of impostor syndrome, Fiona suffered a nervous breakdown in her mid-twenties.
Desperate for connection, she reached for her iPhone. Amongst therapy and medication, it was the online community which gave Fiona the comfort she needed to recover.
In Depression in a Digital Age, Fiona traces her life dealing with anxiety and the subsequent depression, and how a digital life helped her find her community, find her voice, find herself.
Top Trumps Quiz
Everyone loves a game at Christmas, but if you are sick of Monopoly or it's causing too many family arguments then why not try the New Top Trumps Quiz games.
Give that brain some exercise this Christmas with these Top Trump Quizzes!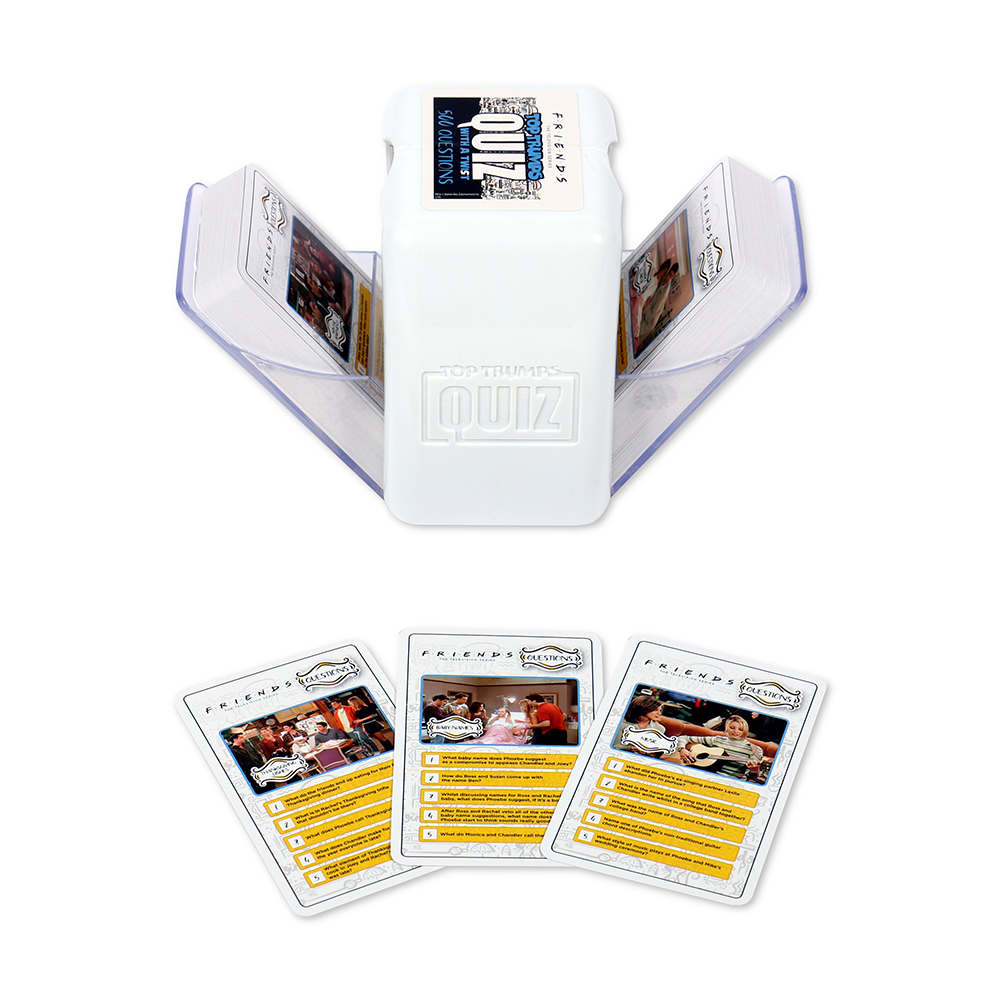 Think you know Friends? We're here for you.
Now is the time to test your knowledge with Top Trumps Quiz with a Twist – 500 questions and a unique form of game play that will test your mind on the world's greatest television series.
Each card has a different subject from Pizza, Thanksgiving, Objects, Phrases, Dates, Kisses, Animals, Phoebe's Songs or even Jobs.
If you know what Chandler does for a living or can you complete the lyrics of Smelly Cat, congrats – you might just get a point.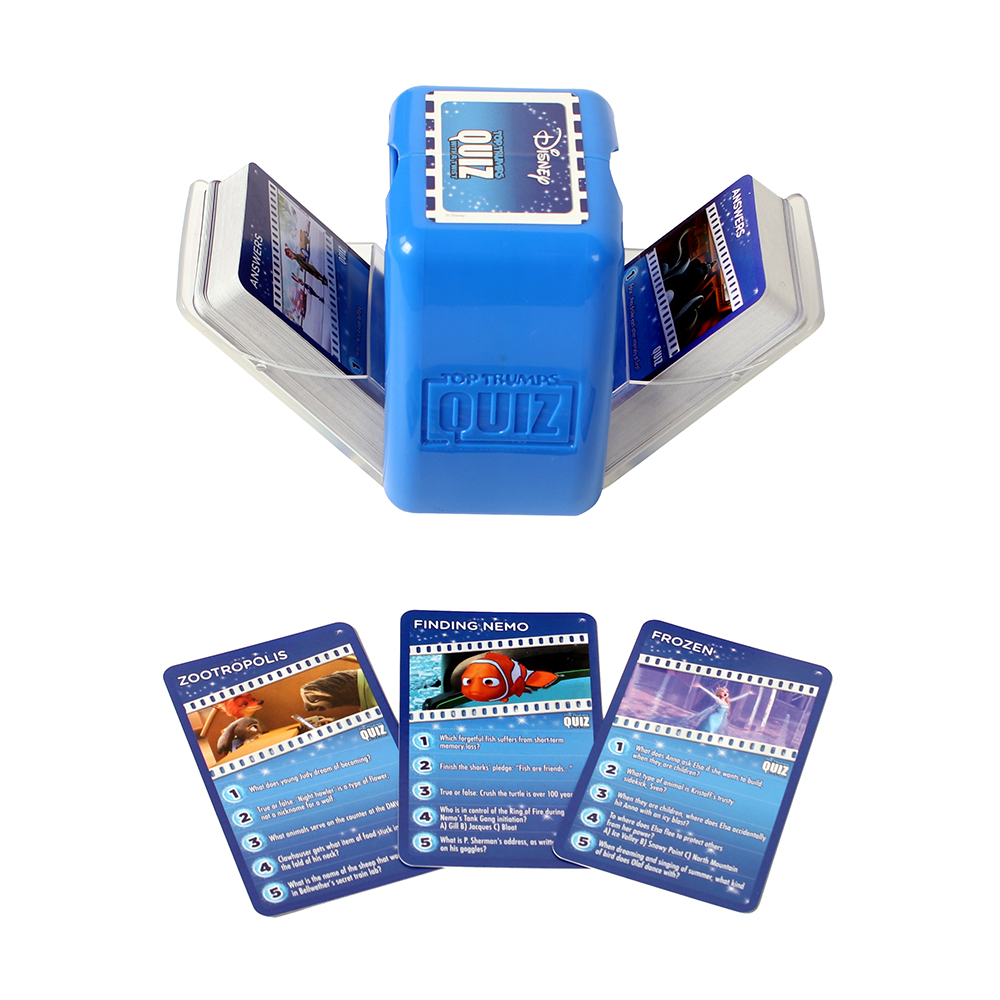 Deal five cards each, ask the first question and check if your opponent is a true Friends fan.
It's the first to win three pairs, but then comes the Top Trumps Twist…
If you don't know many Friends fans, you're bound to know some Disney fans?
Test your knowledge on all things Disney with Disney Classic Top Trumps Quiz. With 500 questions on films from Toy Story to Cinderella and Lion King to Moana.
Self-care gifts for people who love to relax
Know someone who is all about self-care and chillaxing?
Help them zen out with this 100% pure Himalayan Salt Rock diffuser, that has a soft light to help reduce stress and aids general relaxation and wellbeing.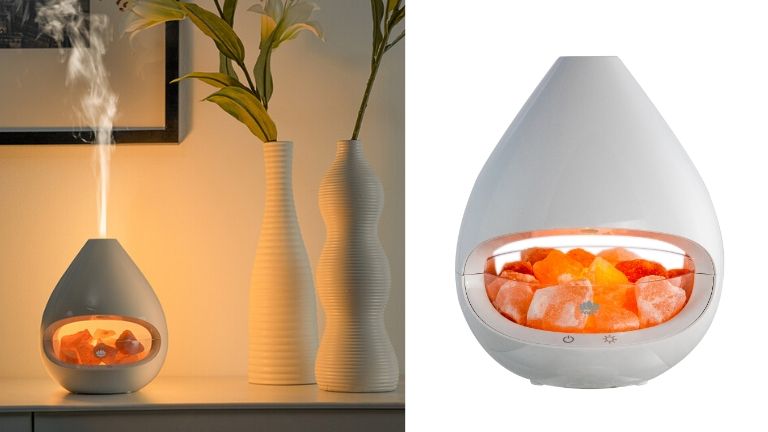 Himilayan salt lamps have been popular for a while, mix that with a diffuser and wow what a combo.
Traditionally mined from the foothills of the Himalayan mountains, authentic Himlayan salt rocks create a soothing pink glow that can promote deep relaxation and even boost your mood – which may be necessary if any members of the family are prone to Scrooge behaviour at Christmas.
Using state of the art technology and a simple modern design, this Glo salt lamp diffuser will add a touch of luxury to any home.
Available to buy from Made By Zen
What's more relaxing than a bath on a cold winter's evening?
To make that bath even more relaxing, we recommend Olverum Bath Oil aka the Winter Wellbeing Tonic, that's ideal for both men and women – or literally anyone who wants or needs to relax.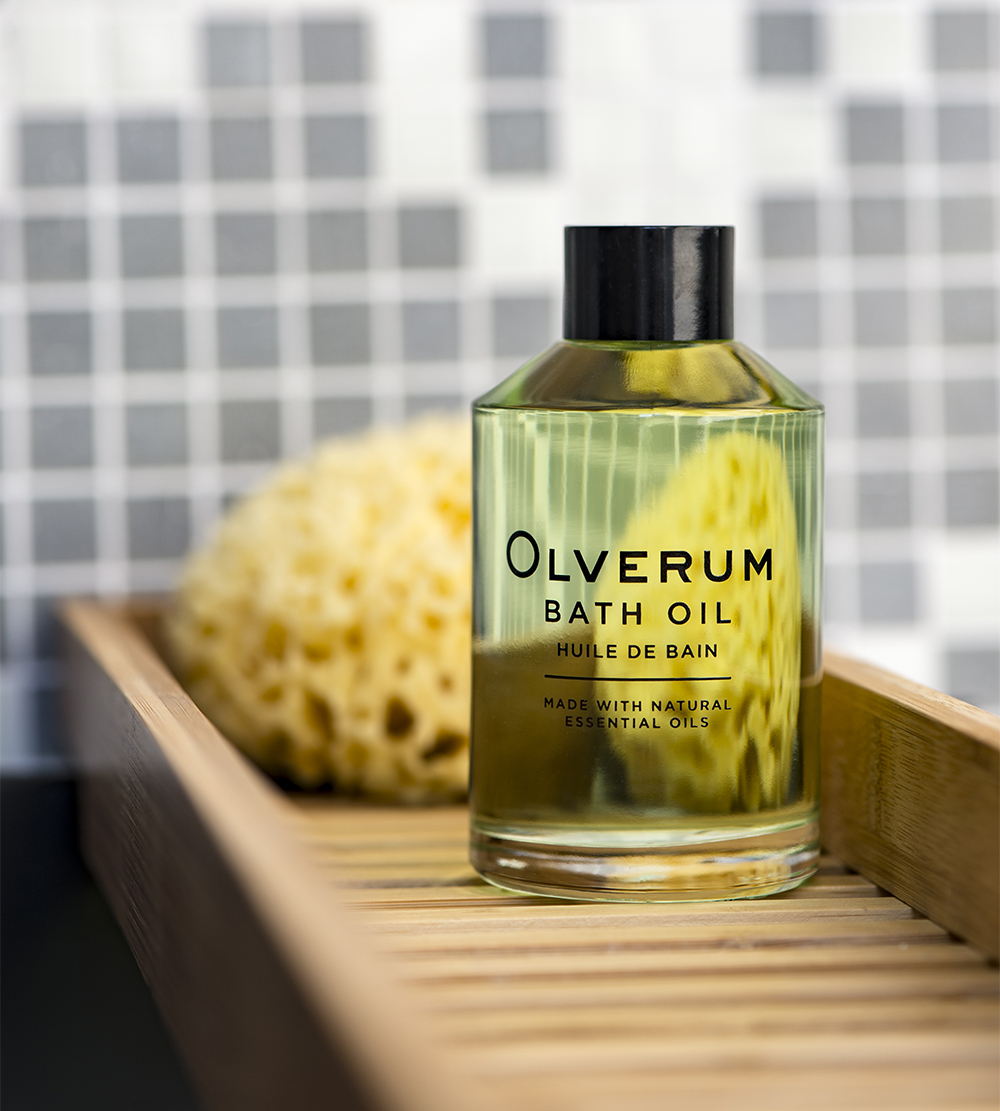 If you need to help lift the winter blues or need to get a better nights sleep, this bath oil is also perfect at helping to soothe a cold and eases aching or sore muscles too – it really is a miracle worker.
125ml size is £35.00 and is enough for 25 baths, the 250ml size is £62 and enough for 50 baths. Available from Liberty, Olverum.com and Fenwick.
For those who like something a bit different for Christmas
Someone always gets socks for Christmas and it isn't always the best gift we know.
But these socks however are a different story – literally.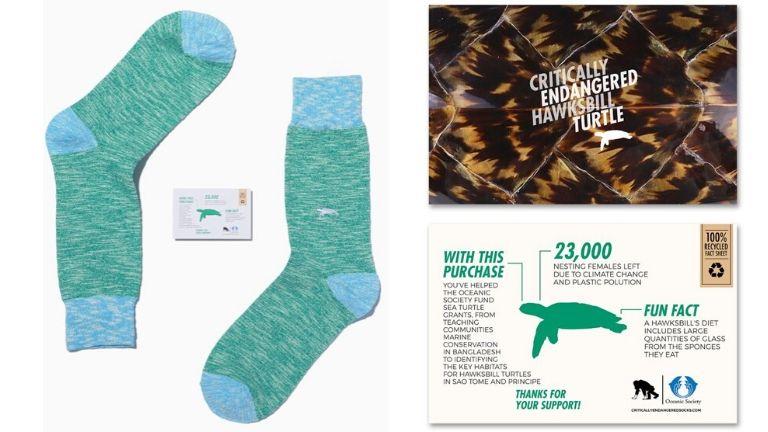 Critically Endangered Socks sell soft eco-friendly socks that support the world's most critically endangered animals by giving a portion of sales to animal charities.
Designed in London and made by a small manufacturing company in Hangzhou, China, the socks are made from a soft blend of 40% bamboo, 40% cotton, 15% polyester and 5% spandex.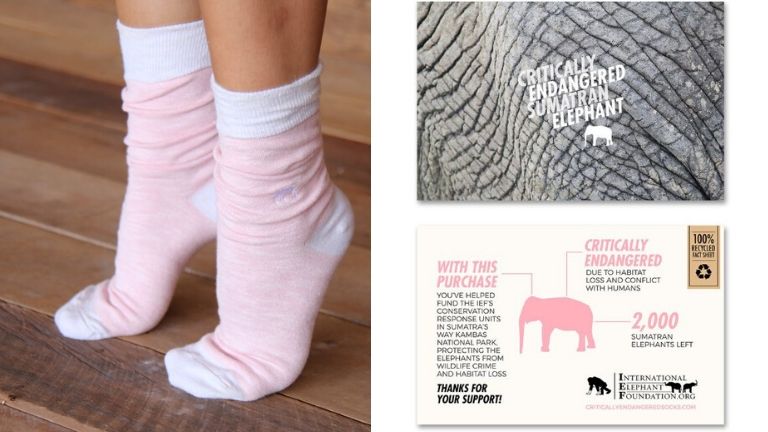 They try to be as kind to our blue planet as they can by using bamboo, a biodegradable, natural material which is incredibly fast growing. They also make sure all their materials are Oeko-Tex certified, which means they are certified free of any harmful chemicals.
The best part – apart from the socks – is the fact that every pair of socks comes with a fact sheet of the animal you have helped to save with your purchase.
Oh and that animal will be printed on the sock too – simply adorable and the perfect thoughtful gift.
The secret to diet, exercise and skincare could lie in your DNA, so if you know a friend or family member who is obsessed with any one of these three life factors then this gift is one that they will remember for a lifetime.
Many of our genes are dependent on their environment: they turn on or off depending on factors such as whether you smoke, live in a city, or eat too many biscuits.
Now, the cutting edge – but entirely painless – and quick Chromozoom genetic test provides a bespoke look into how each of us can make the most of ourselves when it comes to our diet, exercise and beauty regimes.
It reveals our genetic predispositions – our likelihood or risk of something such as a food allergy – and offers expert advice on how to make the best environmental changes.
DNA testing company Chromozoom has launched individual tests which draw on the information coded in our genes to help everyone improve their lifestyle and find their better self.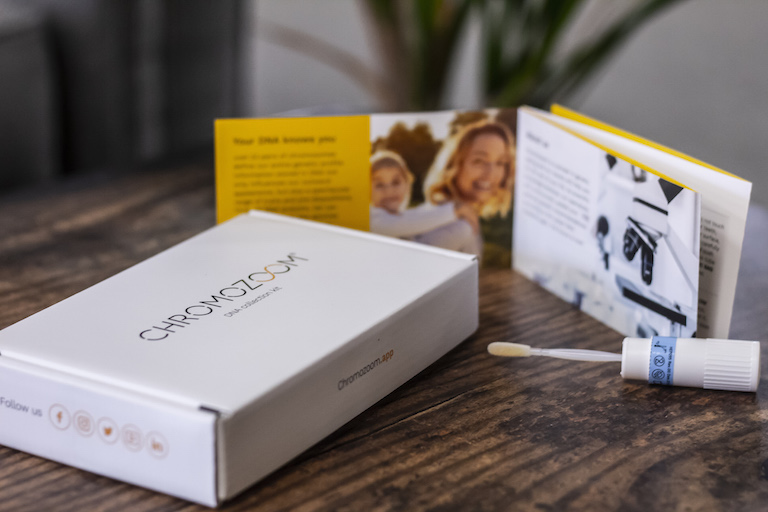 All you do is take a swab from the inside of your cheek and send it back in the sterile packing supplied with its pre-paid postage.
Once you've posted your kit, your DNA analysis will be carried out with Chromozoom's sequencing method – using the finest available technology provided by ROCHE and Illumina, leaders in the field of molecular genetics and in vitro diagnostics.
The laboratories are ISO 15189 and ISO 9001 certified – which means they have the highest levels of quality and competence.
Furthermore, the team behind Chromozoom includes a line-up of dedicated scientists including geneticists, medics, biologists (cellular and molecular) and pharmaco-geneticists, so you can be confident in the knowledge that your results are reliable.
For more information visit their website.
Know anybody who is always late? Well buy them this microscooter and they might be on time for once.
Whether she scoots to commute, to keep fit or to keep up with the kids – you'll find her the perfect set of wheels at Micro Scooters.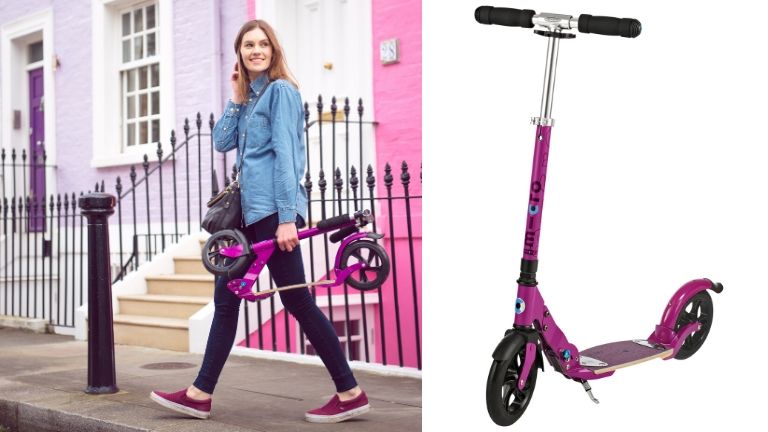 This Flex Deluxe Berry coloured Microscooter has a premium wood and fibreglass deck that flexes to absorb bumps for a super smooth ride. Its large 200mm wheels will glide over any terrain making it both comfortable and fast.
Oh, and it's convenient too, as it's foldable and weighs just 5kg, making it perfect for the morning commute.
Did you know that each year 59 billion coffee capsules are being produced? That's 112,252 per minute. Put together that's equivalent of a chain that reaches around (or strangles) our planet 41 times.
But did you also know that only 3 billion coffee capsules are being recycled? Leaving 56 billion capsules as waste behind.
So if you know someone who drinks a lot of coffee, then they may appreciate this unique coffee gift this Christmas.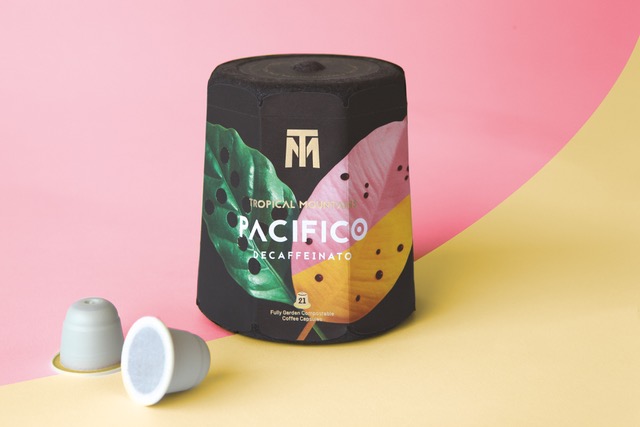 Tropical Mountains is a high quality, Fair Trade coffee, that supports local farmers and uses innovative 100% compostable packaging.
They also never use any chemicals as they can damage the surrounding ecosystem. The beans are roasted slowly to bring out the best flavour, which ensures a more balanced, healthier cup of coffee. And it's vegan too.
This particular coffee comes with 21 garden compostable coffee capsules, so you can drink coffee and save the environment at the same time.
Top gifts for the fashion conscious
If you know someone who likes animals then they are going to love this sweet gift.
This online jewellery company that launched in 2018, creates metal origami animal necklaces that come in both gold and silver.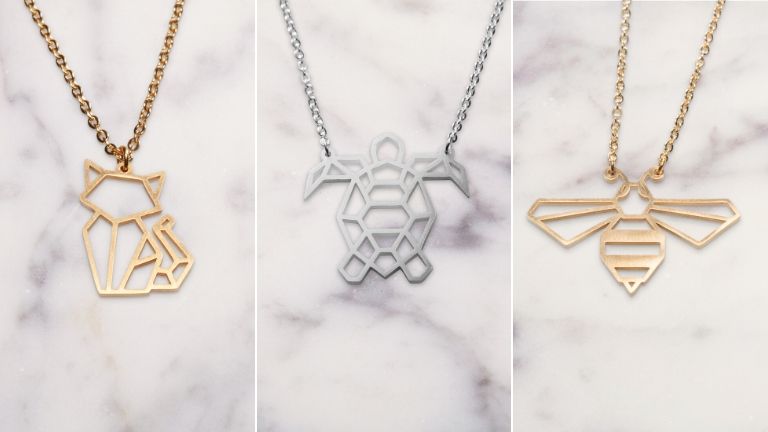 Each piece of geometric jewellery is unique, created through a special process of pairing a professional origami artist with the company's regular French designer.
They offer a choice of 25 different animals, from bears and bees to whales and wolves.
Each necklace is precision laser cut from ultra-durable stainless steel before being plated with 18 karat gold or 925 Sterling silver to give them a sparkle and protect against the elements and everyday wear.
Oh and the best part? Every necklace you buy donates five percent of the purchase to the World Wildlife Fund (WWF) in a bid to do their bit to help conservation and endangered species.
Look good and do good at the same time.
The range is priced at £24.00 per necklace, with an always-on buy one get one half price, plus free delivery across the whole of the UK, USA, France, Spain and Italy.
Were you an UGG boot fan or know someone who was? Then you have to take a look at these Moon Boots.
Usually worn where people are jumping on ski lifts rather than the tube, the Italian footware brand have launched a new line of boots for the city rather than for the slopes.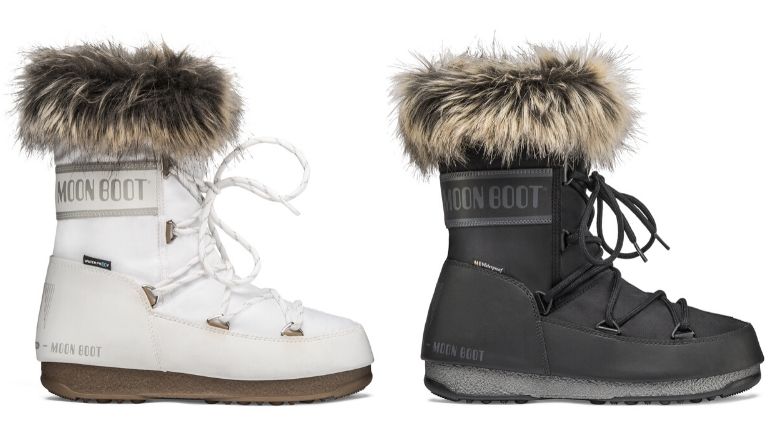 Staying in line with their chunky, padded look, the new collection features faux fur linings and are beautiful, stylish and trendy.
These boots are also comfortable, and offer a slim-fit water-repellent fabric that will keep your feet warm and dry this winter season – perfect for all those crisp winter walks you'll be doing to work off those mince pies.
There are plenty of styles to choose from, head over to www.moonboot.com to see more.
Could Healthista do any sort of round up and not include some trainers? Of course not.
Well when these trainers popped into our inbox, the whole team fell in love instantly.
Our initial love was the HOKA X OC Bondi unisex trainers (below, left) that are the perfect trainers for the fashion conscious.
These limited edition trainers will look amazing with so many outfits, in a Nimbus Cloud and white colour (also available in black) these trainers literally scream style and will make the perfect gift for a loved one this Christmas – although you'll probably end up buying yourself a pair as well.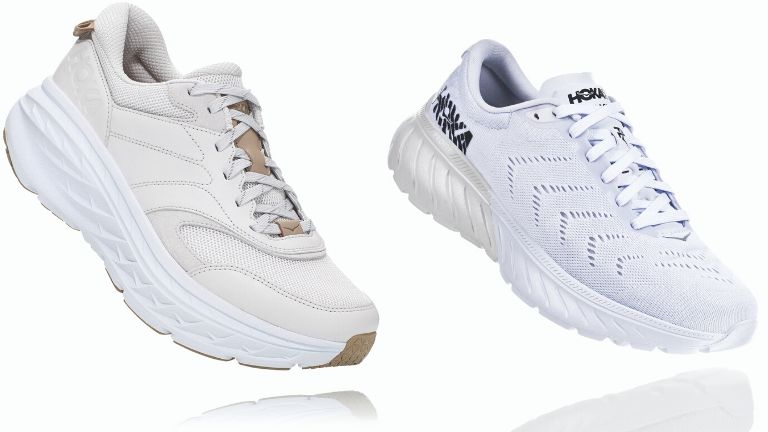 And then we saw Women's Mach 2 trainers that are made for all the runners out there (above, right) that are available in white/black, medieval blue/very berry, and palace blue/lime sherbet.
We all love white trainers here at Healthista HQ, and these just blew us away. The trainers have a thick cushion sole for shock absorption when running on hard surfaces such as the road or track, this will help to prevent joint injury when running.
But apart from that, they just look amazing and whoever you buy these for are guaranteed to have a few jealous friends.
It's not Christmas without Chocolate
Raw Halo, the bar with such pure ingredients you'll wonder how it got in the sweets aisle. For a chocolate that has considered everyone's healthy eating niggles, Raw Halo is a top choice this Xmas.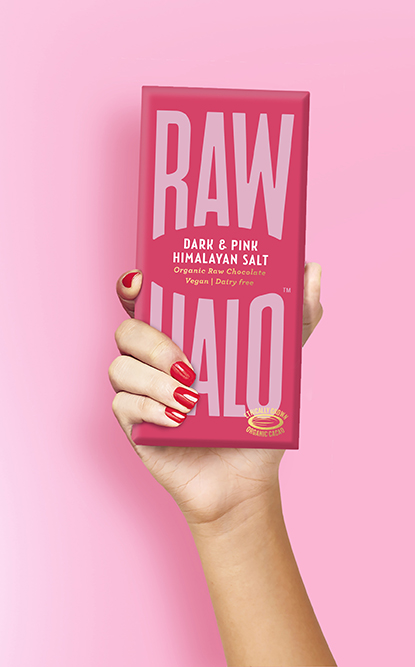 The founder, Meg Haggar, set out to create the best vegan chocolate that was naturally sweet without any nasties, creating bars using coconut sugar, an obvious choice for its naturally low GI and low fructose level in comparison to agave, for example.
Despite having the creamy, indulgent texture of a milk chocolate bar, the Raw Halo Mylk bars use cashew butter and remain vegan.
There are a huge amount of healthy alternative chocolate bars out there using natural sweeteners, but Raw Halo claim that by weight, their Pure Mylk bar has almost half the amount of total sugars compared to other leading raw chocolate companies.
Being refined sugar free, articifical sweetener free, gluten, wheat and lactose free, (phew), there is little to feel bad about when tucking into a Raw Halo bar – especially at this time of year when indulgence is everywhere.
Who doesn't love the gift of premium chocolate?
This beautifully designed box containing Ombar's organic fair trade and dairy free goodness is the perfect gift for raw chocolate lovers this Christmas.
The box contains one Coco Mylk bar, one Coconut 60%, one 72% Cacao and  one 90% cacao bar. It's also a great price point for Secret Santa gifts.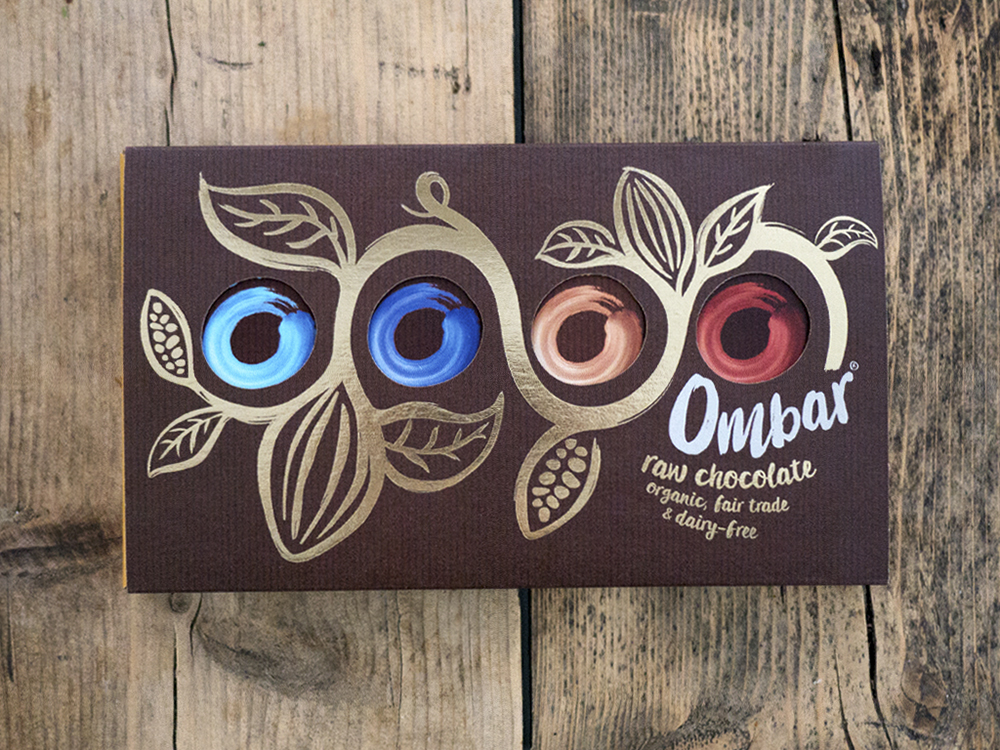 Raw chocolate, is the best sweet treat ever, perfect for vegans, those who are lactose intolerant or avoiding dairy as it contains no milk. They use coconut sugar rather than refined sugar, as well as whole fruits, which are dried and powdered.
The only way I can describe Ombar chocolate is that it just melts in your mouth – seriously. There is no bitter taste what-so-ever, it just tastes like proper high quality delicious chocolate. Healthista's absolute FAVE was the Coconut and Vanilla flavour – unputdownable.
Available to buy from most UK supermarkets. 70g bars available in Waitrose, and smaller 35g portion sized bars available on Ocado. 
Christmas tipple anyone?
What is better than gin? Well, Christmas gin.
Splash a little tonic into this limited-edition Christmas gin and behold the prettiest drink you'll ever see as it transforms into the most beautiful vibrant pink, to rival Rudolf's nose.
The Old Curiosity Distillery's Christmas gin is distilled with ginger, cinnamon and cardamom which provides the drinker with a familiar smell of Christmas and delivers a festive spicy flavour.
Infused with handpicked mallow petals to provide its holiday hue, this spiced gin will make the ultimate yuletide colour-changing G&Ts, especially if garnished with dried orange and a cinnamon stick – treat yourself.
Also available at Harvey Nichols and Fenwick. 
Here at Healthista we are indeed partial to a cuppa tea, literally any type of tea and we will drink it. So when we heard about Noveltea – the brand behind the UK's first alcoholic tea – the case was no different.
In time for the festive period, Noveltea has launched the ultimate gift set for tea-lovers.
Noveltea mix the highest quality tea leaves and spirits from across the globe producing three different flavours; The Tale ofEarl Grey, Tale of Moroccan Mint and The Tale of Oolong.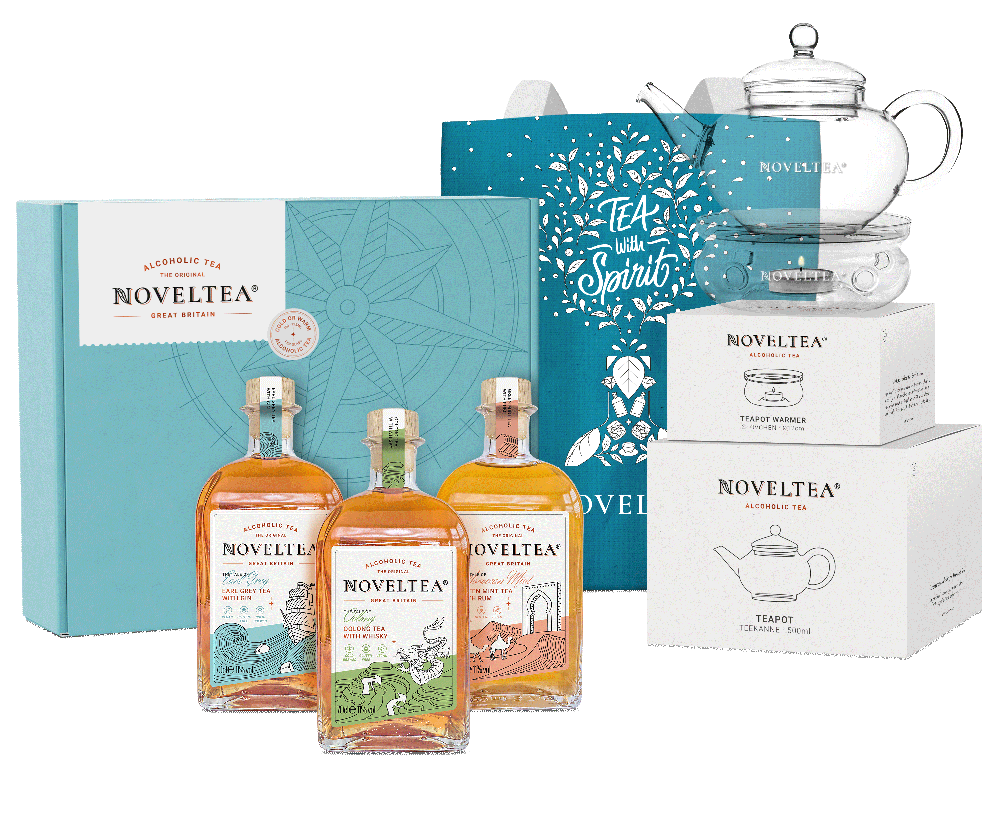 The high-quality loose-leaf tea is cold-brewed with botanicals for eight hours before being blended with a premium spirit. The process brings out a smooth and slightly sweet flavour that can be served both cold or warm.
The perfect gift for the biggest tea fans is the Tea Lover's pack includes 70cl bottles of Noveltea's three flavours, a bespoke glass teapot and warmer and a branded Noveltea tote bag.
The perfect bundle for the ultimate Tea Lover this Xmas.
For those who are hard to buy for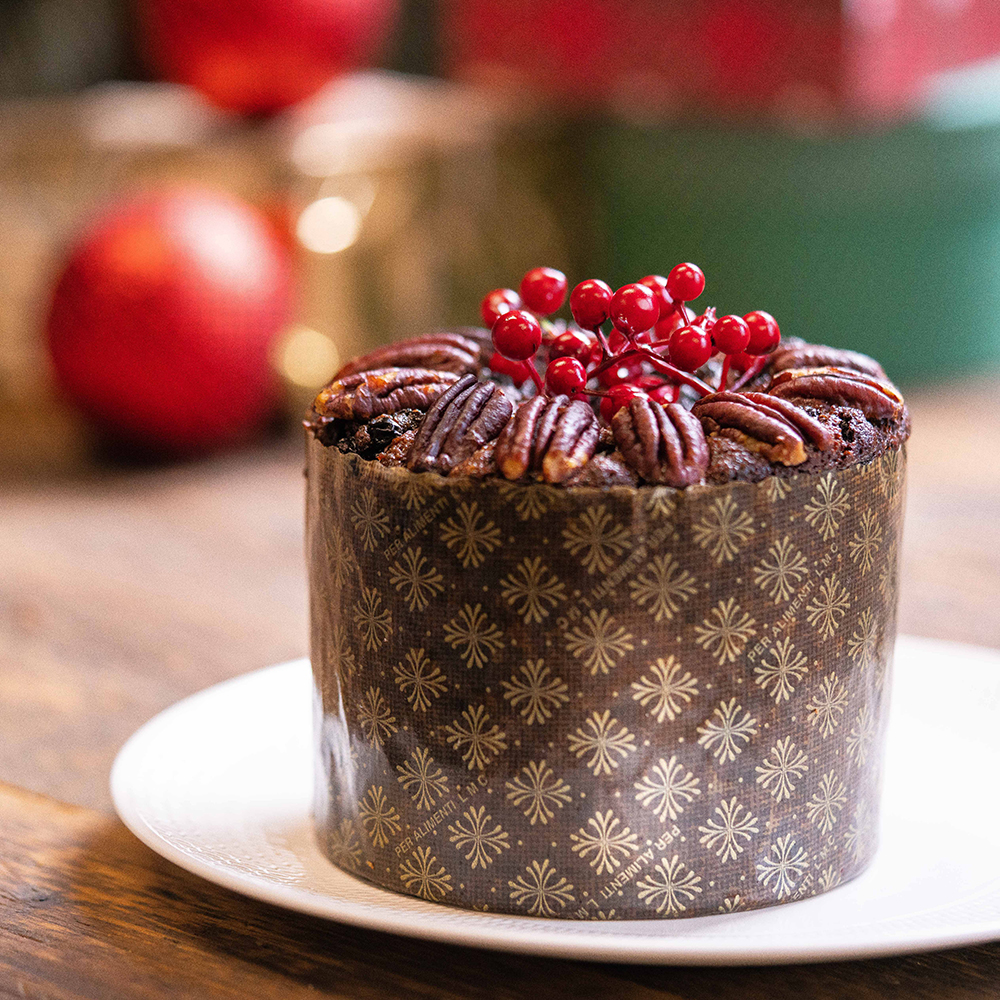 Christmas would not be Christmas without a Christmas cake – am I right?
So what about those who have food allergies and have to sit their enviously while the rest of you chow down on your festive fruit pudding?
Behold Cru8's Vegan Christmas Cake, and can I start by saying how beautiful it looks. This cake is destined to be the star of the festive table.
A highly nutritious twist on the traditional Christmas Cake, Cru8's Paleo, vegan, gluten-free, dairy-free and refined sugar-free cake is created using almond flour, mixed fruits, flax seeds, coconut oil, coconut sugar, orange zest and juice, and molasses.
Now everyone can have their cake and eat it.
Available to buy at the Cru8 deli or to order online.
The Cru8 deli can be found at: 125 Sydney St, Chelsea, London SW3 6NR
Just like a Christmas cake – there cannot be a Christmas without mince pies.
Plant based company OGGS have launched their egg and dairy free mince pies, and trust us, they are just as delicious as the traditional mince pie, and perfect for anyone not wanting to miss out due to an allergy this Christmas.
These vegan friendly mince pies are filled with spiced mincemeat, laced with brandy, topped with a pastry star and dusted with sugar for four melt in the mouth moments.
Available to buy from Sainsbury's.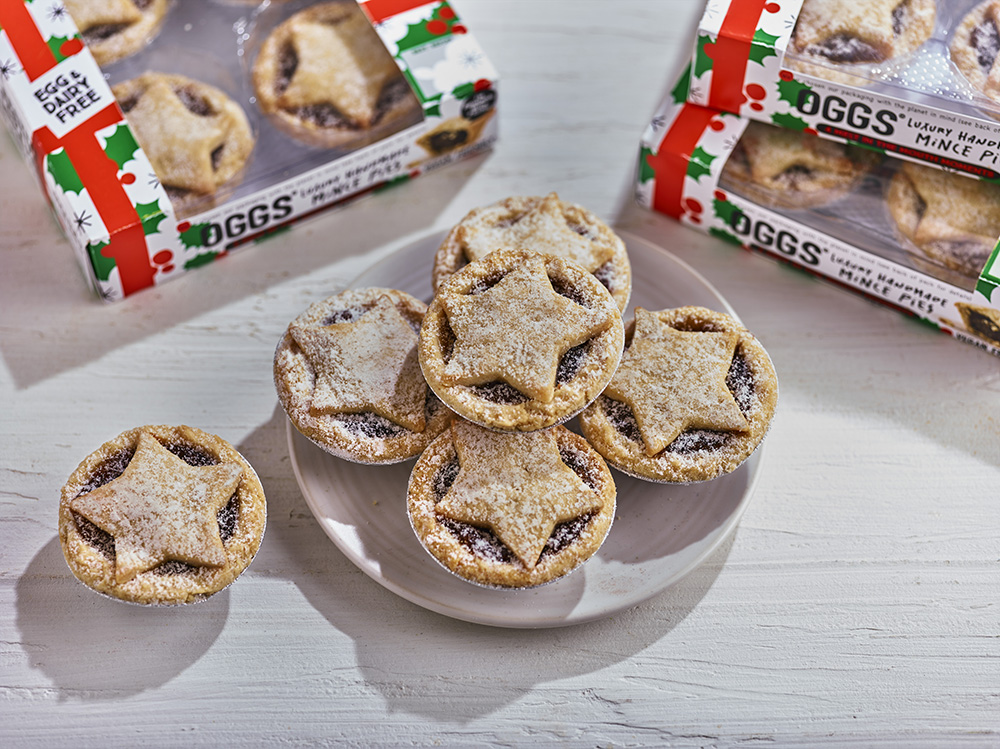 Relevant Healthista Content:
9 hangover cures to get you through Christmas
5 fertility tips to help you make a baby this Christmas
Other Healthista content you might like:
WIN an OMRON HeatTens Pain Reliever worth £128.99 and say goodbye to muscle and joint pains
25 alternative advent calendars to make you smile in December
The secret to diet, exercise and skincare lies in your DNA
Got the winter blues? Try these 7 mood boosters from this world leading eco-spa
Like this article? Sign up to our newsletter to get more articles like this delivered straight to your inbox.