Welcome to the NEW Healthista series featuring 30 days of weight loss tips with Nutritionist Rick Hay. Discover why eating more plant based proteins can help you reach your weight loss goals
January is here again and we can wipe our slate clean and forget about all the feasting that took place over Christmas…that was easy. Now for the hard part, the new year's resolutions. This tends to be health related for the majority of us and usually we set ourselves an ambitious target.
Well, with the help of Nutritionist Rick Hay selecting his best food and supplement choices for weight loss goals, that ambitious target can become reachable. Over the 30 days of January, we're providing you with a weight loss tip every day to help keep you fuelled with the right nutrients to keep you on track.
Today's tip is about the importance of plant-based protein to weight loss.  While any kind of protein is shown to help keep you fuller for longer than a meal containing on carbohydrates, plant-based proteins such as lentils, chickpeas and beans play an essential role in that balance because it's also high in fibre, nutrients and very low in fat. One paper from 2009 published in the journal Annals of Internal Medicine found that those following a low carbohydrate diet high in plant based proteins over four weeks not only lost weight, they also experienced a reduction in cholesterol and other heart disease rick factors, losing around four kilograms in four weeks. Rick Hay suggests taking your plant-based proteins as soups because they can increase the felling of fullness even more.
TRY: Amy's Kitchen, Quinoa, kale, red lentil soup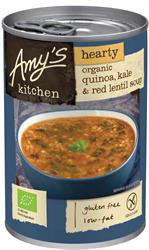 Rick Hay says: 'If you want to lose weight fast, but healthily I recommend considering a soup together with a plant-based protein. I've chosen a soup range that's organic called Amy's kitchen. I love it because they're mixed in with lentils and quinoa and in this one it has lots of vegetables. This soup is packed full of fibre. Fibre is going to help you with elimination but it's also going to help to keep you fuller for longer. The plant-based proteins in this case, lentils and quinoa are also going to help with the feeling of fullness and hitting the satiety centre in the brain. The liquid contents of the soup not only help with  fullnes, they're also nutrient dense. When you have nutrient density you also help those feelings of fullness. If you combine soups with smoothies in the morning I think you are on to a fabulous way to lose weight fast but healthily.'
Available for £2.59 for 408g, from the Healthista shop
Rick Hay is an Anti-Ageing and Fitness Nutritionist with many years clinical experience in nutrition, naturopathy, botanical medicine and iridology. He specializes in obesity treatment and weight management. He writes a regular Natural Health and Fitness Blog for Healthista. Find out more at rickhay.co.uk. Follow Rick on Twitter @nutritiomalphys
READ MORE
The heart health supplement proven by science
5 symptoms of vitamin D deficiency even doctors miss
What is the best probiotic pill? If you're looking for one, read this first
8 hangover cures that REALLY work