Welcome to the NEW Healthista series featuring 30 days of weight loss tips with Nutritionist Rick Hay. Discover why getting spicy in the kitchen could help you lose weight
Today's weight loss tip is so easy, but it's super effective.
Thermogenic simply means 'heat-creating' and certain herbs and spices such as chilli, fenugreek, turmeric and cumin have a thermogenic effect on the body which also means they help burn fat and increase the body's metabolism.  Protein foods such as lean meats, eggs, lentils and pulses have a similar effect.
In one study on Thai women, chillies were found to immediately increase metabolic rate by 20 per cent and sustain it for up to thirty minutes.  The fat-burning effect is due to a phytonutrient in chillis called capsaicin. But it's not just chilli and cayenne pepper that can pump up your metabolism after eating.  More recently cinnamon, ginger, mustard, horseradish and turmeric have all been found to have a similar 'thermogenic' effect.  That means they switch on your body's heat-production systems, boosting your metabolism as you eat them and afterwards. All protein foods are also thermogenic.
TRY: JUST NATURAL HERBS, Organic Fenugreek Seed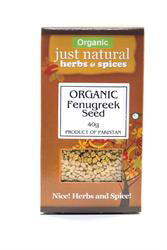 Rick Hay says: 'To help with weight loss what I want you to do is look in your kitchen cupboard. I would like you to start cooking with more spices, using some spices that perhaps you haven't used before. Here we have fenugreek, it's a liver tonic and can be added to your cooking, it can be ground up and added to a stir-fry or a soup. But don't stop there, think about things like turmeric, chilli, mustard and garlic, all of these are thermogenic spices and they all have a role to play to increase fat-burning.  This is done by a mechanism called thermogenesis which is about burning fat, because they boost the metabolism of your body. These spices can also help you to eliminate the fat out of the body, they help with liver and gallbladder health while also being able to calm digestion. So get spicy, use spices in your cooking and I think you'll see that fat come off.'  Available for £1.22 for 40 g, from the Healthista shop
Also try Thermo-Detonator £21.95 from Grenade to help with fat-burning
Rick Hay is an Anti-Ageing and Fitness Nutritionist with many years clinical experience in nutrition, naturopathy, botanical medicine and iridology. He specializes in obesity treatment and weight management. He writes a regular Natural Health and Fitness Blog for Healthista. Find out more at rickhay.co.uk. Follow Rick on Twitter @nutritiomalphys
READ MORE
The heart health supplement proven by science
5 symptoms of vitamin D deficiency even doctors miss
What is the best probiotic pill? If you're looking for one, read this first
8 hangover cures that REALLY work