Welcome to the NEW Healthista series featuring 30 days of weight loss tips with Nutritionist Rick Hay. Discover why relaxing in a bath with Dead Sea salts can help you reach your weight loss goals
Today's tip is related to relaxation as an essential ingredient in any weight loss regime. Chronic, ongoing stress has been found to lead to increased fat storage, especially around the middle because of the effects of elevated stress hormones such as adrenaline and cortisol. Taking regular baths, especially in therapeutic salts can relax the body quickly and help calm the nervous system after a high pressure day. Read more about the phenomenon of Stress Belly here.
TRY: Meadows, Dead Sea Salts Detox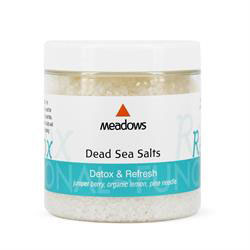 Rick Hay says: 'It's important to take some time out and relax if you want to lose weight. You might be thinking that's a bit of odd advice because people often talk about exercise or thermogenic spices and not often relaxing but it is very important. Here I have Dead Sea salts, rich in minerals, it has juniper oil, lemon and some pine oil to help relax. You soak in the bath maybe 10-15 minutes and this will keep the nervous system steady. If your nervous system is out of control and you are too anxious too stressed the body will produce more adrenaline. More adrenaline and the body will not care so much about fat metabolism and digestion. So what we want to do is calm you down and you may find that those pounds will just drop off as a result.'
Available for £5.59 for 300g, from the Healthista shop
Rick Hay is an Anti-Ageing and Fitness Nutritionist with many years clinical experience in nutrition, naturopathy, botanical medicine and iridology. He specializes in obesity treatment and weight management. He writes a regular Natural Health and Fitness Blog for Healthista. Find out more at rickhay.co.uk. Follow Rick on Twitter @nutritiomalphys
READ MORE
The heart health supplement proven by science
5 symptoms of vitamin D deficiency even doctors miss
What is the best probiotic pill? If you're looking for one, read this first
8 hangover cures that REALLY work
Like this article? Sign up to our newsletter to get more articles like this delivered straight to your inbox.