Welcome to the NEW Healthista series featuring 30 days of weight loss tips with Nutritionist Rick Hay. Discover why using an MSM dietary sulphur can help you reach your weight loss goals
Today's tip from Rick Hay is about the power of taking MSM dietary sulphur to help kick start weight loss.  This 2017 research paper published in the journal Nutrients suggests it has antioxidant and anti-inflammatory properties, may help arthritis sufferers and contribution to better skin quality and texture as well as help reduce muscle soreness after exercise.  But it can also assist in weight loss by helping cleanse the liver, says Hay. Although there are no clinical studies showing MSM helps weight loss, there's plenty of anecdotal evidence from people saying it has worked for them. Hay suggests taking the powder once or twice a day but building up your dose slowly.
TRY: Higher Nature MSM Dietary Sulphur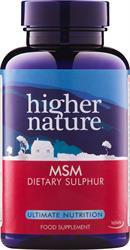 Rick Hay says: 'In order to speed up weight loss you need to have a good liver function. If you have a poor diet or maybe you have been drinking too much or you are too stressed you can end up with a fatty liver. This is why I recommend a product called MSM, a dietary Sulphur and stands for, methylsulfonylmethane, which is a great overall tonic, helps cleanse the liver and has antioxidant and pain relieving properties as well.'
Available for £8.80 for 90 capsules, from the Healthista shop
Rick Hay is an Anti-Ageing and Fitness Nutritionist with many years clinical experience in nutrition, naturopathy, botanical medicine and iridology. He specializes in obesity treatment and weight management. He writes a regular Natural Health and Fitness Blog for Healthista. Find out more at rickhay.co.uk. Follow Rick on Twitter @nutritiomalphys
READ MORE
The heart health supplement proven by science
5 symptoms of vitamin D deficiency even doctors miss
What is the best probiotic pill? If you're looking for one, read this first
8 hangover cures that REALLY work
Like this article? Sign up to our newsletter to get more articles like this delivered straight to your inbox.