Bored with chicken salad? Healthista has rounded up the 14 best cookbooks to  help you through your health kick
1. The Mindfulness Cookbook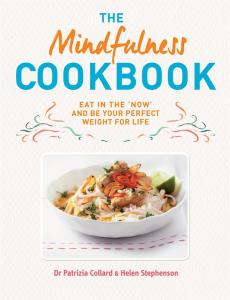 Many people eat mindlessly and so the aim of The Mindfulness Cookbook is to help you learn how to stop, tune in and listen to your body. It will help you to become mindful and aware of your eating habits and has really helpful tips on how to break your mental attachment to food.
Why we love it:
Not only does this cookbook provide amazing recipes, it also offers mindfulness exercises to help you change your attitude towards food completely. It encourages you to become mindful of the way you cook and eat to help you appreciate food more as well as healing your food issues. If you follow the book properly, you will be able to beat emotional eating, free yourself from cravings and eat less of the foods your body doesn't need. You will become less obsessed with food and begin to appreciate foods that nourish your body more.
Great for: Mindless eaters
If you eat when you feel stressed, sad or bored instead of when you're just hungry then this cookbook is perfect for you. Emotional eating can be a problem for many people and can lead to unbelievable weight gain. This book will help you become mindful of 'true' hunger which will help you to learn to eat only when you actually need to.
Don't miss: Guided Practices
There are guided practices throughout the book but the one at the beginning of the recipes section gives you a range of recipes to make each appealing to one of the senses – smell, sight, sound, touch and taste encouraging you to focus on each of these things from the moment you start making the recipe. It makes you aware of what you eat and how you eat it before you even start eating, showing how the senses influence our eating habits. All of the recipes in the book also include awareness points giving you specific aspects to focus on with each dish. This all helps in making you become more mindful of what you are eating and appreciative of your food more, allowing you to relearn the journey of eating well.
Available to buy here
 (Hamlyn, £9.74)
2. The Uncook Book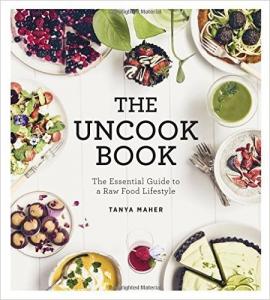 The Uncook Book is dedicated to raw food recipes. Raw food is healthy, nutritious and can work wonders for your health but this cookbook shows that it can also be amazingly tasty and easy to make.
Why we love it:
This cookbook shows just how amazing raw food can be as the author, Tanya Maher, who sustained horrific injuries as a result of a near fatal car crash at 13, made a remarkable recovery thanks to the healing powers of raw foods. Tanya is now the co-owner of one of the top raw food restaurants in the UK and her cookbook is filled with recipes that are cooked in her restaurant as well as many exciting others – most of which you would never believe are raw.
Great for: a raw foodie lifestyle
If you imagine raw food diets to consist of a few carrot sticks on a plate, you are very much mistaken. This cookbook shows how vibrant, filling and delicious raw food can be. If you're interested in following a raw food lifestyle then this cookbook gives an easy way to access a raw food diet with a section titled 'Stocking the Pantry' which shows you the essentials you need to buy.
Don't miss: Italian mains
The whole main meals section is filled with amazing recipes but if you love Italian food, you'll be particularly interested to hear that there are a number of alternatives to the Italian dishes we all know and love that look truly spectacular. There are recipes for nut-free pizza with 'roasted' veg, four-layer lasagne, ravioli, spaghetti nut balls and cannelloni – all made healthy and, of course, raw and are just to die for good.
 Available to buy here (Hay House, £11.89)
3. The Part-Time Vegetarian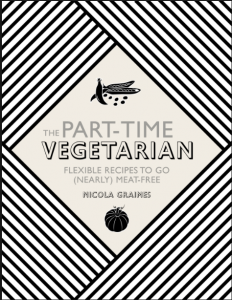 Whether for health, economic or environmental reasons, increasingly more people are following a flexitarian diet meaning that they are mostly vegetarian but occasionally eat meat. The Part-Time Vegetarian cookbook is perfect for this diet as it encourages people to be vegetarian but acknowledges that they may want meat some of the time. The recipes cater for this, giving a 'part-time variation' option to many of the dishes, showing that you can adapt the recipe to include meat or fish if and when you desire, but it is not essential to do so.
Why we love it:
It offers an array of delicious vegetarian dishes that encourage people to eat less meat and can be useful for both committed vegetarians and those who regularly enjoy meat-free eating. It's great to have an in-between book that does not restrict your dietary habits, allowing you to have meat whenever you fancy it. This cookbook is great for your health too as by encouraging a lower consumption of meat without making you go cold turkey, it reduces your chances of chronic illnesses such as heart disease, certain types of cancer, high blood pressure and obesity.
Great for: The vegetarian in the family
If you have a vegetarian in the family, this cookbook gives you an easy way to avoid having to make two separate meals. Instead, everyone can enjoy the same meal but meat can simply be added for the meat-eaters – however, even they might find that the recipes are just as satisfying without the meat.
Don't miss: Unique meals
If you're looking to make a vegetarian lasagne or a mushroom risotto, then this book is definitely not for you. However, if you love trying exotic recipes then you need this cookbook now. This recipe book contains dishes from around the world (half of which I have never heard of) but that all sound amazing and if you like to experiment with new flavours and new recipes, then this book is right up your street.
Available to buy here (Nourish Books, £16.00)
4. Crossroads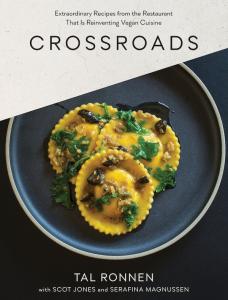 This vegan cookbook is a little more upmarket than your average cookbook – it comes from the classically trained chef and founder of the Los Angeles restaurant – also called Crossroads – Tal Ronnen who prepared the meals for Opera Winfrey's 21-day vegan cleanse. It focuses on the flavours and textures of Mediterranean food above all else with 100 Mediterranean-inspired recipes to provide an indispensable resource for mindful eaters.
Why we love it:
It shows an understanding that even if you're a vegan, there are some tastes that you may still miss and it allows you to access these flavours without breaking your vegan ways. He realises that it is not the meat or dairy product itself that people miss, but the flavours they give off that people crave – the smoky paprika and fat in chorizo, the smoky char of grilled steak, the nutty salty crumbliness of parmesan. He shows that it's possible to use vegetables to replicate those flavours that many people miss and that you can get that same feelings of indulgence and satisfaction with a vegan lifestyle.
Don't miss: Flatbreads
Flatbreads are a staple of many Mediterranean diets – it is their equivalent to bread and I'm sure that if you've been to any traditional Mediterranean restaurant, they probably brought out flatbread without you even asking for it. But the flatbreads in this book aren't your standard plain flatbread that you dip in olive and balsamic vinegar – oh no, this takes flatbreads to a whole new level of amazingness. He takes a relatively plain and simple food and makes it exciting and delicious, like a healthy, vegan pizza.
Available to buy here (Artisan, £19.99)
5. Hungry Healthy Happy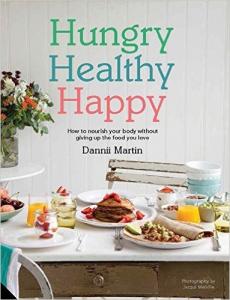 Hungry Healthy Happy is all about making clean eating easy. Author Dannii Martin believes in eating the foods you love made healthy – the ethos of her recipes allows us to rediscover our love for all of our favourite foods, reinvented as more nutritious and wholesome versions of themselves. Dannii herself was once overweight, living on ready meals and takeaways and suffering from health problems. She decided to change her ways and has since become an inspiration to women all over and is consistently ranked in the top three health and fitness blogs.
Why we love it:
When people buy healthy cookbooks they usually assume that they have to give up the foods they love – but this cookbook proves that you don't. Hungry Healthy Happy does not tell you that you have to eat a whole load of foods you may have not heard of and completely change your eating habits but instead encourages you to continue eating the things you enjoy. It even includes takeaway favourites like chicken tikka masala, pad thai, sweet and sour, egg fried rice, all made healthy. This cookbook does not make you feel guilty about wanting these foods and does not encourage you to deprive yourself of them, but just provides healthy ways to have them.
Great for: small changes
This recipe book is all about making healthy changes where you can and is not restrictive to a certain diet plan but just puts a healthy twist on the foods you love. If you generally like foods that can be considered unhealthy and want to continue eating these rather than completely revamping your diet, this cookbook is perfect for you. It helps you to overcome weight problems and learn to lead a healthy and happy lifestyle without taking drastic measures.
Don't miss: Breakfast
The breakfast section has all the things you would expect in a healthy cookbook such as porridge and healthy granola but is also full of tasty recipes that you probably wouldn't expect to see. Things like egg white breakfast pizza, blueberry waffles, a healthy grill up and a whole 'on toast section' featuring healthy alternatives to baked beans and chocolate hazelnut spread make breakfast fun, familiar and of course, tasty.
Available to buy here (Jacqui Small LLP, £20.00)
6. Pimp my Rice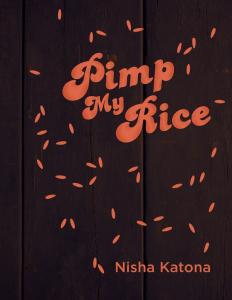 If you haven't gathered from the title, this cookbook is all about rice. I'm not shy to admit that I was extremely apprehensive about this cookbook – how can you have rice for breakfast, lunch, dinner AND dessert? Surely you can't do that much with rice? But boy, did this book prove me wrong. This cookbook reinvents rice and takes it from being a simple, uninteresting accompaniment that just helps fill you up to being the main event.
Great for: rice lovers
It goes without saying that this cookbook is great for anyone that loves rice as it offers a whole array of dishes and flavours from chili, chocolate, cardamom and Kahlua that make rice exciting and delicious. There really is such a large variation of recipes to experiment with. If you're just looking for a way to make your rice a little bit more interesting or you're wanting to try new inventive rice-based dishes, then this book is perfect. It has every kind of rice dish you could think and so much more.
Don't miss: Main grains
If you love a traditional rice dish, this section is packed full of amazing dishes from around the globe. There's everything from Portugese pimped rice piri piri, to Jamaican jerked angry bird, to Asian inspired belly bonnet biriyani, to Morrocan total tagine and even a Spanish easy peasy paella. This book contains the recipes to favourites from every cuisine.
Available to buy here (Nourish Books, £16.59)
7. Crazy Sexy Kitchen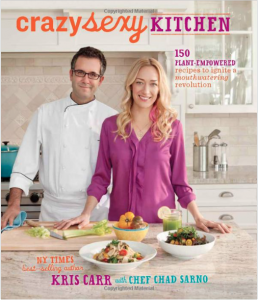 Crazy Sexy Kitchen is filled with recipes for a plant-based diet which is based on cutting out all acidic inflammatory foods that might irritate the body, such as meat, dairy, refined carbohydrates, wheat, processed foods, artificial sweeteners and trans fats. It highlights how living on this kind of diet provides you with food that nurtures the body and fuels the brain.  Kris Carr and chef Chad Sarno have teamed up to create delicious plant-based recipes which appeal to both passionate amateur chefs and complete cooking newbies.
Why we love it:
This is a really inspirational cookbook that shows how a plant-based diet can really improve your life. Author Kris Carr was diagnosed with with a rare and incurable stage 4 sarcoma cancer in 2003 and knew that her diet had something to do with it. She decided to break off her unhealthy relationship with processed, fake and fast foods and began to fully participate in her own wellbeing. This led her to start cooking consciously and compassionately and led her to a plant-loving diet which has left her feeling healthier and happier than ever before. Her cookbook is all about helping other people prevent illness and health problems from developing by living a healthy lifestyle with a good clean diet.
Great for: plant-based diet lovers
This book is really thorough on the benefits of a plant-based diet and tells you exactly how to carry it out. It is informative on the foods that heal and harm you and has lots of exciting recipes that prove that a plant-based diet can be delicious and easy.
Available to buy here
(Hay House, £14.18)
8. Make your own rules cookbook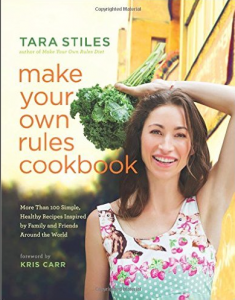 This cookbook is all about making a healthy lifestyle effortless and accessible for everyone and encourages you to use your own intuition and try new things to see what works for you. As author Tara says, 'if you can imagine, you can create' and that's exactly she wants you to do.
Why we love it:
This cookbook encourages you to eat what makes you feel great. It shows that exploring with food and becoming interested in cooking will help you learn what makes you feel amazing. Tara's cookbook is not only about food. As she is the founder of Strala Yoga and a leading figure in the yoga movement it is also about the importance of cleansing the mind too. She shows how eating and the mind are linked and even offers space meditation to help you clear space in your mind before you begin clearing your kitchen.
Great for: those that like to experiment
As the title suggests, this is a 'make your own rules' cookbook and encourages you to explore and experiment, adapting the recipes to make even better creations. It's great if you like to add your own twist on recipes and allows you to create variations of the different dishes.
Don't miss: Sandwiches and Wraps
It can often be difficult to create a tasty interesting sandwich that isn't just salad filled when you don't eat meat, but the recipes in this section are inspiring and look delicious. Those that particularly stood out were the tofu tower toast, mushroom tacos and the not-mushy veggie burger – they look amazing.
Available to buy here (Hay House, £15.90)
9. Gluten-Free for kids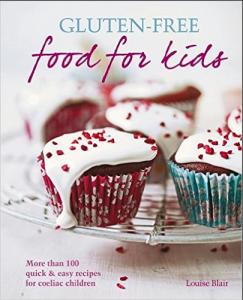 This cookbook is completely different to the other cookbooks in this round up, but just as worthy of a place. It is aimed at parents that have celiac children and proves that they do not have to be treated differently because of their gluten intolerance. Rather than being deprived of all the delicious meals that you might consider no-go's, Louise Blair provides gluten-free alternatives so that celiac children never has to miss out again.
Why we love it:
Although it is hard to find out you have an allergy at any stage in life, it is particularly hard for children, especially if the allergy is to something as big as gluten. Gluten is in a lot of foods that are popular with children – from cakes, to biscuits to bread, but author Louise Blair shows that finding alternatives doesn't have to be challenging but can be easy and the outcome just as delicious. It's packed full of recipes that are simple to make and so tasty that the whole family can enjoy them too.
Great for: parents new to gluten-free cooking
This cookbook is informative about celiac disease making it easy for parents that are otherwise unfamiliar with it to understand. It includes the symptoms, diagnosis and treatment of celiac disease as well as helpful tips on how to introduce a gluten-free diet that is healthy, balanced and most of all, ensures your child does not feel like they're missing out on their favourite foods.
Don't miss: Let's Party
Kid's birthday parties can be a challenging obstacle for children with celiac disease as the array of party food such as cupcakes, pizza, sausage rolls and birthday cake can often not be very friendly for those with gluten intolerance and if not dealt with properly, could leave a child feeling left out. So this section is perfect for gluten-free alternatives of all the expected party foods to ensure your child can have and attend a birthday party without worry.
Available to buy here (Hamlyn, £12.08)
10. Naturally Sassy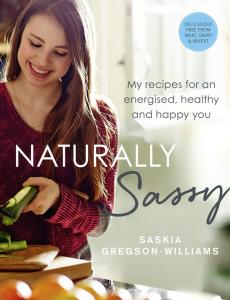 Ballerina Saskia Gregson-Williams was always in ill-health and battling injuries. Finding that her diet was the root of all of these problems, she decided to reclaim her health and overall diet. Quitting dairy, meat and refined sugar, and replacing them with natural foods, she recovered and felt stronger and more energised than ever. This cookbook encourages others to live the same and reclaim their health.
Why we love it:
This cookbook is all about being able to eat wholesome, nourishing food with ease. All the recipes are practical, easy to follow and affordable to buy and most importantly look really delicious. It's filled with vegetarian, gluten and dairy free recipes as well as tips for a healthier lifestyle. As Saskia is a certified health coach, the focus of this book is on helping you to be fit rather than thin, strong rather than skinny, and happy rather than guilty. She manages to create a perfectly balanced recipe book that is realistic to follow and does not make you feel like you are depriving yourself of anything.
Great for: mood cooking
It can be hard to always be in the mood for cooking, especially after a long, stressful day at work. Saskia shows sympathy with this and has cleverly divided the mains into sections to suit your convenience. From the 'I'm too tired to wash up' section with quick and easy dishes such as creamy one-pot pasta for a quick dinner when you're feeling a bit lazy all the way through to the 'I want to make a good impression' section filled with dishes such as spicy squash and black bean burgers that are a bit more fancy and you may want to use for when you have friends over. However you're feeling, the is recipe to suit any mood.
Don't miss: Anything… seriously
Every section in this book has amazing recipes. The overnight oats are made exciting and look absolutely delicious, the soups and salad section is packed full of vibrant, interesting recipes and even the drinks section is full of exciting recipes. Normally I just skim through this section of a cookbook but so many caught my eye such as the superfood hot chocolate, energising berry-cashew smoothie, raw chocolate milkshake, anti-inflammatory gingerbread smoothie. There were so many I instantly wanted to grab a blender and start making them. My absolute favourite section was the desserts. Like me, Saskia is a self-proclaimed sweet lover and this cookbook definitely does not skim on the deserts. She has created healthy alternatives to all the traditional favourites – sticky toffee pudding, brownies, banoffee pie, chocolate cake- there is no sweet deprivation here – just amazing, guilt-free treats.
Available to buy here (Ebury Press, £9.00)
11. Skinny Soups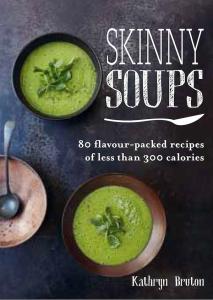 An essential for the winter cold – soup is a must-have. Skinny Soups is filled with a warming, healthy and tasty variety of soups that are the perfect comfort food that will leave you feeling happily and nutritiously full. This cookbook is particularly great for this time of year as it stops you from giving into unhealthy temptations such as takeaways and microwave meals allowing you to make something quick and easy that is even more satisfying.
Why we love it:
Skinny Soups is not a cookbook filled with you traditional leak and potato or pea and ham soups so if that's what you're looking for, step away from this cookbook. No, this cookbook is full of original, creative recipes that will make soup exciting and enjoyable. All about flavour and nutrition, these recipes are so tasty and all less than 300 calories per serving. They are filled with substantial ingredients so you are not left feeling hungry but are instead completely satisfied. Most of the recipes are vegetarians, vegans, gluten and dairy free meaning that you can try these recipes regardless of any dietary requirement as almost all of them can be adapted to make them allergy friendly.
Great for: Simple cooks
Lets be honest, no matter how bad of a cook you might be, it's virtually impossible to get soup wrong, making it the perfect option for those of you who want to eat healthy but are not great in the kitchen. This cookbook allows you to create easy, tasty, satisfying soups without fear of burning down the house.
Don't miss: broths and consommes
Broth is not one of my favourite words as it stirs up images of frothy dirty looking liquid but you'll be pleased to hear the recipes in this section are far from what I've been imagining. These broths look vibrant and delicious and I never thought I'd be saying this but even I am dying to make one. You've got your simple yet classic miso or wanton soup to the more extravagant sea bream, coconut and lime or pea and mushroom rare beef broth, all looking equally amazing.
Available to buy here (Kyle Books, £14.99)
12. Paleo Monday to Friday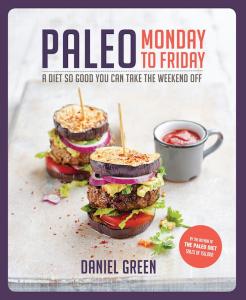 This cookbook from healthy eating expert and world-renowned celebrity chef Daniel Green encourages a paleo diet meaning you eat fresh meat, fish, nuts, seeds, fruit and vegetables and no processed food whatsoever. Following this diet, Daniel managed to lose four and a half stone and has kept it off for over 25 years. He understands what it takes to keep motivated and how much easier it all is if you can do it with recipes that are easy to cook and taste great.
Why we love it:
It allows you to follow a rather straightforward diet and is based on things most people eat but just completely cuts out all processed food which is bad for you. It allows you to remain in your comfort zone with food but just gives it a healthy edge. Also, it accounts for the fact that many people don't have the willpower to eat healthily 100 percent of the time and gives you the absolute freedom to let loose on the weekend as it encourages people to follow the 80/20 rule – following the diet 80 percent of the time. This cookbook offers a realistic-to-follow diet plan that effectively helps you keep off weight – what more could you want?
Great for: protein lovers
This cookbook does not ask you to buy foods you've never heard of but just provides you with nutrient dense, low carb and high protein recipes that will help you lose weight and feel fantastic. If you love meat and fish then the paleo diet is definitely for you. The recipes are mainly based around these ingredients and show you how to make exciting, protein-heavy, carb-light meals that are healthy and delicious.
Available to buy here (Kyle Books, £13.49)
13. The Scandi Kitchen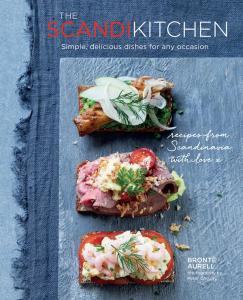 Bronte Aurell and her husband wanted to bring the Scandinavian foods they missed and loved from home to England and introduce them to more and more people. They decided to open ScandiKitchen Cafe which is now hugely popular in London. This cookbook is filled with traditional Scandinavian recipes that are renowned in the restaurant.
Why we love it:
It is an accessible introduction to Scandinavian cuisine – one which many people may not know much about but there is an amazing range of healthy, interesting recipes that are wholesome, flavoursome, simple to make and beautiful to look at. You can tell how much Bronte really cares about this food and her origin which all the recipes represent. The cookbook allows you to experience new flavours and textures and some of Scandinavia's most-loved recipes.
Great for: The experimental chef
If your interested in experimenting with different cuisines, this cookbook is great. It's completely different to any other recipe book as it takes you on a cultural experience as well as a culinary one. You will not only learn about Scandinavian food but also each dishes origin. If you like trying something new, this cookbook is perfect for you.
Don't miss: Scandinavian favourites
This cookbook is packed full of traditional Scandinavian favourites – most of which you probably won't be familiar with but all of which look exciting and delicious. From open sandwiches and real swedish meatballs to less commonly known dishes such as beed lindstrom, pyttipanna and kaldolmar all of which look incredibly tasty and hearty.
Available to buy here (Ryland Peters & Small, £.11.55)
14. I Quit Sugar: Simplicious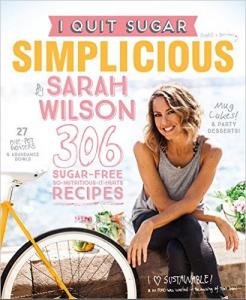 Sarah Wilson quit sugar and has helped more than 650,000 people worldwide do the same with her eight-week programme that shows how giving up sugar can dramatically improve your health and lifestyle. This cookbook strips things back to the essential ideas of the plan to help more people quit sugar for life.
Why we love it:
It shows you how to shop, cook and eat like we used to in the days before sugar-filled, processed foods hit our shelves, making the absolute most of natural ingredients. It encourages a no wastage attitude where every scrap is utilised and nothing ever gets chucked away. You'll learn to use the bones and carcass of your meat to make delicious, home-made stocks and make amazing meals from leftovers.
Great for: Food wasters
If you often find yourself throwing away a load of out-of-date food at the end of the week, this cookbook will show you exactly how to make your food last as long as possible with helpful tips on how to buy and store food so you never waste anything again.
Don't miss: A bunch of Sunday cook-ups
If you're bored of the traditional Sunday roast, then this section offers a range of amazing alternatives such as the cheapest stew ever (79p per serving- seriously) and sweet persian tagine that will leave you just as comforted and satisfied. Even better – they provide enough leftovers to see you into the following week and there are even exciting recipes to make using the leftovers.
Available to buy here (Macmillan, £13.60)
READ MORE:
10 best healthy cookbooks of 2015