Fitness leisure, combining your health goals with socialising, is on the rise as we become a more health conscious nation. Healthista picks the best five ways to get involved in the new healthy partying 
Ever stuck for ideas about what to do with your bestie that can be deemed as a healthy alternative to cocktails after work (not that there's anything wrong with that, of course)? We definitely count shopping as a leisurely calorie buster. But now, the concept of actually working out or improving wellbeing while hanging out with friends is booming. Considering that one in eight of British people are members of a gym, it is clear that as a nation, we are becoming more health conscious. Indeed, research by Sellhousefast.uk found a 5.4 per cent rise in the fitness market value since 2015 making it now worth a staggering £4.3 billion.
With so many of us adopting healthy living attitudes, a social life that supports this is useful to stay on the straight and narrow. In January,  pop-up shop Run for your Bun in Covent Garden was the world's first café whereby you pay for your food by exercising. A ten minute HIIT workout would allow you anything from the menu – perfect for gym-bunny girlfriends.
Although only temporary, Run for your Bun excited London, and activities are cropping up in the city and further to accommodate for the fitness fanatic friends. Healthy partying is a growing trend to watch for, and Healthista have rounded some options to suggest to your pals – but don't always expect an excited reception when you suggest a rave at 6am in the morning! (See Morning GloryVille)
MORE: The rise of ethical fitness fashion
Best for: Hen and stag dos
Snowboarding and abseiling with Red7
Red7 are travel experts when it comes to weekends away with friends, for celebrations such as stag and hen dos. Recently, a study they conducted on 500 people showed 30 per cent of people are seeking extreme sports or activities for their stag or hen do, shifting away from the common drinking weekend. They offer a large range of group activities from your typical city breaks in Barcelona to disco dodge ball to an old school Sports Day.
Healthista's Vanessa and Parisa went for an exhilarating activity day dry slope snowboarding and abseiling at Mendip Outdoor Persuits, Bristol, one of Red7's adventure experiences. Mendip houses the best limestone cliffs in Britain, and Mendip has its own 50-acre rock-sport quarry for rock climbing and abseiling. There's nothing like getting your adrenaline pumping than walking down an 80-foot cliff backwards, or climbing a real rock face. Teamwork is essential to keep the group concentrated to master the skills, otherwise it's a rush of fear as your rope slips. It's an adventure with pals you're not likely to forget for a while.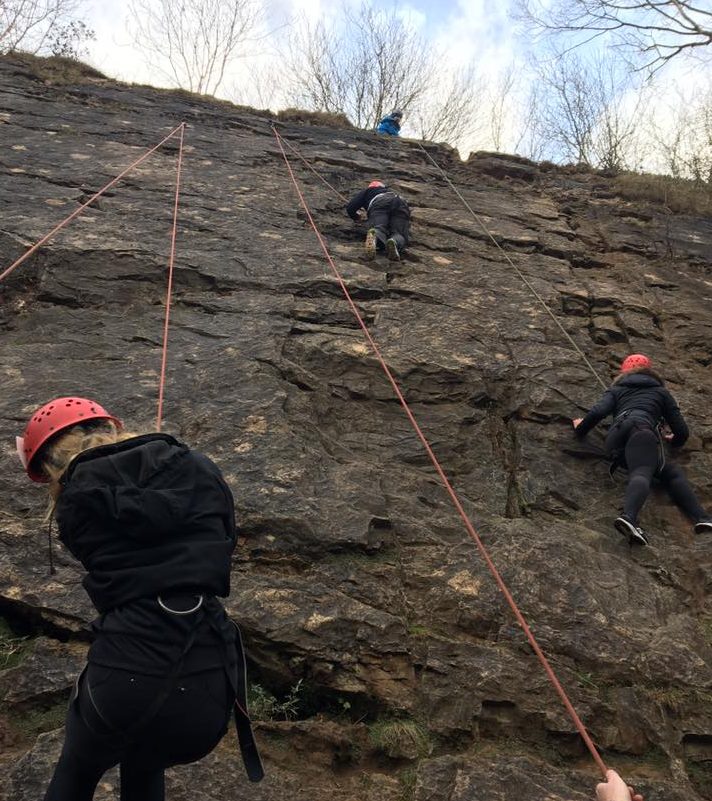 The dry slope snowboarding is great fun even for a beginner who is completely new to extreme sports. The instructors are top of the range experienced, who are passionate to get you confident on the board by the end of the hour and a half session. Whether you're perfecting your technique, or learning from scratch, a snowboarding lesson is a fitness alternative that will get the whole group engaged, and, rolling around laughing when slip-ups happen. All the kit is available to use on the day, and a buffet lunch is on offer at Mendip's lodge-like cafe among the tree tops.
Snowboarding: Price per person: £46 (min group size 6). Duration: 1.5hrs
Climbing and Abseiling: Half day experience. Price per person: £69 (min group size 6). Duration: 3hrs
Best for: wellness at the weekend
Fancy some cheeky cocktails at the weekend but it clashes with your gym routine? Combine the too, guilt free, with a new socializing and healthy living concept, WeExperience. It's the latest extension from the WeTRAIN app, which offers Londoners socially focused exercise experiences. With daunting gym membership sign ups and takeaway nights with friends being two worlds apart, they decided to find a balance.
WeExperience is designed to shake up your weekend lunches or after-work-drinks, with sessions blending fitness, adventure, wellness and food and drink. The prices range from £30-£75 for sessions between two to three hours, including barre with a food demo and yoga with brunch.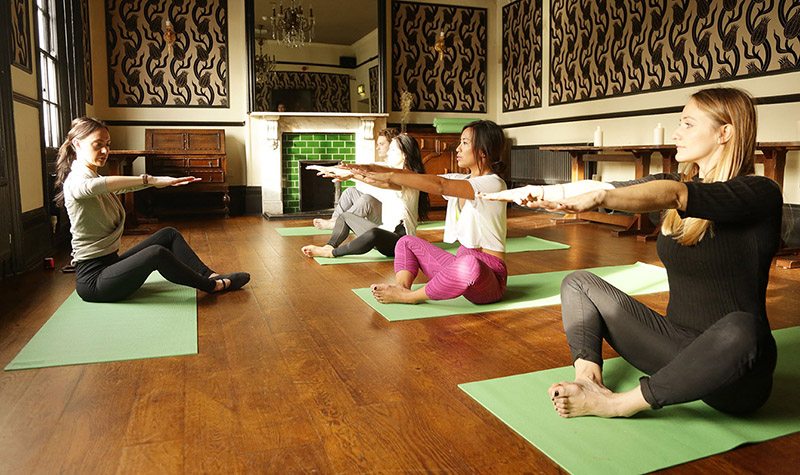 Healthista's Vicky Hadley tried out the Pilates, horse riding and tea-tasting led by Pilates teacher Nikki Urwin. Cantering around Bushy Park, only in zone 6, you feel miles away from the bustle of London with an expert on hand to show you the ropes. Inside an old fashioned chandelier lit hotel, Nikki Urwin leads a dynamic legs and abs Pilates class. To end the day, the guests had tea tasting at The London School of Tea, learning about the cuppas the world has to offer. The events at WeExperience are wellness-powered specially curated and hosted by the UK's leading health and fitness experts.
The next WeExperience event is No Bullsh*t Wellness with Nesse on the 22nd February. An 'unapologetically femme-powered evening covering all three of the most important elements – your body, your brain and your belly'. There will be a 45 minute barre class followed by healthy snacks, nutrition tips and food demos. £38 pp.
Best for: Classic clubbing (without the booze)
Ministry of Sound Does Fitness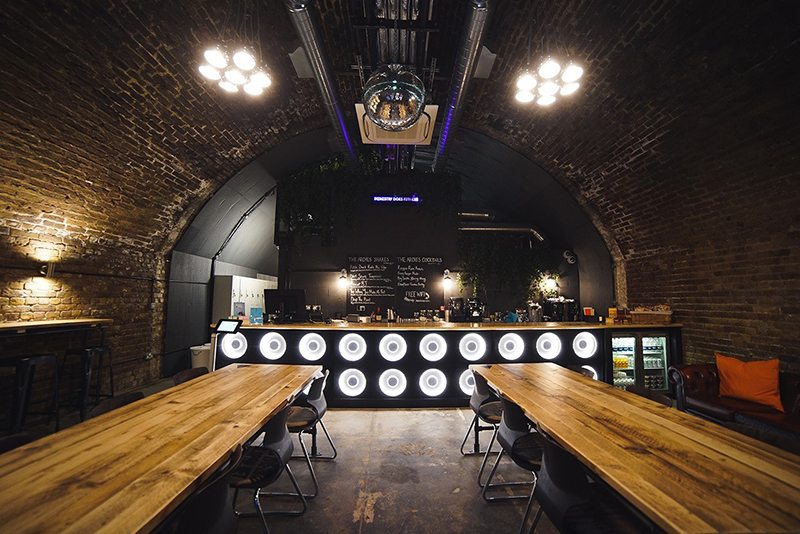 If your motto is 'work hard, party harder', you are probably familiar with Ministry of Sound, and will love their new state of the art gym. Hidden away in the Elephant and Castle nightclub's previously hidden booze vault, its complete with London's loudest sound systems and bar. Here you will find protein shakes being served by day, and cocktails by night, making all the hard work worth it.
The programme of classes, running six days a week, has been designed by Harry Jameson, one of London's most sought after personal trainers. On Monday is a high intensity cardio class, Tuesday is for strength training, using pioneering functional movement. Wednesday is endurance, testing willpower and stamina. Thursday is for core, strengthening and toning between intense bursts of cardio. And Friday- Saturday, you can expect a full body workout.
Workouts involve equipment such as kettlebells and TRX, and best of all, incredible music. No playlist will be heard twice; only fresh beats to push you further and keep you focused whilst having fun.
1 session is £14, and you can buy up to 50 for £500. See more here.
MORE: REVIEWED: Virgin Active's new class HEAT – the toughest and sweatiest yet
Best for: Reformed ravers
When Morning Gloryville began in 2013, they probably didn't expect it to reach worldwide reception. Taking 'morning person' to the extreme are the 6am ravers who dance at skyscraper heights as the sun comes up. 800ft high at The Shard in London, over a thousand people dance from 6-10 am without any intoxication – just pure love and good vibes. With a ticket you can expect free yoga, massage, superfood smoothies, hot drinks, and top DJs such as Fatboy Slim.
'The Gloryville Effect', often dubbed a social movement, won the 2016 Award for the Best Zero Alcohol Initiative in the UK, as people leave for work feeling far more uplifted than with their usual morning coffee. What's amazing about this event is the difference you are actually making by raving, which is supporting charities. Funds raised help refugee camps, poverty-striken areas and divided communities. They are partnered with charities such as Peace Direct and Love Support Unite, so expect an inspiring feel in the room.
Join the 43rd event at Oval, East London on March 1st. Tickets are just under £20 and selling fast.
Best for: Pub crawling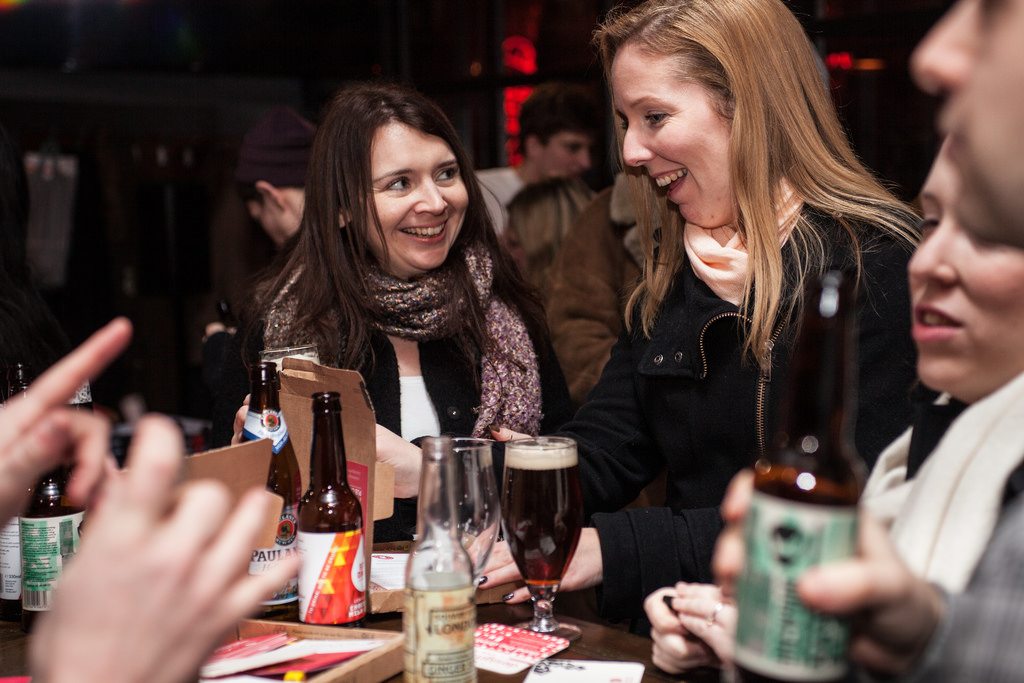 Cutting back on the drink? No need to stay cooped up inside with Netflix; Club Soda offers free organised bar crawls through Hackney and Central London for those who don't drink or want to drink less, because obviously those people still want to get out for a good time! Club Soda predicts mindful drinking will be a health trend in 2017, finding that 30 per cent of customers in a venue won't be drinking. The guide lists 200 pubs and bars rated out of five according to their low or no alcohol options, so you can arrange a bar crawl with your friends, or just take note of what venues will have options. Or, go on one of their arranged Mindful Bar Crawls, hopping from one place to the next with games involved and meeting people with similar approaches to drinking (and no, it is not an AA club!).
MORE: Does quitting alcohol mean giving up going out? Healthista's Charlotte Dormon says 'No'