Need a facial that helps relieve sinus pressure and headaches and reduce wrinkles? The Bergman Method by reflexologist Michele Stevens could be the solution
Did you know that any tension in your feet, your hands and your face could affect what's going on in other areas of your body? Your body is made up of bone, tissues, nerves, tendons, muscles and nerve endings are found all over the body.
Whether it be aches and pains, built up tension or even sleeping problems, reflexologist Michele Stevens will guide you through self massage techniques to tackle some of the most frequent issues we all struggle with.
What is reflexology?
Reflexology is more than just a foot/hand or face massage. Michele calls reflexology the reboot button for the body, similar to turning the computer on and off.  It allows you the time and space to let the body heal and relax.
Reflexology is an ancient therapy that has been practised for over 5000 years.  It's based on the theory that different points on the feet, face and hands correspond with different areas of the body and that working on these reflex points stimulates the nervous system, opening up energy pathways that may be blocked or congested.
Facial reflexology, or the Bergman Method created by Ziggie Bergman, is unlike any facial you've received before. It doesn't just help your health, but will make you look better, younger and have a healthy glow on the outside.
One of the unique benefits of facial reflexology is that by working directly on nerve and muscle structures in your face, it can help your neck and shoulders and relax tension and stress being held in your face.
For example, tightness in these areas can be one of the causes of migraines. Facial reflexology can help relax these muscles and ease your stress and tension, helping reduce migraine attacks.
Bergman Method sequence – tips for relieving sinus pressure
Opening movements – Cleanse your face with your usual products and then apply a a facial oil, serum or moisturiser such as the Zone Face Elixir Oil,£75 (or whatever you normally use) with smoothing massaging movements.
Eye/ear general area – Gently pinch along the eyebrows from the inside outwards. Press upwards and release – you can do this a few times.
Sinus reflex point – This point forms a 1 cm wide strip above each eyebrow. Using both hands, work from the inside above your eyebrow outwards. Use a sliding movement with your thumb and fingers. Repeat this movement a few times.
Head and brain point – Use your index or middle finger to make circles gently over this area. Stroke gently in circles with 1 or 2 fingers for 6 seconds.
Closing movements – End by using smoothing massage movements outwards to smooth skin.
Working these points will help clear blockages and live sinus pressure and headaches. Over time, they will help to lift the eyes and reduce wrinkles.
The Bergman Method will leave your skin glowing, looking smoother and younger with wrinkles and frown lines visibly reduced. You'll feel refreshed and ready to face the world again.
For more about Michele and to book an appointment, visit Wellness by Michele Holistic Therapies here. You can also contact Michele Stevens at wellnessbymichele.com who provides this treatment in her own practice in Hayes, Middlesex.
More reflexology content from Michele
Hand reflexology for sleep problems

Hand reflexology for headaches

Anti-ageing massage using reflexology
Anti-ageing massage using a gua sha

Hand reflexology for back, neck and shoulder pain
Hand reflexology for blocked sinuses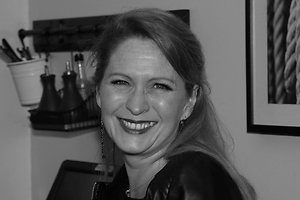 Michele Stevens is fully qualified and a member of the Association of Reflexologists and Registered with Complimentary & Natural HealthCare Council (CNHC) fro Reflexology. I am a Colour Mirror Practitioner. When you have treatments with me, you will feel safe and nurtured and know that I put you and your interests at the heart of my treatments; and it's wonderful to know that for that time, no one can disturb you for anything.
Like this article? Sign up to our newsletter to get more articles like this delivered straight to your inbox.