With foraging a hot health trend right now, hiking and herb holidays are becoming popular options for healthy travel. Britt Collins hiked, biked and ate her way through Bavaria to try it out 
Germany seemed like an unlikely healthy travel destination. But the Bavaria we encountered was an unexpected surprise, far removed from scary nudist saunas, gargantuan bratwurst or beer-swilling drinkathons. Scenic and serene, it's the new hiker's paradise, so renowned for its invigorating clean air and rest-inducing climate that several towns in the region claim to be luftkurort or 'air spas'.
We stayed at the AlpenClub hotel with its storybook setting of pretty gingerbread houses, onion-domed churches and crystal-clear lakes. It's a favourite escape for urbanites, who come for hiking, cycling, walking and foraging for herbs in the wilderness – on this trip I was delighted to have all of the above on the itinerary. Located in Schliersee about an hour from Munich, the 89-room retreat offers guided four-hour hikes through forests, fields, creeks and mountains with a herbalist identifying the wild plants and flowers that can be picked as food, medicine and even beauty pick-me-ups. With foraging trending in health at the moment, it seemed a thoroughly now way to spend a healthy holiday, even if it was in Bavaria.
DAY 1 – herb walking  On the first day in Bavaria, we started the morning with a breakfast of mixed berries and yogurt, rye toast with alpine honey and hand-pressed apple juice on the hotel's geranium-filled terrace, revving up for the hike. The alpine surroundings of emerald forests, crisp pine-scented air, wood smoke and cows scattered along the hillside was incredibly calming bit I wasn't as excited about the hiking. My idea of exercising is walking to the shops or chasing after a bus and am only into healthy eating by default being a life-long vegetarian and sometime vegan. Unlike me, Victoria, an Irish journalist and longtime friend on the trip with me, is health obsessed. She goes on every weird yoga holiday going and even drinks wheatgrass. The hiking was her idea.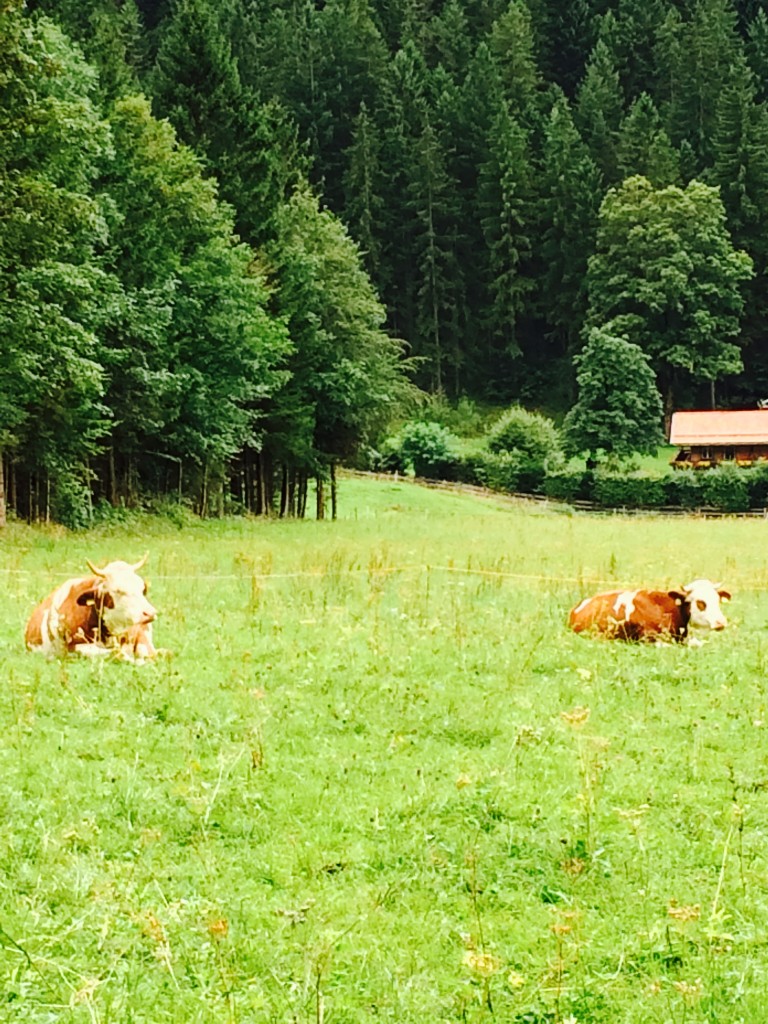 Nina Fleischmann, the AlpenClub's marketing director, took us on a whirling trip around the historic Old Town. The first stop was a local farm, a typical 16th-century Bavarian wooden house. The farmer showed us around the converted farmhouse filled with distressed antiques, kitschy crucifixes and gilt-framed paintings of saints. It's dark, creaky and cavernous with a sacred-heart Jesus and Marys blazed from every room. Afterwards, settling around a corner dinette beside an ancient Kachelofen tile stove, we sampled a plate of homemade cheeses, seeded breads and plump radishes plucked straight from the garden.
Then it's off to the herb hiking tour. Christiana Viehweger, a certified herbalist, led us on a foraging trip in the nearby forest area, where we sniffed and sampled endless herbs, while soaking up the dramatic scenery. We passed chocolate-box villages blooming with creeping roses and idyllic green pastures with Palomino ponies and white and ginger cows grazing under centuries-old larch trees.   The woodlands and wildflower meadows of the Alps flourished with a variety of plants.
Wandering down stony trails, the air was fragrant with wafts of rosemary, sage and chamomile, and wild mushrooms of all shapes and sizes poked their heads through tufts of undergrowth. I probably would've just stomped across it all if Christina hadn't pointed them out.   As we walk, she started picking shoots and leaves that looked suspiciously like weeds that she later uses in our al-fresco taster. 'Only pick as much as you need,' she said, 'and don't tear it out at the roots.' She talked excitedly about rosehip and nettles, explaining the mysteries and health benefits of these fascinating mineral-rich plants. Rosehip, full of antioxidants, is fantastic for the skin and makes great jam or adds a nice kick to porridge, while nettles, a natural cure for backaches and arthritis, can be made into soup, tempura crisps or tea. The sunny-yellow petals and prickly leaves of dandelions are not only great for summer salads, they also have diuretic properties. Wild thyme, typically known as St. John's Wort, is a natural antidepressant.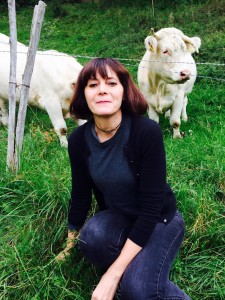 A sort of self-styled woman of the woods, Christina is in her late fifties and a mother of four adult children yet she's as lithe and limber as an athlete. She works at the mayor's office but dabbles in herb hiking as a hobby, showing weekenders how to forage edible plants and mushrooms combined with impromptu cooking lessons. She sees food foraging as 'something that connects people to nature and our planet'. She encouraged Victoria and I to try walking barefoot, which has a kind of cult status in Germany.     After a three-hour tour, she invited us to her house on the edge of a mountain. In the fading sunlight of her garden, she pulled out a skillet and miniature propane stove. Using leaves collected from our walk (wild garlic, nettles, cow parsley and flowers), plus a few ingredients from her larder, Christina rustled up a forest feast: a refreshing apple juice with mint and flowers; seeded rye bread with pan-seared garlic leaves; wildflower butter on melba toast; stinging nettle crisps; and savoury herb pancakes with raspberry jam. Polished off with shots of black thorn and elderberry liquor.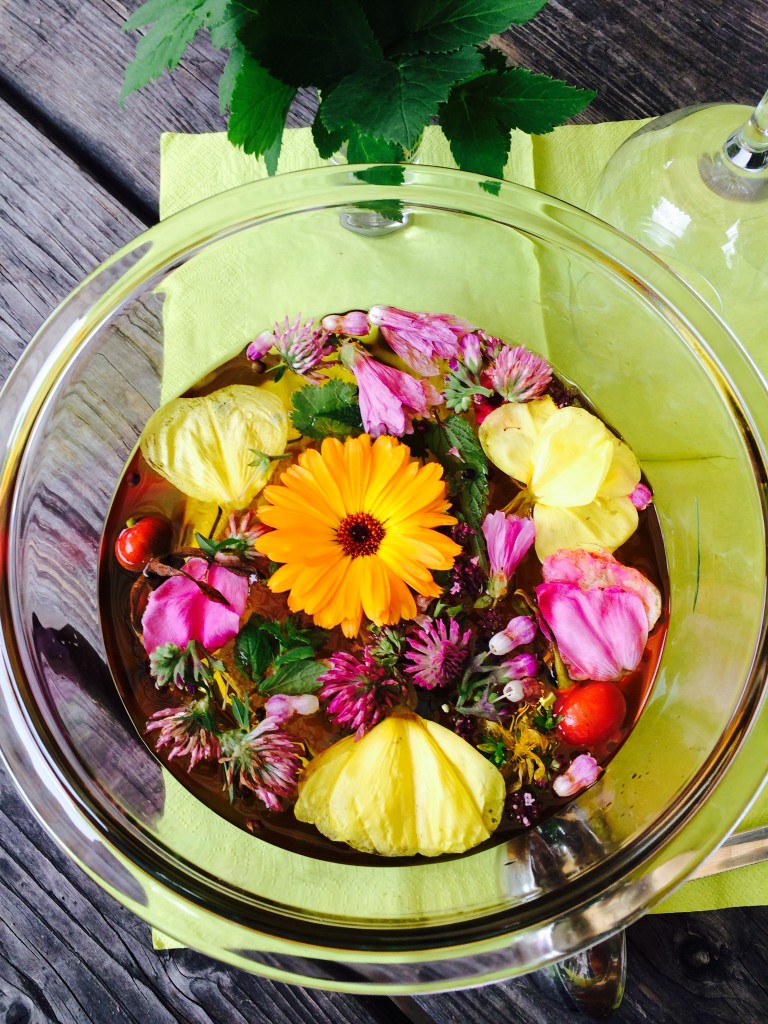 Back at the hotel, in the snug pine-walled dining room over a candlelit dinner of a goat's cheese salad with sugared walnut, radicchio and rose-petal salad and handmade gnocchi,we talked about the day's highlights. Victoria loved the barefoot walking, while just seeing the contented cows and ponies was enough for me.
DAY 2 – mountain hiking The next morning was gloomy and grey – perfect hiking weather. Caroline Dobiey, a perky blonde with sparkling blue eyes from Cologne was our guide for the day.   The Alpenclub chef prepared a picnic big enough to feed of family of ten. The basket was overflowing with a healthy version of local Bavarian specialties: smoked cheese and apple sandwiches; seared tofu with black-olive spread on sourdough; black cherries, apricots, apples, smoothies and summer salads. If anything, I thought all the food might be handy in case we ran into any bears as a peace offering, but it was insanely heavy to carry up a hill or anywhere. Leaving it in the car, we grabbed handfuls of cherries and apricots to fuel up for our ascent.   Taking the cable car up to the Wendelstein Mountain, we enjoyed the panoramic view of pine-clad hills, lush valleys and villages before our four-hour hike. Following a curving, crushed-stone road along the mountain, it was a rigorous heart-pumping walk that took us through craggy peaks with not a soul around for miles, past lone ramshackle huts and intimidating roadside shrines.
Caroline sprinted ahead in cowboy boots, not exactly the most suitable footwear for the hilly trails. 'This is amazing for losing weight and toning up your muscles,' she says with a smile. Barely an hour into the walk, I felt windswept and weary, ready to collapse on the side of a mountain. By the end of it, my legs ached, my feet hurt, but strangely I felt energised.   We never quite made it to the observatory or the 19th-century chapel on summit of the 6,000-foot mountain, but we saw wild sheep, golden eagles and crows. There were wonderfully quaint places to stop along the way and rest. The Jagahütt'n, a family-run rustic lodge amid the pines, only reachable via foot or cable car, had an open fire and gingham tablecloths and was filled with disparate groups of hikers dining together on stews and schnitzels at communal tables. Reveling in the feeling of accomplishment, we made a pit stop for some well-deserved hot chocolates.   Afterwards we squeezed in a bracing long walk around the village, poking around the historic coffeehouses and shops and trying on the dirndls for a laugh.
Schliersee, a medieval hamlet of cobbled streets and charming Hansel-and-Gretel houses, was old-fashioned yet conveniently up-to-date with trendy boutiques and gleaming state-of-the-art gyms. What was disconcerting were all the giant crucifixes appearing out of the blue, hanging off buildings and looming on country lanes. It was Saturday and the centre of town was lively: the Hofbrauhaus beer terraces rumbling with jolly oompah bands; beautiful carriage horses flashing past; men in traditional loden coats and lederhosen and rosy-faced women in corseted dirndls spilling out of a church from an afternoon wedding.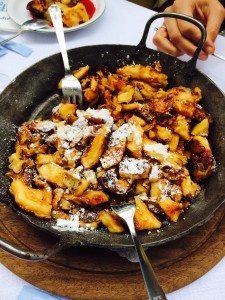 Nina took us to a Stoeger Alm, hilltop café hanging over the lake, for a traditional dessert. She has lived in 20 countries, mostly in Asia, and is happily embracing the homey comforts of Bavaria. We shared a giant caramelized, rum-soaked pancake served with apple sauce.
DAY 3 – ebiking The final day was wide open and spent cycling around the picturesque Lake Schliersee in the foothills of the surrounding mountains. Gliding along the cobbled lanes was something of an obstacle course with the slow-moving locals and tourists and flocks of black moorhens and families of ducks. Beyond the touristy patch, there were dedicated bike trails everywhere, which were usually well signposted.
We whirled past lush green backyards, weathered boathouses, across a railway track and through a shady forest. Real cyclists overtook us on road bikes.   It was my first time on an bike which looked like a futuristic mountain bike but come with an electrically-powered boost. It went faster for a lot less effort and could hit up 20mph, but I did have the option to peddle without the battery power. Changing power settings was easy using a click-switch on the handlebars. Admittedly, it was dead handy going uphill and for long rides. After circling the lake for the third time, we collapsed by a hilly roadside and stopped by a meadow with little tawny coloured goats, feeding them the apricots and bread rolls I bought especially for any animals that crossed our path.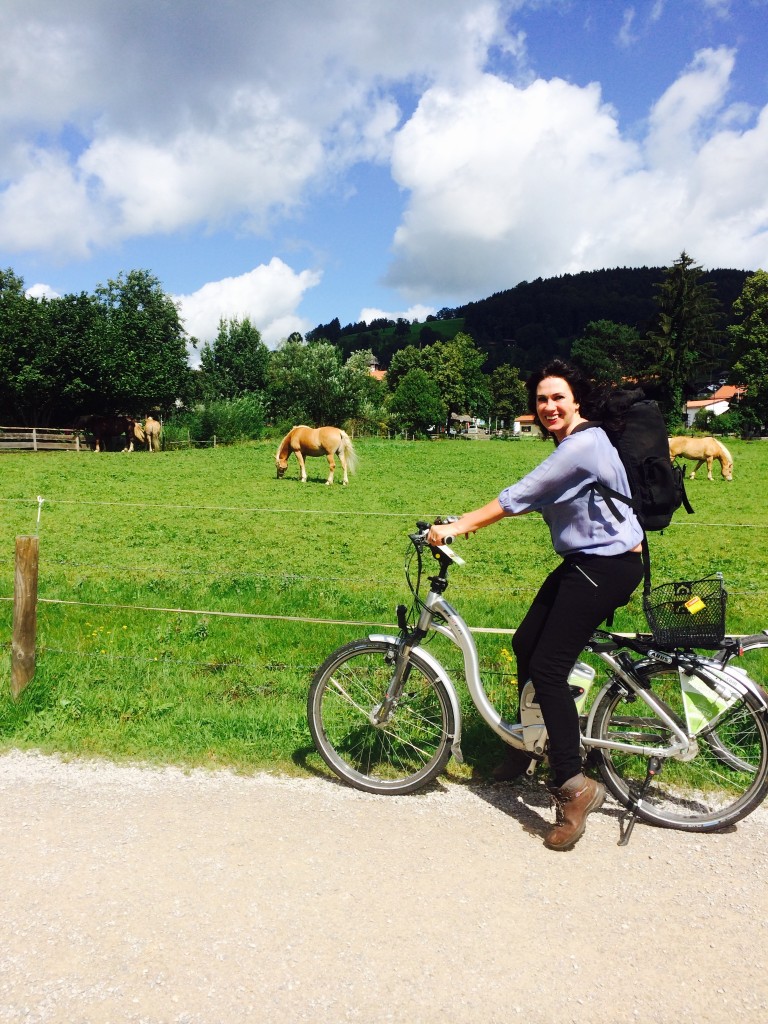 At the water's edge, there was an authentic old-world café called Milchhausl, which Nina insisted had the best homemade pastries in town. It was late afternoon and the flower-filled terrace, streaming with sunshine, was buzzing. Weekend afternoons are when Germans traditionally have a piece of cake and coffee. 'I feel like we're eating our way through Bavaria,' Victoria says, choosing the super-healthy options of tomato soup with potato-and-cucumber salad.   Three hours later, after four laps around the lake, we rested at a café tucked in at the edge of the cleanest campsite we'd ever seen. It was a properly retro coffeehouse, unchanged from the 70s. The buff young tattooed owner seemed surprised when we only ordered cappuccinos. 'You can't come to Bavaria and not try the zwetshcgendatschi,' he says mysteriously and brings back a plate of warm plum tart.   The long weekend turned out to be as much a culinary adventure around Bavaria as a healthy escape.
A stay at the Alpen Club Hotel starts from £110 a night for a double room, (alpenclub.de). You can fly to Munich with British Airways or Easy Jet. Taxi transfers to Schliersee are 45 minutes and cost £80 from the airport or trains are also available. Herbe hiking costs eur15 – eur25 a day and ebiking starts from eur10 for four hours. 
Like this article? Sign up to our newsletter to get more articles like this delivered straight to your inbox.