Soft, yellow lighting is cast down on the five figures sitting cross-legged upon the small platform, filling the room with a dim warmth. The man in red flannel shirt presses his fingers to the small instrument before him, bringing forth an accordion-like sound. He parts his lips and a low, solemn "om" rumbles out – spills through the speakers and fills the whole room. Soon the band joins, and they are playing a soothing rhythm that they have played time and time again at yoga centers and intimate settings. However, they are now playing for the hundreds in the audience before them, and the thousands upon thousands watching the show from home that are likely mystified at the unorthodox performance. They are playing at the 2013 Grammys.
For Krishna Das, the featured artist in red flannel, his purpose for singing never changes, regardless of the venue or audience size. "…To save my heart. Every day. This is what I do to keep my head screwed on semi-straight and keep my heart open. Whenever I sing, that's why I sing," he told Origins Magazine. And he's not talking about singing top 40 hits here (and that may be why some of you haven't yet heard of him).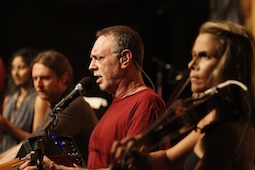 Krishna Das is known as 'yoga's rockstar' and has become the best-selling chant artist of all time, 300,000 sold records to his name. The king of yoga music will be here this weekend, leading a chant retreat hosted by the popular yoga center, triyoga. He will be crooning songs of the kirtan flavour to yogis in the area alongside fellow chanter Nina Rao, as yoga teacher Bridget Woods Kramer leads gentle yoga classes.
Highly praised by yoga enthusiasts, and even pop and rock legends Madonna and Sting, he specializes in a genre that is not quite mainstream. Das sings a type of devotional music called kirtan. Considered spiritual and moving by many, kirtan music is call-and-response chanting in which hymns or mantras are uttered, normally accompanied by various ethnic percussion instruments and a small pipe organ called a harmonium.
What sets Das apart from other musicians in the devotional music genre is his enchanting combination of traditional Hindu kirtan with modern instrumentation and melodies.
And it's soothing. Take a listen to any of his numbers – even the aforementioned Grammy performance –to grab a better understanding of how mellow Das's music is. But apparently, you shouldn't just stop at listening to Das' chanting – you should join in, because chanting is good for you too.
'Chanting allows us to override things that might otherwise close us down. Chanting is a way of entering into that flow,' says Das.
Neuroscientist Marian Diamond from the University of California says that chanting helps block the release of stress hormones and increases immune function.
Chanting sounds also ted to have a therapeutic effect, soothing our bodily systems and activating the body's natural healing process, according to Alfred Tomatis of the French Academy of Science and Medicine.
If you're interested in experiencing the benefits of chanting, and want to grasp at the chance to do yoga with a Grammy nominee, do check out the chant retreat taking place this weekend June 28 – 30 at London's cool yoga haunt Triyoga.  Click here to book
Like this article? Sign up to our newsletter to get more articles like this delivered straight to your inbox.