Welcome to Healthista's fitness DVD challenge. For each of the 12 days of Christmas, editor Anna Magee is trying one workout DVD. For Day One, she tried 15 Minute Fast Fitness from former gladiators Jenny Pacey and Wayne Gordon
Nobody wants to work out on Christmas day. But having planned to have a Swedish Christmas with a couple of our best friends and their family I wanted to eat all the rollmop and marzipan my body could humanly take.
I had also signed up to this challenge so I kind of had to follow up by actually working out. When we sent Healthista's Christmas newsletter on Tuesday 24th I was still in the office in work mode and it seemed like a great idea. Today – Boxing Day – post Christmas eating marathon and nestled in my duvet with a strong desire to do nothing but binge-watch on Netflix, I am not so sure….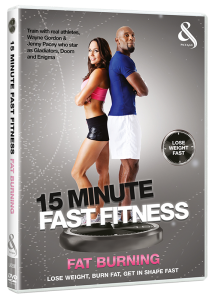 Anyway, day one – Christmas – and I wanted something fast and effective that I didn't have to sacrifice an hour of my life to. I had a ham to roast.
I chose 15 minute fast fitness, a DVD created by Jenny Pacey and Wayne Gordon (they're former stars of Gladiators, Enigma and Doom).
I met Jenny at Leisure Industry Week a few months back. We were there filming new  health and fitness stuff our News Bites and managed to shoot Jenny training on a new contraption called a Unikurve. See the film – and Jenny's amazing body  – here. It was there that Jenny gave me a copy of her DVD to try.
Jenny's a fitness model and personal trainer, one half of Pace and Go,  the PT company she runs with Wayne Gordon, who's a trainer and also her actual partner. I have seen them both in the flesh and they have the kind of bodies that make you think, whatever their methods, they're working. Jenny's not too muscly either, but strong and super fit-looking.
I loved the idea of this DVD from the start. Who after all, hasn't got 15 minutes they can find daily? There are two versions of the DVD, Fat Burning and Body Transformation and I tried the former. It contains three workouts: Sofa Circuit which can be done using your sofa or a dining chair, Buddy Up which you do with the partner or Body Weight Blast. I chose the latter as you need no equipment other than your own body. My pet hate is having fitness equipment I never use lying around the house so the idea of working out without any paraphernalia appealed to me. Plus, body weight workouts – those that use only your own weight for resistance – are becoming increasing popular and were one of the big trends trainers went on about throughout 2013.
Inevitably, the brevity of the workouts mean it's going to be a pretty tough 15 minutes as usually the shorter the workout, the harder it has to be in order to be effective.
The workouts are based on a another 2013 trend, High Intensity Interval Training or HIIT which involves short bursts of exercise alternated with short periods of recovery (see HIIT explained in the HTV video). Research has found it can get you fit and burning fat in half the time of more moderate workouts in which you stay at the same pace throughout.
The Body Weight Blast workout I did began with a warm up of boxing moves and jumping jacks for a few minutes and then went straight into the torture. This involved 40 seconds of tough resistance moves – including alternating planks and push-ups, reverse lunges, jump squats, one legged planks and that old faithful, the burpee – then 20 seconds of 'active recovery', done 15 times. During the 'active recovery', instead of actually letting you rest they make you do things like jumping jacks which keeps your heart rate up and doesn't amount to recovery at all but an all round 15 minutes of hell.
About five exercises in I found myself groaning and hugely out of breath as they push you harder than you'd ever push yourself. Quite a result for ten quid instead of around £80 you'd pay an actual trainer to do the same. You can go around the circuit again to lengthen the workout to 30 minutes or move on to the cool down and stretching which only takes a few minutes.
The set features manicured lawns behind floor to ceiling windows and the DVD is broadcast quality, shot on two cameras so you see the moves from different angles without too many annoying, unnecessary edits (another of my pet hates). Plus, a little bell goes when the move's over in case you can't see them changing. Wayne does the more advanced versions of each move while Pacey does slightly less tough ones, though these couldn't technically be called easy under any circumstances.
I love the simplicity of this DVD's premise: wworkout hard, in your living room for 15 minutes a day and get results. Just don't expect 15 minutes of mercy, a walk in the park this ain't.
I burned 96 calories in 15 minutes (so said the brand new Nike Fuel Band I got for Christmas)
PROS: It's only 15 minutes, you get advanced and intermediate options. The moves are high energy and work lots of different muscle groups in a short time. Based on the proven fat-burning concept of HIIT
CONS: There's no real option for a longer workout unless you go through the workout again.
Healthista rating: 4/5
Find out more about Pace and Go
Like this article? Sign up to our newsletter to get more articles like this delivered straight to your inbox.