The Victoria Secret's model Candice Swanepoel has teamed up with denim fashion label MOTHER to launch a capsule collection with a good cause
South African model Candice Swanepoel shows that she is not only great at strutting down a catwalk in her knickers but also at designing a bit of fashion herself. She recently teamed up with denim label MOTHER to create a capsule collection available in stores from mid February.
Not only are the designs super-trendy, they also have a great cause as a portion of the proceeds made from the collection goes to the charity mothers2mothers to help HIV-positive mothers. Mothers2mothers is the global leader in the ambition to eliminate new HIV infections, particularly among children, having reached more than 1.2 million HIV-positive mothers since 2001.
https://www.youtube.com/watch?v=zwHQ9IFerMQ&feature=youtu.be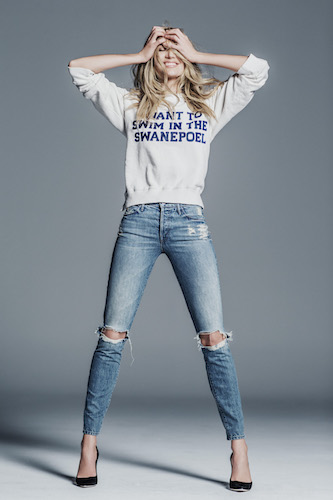 The MOTHER spring 2015 capsule collection is inspired by 90s street fashion (those were the days), featuring high waisted ripped jeans and cut-off shorts.
All pieces come in different washes, hand-picked by Candice herself and we still haven't decided on which one is our favourite.
At Healthista, we like to see fashion that is actually wearable in everyday life and that's exactly what this collection offers plus a chance help a HIV positive mum.
You can always use a new pair of jeans right?
Like this article? Sign up to our newsletter to get more articles like this delivered straight to your inbox.