Healthista TV attended the Boots Autumn / Winter hair and make-up trends showcase on Tuesday night and picked up key looks for autumn winter
In this video, international make-up artist Jose Bass, whose clients include Mischa Barton, Rosario Dawson and Abby Clancy, does the Claret Red lip as seen on the catwalks for next season. Watch another video of Jose doing the Feline Flick eye as seen at Louis Vuitton for a/w 2013
WIN A BOOTS BOOTY BAG WORTH OVER £100!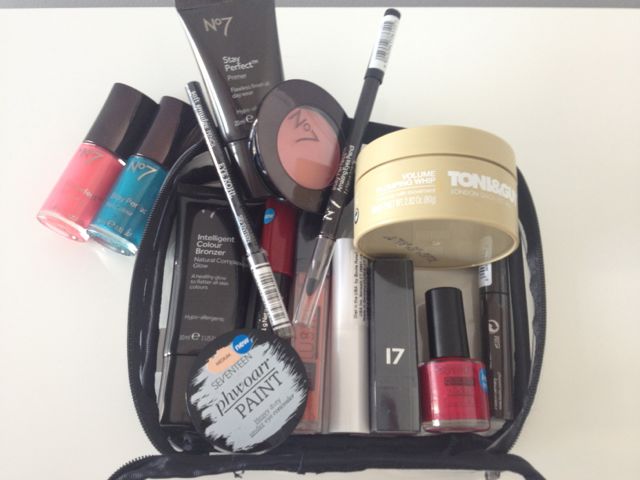 We have a bag of 14 new colours and products for autumn/winter to giveaway worth £101.54 courtesy of Boots including:
No. 7 High Shine Lip Crayon £9 our Favourite product in the range
Tony & Guy Volume Plumping Whip £7.19
Seventeen Soft Smudge Eye Kohl £2.89 in Blackest Black
Seventeen Phwoarr Paint Heavy Duty Under Eye Concealer £5.49
No 7 Natural Blush Tint Powder £8 in Coral Flush
No 7 Stay Precise Liquid Liner £7.50
No 7 Match Made Concealer £7.50, Pure Rose
No 7 Stat Perfect Amazing Eyes Pencil £6.50
Seventeen Lip Lustre £3.99 in Hotting Up
Seventeen Mirror Shine Lipstick in Hollywood £5.49
No 7 Intelligent Colour Bronzer Natural Complexion Glow £11.50
No 7 Stay  Perfect Primer £12.50
Seventeen Quicker Slicker Colour £1.99 in Baked Cherry
No 7 Stay Perfect Nail Colour £6 in Cheeky Chops
No 7 Stay Perfect Nail Colour £6 in Cruising
TO WIN A BOOTS BOOTY BAG: Simply register for healthista.com or share this post on Twitter or Facebook and you're in with a chance.  We'll announce the winner on Thursday September 12th

Competition terms and conditions
For the next four Friday nights starting September 6th, 32 Boots stores around the country will be showcasing trends with expert demos and advice for consumers.  For more Boots trends, click here
Like this article? Sign up to our newsletter to get more articles like this delivered straight to your inbox.