These 10 easy food hacks by nutritionist and fat loss mentor Fiona Kirk will keep you energised, focused and slim whilst in full festive swing – pass the Prosecco
1. Graze before you go partying
It can all go horribly-wrong when you arrive hungry at an event. The first 20 minutes can see you having guzzled your way through two alcoholic drinks and copious canapés and there are still plenty more of both to come.  Make sure you eat something really small and healthy before you go to an event so you don't arrive ravenous.
Swap this – a 'grabbed' ham and cheese sandwich pack = 400 calories
For this –  a small bowl or large mug of miso soup = 135 calories
Saving: 265 calories
More top choices: a couple of oatcakes or rye crackers with no sugar almond butter, a small pot of hummus with raw vegetable sticks, a couple of no sugar protein balls, a small carton of natural yoghurt with chopped fruit and fresh nuts.
2. Know your party nibbles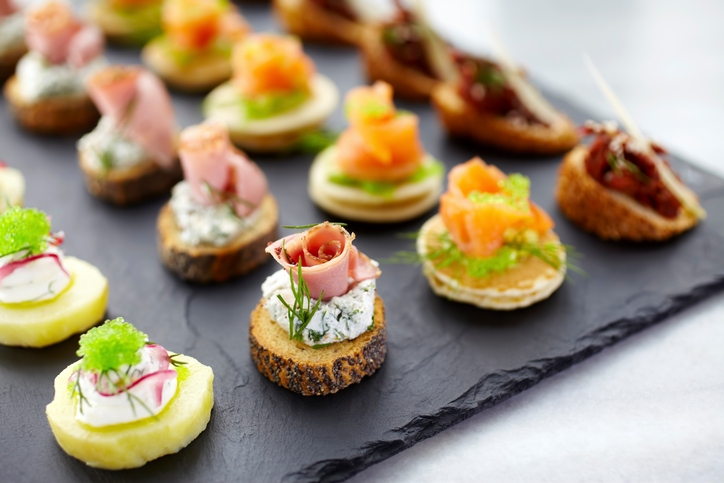 Those oh-so-moreish pastry-rich and deep fried morsels (particularly alongside alcohol) seriously hike up your blood sugar levels and it's easy to lose count of how many you have had.  
Swap this – mini chicken kievs x 6 = 360 calories
For this – raw vegetable sticks with dips x 6 'visits' = 150 calories
Saving: 210 calories
More top  choices: smoked salmon rolls, stuffed mushrooms, mini meat, vegetable or fruit kebabs, sushi and sashimi.
3. Choose wisely at the buffet
We all know the overwhleming feeling of seeing a long table with plates piled high of beige coloured foods. Party buffet food brings with it nostalgic feelings (and bad choices if we are really hungry, see above). Steer clear of the starchy and sugary options and focus on vegetables or salad and protein and you won't go too far wrong as protein is the most satiating macronutrient that will leave you feeling full. Don't pile the plate high or go back for seconds if you aren't hungry.
Swap this – portion of lasagne with side salad = 450 calories
For this – hot or cold baked salmon with mixed salad or vegetables = 200 calories
Saving: 250 calories
More top choices: protein and vegetable-rich soups with lots of salad on the side, spicy meat and/or vegetable curries without the rice or naans, meat and/or vegetable casseroles with loads of greens, baked fish or shellfish, lentil and bean salads, hard cheeses and fruit without the biscuits.
4. Play clever with booze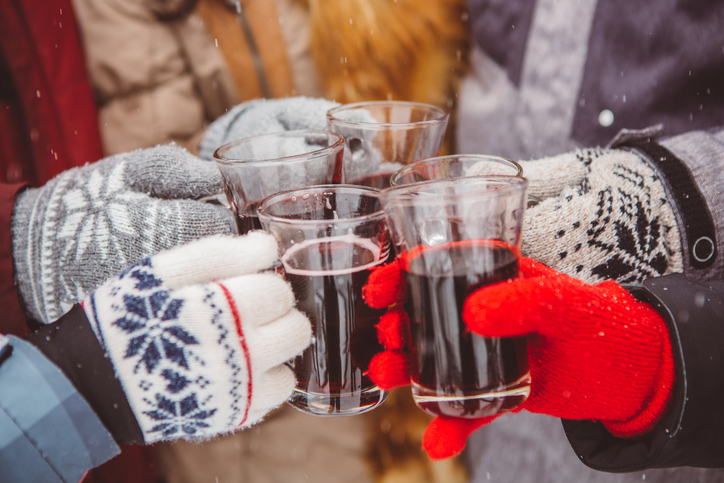 You may have already decided that going sober is not an option this time of year, and that's understandable. For drinkers watching their weight, a great tactic is to decide well before party time on a drink that you are going to stick to like glue – unless the choice is somewhat limited. That's the only way you are going to know roughly how many calories you are consuming over the period. And, make an obsessive point of having a large glass of water to match every alcoholic drink – both your liver and your waistline will thank you.
Swap this – 1 x french martini = 160 calories
For this – 1 x vodka, soda, ice and a dash of fresh lime juice = 90 calories
Saving: 70 calories
Swap this – 1 x champagne cocktail = 180 calories
For this – 1 x extra dry champagne or prosecco = 80 calories
Saving: 100 calories
More top choices: dry white wine, rich ruby red wine, spirits 'on the rocks', spritzers (more sparkling water than wine) and if it's got to be cocktails, go for the ones which are bitter rather than those with fruit syrups.
5. Have a post-party snack ready
Sometimes when you have been out partying you just want to flop into bed. Other times, it's not unusual for a 'snack attack' to invade and this is when we can be at our very weakest, raiding the fridge and wolfing down food without much consideration until the morning after when you wake up in a bed of crumbs. A brilliant tactic is to be a bit organised and have a pre-prepared protein-rich snack in the fridge so you simply open the door, grab it, down it and manage the craving. 
Swap this – a couple of slices of cheese on toast = 400 calories
For this – a couple of oatcakes or sweet potato crackers with sugar-free nut butter = 140 calories
Saving: 260 calories
More top choices: one slice of rye toast with mashed avocado and sliced smoked salmon, two slices of Parma ham wrapped around chunks of hard goats cheese, small bowl of no-sugar muesli topped with natural yoghurt and runny honey, sliced cold, pre-boiled eggs and cold ham on two rye crackers.
6. Get your hangover breakfast sorted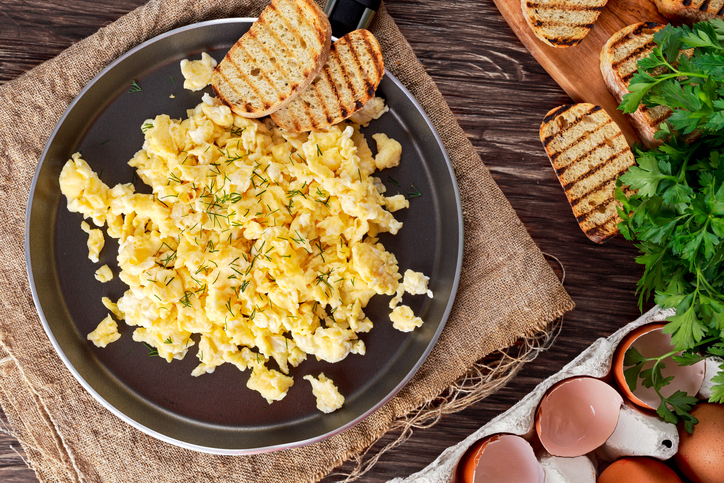 If it was a late one and alcohol was involved, there is a reasonable chance you will wake up and feel driven to some sort of sugar hit – even if it means driving somewhere or ordering to get it. Naturally, our body will be craving these sorts of foods, especially if you are tired, too. Or, the thought of any kind of food doesn't sit too well with you and all you can manage is a cup of tea or coffee (or worse still a can of fizzy stuff – bad decision on all fronts). You have to do everything you can to get your blood sugar under control if you want to avoid the mid-morning energy slump and the craving for something sugary or starchy. That means a liver-friendly cuppa and a protein-rich meal.
Swap this – a latte and a pastry = 450 calories
For this – a mug of hot lemon and ginger tea and a small plate of scrambled eggs = 220 calories
Saving: 230 calories
More top choices: porridge with a drizzle of runny honey and a sprinkling of cinnamon or nutmeg and fresh fruit juice, half an avocado stuffed with natural cottage cheese, lots of freshly ground black pepper and a mug of green tea, natural yoghurt with fresh fruit and nuts and seeds and a green juice, toasted sour dough bread drizzled with extra virgin olive oil and topped with ham and sliced cucumber plus a glass of fresh tomato juice.
7. Keep your immune system strong
Statistics indicate that rather many of us fall prey to the bugs and viruses that tend to dominate around this time of year for two reasons. One, there is a lot of celebratory kissing and hugging over the festive period allowing bugs and viruses to proliferate. And two, we have likely been going hammer and tongs to keep all the plates spinning and possibly burning the candle at both ends making us a little less able to fight off predators. But who wants to wear a face mask from dawn to dusk and say no to every invitation? If ever there was a time of the year to do everything we can to make a determined effort to keep our immune system as strong as possible, it is right now.
Swap this – Beer-battered fish with oven chips and mushy peas
For this – Parcel-Baked Fish: Lay out one piece of aluminium foil about 12-14" square and place some spinach leaves on it. Lay a fish fillet on the bed of spinach followed by some finely-sliced onion rings, a few asparagus spears, a sliced tomato, one finely-diced red chilli and a scattering of fresh herbs. Drizzle lemon juice and olive oil over and season lightly with salt and pepper. Fold the foil to create a parcel, leaving plenty of space around the contents, place on a baking sheet and bake for around 25 minutes or until the fish is cooked and the juices run clear. When cooked, lift the contents of the parcel onto a warmed plate and spoon over the delicious juices.
More top tactics: Snack on pumpkin seeds, include berries and citrus fruits in your diet, sling plenty of garlic and turmeric into your curries and casseroles, have a mug of hot lemon and ginger tea in the morning, focus on green, orange and yellow vegetables and consider an immune boosting daily supplement. Biocare's Immune Intensive is an excellent product.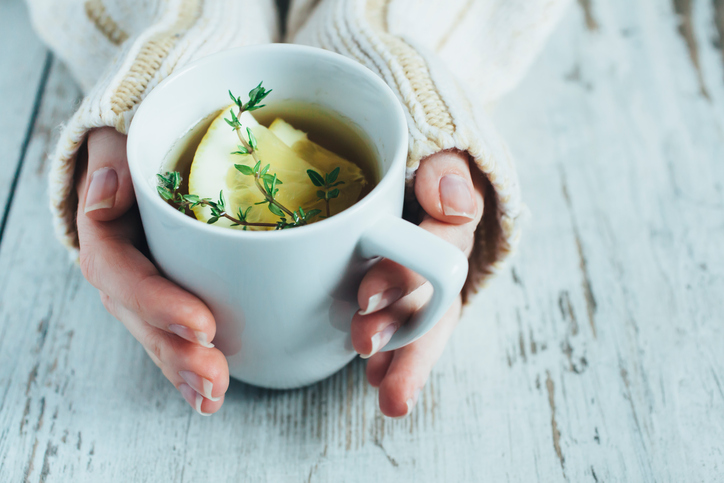 8. Eat super healthy on non-party days
Give your liver and digestion a break when you know you have a day or few devoid of partying by focusing on foods and drinks that calm your system down whilst keeping you energised. Soups, juices, calming teas, light suppers and regular exercise are your best friends. This will make a huge difference in comparison to grabbing a starchy lunch, having the occasional sugary or salty snack before slobbing on the couch for the evening with a ready-meal.
Swap this – bowl of commercial cereal with milk for breakfast, cup of tea/coffee with a couple of choclate biscuits mid morning, a takeaway sandwich and a packet of crisps for lunch, a fruit yoghurt and a diet coke mid afternoon and a takeaway pizza for dinner plus a couple of glasses of wine = 3500 calories
For this – natural yoghurt, fruit and nuts for breakfast, veg sticks and natural cottage cheese mid morning, bowl of light chicken broth for lunch, a couple of oatcakes or sweet potato crackers with sugar-free nut butter mid afternoon and baked fish with steamed vegetables for dinner plus plenty of water, a refreshing fruit and vegetable juice and two cups of green tea throughout the day = 1800 calories
Saving: 1700 calories
9. Feed your brain
It's a particularly busy time of the year when the to do list seems to get ever longer and everything is a priority. The brain is in charge but it needs nourishment if we are somehow or other to stay upbeat, energised and able to look good and feel good when party time comes around rather than feeling drained, simply going through the motions and counting the hours until bedtime.
Swap this – a diet coke and a packet of crisps = 230 calories
For this – an avocado, banana, blueberry, flaxseed, vanilla protein powder and iced water smoothie = 350 calories
Saving: the smoothie has loads more calories but these are the kind of calories that the brain loves and can work with for hours because it is rich in fibre, protein, fats, vitamins, minerals and protective plant chemicals, whereas the the sugary and starchy alternative is simply a temporary  energy sticking plaster devoid of much in the way of nourishment.
More top choices: oily fish, fresh nuts, beets, broccoli, celery, coconut oil, eggs, dark chocolate, extra virgin olive oil, green leafy vegetables, herbs and spices.
10. Don't fret about Christmas day feasting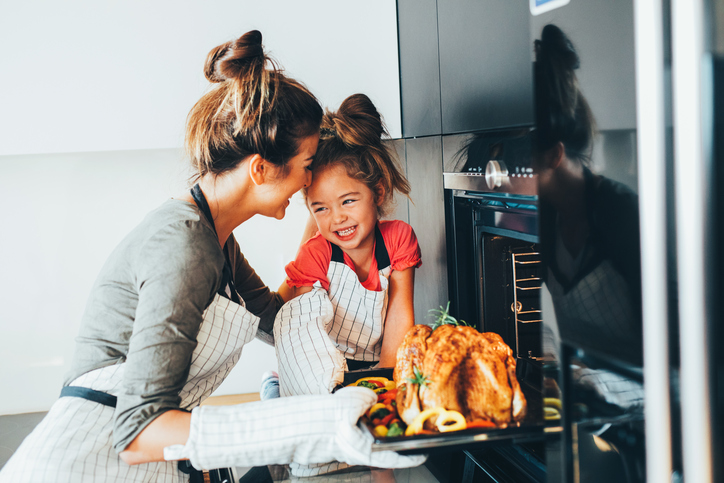 Come on, it's only one day and it's a celebration with family and friends. Whoever has agreed to host the party has spent time and money on making it a day to remember, so if you are a guest, do everything you can to get into the spirit. However, there are lots of tips and tricks you can factor into the day to reduce the calorie load and guilt – if you must. 
Feast on – the protein (meat, poultry, fish, shellfish, lentils, beans, nuts), the fresh, baked, steamed and stir fried vegetables, the fresh fruits, the Christmas pudding, the cheese board. 
Have a small helping of – the deep-fried and pastry-rich canapes, the gravy, the bread sauce, the roast potatoes, the creamy puddings, the brandy butter/cream, the biscuits with the cheese, the after-dinner chocolates. 
Saving:  anywhere between 1000 and 3000 calories!
More top 'Christmas Day feasting' tactics: eat light but don't starve before the feast. Stick to your alcohol of choice during the feast and have lots of water and factor in some exercise before or after the feast. A walk is a top choice and will help with digestion. 
Fiona Kirk is a qualified nutritional therapist at the Institute for Optimum Nutrition in London. In her 16 years of experience, she has kept up to speed with the latest nutritional research to write 16 books on diet, health and fat loss to guide people with a no-nonsense approach. For more top tips, eating plans and delicious recipes, see Fiona Kirk's All New 2 Weeks in the Fast Lane Diet.
READ MORE
14 best supplements of the year
7 best vegan Christmas recipes to make this year
9 best teas for YOUR health problem – from hangovers to heartburn
9 healthy Christmas recipes for people with IBS
11 healthiest alcoholic drinks – a nutritionist's guide
Like this article? Sign up to our newsletter to get more articles like this delivered straight to your inbox.