Melissa and Jasmine Hemsley's healthy cooking blog hemsleyandhemsley.com has taken the UK by storm. These recipes come from their lush new book, The Art Of Eating Well full of delicious and simple recipes you won't believe are super-healthy – even pizza

FLOWER POWER PIZZA
We sneak some cauliflower (the flower!) into the pizza base and then use protein-rich ingredients like almonds, egg white and buckwheat – that's the power part. If you plan to cover your pizza with lots of protein in the form of meat, we recommend using more ground almonds rather than buckwheat flour for better food combining.  Double the recipe to make two pizzas, then you can freeze one of the pizza bases or freeze a constructed pizza ready to pop in the oven later that week. Stick the leftover egg yolk in a smoothie, bake it on top of your pizza.
Makes one pizza
For the tomato sauce (make this up in advance or use passata if you're in a rush)
3 garlic cloves, or diced
1 tbsp ghee
12 large tomatoes, roughly chopped
2 tsp dried oregano or
1 tbsp fresh oregano leaves
sea salt and black pepper
1 fresh or dried chilli, finely sliced or chopped (optional)
For the pizza base
140 g cauliflower (about ¼of a head without the stalk)
1 egg white, beaten
50 g ground almonds
40 g buckwheat flour
½tsp sea salt
½tsp black pepper
¼tsp bicarbonate of soda
Choose your favourite toppings from the options opposite or try the toppings on page 220.
INSTRUCTIONS
Preheat the oven to fan 190°C/Gas mark 6. Line a baking tray with parchment paper and lightly grease with butter, ghee or coconut oil.
Make the tomato sauce: gently heat the ghee in a pan over a medium heat and fry the garlic for 1 minute, then add the chopped tomatoes, oregano, salt and pepper and a little chilli, if you like.
Cook the tomatoes down to a thick sauce over a medium heat, lid off,which will take about 15 minutes, then mash the tomatoes with your spatula or blend to a paste if you like things less rustic.
While the sauce is cooking, grate the cauliflower into rice-sized pieces using a hand grater or food processor.
Put all of the pizza base ingredients into a bowl and mix well with a spoon, or add to the food processor and blend, to form a sticky dough.
Spread the dough out with the back of the spoon on the prepared tray, shaping it into a 30 cm-diameter.
Bake in the oven for about 20 minutes, flipping it over after 15 minutes to cook the underside.
Choose your pizza topping from the options opposite and cook as instructed.
Serve the pizza with a big green salad and drizzle over some Brazil Nut Pesto (page 198), if you like.
For a parma ham and rocket topping:
Spread the tomato sauce over the base of the pizza with the back of a spoon. If you've made the sauce in advance and it's cold, rebake the tomato-topped pizza for 5 minutes before adding your toppings. Top with 4 slices of Parma ham torn into small pieces, 2 handfuls of rocket and some Parmesan shavings. Add chilli flakes, if you like.
For a tomato and mozzarella topping:
Pull apart 1 medium mozzarella ball into small pieces and arrange over the base of the pizza. Slice 2 handfuls of fresh tomatoes into 1 cm-thick slices (a mixture of colours looks good) and arrange over the pizza. Add chilli flakes, if desired. Bake for 10 –15 minutes until the mozzarella is melted and bubbling.
PEA AND MINT ICE CREAM OR LOLLIES WITH CHOCOLATE
A refreshing treat for the summer that's very easy to make. Instead of sugar and pasteurised milk, this ice cream uses coconut milk, probiotic yoghurt and plenty of sweet little peas.
The frozen peas blend with the rest of the ingredients to make a smooth ice cream base in minutes. If you have a high-powered blender, then you can throw some fresh mint in there too − although you'll always need to add a dash of mint extract as well, to get that super refreshing taste. We pour the mix into our ice cream maker and, an hour later, the ice cream is ready to go. For those without an ice cream maker, try our trick using an ice cube mould or half the recipe to make these cute lollies.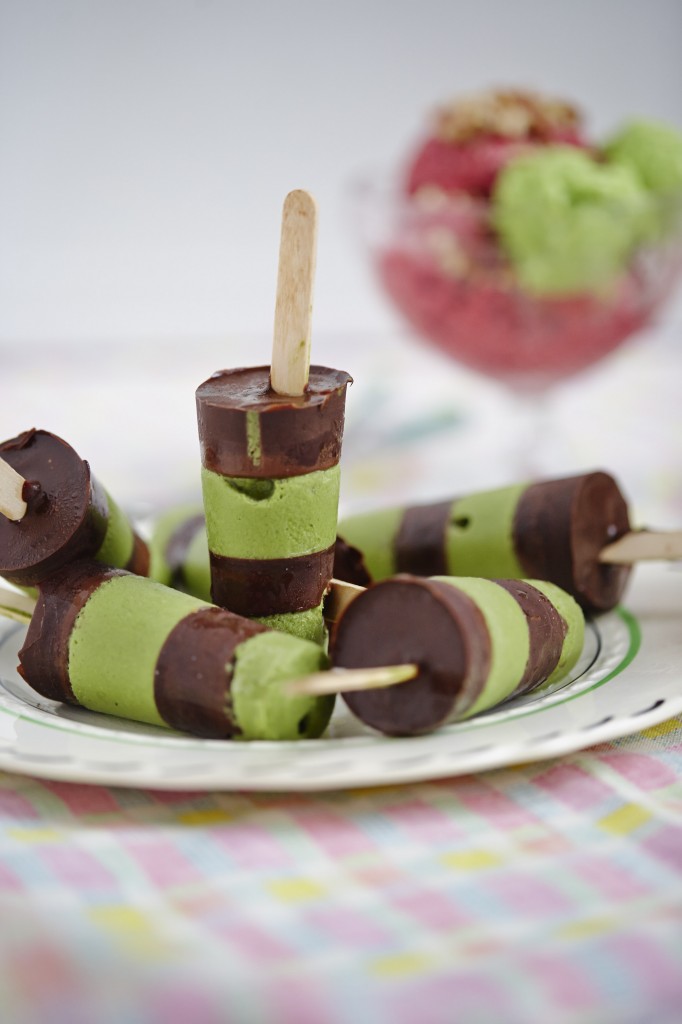 Makes 900ml ice cream
For the pea and mint ice
Cream base
350 g frozen petits pois
1 tin of full-fat coconut milk
150 g full-fat probiotic natural yoghurt
4 tbsp raw runny honey
1 tsp peppermint extract or 50 g fresh mint leaves and a little peppermint extract too
a pinch of sea salt
a handful of cacao nibs, optional
For the chocolate sauce
INSTRUCTIONS
To make the pea and mint ice cream base, blend all the ingredients except for the cacao nibs together until very smooth.
To make the chocolate sauce, measure out all the ingredients into a jug or small bowl and stir together, along with 9 tbsp hot water.
To make ice cream, place the pea and mint base into an ice cream maker and, following the manufacturer's instructions, churn until you have ice cream.When it is ready, scoop the ice cream into bowls and sprinkle with cacao nibs and drizzle with chocolate sauce to serve. If you don't have an ice cream maker, pour the pea and mint mixture into ice cube moulds and freeze. Pulse the frozen cubes in a food processor for a soft serve ice cream.
To make 12 lollies, make up half the quantity of pea and mint base and add about 4 teaspoons into the bottom of tall shot glasses or lolly moulds and pop into the freezer. After 20 minutes or more, insert a lolly stick into the pea mixture and pour some of the chocolate sauce around it. Repeat with the pea and mint base and finish with the chocolate sauce, freezing for 10 minutes between layers. Freeze the finished lollies for a further 2 hours, then enjoy.
Alternatively, mix the half-quantity of pea and mint base for the lollies with the chocolate sauce and pour into shot glasses. Insert the lolly sticks and freeze for at least 2 hours before serving.
PABLO'S CHICKEN
We named this dish after Pablo, our cousin's husband, because he's a fried chicken fiend who challenged us to make him a healthy version that would keep him happy. Here it is – no breadcrumbs, no vegetable oil, no need to deep fry! Succulent chicken baked in a homemade spice mix with a crisp nutty crust, perfect hot or cold.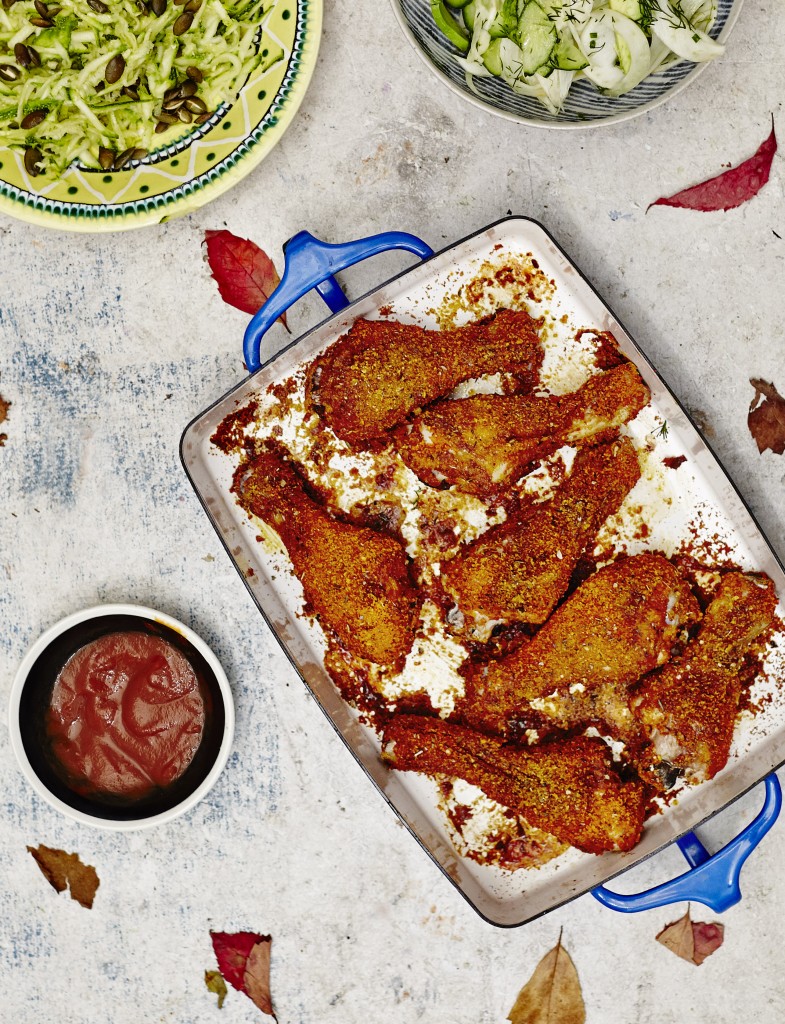 Serves 4
For the chicken

180 g ground almonds or use Sun Flour (page 302)
2 eggs
6 pieces of chicken (use a mix of drumsticks and thighs), skin on
1 tbsp ghee
sea salt and black pepper
For the spice mix

3 tsp hot smoked paprika, or 2½ tsp smoked sweet paprika with ½tsp cayenne pepper
1½ tsp ground cumin
1½ tsp sea salt
1 tsp dried thyme
1 tsp dried oregano
¾tsp onion powder (optional)
¾tsp garlic powder (optional)
INSTRUCTIONS
Preheat the oven to fan 180°C/Gas mark 6 and line a baking tray with baking parchment.
Mix the ground almonds and ingredients for the spice mix in a bowl. In a second bowl, beat the eggs.
Dip the chicken pieces, one at a time, in the egg, then coat in the mix of ground almonds and spices and lay on the baking tray.
Gently heat the ghee and use a spoon to drizzle it over the pieces.
Bake for 45 minutes until golden and sprinkle with some sea salt and pepper.
Extracted from The Art of Eating Well
by Jasmine and Melissa Hemsley £20 (Ebury Press). Tweet or FB this post for a chance to win a copy
Like this article? Sign up to our newsletter to get more articles like this delivered straight to your inbox.