Louise Atkinson went on an active retreat – and a shot of vitamin D – in Ibiza with her yoga-virgin husband 
There's something so indescribably gorgeous about the feeling of warm sunshine on your face, clear blue skies and effortlessly Instagrammable photo opportunities in every direction – particularly when you know for a fact that everyone back home is wrapped up against the grey, dank British winter.
Kate Hudson, Rhianna and even Boris Becker are regular visitors
I always thought you had to fly half way across the world to get a blast of winter sunshine so I am stunned to find myself sitting on a sunny terrace in Ibiza in January.  A two-hour early-morning flight from London City airport means you can be warm, soaking up vitamin D and beginning to unwind with a cup of coffee in your hand before 11am.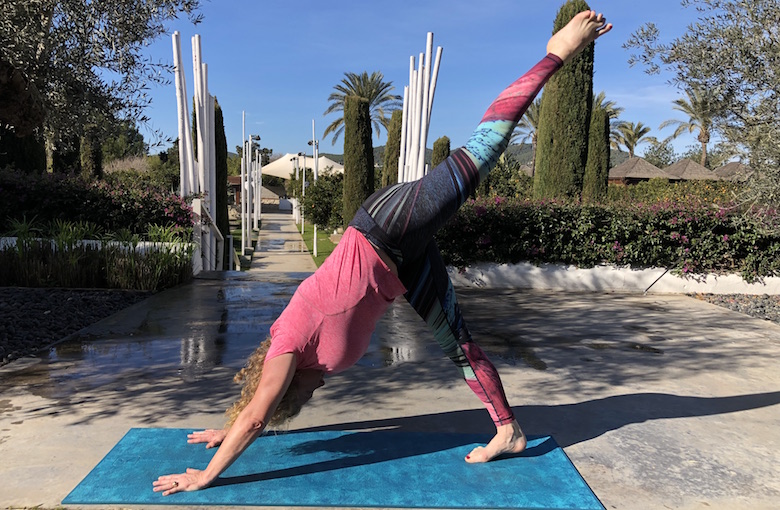 For Christmas this year I treated my long-suffering husband Jon to an active weekend mini-break (with me) so we could both escape the pressures of work and family, refresh our sex life and seal our new year's resolutions to be more active (me) and more zen and flexible (him).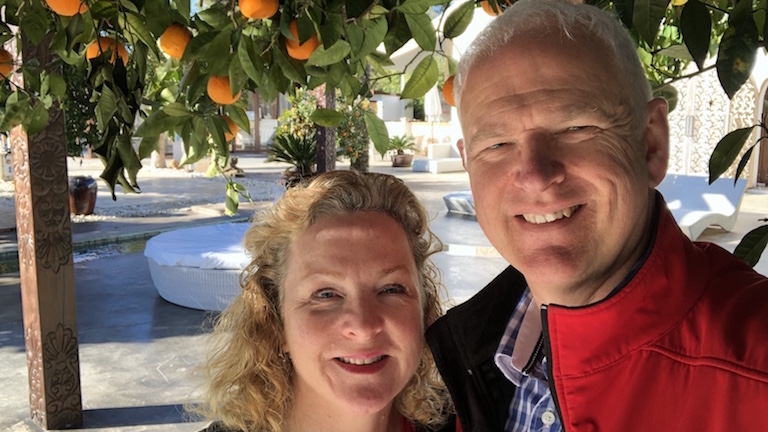 Three night activity breaks at The Atzaro Hotel, Ibiza looked like they might tick a few boxes – special winter offers (available until the end of March) promise daily guided bike rides, unlimited yoga sessions and a well-equipped spa so I figured even if the weather was rubbish, we'd have plenty to do and to talk about.
Although I wasn't looking to detox, the idea of healthy locally-grown food and plenty of fresh air and relaxation seemed highly appealing. I just hadn't expected the glorious sunshine.
Atzaro is situated on the edge of lush green valley in the North of the island, a 30-minute taxi ride from the airport. It's an old family farm ('Finca') made up of characterful white-washed buildings, set in lush tropical gardens and orange groves (the trees are so heavily laden with fruit the slightest breeze sees tangerines dropping like stones to the floor) studded with exotic pools and palms.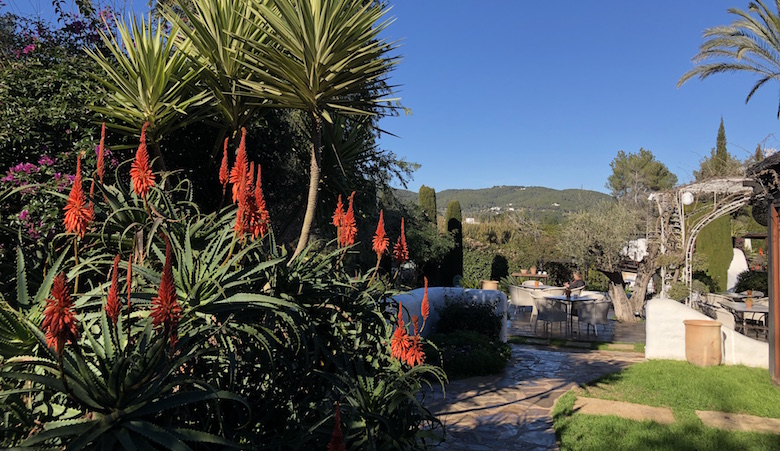 Celeb favourite
Once a working farm, it was converted into a hotel 14 years ago, and has become a sophisticated but secluded bolt-hole for discerning holiday makers – including the odd celebrity (Kate Hudson, Rhianna and even Boris Becker are regular visitors).
Although Ibiza is pretty dormant in the winter months and you'll struggle to find bars and restaurants open outside of Ibiza town, Atzaro is quietly humming. As well as hotel guests (maxed at about 60), there's steady stream of people dropping in to use the recently revamped spa (Atzaro offers a monthly membership to non-guests), to attend yoga classes, or to enjoy lunch on the sunny terrace. It means you never get that sad, rather lonely 'out of season' feel exuded by some summer resorts in the winter.
The place has a growing reputation as the Soho Farmhouse of Ibiza and it certainly seems to share the sense of effortless rustic luxury style, and attentive, but relaxed service. There is a distinct boho hippy vibe among the guests – think Converse pumps and fringed sleeves, fur gillets and beads.
The popular yoga classes are held in a glass-sided shala, which has bi-fold doors opening out on to a yoga deck with nothing but fields beyond.
In the winter months the Atzaro yoga pogramme is limited to two or three classes a day, but you can chose from hatha, vinyasa flow, pilates, yogailates (a combination of yoga and pilates) as well as breathing and meditation classes.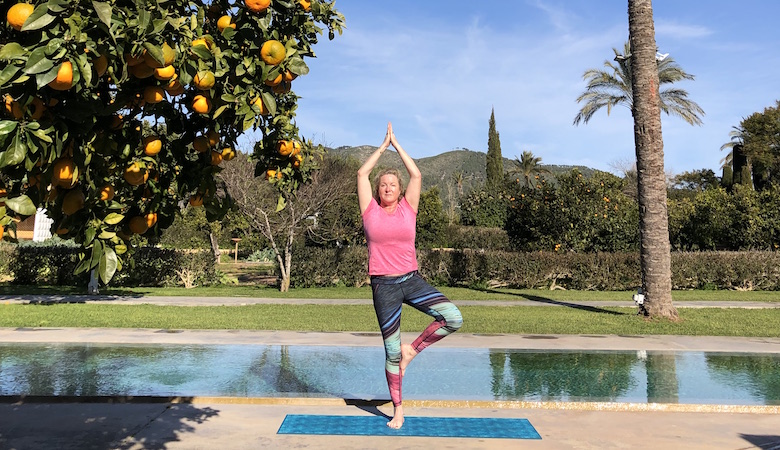 That yogic frame of mind
I am able to slip effortlessly into the yogic frame of mind, breathing deeply and feeling my heart rate slow right down. The Spanish teacher has a wonderfully lilting voice, urging Jon, who has never even accidentally stepped on a yoga mat, to feel comfortable and included. He remains sceptical. He'd probably been happier with a power yoga class (there are plenty on offer) or Pilates (those too) but in the deeply relaxing Sunday morning yin-yang class I'd chosen, all that talk of chakras was a mystical challenge.
The spa, however, is much more his style. We spent happy hours ducking in and out of the immaculate sauna, switching between steam, heat, cold showers and soft round 'couples beds' positioned out of the breeze to catch the sun.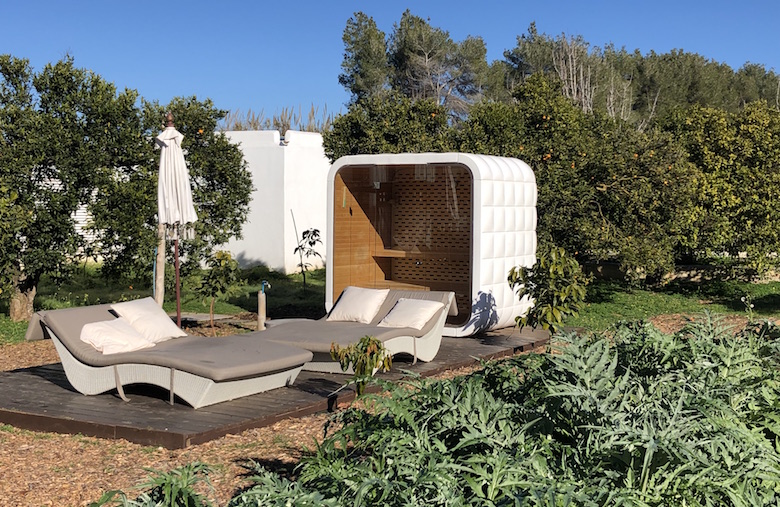 The massage 'menu'
The selection of massages and 'rituals' available is so extensive it has it's own menu – you can choose reflexology or hot stone treatments, a huge selection of aromatherapy and oriental massages, plus acupuncture and hair rehabilitation.  I opt for a signature massage with locally produced essential oils, which takes place on a heated bed in a beautifully draped room.
The individual glass-walled treatment rooms are located right on the edge of the olive grove so the scent of the oils combines with sounds of birds singing you really feel you are immersed in nature. The place really is the most verdant Instagrammable feast. The light is amazing.
Although the pools look delightful, a finger dip confirms my suspicions – we won't be swimming on this trip. But as I lay beside the 43m freshwater pool, lined with orange trees, I could easily imagine myself there in the warmer Spring months, dipping in and out of the water.
Cycling, electric
The planned guided bike rides are a great way to see a bit more of the island and get the blood pumping.  Everything is provided so no need to worry about helmets or water bottles but Jon is shocked (and, he admits, slightly offended) to see two immaculate electric mountain bikes waiting for us.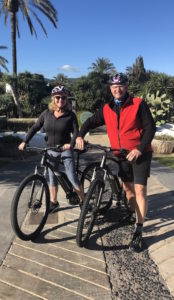 I'm secretly thrilled.
It turns out these bikes aren't anything like mini-mopeds at all. They ride exactly like a normal bike until you flick a switch on the handlebars which gives you the option of a little turbo boost to help heave you up the hills.
Jon flatly refuses to use any electric enhancement whatsoever, but, in the spirit of discovery I believe it's only right and proper to try new things. I can now confirm that 'sport' mode is pretty handy when you find yourself lagging slightly behind two grown men powering their way up a steep rocky hill. Best bit? The electric boost is completely silent, so no one needs to know.
Weaving our way along woodland tracks and deserted country roads is a joy. Cycling is such a great way to witness, first hand, just how lush and green Ibiza is in the winter months. When he realises just how feisty we are our guide ups the pace and leads us right across the island to a beautiful stretch of coastline of deserted sandy beaches and crystal clear water. The beaches are immaculately clean – the sand looks as if it has been combed – not a scrap of rubbish in sight. Just a few hardy residents walking their dogs and playing beach tennis in the sunshine.
It is clear that winter Ibiza is very different from summer Ibiza (in a good way) and the island is moving away from its crazy clubbing reputation to being thought of as more of an exclusive beach-club kind of resort.
That's a relief because as I'm pretty sure my clubbing days are over and the only pills I'd brought with us were painkillers and vitamins.
OMG the food
Jon's Strava activity tracker showed we covered 22 miles in an undulating two-hour loop. That's just enough to burn a few Christmas calories (1000 to be precise) and fire the appetite.
Which is good, because food at Atzaro is pretty fabulous.  Although breakfast (think avocadoes, roasted vegetables, sourdough and eggs Benedict) is all part of the package, you can sit down to a full three course lunch menu for 25 Euros (sublime taken slowly with a cold bottle of Verdejo on the sunny terrace).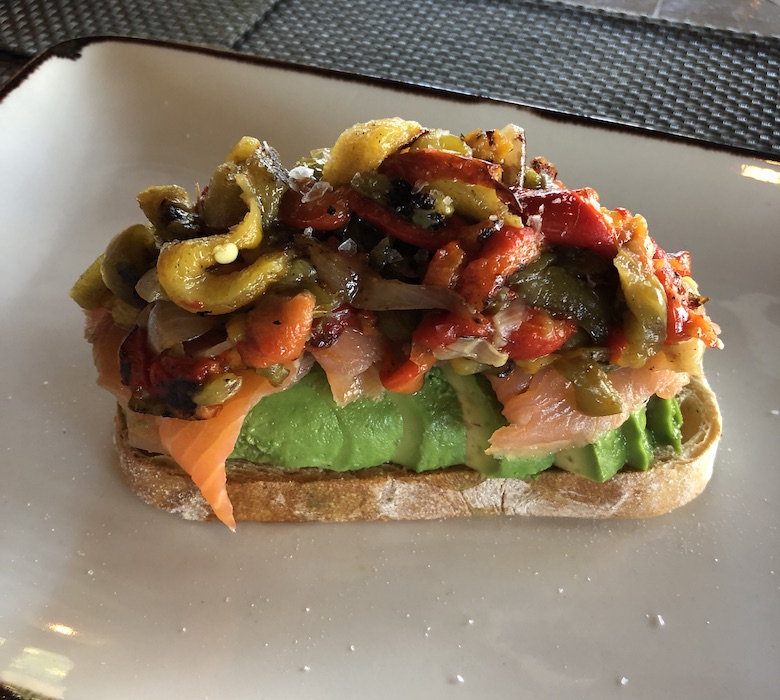 It's worth pointing out that dinner is more expensive (though portions are HUGE) and you'll be unlikely to be able to find many alternative places to eat outside of Ibiza town at this time of year. But why would you want to eat anywhere else? The a la carte menu has an extensive vegetarian section, with dishes based on the pumpkins, beetroots, aubergines and tomatoes grown in the expansive hotel gardens. Whether you opt for quinoa risotto with truffle oil, cauliflower pizzeta, fennel soup, fresh fish or pasta – it's all utterly delicious.
This place has a quirky eclectic charm. You'll find stone Buddha statues in odd places (a hangover from the hotel's previous 'Bali style' design theme) and we stumbled upon a glass-fronted Scand-inspired pod sauna plonked – bizarrely – in the middle of the hotel's raised-bed vegetable patch.
It's an incongruous sight, and we were rather surprised to find our gentle meanderings around the root vegetables enlightened by a rather fruity bit of European-style full frontal nudity. Perhaps he was just trying to stay warm…the temperature really drops when the sun goes down, so we were able to retreat to our room in evenings to snuggle up on the soft white sofas in our room.
Each of the 24 rooms is immaculately decorated with crisp white linens on the emperor-sized four-poster bed, whitewashed walls and bare olive wood ceilings, delicious aromatherapy-inspired products in the marble bathroom, a Nespresso coffee maker hidden in the wardrobe and – the icing on the cake for a romantic winter mini-break: a full basket of logs by a roaring fire.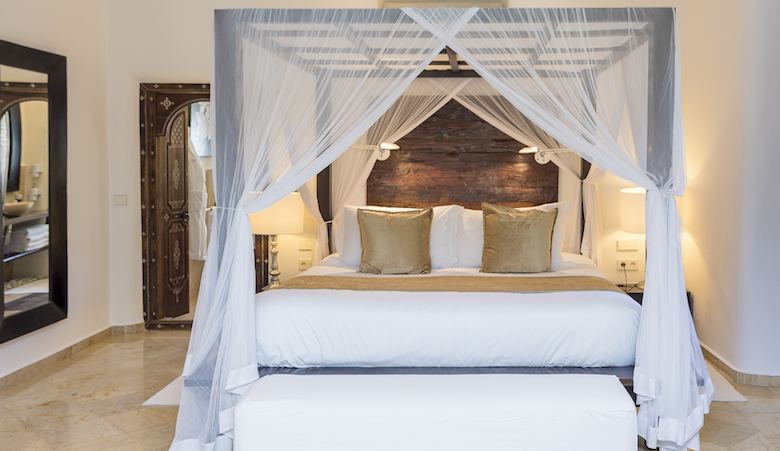 A three night nature biking/walking package costs 660 Euros for two people B&B plus use of spa, yoga and wellness classes and three guided bike rides or nature walks (available until March 23rd)
Flights from London City Airport with British Airways take two hours and cost around £180 per person.
See www.atzaro.com for more information and details of winter/spring mini-break offers
More Healthista Content:
7 signs of magnesium deficiency that could be ruining your body goals
How to relieve stress with hand reflexology
8 ways walking in the woods can make you happier
Like this article? Sign up to our newsletter to get more articles like this delivered straight to your inbox.